Adventure
A journey from fear to love
For many people in South Africa, particularly those from poorer urban areas, the ocean is a place of fear - and too often death. Reconnecting young minds with an underwater world full of intrigue, adventure and hope has become, for Hanli Prinsloo, a life's mission.
Photographs by
Peter Marshall
"How many of you live walking distance from the ocean?" Hands shoot up. "Me miss", "me", "me!" come the responses. "How many of you can swim?" A few tentative hands rise. "How many of you feel safe in the ocean?" Wary glances seek approval. "Don't worry about your answers, you'll still be allowed to snorkel…" No hands rise. "How many of you have worn a mask before and seen what is underwater?" Heads shake and eyes grow large.
Despite having more than 2,000km of coastline, famous Olympic swimmers and world-renowned surfers, South Africa has some of the most severe drowning statistics in the world. Its citizens' relationship with water is neither positive nor fair. In the great lottery of birth I was lucky to be born white in Apartheid South Africa. I learnt to swim before the age of three. I spent holidays by the beach and had a swimming pool at home. At nineteen I moved to Sweden to study and in a deep fjord I discovered freediving. Far away from national unrest, trans-generational guilt and a family torn apart by politics, I found peace – a world beneath the waves where my thoughts slowed down, my body became weightless and I had space. Space to consider. Space to celebrate. Space to mourn. I immersed myself in the world of freediving. I spent long, cold winters swimming up and down in a swimming pool underwater increasing my breath-hold; midnight sun summers on the granite rocks of the Swedish west coast diving deep along a rock wall, learning about my body in water. As my fascination with what was possible on one breath grew so did the understanding of the aquatic adaptation in humans. Research around the Mammalian Dive Response increased and we allowed scientists to measure our lungs, monitor our oxygen saturation and even observe our spleens during breath-holds. I learnt that our bodies remember water. As my face touches the water my heart rate slows down. As the carbon dioxide in my body rises my blood flow centralises to my core. As my body preserves and requires oxygen my spleen constricts, releasing oxygen-rich haemoglobin. I revelled in my aquatic abilities. Twenty, 40, 50, 60 metres deep on one breath. One hundred, 120, 140, 150 metres in the pool. We have the same Mammalian Dive Response that allows whales, dolphins and seals to dive to great depths and hold their breaths for hours on end. My body surprised and enthralled me as I learned to trust this inner seal.
I moved home to South Africa after many years of freediving competitions, big marine animal interactions and a career in documentary filmmaking seeking stories of hope and transformation. Exploring my own coastline underwater for the very first time, I was struck by how few people were in the water – really in the water. Not just wetting toes, or a quick dip or even a surf. Looking, seeing, exploring. And looking a little closer, 25 years after our hard-won political democracy, the ocean remained a desperately undemocratic place. Not knowing the first thing about the non-profit world but a lot about what the ocean had done for me, I started I AM WATER Ocean Conservation.
On a white sand beach in a marine protected area along the Cape coastline 30 grade seven students lie flat on their backs with the sun on their faces learning how to breathe slow and deep. I AM WATER coach Khanyisa counts their breaths in… and out. Slowing down the breath and the heart rate, learning how to take a very big breath in, and hold. Visualising a dive underwater the young explorers are encouraged to hold their breath a little longer, imagine a world underneath the surface where a curious fish makes eye contact, or a mysterious octopus reaches out a tentacle. A first introduction to a new world. Our two-day workshops always start with a yoga stretching and breathing relaxation session followed by a short presentation on what there is to find in the vibrant inter-tidal zone, under the surface and in the kelp forests. Most of the children know of a family member or a friend who has drowned. On average three people drown in South Africa every day. Here, introducing children to the ocean is not only about fostering young ocean guardians, but very much about personal development and the overcoming of trans-generational fears.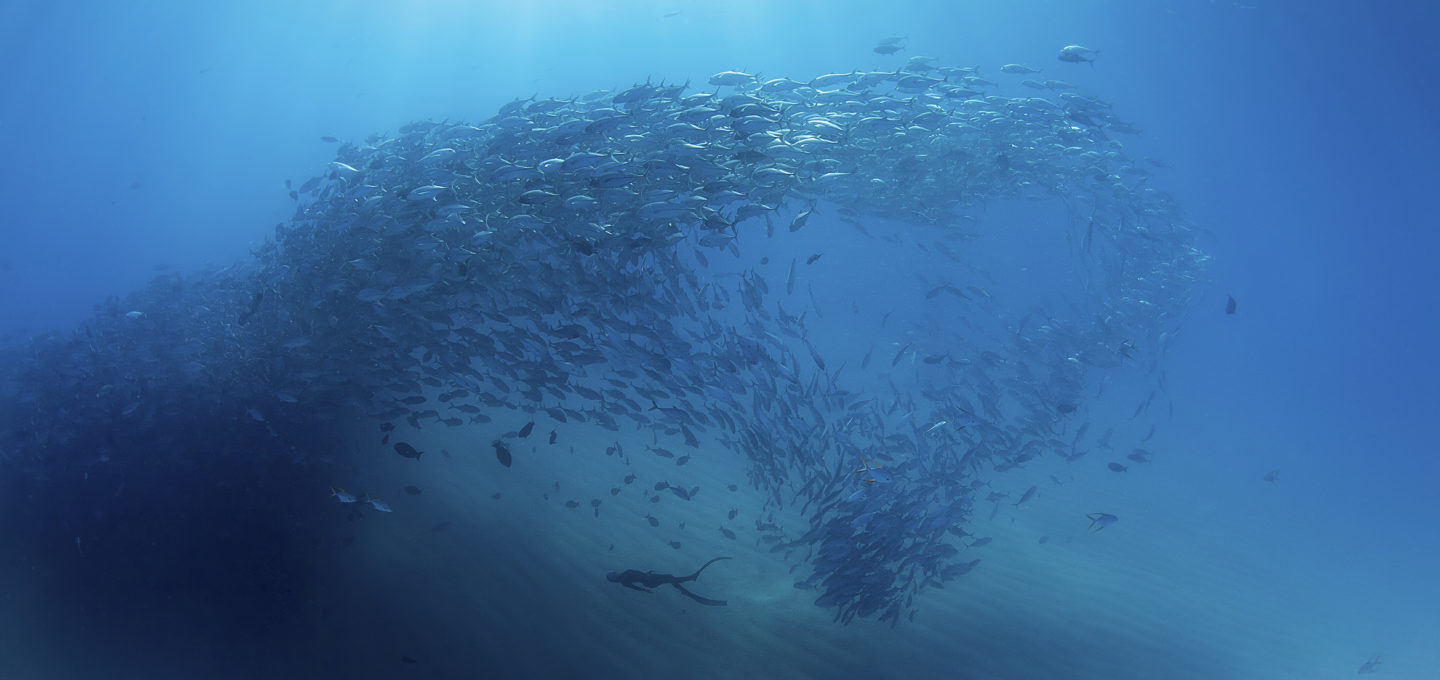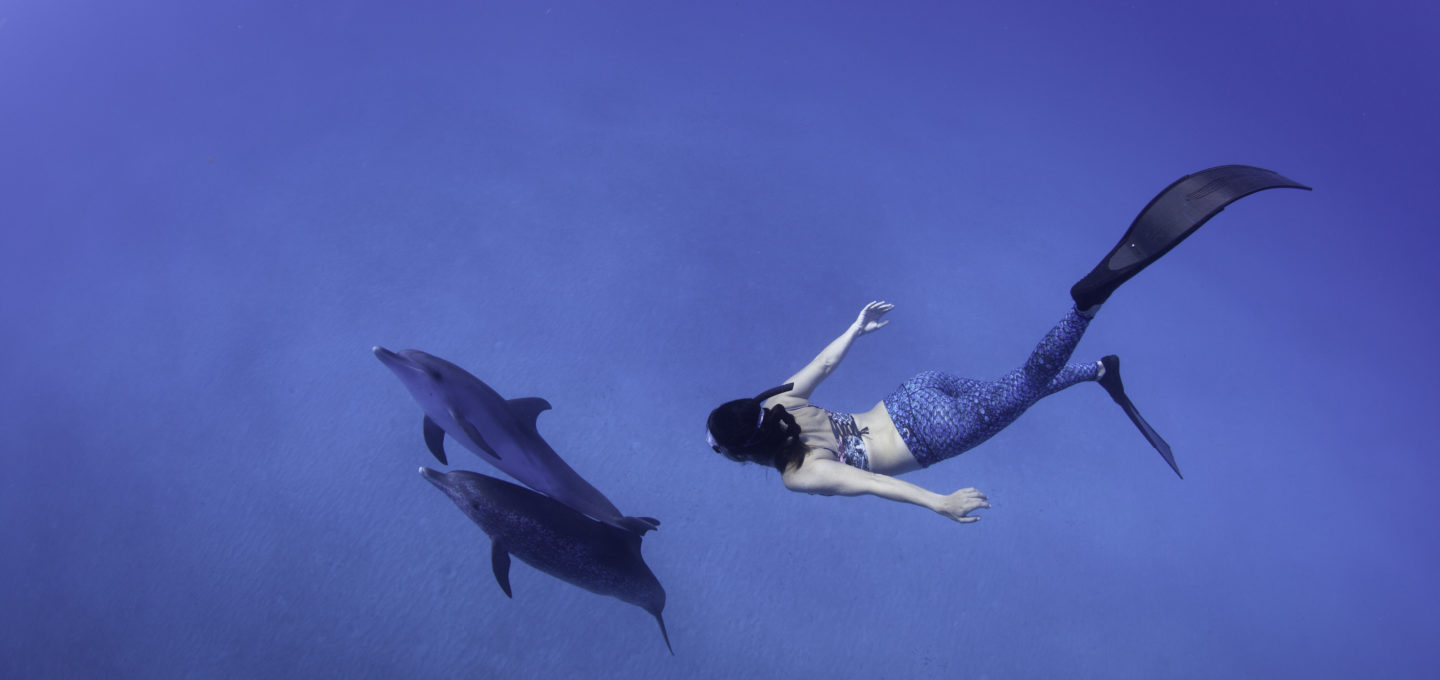 Photographs by
Peter Marshall
Continue reading...
To continue reading this article – and enjoy full digital access across Oceanographic – sign up to Ocean Hub today! More info below…
Keep reading by signing up for an Ocean Hub subscription
Ocean Hub. More than a magazine subscription.
As well the delivery of all new editions, members unlock access to exclusive products, services and discounts, as well as EVERY digital back issue we have published.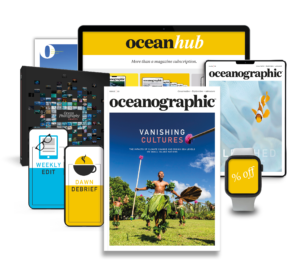 Find out more

about Ocean Hub subscription
Shop window
current issue
Back Issues
Enjoy so much more from Oceanographic Magazine by becoming a subscriber.
A range of subscription options are available.
Sea stories
Beautiful ocean stories straight to your inbox.
Join our community.