Conservation
A symbol of hope
Since discovering one of the largest aggregations of whale sharks in the world, great progress has been made in protecting these giants of Isla Mujeres. But there is more work to be done, and we must all play our part.
Words & photographs by
Shawn Heinrichs
Words & photographs by
Shawn Heinrichs
I was up in the tuna tower of the boat, looking out over the waters off Isla Mujeres, trying desperately to figure out what I should be looking for. How the hell do you find an aggregation of whale sharks, in the middle of the ocean without any reference points? Unlike whales, whale sharks spend most of their time just beneath the surface of the water. We had a week to find them, and other than a small amount of data from our fishing captain's logbook, we had nothing to go off.
Eventually I saw a disturbance, perhaps half a mile off to my left. I shouted down to the captain, 'What is that?' He told me it was just a school of bonito fish feeding. We kept cruising through pristine waters and ten minutes later, I could still see that same disturbance out over the waves. One thing I've learned while filming pelagic hunting activity is that bonito are ravenous. When they hit bait, they rip through it within minutes. A bait ball that lasts ten minutes is almost unheard of if it's a large school of bonito feeding on it. So, I asked the captain if we could take a closer look. He shrugged and we began to cruise toward it, just as the activity started to die down. We were all looking at the horizon, just hoping for something, anything, and then a massive dorsal fin cut through the water right in front of the boat. Then another. And another.
We slowed the boat down and for a mile or so into the distance, we could see hundreds of whale shark fins crisscrossing through the glassy water. I tumbled off the boat with my housing and a whale shark almost bowled me over, before another soared beneath me and another cut across right in front of me. I was so excited, I realised I hadn't even loaded my camera into my housing! They took absolutely no notice of us – they were feeding on the eggs of a species of tuna called Little Tunny, and there were so many eggs in the water that the whale sharks were just ploughing along like combines in a field. They didn't care about us in the slightest. What we were experiencing was beyond anything anyone had ever imagined before that moment back in 2009. Until then, no-one had seen aggregations on that scale. So, we spent the following five days going out every day and guesstimating on where the whale sharks might be. After several hours of searching each day, we managed to find calm waters and, for the first three days, it was just us and hundreds of whale sharks. As far as I know, it is the most whale sharks ever documented in one aggregation, and it was a dream come true. We had discovered something truly extraordinary.
At the time, Isla Mujeres was the largest shark fishing island on the East Coast of Mexico. It became apparent that there was an opportunity here, so over several years we worked with local operators to try and inspire people to start turning to tourism. By refining methods around GPS and other biological processes, we made it easier to find these annual aggregations. Over the course of the next ten years, approximately 80% of the shark fishermen converted from longline fishing to running tours, taking guests to go and see the whale sharks. 
Throughout the past few years, we've been working with the last 20% of active shark fishers, trying to create new tourism opportunities for them too. Currently, the shark meat they sell goes into Mexico City as a low-cost fish option. Unfortunately, it's full of heavy metals and it's not safe for human consumption, but that's not largely understood within the communities it is sold to. The shark fins move through an illicit network – they used to go through San Francisco and even Florida, and I'm sure some of them still do – that transports them to Hong Kong and China. 
Continue reading...
To continue reading this article – and enjoy full digital access across Oceanographic – sign up to Ocean Hub today! More info below…
Keep reading by signing up for an Ocean Hub subscription
Ocean Hub. More than a magazine subscription.
As well the delivery of all new editions, members unlock access to exclusive products, services and discounts, as well as EVERY digital back issue we have published.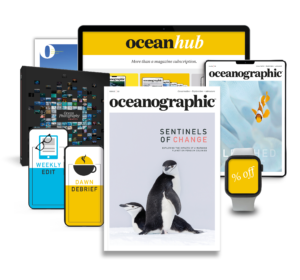 Find out more

about Ocean Hub subscription
Shop window
current issue
Back Issues
Enjoy so much more from Oceanographic Magazine by becoming a subscriber.
A range of subscription options are available.
Sea stories
Beautiful ocean stories straight to your inbox.
Join our community.