Adventure
Behind the lens: Andy Mann
Behind the Lens places a spotlight on the world's foremost ocean photographers. Each edition focusses on the work of an individual who continues to shape public opinion through powerful imagery and compelling storytelling.
Interview by
Oceanographic Magazine
Interview by
Oceanographic Magazine
Emmy nominated director, National Geographic photographer, marine conservationist, public speaker, lead storyteller and creative director at SeaLegacy, Andy Mann is an American photographer, expedition leader and storyteller who has helped protect a diverse range of ecosystems from the Arctic to the Caribbean. His work has been recognised on numerous occasions, including being honoured with the Crystal Compass Award from the Royal Geographical Society. He is one of seven world-renowned judges in 2020's inaugural Ocean Photography Awards.
OCEANOGRAPHIC MAGAZINE (OM): HOW DID YOU FIRST CONNECT WITH THE OCEAN?
ANDY MANN (AM): I grew up on the Chesapeake Bay, in Virginia. After he retired my grandfather became a fisherman, so I remember growing up fishing with him, and going with him to check crab pots. That led to a youth-long obsession with fishing. I was just a rural country boy from Virginia but I did love the water. I thought that was my path, marine science, so I went to college and I studied fisheries management and I ended up getting a job back in Virginia after college working for the Department of Game and Fisheries. It was conservation-based, but it was more like fisheries management. By the age of 23, it just didn't seem like the kind of work I wanted to be doing at that time, so I moved out to Colorado, fell in love with rock climbing and became a successful rock climbing photographer and filmmaker. For the next ten years, that was all I did – I worked for the climbing magazines and I travelled around the world. Being known for that kind of adventure was how I got picked up for National Geographic in 2013. The first assignment they put me on was a really remote marine science expedition to a place called Franz Josef Land, in Russia – it was sort of like coming full circle, this adventure, science-based expedition. For me it's all so interesting – marine science is just so fascinating, and it means I will follow these people into any situation. I actually wasn't dive-certified at the time but I was still shooting in the water, just staying at the surface. It just felt like I was able to find some purpose with my camera.
OM: WAS THAT HOW YOU SHIFTED FROM ROCK CLIMBING TO CONSERVATION PHOTOGRAPHY?
AM: I got back from that trip and a National Geographic explorer named Jess Cramp called me up and wanted me to go on an expedition to Fiji to shoot and create a film for the Waitt Foundation. She said: "I'm leading this shark expedition to Fiji for three weeks. I know you're not dive-certified but I'm not going to tell the Navy Seal dive safety officer that you're not, you're a good storyteller, so you have two weeks to get dive certified." I got certified in a heated pool in Boulder, Colorado, and so my first open water dive was to 120ft with 50 bull sharks in Fiji. I sucked through my tank in about 15 minutes. The dive officer, Joe Lepore, brought me up to the surface, and said "you're not a diver, are you?" I came clean, but I think he figured he was stuck with me for the next three weeks anyway so he became more of a mentor.
OM: HOW CAN MEDIA IMPACT THE MARINE SCIENCE WORLD?
AM: I did another eight Waitt Foundation expeditions over the following few years, as well as a couple of expeditions for National Geographic's Pristine Seas, and I worked in-house for a lot of ocean foundations, just because I had the right skill set. I can go on a ten-day expedition and get off the boat with all the necessary media assets for those scientists that were leaving the boat, and they loved having those assets. I heard so much about how that was a tool that they didn't really have, that they could really use. Having engaging photographs and video meant they could go back to their universities, give presentations and show funders what they were working on in the hope that they could raise more to go back – media was important for that.
Science and media, when they mesh together like that, it can really work wonders. On that first Fiji expedition, it was my job to edit a film together in the time it took for our vessel to run back to port, which I would have to present to the Prime Minister with a short keynote. It had to inspire him enough to decide to protect this marine area. I took that so seriously at the time – I felt like if I didn't make a sweet film the ocean would die! This was my shot. Of course, it wasn't that serious, he came on board, I think he liked the film and it was fine, but I had that sense of purpose, I put that pressure on myself. I still do.
OM: HOW IMPORTANT WAS IT FOR YOU TO FIND PURPOSE IN YOUR WORK?
AM: It was everything. When we got back from Franz Josef Land on that first National Geographic assignment, our team won a Crystal Compass award from the Royal Geographical Society for the work we did, and a year later Russia created the largest Arctic National Park in the world, encompassing all of Franz Josef Land. At the time I was like 'wow the work I'm doing is saving the world!' Now I realise how much more there is behind big decisions like that. I was just a kid with a camera, but I was being trusted, I was finding purpose and returning to my roots in a way. So the purpose is what drove everything, for sure. And access, because that was only seven years ago. What really drove things for me really fast was the relationships that I had in the field. It was how I shot so many stories in climbing too – I was friends with all of the athletes, they were some of my best friends and whenever they were going somewhere they wanted me to come with them. You form those bonds in the field, those stories and misadventures that you'll never forget. Then marine scientists became my red carpet to see the world. Literally that first trip, there were five different marine science groups and they all went off and did five more projects individually.
I was raising my own money to go on some of these trips too, and just getting as much time on these boats as I could. It didn't take long before I was getting more and more calls to go on marine science expeditions.
OM: WAS THERE A SPECIFIC MOMENT WHEN THE PENNY DROPPED AND YOU KNEW YOU PERSONALLY WANTED TO PROTECT THE OCEAN?
AM: Sharks did that for me, for sure. Being in the water with oceanic whitetip sharks, a species I've done a lot of work with for the past six years. I was spending all day in the water with one or two sharks, just so excited and fascinated, so blown away by their beauty, power and grace. On every dive I think about how amazing these animals are, and how lucky I am to be in the water with a live shark. Then to think about the hundreds of millions of sharks that are killed every year, it just makes you feel – it's tough. Doing so much work with oceanic whitetips I definitely got a sense of their personalities. If you're in tune to the natural world, it's pretty clear that sharks have certain behaviours that are undeniably charismatic. It's powerful when they look at you – I feel like there's a rudimentary understanding. It's amazing that you can get in the water with one of the most powerful apex predators on the planet, and it's just swimming along and moving slowly, you can understand that you're not on the menu. You don't feel threatened, you feel excited. So there's just something given off there that you're relating to and connecting to. You're reading something in that situation.
Continue reading...
To continue reading this article – and enjoy full digital access across Oceanographic – sign up to Ocean Hub today! More info below…
Keep reading by signing up for an Ocean Hub subscription
Ocean Hub. More than a magazine subscription.
As well the delivery of all new editions, members unlock access to exclusive products, services and discounts, as well as EVERY digital back issue we have published.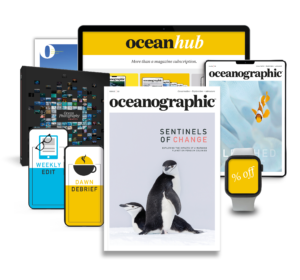 Find out more

about Ocean Hub subscription
Shop window
current issue
Back Issues
Enjoy so much more from Oceanographic Magazine by becoming a subscriber.
A range of subscription options are available.
Sea stories
Beautiful ocean stories straight to your inbox.
Join our community.