Adventure
The steady journey north
Photographs by
David Schnabel
The sound of the waves lapping against the hull of the boat and its gentle swing around the anchor eases me awake.
Through the small porthole I can see snapshots of the cliffs around us, passing by like contacts on an old viewmaster. My cabin is warm and dark, with the bunk raised up to allow for a view down to the water below. This far into the Norwegian fjords, you want your sleeping space dark, so as not to fall prey to a restless night due to the enduring sun, which only briefly dips below the horizon. Thankful for the comfortable cabin that has become home over the last three months, I roll over, indulging in laziness for a few winks more before the day begins. However, my plan to snooze a little is scuppered by Shackleton, who has heard my initial shifting and before I can drift off again, I hear the soft pad of paws on the floor of our living space. A light whine before a wet nose invades my bunk, yearning for attention. Invigorated by his excitement for the day ahead, I roll out of bed and step into our main living space. David, whose sleep has been untroubled by Shackleton, is in the adjacent cabin. From our dark cabins, the contrast with the overwhelming light of our main living area is stark. The curved windows that border our space offers no shadows, and no respite against the bright morning sunshine. Saying that, I cannot help but be thrilled by the steep cliffs of the beautiful cove that enclose our anchorage.
Before I can think too much about the cold, I step out of the stern doors through our wheelhouse, step up onto the gunwale and dive into the water – within a fraction of a second Shackleton is similarly airborne plunging into the frigid waters below. The waters of the Norwegian sea never fail to refresh, and with a quick lap around the boat, trailed by my furry crew mate, it feels like hours since I woke up, rather than minutes. Nevertheless, the exit from the water is as swift as the initial plunge, and I'm grateful for a hot shower in the cockpit, water heated by our engine from our cruising yesterday.
After breakfast, David, Shackleton and I row ashore to climb up to one of the surrounding cliff precipices. The small island we've sheltered alongside is uninhabited except for an area at its far northern tip, which is defined by craggy walls and dense vegetation. The dog finds a small trail off the beach, and we're quickly climbing up a series of dramatic boulders, presumably the result of a large rock face collapse millennia ago. The landscape is, like so many in Norway, dramatic, beautiful and seemingly unique to this richly varied coastline. Clambering over and around two to three metre lumps of rock, led by the deft pup, we rise up to look out over the inlet below, enlivened to see the minuscule streak of yellow that is our floating home, dwarfed by the landscape of the Norwegian fjords that encase it. From our vantage point, we can scrutinise the archipelago before us, and begin to plan our journey for the day ahead. North across the ripples of sea and pockmarked with hundreds of tiny islands is our destination for the day, Rørvik, just another quiet fishing town on the exposed western coast of Norway. One more step on our slow adventure north, to Tromsø in the Norwegian Arctic. There are three months behind us, with only a month to go until we reach our destination.
This adventure did not start three months ago, when we left the southern British port of Newhaven in the middle of May, but years before. Three years ago, David and I were both working as architects – we had studied together in Cardiff before going our separate ways, I was working abroad, David in South Wales. Alongside our jobs we were completing our onerous professional studies, in the final phases of seven years of architecture qualification, our yearning for adventure became an escape for both of us, as we dreamt of grand plans exploring the world.
Whilst many dreams shrink under the burden of personal responsibilities and challenges of time or money, this idea only grew. We found escapism from our present work through discussion of an extended hiking and camping trip around Norway. Around the same time, I spotted a small ship's escape lifeboat on a river, partially converted. Taken by the utilitarian aesthetic of the vessel I quickly discovered their relatively inexpensive cost. Always excited by a new idea, I fast became convinced that such a lifeboat could become the ultimate expedition vehicle. Unhindered by roads or paths, this vehicle could allow us to explore the fragmented coastlines of Norway with total freedom. Designed for the worst conditions the sea could throw at it, an arctic lifeboat would be our unsinkable and spacious blank canvas. Naively convinced of the originality of the project, I had to convince David, who had spent most of his life on dry land, that such an adventure was worthwhile let alone feasible. I had grown up in a family of seafarers, and a nautical adventure seemed quite natural, and with the right vessel identified, all I needed was to engage the right crew mate.
After a great deal of planning and worrying, we both left our jobs, and in February 2018 our lifeboat arrived. Five tonnes and 11 metres of orange fibreglass, brought down from Scotland on a flatbed truck. Named 'Clansman Lifeboat No. 1' after the Calmac mothership that ferried around the Western Isles of Scotland, she had already had quite a tumultuous life already. We renamed her 'Stødig', meaning 'steady' or 'reliable' in Norwegian, to signify her rebirth as an adventure vessel rather than one for emergencies. Now both self-employed, we started work on the lifeboat in earnest, and over the following year spent countless hours on the conversion. Work started out as a project that consumed evenings and weekends gradually took over all aspects of our lives. With a contagious enthusiasm but a limited budget, we approached sponsors and developed innovative ways to raise money for the project, as well as sourcing all the materials as economically as possible. We are incredibly fortunate that filmmakers at COPA and Febril will be making a feature film of the conversion that we hope to show the finished version of at festivals in 2020.
Unhindered by any particular ideas of what the inside of the lifeboat should be like, we designed her from the inside out ourselves, taking the principles by which we would design buildings, and applying them to a space for ourselves. The bow is divided into two double cabins, with a wood burner splitting the entrance to the two spaces. The wood burner forms the focal point of the living space, divided into a kitchen on the starboard side and seating area on the port. Opposite our bathroom are two further bunks for guests, before steps that ascend into a wheelhouse, where three large windscreens give expansive views out to the ever-changing Norwegian fjords. At the stern, we cut out a large section of the superstructure to construct a sunken cockpit, learning how to fibreglass along the way. We were convinced that the best way to understand our boat was to do all the work ourselves, from the engine, plumbing and electrics to all the carpentry and finishes. Although we claim this was by choice, our budget often gave us little option in the matter.
The year flew by and before we knew it, our departure date was fast approaching, despite the fact that the lifeboat was largely unfinished. Most of the essential work was complete and, knowing that the most challenging moment of this entire adventure would be actually leaving port, we agreed to wait for the right weather window to head out to sea. We forcefully ignored the fact that the interior of the boat was yet to meet our perfectionist ideals. In mid-May our friends and families assembled, accompanied by many of the great supporters of the project along the way, and after a frantic loading of our worldly possessions David and I set off out of Newhaven breakwater, and headed West to the Norwegian fjords.
We crossed the channel to France in fair weather, before heading up the Belgian and Dutch coastlines. Knowing Stødig to be best suited to coastal and inland waters for comfort and with worse weather approaching, we crept into the Dutch inland waterways and slowly weaved our way up to Germany's Frisian Islands. Passing through the Kiel Canal linking the North Sea and the Southern Baltic, we then began our journey north, exploring the islands of Denmark before working our way up the archipelagos on Sweden's west coast. It was in Denmark, that we started to have trouble with our 20-year-old engine, which dogged our progress until Southern Norway. We gradually learnt that self-sufficiency is less about knowing how to source your electricity and food or staying warm; it's more about your ability to solve problems, embrace challenges and learn from them under pressure. Lifeboats are not designed for a 5,000km voyage, and we have carried out all the conversion work ourselves, with lots of advice along the way. Doing all the work ourselves equipped us with the knowledge and experience to solve numerous technical and mechanical problems at sea; learning more about our floating home with each issue that arises.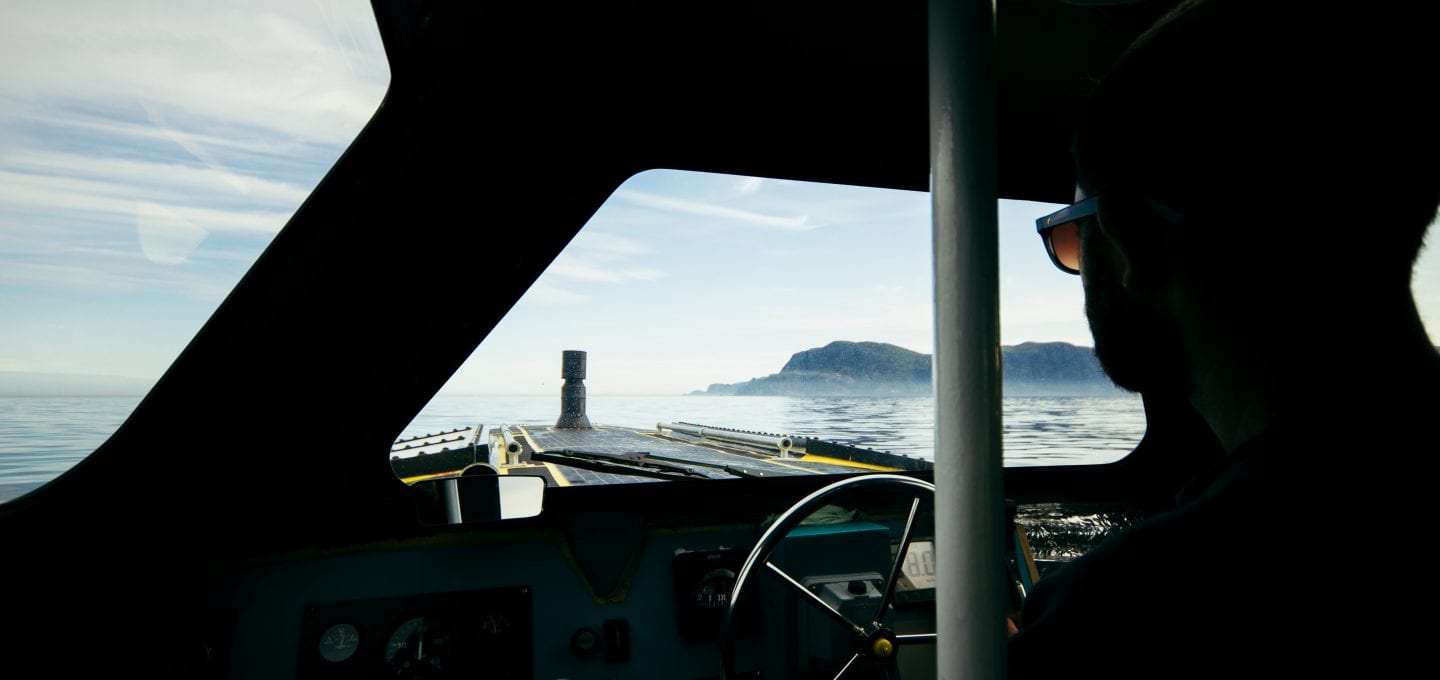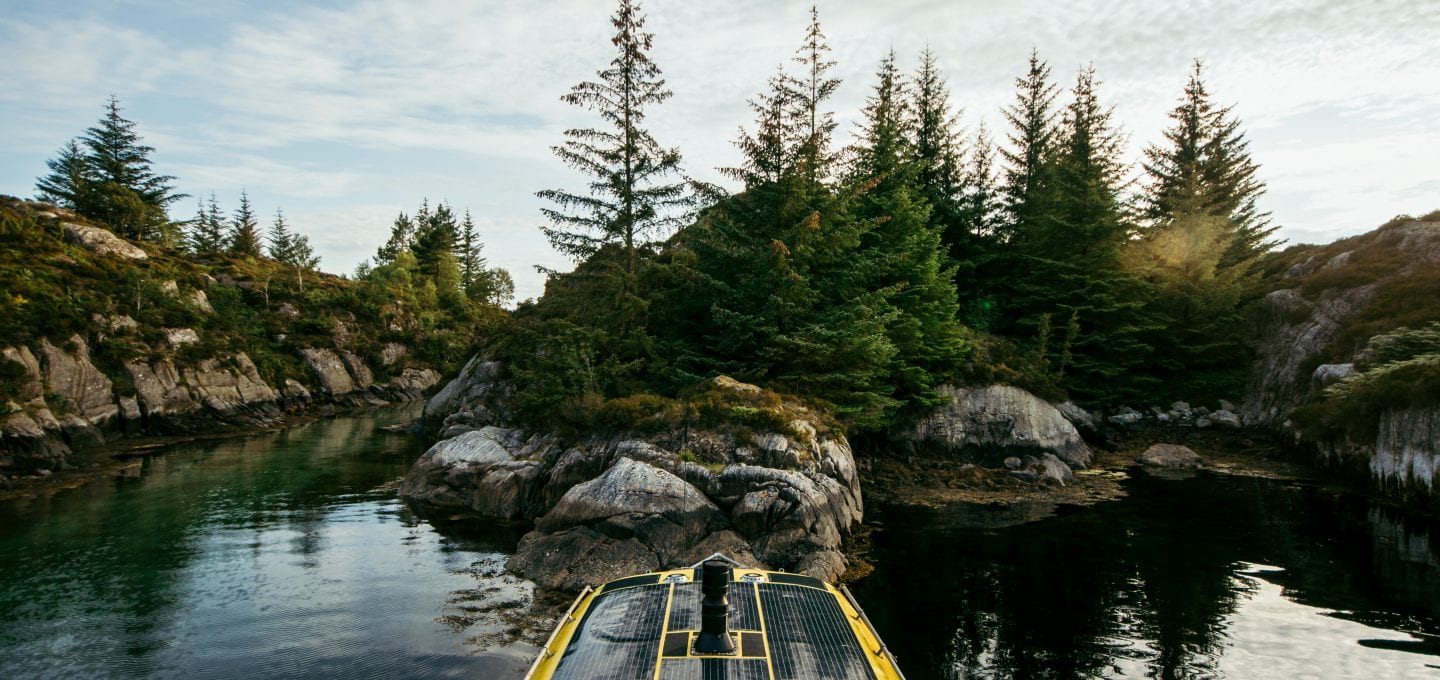 Crossing to Norway from Western Sweden, we were faced by some unexpected swell funnelling up the Skagerrak. Whilst we had suffered many turbulent waves so far on the trip, this is the first time we really came face to face with the raw power of the ocean as Stødig fought her way through four metre waves. – the remnants of a major storm that we had waited out a few days previously. Lifeboats are tested in far worse conditions, and so while it was not a comfortable experience, we had every confidence our home was up to it. We were glad to reach dry land, not just because finally arriving in Norway was a significant milestone, but especially after that powerful reminder of the respect that the sea deserves, and how unpredictable it can be.
Once we arrived, our pace slowed, as we were eager to experience all that the fragmented coastlines of the Norwegian fjords had to offer. Slowly routines broke down, and our rough schedules felt irrelevant as we allowed each day to be led by tide, daylight and weather. Glued to weather forecasts rather than Instagram or Netflix. This trip is an escape for both of us, from the stresses of work and the routine of a more conventional life. Boats can be complicated to manage, and our existence is entwined with the successful performance of the technology and equipment that support us. Regardless, life seems vastly simpler out on the water. In our living space we are surrounded by sea and light, inducing a feeling that is hard to match in any building. Sitting down to catch up on emails or draft some drawings does not feel such a chore with our ever-changing backdrop of sea, sky and mountains. The remoteness of the coastline means we usually visit a town every four days, while the remainder of the time we are nestled in calm coves of uninhabited islands, blissfully unaware of the tumultuous open ocean that is rarely far away. We spend evenings fishing in the rich waters, and enjoy numerous nights of outdoor dining ashore only enhance our sense of harmony with our surroundings, and we could not feel much further from our previous homes while gazing out at the Norwegian fjords.
Stødig feels as much a home to us now as anywhere we have lived previously. In some ways even more so due to the countless hours of labour that went into her conversion, coupled with the relish of being able to design our own home. Vitally, our home can go anywhere, and support whatever we want to do. A night ashore climbing in the mountains, surfing from the boat and eventually skiing as we reach the arctic, all become attainable and all the more appealing knowing we can return to the warmth and comfort of our lifeboat.
As we lift anchor and withdraw from the cove where we spent the night, the familiar pulse of our three cylinder diesel reminds us that we're back underway, another day of breath-taking vistas, countless islands and the beckon of the sea. We set a course for Rørvik and start the daily log.
"Day 94, 2185 nautical miles, 64º20 00 N 010º25.89' E, Course 010º…"
__________
Unplug. Reconnect. 
#WhereWillYouReadYours?
Photographs by
David Schnabel
Sea stories
Beautiful ocean stories straight to your inbox.
Join our community.