Adventure
Art, science and conservation... on a sailboat
Words and photography
Oliver Beardon
Words and photography
Oliver Beardon
A sailboat is a great platform for collaboration.
There are a number of reasons for this, but it's largely down to two factors: space and shared interest. There isn't much room on your typical sailboat, so people are compelled to talk and connect with one another. When the boat's on the move, the crew has to work together, building team spirit. And, in the absence of common ground, there is always the ocean to tie us together.
Sail Britain was founded in 2015 to encourage the sharing of interdisciplinary expertise regarding the ocean, to connect people from various ocean fields who would not ordinarily interact or share knowledge with one another. In light of the threats our ocean is currently facing, it is more important than ever to adopt innovative approaches to marine conservation – and I hoped Sail Britain could be one.
The ocean is not our natural habitat. While scientific theory suggests we were once an aquatic animal, the ocean is certainly not our natural habitat anymore. And yet, the ocean remains crucial to all life on Earth – including us. It supplies 50% of the atmosphere's oxygen and helps regulate the climate. Moreover, the ocean supplies millions of people with a primary source of protein and sustains the livelihoods of coastal communities.
The problem is, from a conservation standpoint, it has been a case of 'out of sight, out of mind'. According to the UN, almost a third of fisheries have been fished beyond sustainable limits, and the WWF estimates that marine life populations have declined by almost 50% since 1970. With climate change adding ocean acidification and coastal erosion, and coastlines and the open ocean choking with plastic waste, it is clear we can't ignore it anymore. There are challenges that have to be overcome. Changes that must be made.
It was this growing realisation, and my own experience of what a wonderful collaborative social space a sailing boat can be, which led me to found Sail Britain. We need to rekindle our connection with the ocean and understand its importance for our own lives. It's vital we achieve that if we are to be able to conserve it for future generations.
Sailing brings people together in a challenging environment that can aid personal development as well as build relationships. It also allows time to observe, listen and contemplate, and for people to develop and exchange ideas. Through traveling slowly, undertaking research and completing citizen science projects, being at sea offers something that travelling by road, rail or air cannot. This personal connection with the ocean is a key step in raising awareness of the importance of the marine environment.
As a sailor, the plastic pollution crisis is evident. I see increasing amounts of rubbish floating in the sea and washed up on beaches. In the ten years I have been sailing on open water, I have seen a marked change. Sail Britain was my answer – a platform to inspire positive change though direct engagement between people and the ocean.
Here's what a few of my crewmates have thought of their interdisciplinary experiences:
The Researcher
Communicating conservation messages is vital to inspire a change in awareness, and this is particularly true of ocean science. Kate Baker is a research fellow in the Centre for Water Systems at the University of Exeter. She works to communicate research to industry and practitioners.
"Science has many answers to the global problems that we're facing, including anthropogenic climate change, plastics in the ocean and decreasing levels of biodiversity," says Kate. "However, there is a real barrier in getting this information out there. It's vital to ensure that findings don't just end up in academic journals but are used in the 'real world' to create positive change. Art is a powerful tool to help engage and communicate academic findings and to empower people to make the small local changes which achieve lasting global impacts.
"It was the idea of mixing artists and scientists together on a boat – that breaking down of barriers between disciplines – which led me to join Sail Britain's programme. The uniqueness of the project is that it creates a safe space for people to interact and to build trust. It really is powerful. Today, life is busy with many things conducted online, through social media and email. It is more difficult to link and overcome barriers between disciplines without 'real life' interaction. The hands-on nature of sailing creates the perfect setting to achieve this. The conversations I had with Tessa, the artist in residence, and the others on board, helped spark ideas and made me think in new ways. It was energising."
The Scientist
Nick Scott is an MSc research student at the University of Exeter, currently studying microplastics in the marine environment. More specifically, the relationship between microplastic particles in the blue mussel (Mytilus edulis) and its habitat. Nick joined the project to undertake sampling for microplastics in the surface water of the river Fal estuary, and to assess the distribution of microplastics throughout this environment.
"The potential effects and scale of plastic waste in the marine environment are now familiar topics to many. Having recently finished my undergraduate project, I felt like my research was hidden in the laboratory, and had little 'real world' impact. Communication of findings and engagement with non-scientists is an essential component of scientific research if it is to have an impact. Sharing my plastics research with others in an environment not entirely dominated by scientists was a great way to reflect on my findings and the scientific principles that I have learned and now take for granted.
"But the real value of the interdisciplinary approach lies in the diversity of the people involved, and the great variety of expertise and knowledge this brings. When undertaking research in the field, often even the most rigorous plans go awry, and the potential to tap into this huge accumulative skillset allows unexpected issues to be quickly overcome. The interdisciplinary approach to the Sail Britain project created a space where I was able to present my research and share my knowledge with both scientists in different fields and a non-scientific audience.
I had the opportunity to work with artists who are inspired by the landscapes around us and the challenges they face. Fundamentally our work is inspired by the same issues, and the combination of both artists and scientists produced a far more creative and explorative environment than I have experienced with purely scientific endeavours."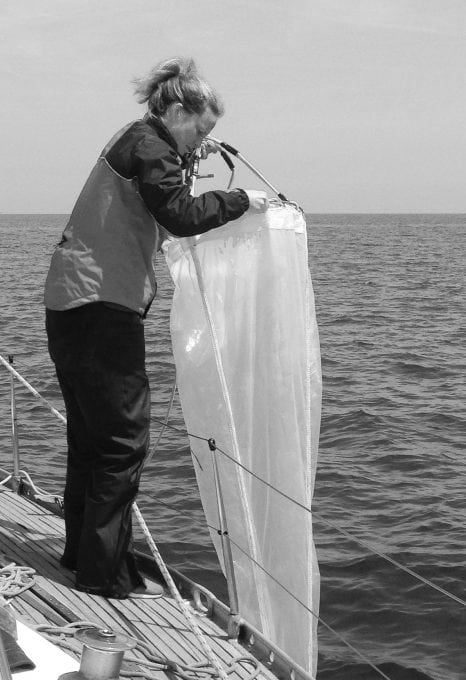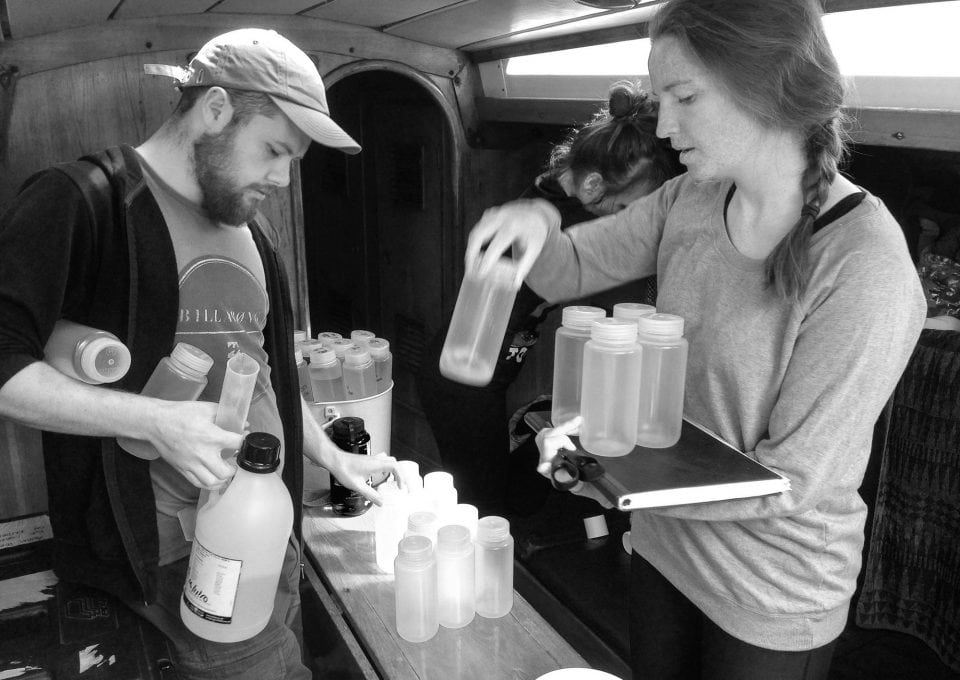 The Artist
Tessa Grundon is an English artist living in New York but working on both sides of the Atlantic. Much of her work is rooted in geographical locations, exploring and mapping the topography and history of a place and using elements of the landscape as components in her work.
"As an artist engaged with landscape and environment the opportunity to be artist in residence for this expedition was something to be leapt at," says Tessa. "River mud and debris found along strand lines are among the materials I often work with.
"Unfortunately plastic is an enormous and ever-increasing part of the flotsam and jetsam I retrieve from marshes, rivers and estuaries. As a result it has become an important part of the conversation between artists and scientists who work on environmental issues. Working with Sail Britain has given me an opportunity to see the landscape and now seascapes from a different viewpoint physically as well as emotionally and engage on a different level."
Sail Britain is an interdisciplinary organisation weaving together sail training, a wide variety of ocean research topics, engagement through the arts and community events, and adventure with purpose to inspire positive change. Everyone is welcome to join the sailing programme and to bring ocean related projects on board, whether creative or scientific.
Sea stories
Beautiful ocean stories straight to your inbox.
Join our community.