Adventure
Behind the lens: Brooke Pyke
Behind the Lens places a spotlight on the world's foremost ocean photographers. Each edition focusses on the work of an individual who continues to shape public opinion through powerful imagery and compelling storytelling. This interview focuses on Brooke Pyke, a Melbourne-born photographer, designer, and artist, currently working in Exmouth, Western Australia.
Interview by
Oceanographic Magazine
Photographs by
Brooke Pyke
Interview by
Oceanographic Magazine
Brooke Pyke's aim is to capture the ocean's unique inhabitants with the level of perfection they deserve. She believes that photography and art can inspire the next generation of nature conservationists and hopes that in sharing her imagery, she can help protect the planet's last remaining wild places.
OCEANOGRAPHIC MAGAZINE (OM): THANKS FOR TAKING TIME TO SPEAK TO US, BROOKE LET'S DIVE RIGHT IN. WHEN DID YOU FIRST CONNECT WITH THE OCEAN?
BROOKE PYKE (BP): My connection with the ocean began quite early on in my childhood. Yet, as a very young child the sea scared me. I have vivid memories walking along the beach with my parents, looking at the waves breaking near us. I thought the ocean would suddenly leap up and swallow us whole. That's why I would plead with them to walk further up the shore away from the water. The coastline and beaches near where I grew up are wild and intimidating. When I was a bit older, my father urged me to learn to snorkel. When I immersed myself in the water for the first time, I started to realise that while the ocean can be dangerous, it can also be gentle and calm. So, when I began to snorkel and see what was below the surface, I slowly felt more at home in the sea.
OM: HOW DID YOU CONNECT THE DOTS BETWEEN YOUR PASSION FOR PHOTOGRAPHY AND YOUR PASSION FOR THE OCEAN?
BP: I have loved photography since high school. I used to take a small camera with a black and white film everywhere. After finishing school, I applied to study photography in Melbourne, but to my disappointment I wasn't accepted onto the course. I ended up studying graphic design and didn't dabble in photography again until years later. After training up as a dive professional, I worked various jobs around Thailand, Indonesia and Australia as an instructor. It wasn't long until I asked to borrow a friend's compact point and shoot underwater camera. I really enjoyed using it and soon bought my own. Naturally I was quite good at it given my previous experience and understanding of photography and the dive shops I worked for asked to start using my photos for social media and their websites. I quickly began to realise that I could now pair up my love for diving and the ocean with a creative element. This is about the time that Instagram started to get popular, and it was a great place to follow the work of photographers around the world. It was so inspiring to see many of them successfully working in dream locations and photographing marine life as a job. After teaching diving for four years, I felt I needed a new challenge and a more creative job. Underwater photography had quickly become a passion and full-time hobby, but I wanted to turn it into a full-time job. Being completely self-taught and without any official qualifications in photography I had to work hard and spent a lot of time developing my skills and portfolio. Eventually I moved back to Australia with the aim to apply for jobs on the Ningaloo Reef as a photographer. All my hard work paid off and I landed my first job as a photographer in 2021.
OM: WHAT ROLE DO YOU THINK PHOTOGRAPHY IS PLAYING IN THE CONSERVATION MOVEMENT AGAINST GLOBAL WARMING AND BIODIVERSITY LOSS?
BP: I think us photographers have a very important role in that regard; something I discovered very early on when I was living in Indonesia. As with many developing countries, marine pollution is a huge problem. It was an issue that I came across on a daily basis when I lived and worked out there. It amazed me how people from outside Asia were so unaware of it as well. It quickly became something I wanted to put into people's minds and hoped that perhaps something could be done. When I took divers out around the Nusa Islands near Bali during the wet season, the waters were often choked with currents of plastic carried into the ocean after heavy rainfall. They were shocked to see the amount of plastic that ended up in the ocean. In Western countries these issues are too often out of sight and out of mind, so seeing it in person is very confronting. One day, I captured some shocking photos of manta rays feeding in a plastic soup mixed with plankton. The photos got picked up not long after by several newspapers and soon were exposed to the mainstream media around the world. The imagery was a shock for so many people and I quickly realised how important images are for raising awareness, spurring change and giving a voice to those things you can't explain with words. Photography has a huge role to play in getting a message across to those who will never see the issues firsthand. Words simply cannot convey the severity of biodiversity loss and climate breakdown.
Photographs by
Brooke Pyke
Continue reading...
To continue reading this article – and enjoy full digital access across Oceanographic – sign up to Ocean Hub today! More info below…
Keep reading by signing up for an Ocean Hub subscription
Ocean Hub. More than a magazine subscription.
As well the delivery of all new editions, members unlock access to exclusive products, services and discounts, as well as EVERY digital back issue we have published.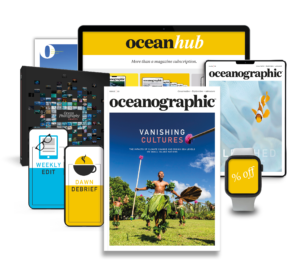 Find out more

about Ocean Hub subscription
Shop window
current issue
Back Issues
Enjoy so much more from Oceanographic Magazine by becoming a subscriber.
A range of subscription options are available.
Sea stories
Beautiful ocean stories straight to your inbox.
Join our community.