Adventure
Behind the lens: Jake Wilton
Behind the Lens places a spotlight on the world's foremost ocean photographers. Each edition focusses on the work of an individual who continues to shape public opinion through powerful imagery and compelling storytelling. This interview focuses on Jake Wilton, an award-winning nature and travel photographer from New South Wales, Australia.
Interview with and photographs by
Jake Wilton
Interview with and photographs by
Jake Wilton
With more than a decade of experience, Jake Wilton has a deep understanding of how to capture the beauty and uniqueness of different destinations and species to inspire his audience.
OCEANOGRAPHIC MAGAZINE (OM): JAKE, WHEN DID YOU FIRST CONNECT WITH THE OCEAN
Jake Wilton (JW): I grew up on the coast of New South Wales in a small town called South West Rocks. Our house was right in town only a few hundred metres away from two estuaries and three beaches, so from the age of about two, I was always in, on, or around the water. The biggest connection I felt to the ocean was when I completed my Open Water course in 2007 a few months before my 16th birthday. Our family friends at the time owned Fish Rock Dive Centre and so I spent my weekends sweeping, cleaning, and helping in any way I could to get out on the boat and go scuba diving. In 2010 I completed my Divemaster training and in 2011, I became an Open Water scuba diving instructor. I worked as a guide at my local dive site of Fish Rock Cave until I moved to Ningaloo in 2016.
OM: HOW DID YOU CONNECT THE DOTS BETWEEN YOUR PASSION FOR PHOTOGRAPHY AND PASSION FOR THE OCEAN?
JW: For me, the ocean is the one place the rest of the world disappears. Funnily enough, I actually spent the first 12 years of my diving life doing everything I could to avoid taking a camera underwater. I always preferred to live in the moment and take in every detail of the animal or of the encounter I was having. Over time I began to yearn to be able to communicate to my family and friends the beauty of the ocean and my experiences in it so eventually I purchased my first camera, in late 2018. In early 2019, I had the opportunity to take on a photography role aboard the tour I worked on in Coral Bay in Western Australia. Since then I haven't looked back.
OM: HOW WOULD YOU DESCRIBE YOUR PHOTOGRAPHY STYLE? WHAT MAKES IT STAND OUT
JW: Style is something I dwelled on for quite some time when I was starting out. I came to the conclusion that I didn't want to adopt a specific 'style' per se and pigeonhole myself into a certain way of creating images. I decided to take every shooting opportunity as it comes. So, I aim to produce images that best represent the scene I am witnessing or convey the message I am trying to convey. Ultimately, I believe it is better to capture what interests you and leave it up to the viewer to decide on how they see your work.
OM: HOW DO YOU PLAN YOUR IMAGES? WHAT'S THE PROCESS BEHIND EACH SHOT?
JW: It honestly depends on the location and species I want to photograph. I have images that I plan for a long time, but I equally love heading out into the water spontaneously to capture whatever spectacle Mother Nature provides on the day. I personally enjoy both approaches but I do love when a planned image that you have been envisioning for a long time comes together and you end up capturing it just how you imagined. With my underwater shots I always aim to wait for the opportune moment rather than the spray and pray approach. Marine life can be tricky to shoot as everyone will be aware. They very rarely give you a second chance. I like to stay with the animal for as long as possible and let them get comfortable with my presence. This is also a great time to assess the lighting and the ideal composition, while the individual can get back to its natural behaviour. I can then pick the right moment to capture something a little bit more special than just a quick snapshot of an animal before it swims away.
Continue reading...
To continue reading this article – and enjoy full digital access across Oceanographic – sign up to Ocean Hub today! More info below…
Keep reading by signing up for an Ocean Hub subscription
Ocean Hub. More than a magazine subscription.
As well the delivery of all new editions, members unlock access to exclusive products, services and discounts, as well as EVERY digital back issue we have published.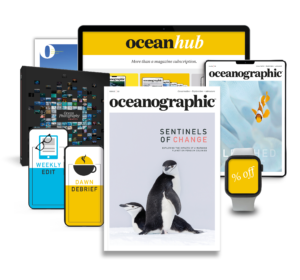 Find out more

about Ocean Hub subscription
Shop window
current issue
Back Issues
Enjoy so much more from Oceanographic Magazine by becoming a subscriber.
A range of subscription options are available.
Sea stories
Beautiful ocean stories straight to your inbox.
Join our community.