Adventure
Behind the lens: Matty Smith
Behind the Lens places a spotlight on the world's foremost ocean photographers. Each edition focusses on the work of an individual who continues to shape public opinion through powerful imagery and compelling storytelling. This interview focuses on Matty Smith, an internationally acclaimed underwater photographer, currently residing in New South Wales in Australia.
Interview by
Oceanographic Magazine
Photographs by
Matty Smith
Interview by
Oceanographic Magazine
The aim behind Matty Smith's photography is to show the distinctive beauty of underwater landscapes and alien creatures he encounters. With his images, he seeks to show people the treasures of the ocean, how fragile they are and the importance of protecting them. 
OCEANOGRAPHIC MAGAZINE (OM): MATTY, THANKS FOR TAKING TIME TO SPEAK TO US. DO YOU REMEMBER WHEN YOU FIRST CONNECTED WITH THE OCEAN? 
MATTY SMITH (MS): As I'm originally from the UK, when I was younger, I was going on holidays down to Europe with my parents. One particular time, when we went to the Mediterranean coast of Spain, I went snorkelling and that was the first time I'd put my head under the water. I remember looking down and I saw a big school of fish below me just above the sand. I remember the way the sun was shining down and the beams of light were dancing around on the backs of the fish. I was instantly mesmerized and captivated. From that moment on, I just did everything I could to go back to the ocean. As soon as I was able to drive, I really got into surfing. I've pretty much been in the ocean ever since. 
OM: HOW AND WHY DID YOU START TAKING PHOTOS UNDERWATER? HOW HAS THE LOVE FOR UNDERWATER PHOTOGRAPHY DEVELOPED?
MS: An ex-girlfriend's dad was a photographer. I was talking to him about it and I got interested in the whole SLR thing. This was in the mid '90s before digital cameras were a thing, of course. So, for my birthday I got an SLR camera with rolls of black and white film. I started shooting surf primarily. My camera has always been aimed at the ocean even from the first time I picked one up. I started taking photographs of my friends surfing. Then I built a darkroom in the cellar of the house I was living in at the time. I would go on surf trips and then develop and print all my own photographs. I also signed up to a night school. I did three years of college, learning how to print black and white to a certain standard. Photography has been under my skin ever since. 
OM: HOW DID YOU TURN YOUR PASSION INTO YOUR PROFESSION? HOW DID YOU END UP AS AN UNDERWATER PHOTOGRAPHER?
MS: What many photographers testify to, once photography gets under your skin, it becomes a very expensive hobby. So for years I was just shooting as much as I could, trying to think of new ideas and angles. I guess my big break was in 2014. It was quite a good year for me. I had an idea to shoot some split-shots, or over-under photographs as people call them, of Portuguese man o'war or bluebottles as we call them in Australia which are basically a smaller species of man o'war. I shot a whole portfolio of split-shots of those at sunrise and I didn't do anything with them. I just sat on them and kept them close to my chest because I knew that they were quite nice pictures that could potentially do well in competitions. Then, in 2014, after I had been shooting the bluebottles for around a year or so, I had gotten a small portfolio of shots I was really happy with. I entered those into all the major competitions and in 2014, I placed in the Wildlife Photographer of the Year competition. I got to go to London and attend the ceremony that was presented by David Attenborough. I then won the Australian Geographic Nature Photographer of the Year overall prize with another picture from the same portfolio. So, 2014 was a big year; I won many awards, met some influential people through those awards, picked up my Nikon sponsorship, as well as a sponsorship with Aquatica Digital. Loads of doors opened on the back of those few pictures. 
Photographs by
Matty Smith
Continue reading...
To continue reading this article – and enjoy full digital access across Oceanographic – sign up to Ocean Hub today! More info below…
Keep reading by signing up for an Ocean Hub subscription
Ocean Hub. More than a magazine subscription.
As well the delivery of all new editions, members unlock access to exclusive products, services and discounts, as well as EVERY digital back issue we have published.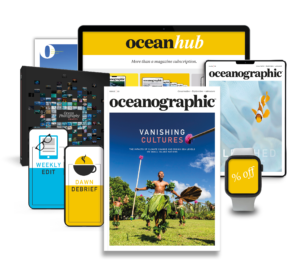 Find out more

about Ocean Hub subscription
Shop window
current issue
Back Issues
Enjoy so much more from Oceanographic Magazine by becoming a subscriber.
A range of subscription options are available.
Sea stories
Beautiful ocean stories straight to your inbox.
Join our community.