Words and photographs by
Ben Thouard
Words and photographs by
Ben Thouard
"The ocean is unpredictable and powerful, and you need to be aware at all times." – Ben Thouard
Ben Thouard is driven by his desire to create something original in his ocean photography. Having trained in Toulon and Paris, he has since gone on to win numerous awards for his work, which has featured on the covers of Surf Session, Carve, Air Tahihi, SUP and numerous others.  After some years spent photographing solely watersports, he fell down the rabbit hole of trying to photograph the perfect wave. We caught up with him to find out what it is about the ocean that inspires him.
Surface, a short documentary about Ben by John Rodosky and Roam Media will feature during the Ocean Film Festival – click here for more information.
Oceanographic Magazine (OM): Where are you based at the moment?
Ben Thouard (BT): I moved to Tahiti 11 years ago for the wave of Teahupo'o. It's a magical place where the waves are completely unique. It's the perfect place to shoot underwater and exploring the endless possibilities of photographing the surface of the ocean. My friend, professional windsurfer Baptiste Gossein, invited me in Tahiti for a photography trip. we spent one month in Teahupo'o and I completely fell in love with the place. I love the vibe here, the lifestyle, the culture, the light and the waves – Tahiti has everything and I could not believe it when I first came here. At that time, I was living in Paris, just because it was close to the airport and the easiest in terms of logistics, so moving to Tahiti was an easy decision.
OM: When did you first connect with the ocean?
BT: I've always been closely connected with the ocean. My dad always had a sailboat and we spent every summer holiday on board. Then a little later when I was around eight years old, I discovered surfing with my older brothers. I  fell in love with this sport and it became addictive. My first surfing lesson is a powerful memory that will stay with me forever. Standing up on the board for the first time and managing to ride the wave properly was the most incredible feeling!
OM: Why did you first pick up a camera?
BT: I found an old camera from my father at home and I was drawn to it right away. I bought a few rolls of film and started shooting my friends surfing. When I was 19 I did my first trip to Hawaii to shoot windsurfers – that's where everything really started for me.
OM: What made you realise you wanted to start photographing under the water rather than shooting sports on the surface?
BT: I always wanted to show things differently and offer new angles since I started photography. When I moved to Tahiti, I was so amazed by the water clarity here that I started shooting underwater right away. The show beneath the surface is unreal! After the first few test photos, I still could not believe how amazing and changeable the ocean could be, so I decided to give more energy and time to this style of photography. After growing my portfolio of photos, I knew I had something special, so I decided to work on my book, SURFACE, and then push it to the next level.
OM: How do you feel when working under the water?
BT: Being underwater is a completely unique feeling! Your body is fully supported so it feels no pain and no pressure. It's very relaxing to be in the water for so long. It's where I feel the most alive – it's my happy place. I spend countless hours in and under the ocean and I'm still amazed by what I see. The view underwater is unreal, you need to be patient for everything to aligned and get the perfect shot.
OM: What is the most important message you've shared with your work?
BT: I think my work shows how unique, pristine and beautiful the ocean and reef systems are, but also their fragility. So, I try to help people feel a connection to that space. Hopefully, that can help to make some difference in the way they feel about the ocean that will induce them to take care of it.
OM: Why is it important to always seek out new perspectives of the natural world?
BT: I'm not sure, this is just how I am. When you're a photographer you're always looking for new perspective, I guess. Especially these days with photography being so accessible, you need to step out from the rest and offer unique photos that really stand out. The world of photography is changing rapidly and there was a time when I thought it wasn't working for me, so I just spent as much time as possible underwater, exploring new ways to portray this place. When I discovered that you can shoot a landscape through the eye of a wave I knew I had something special.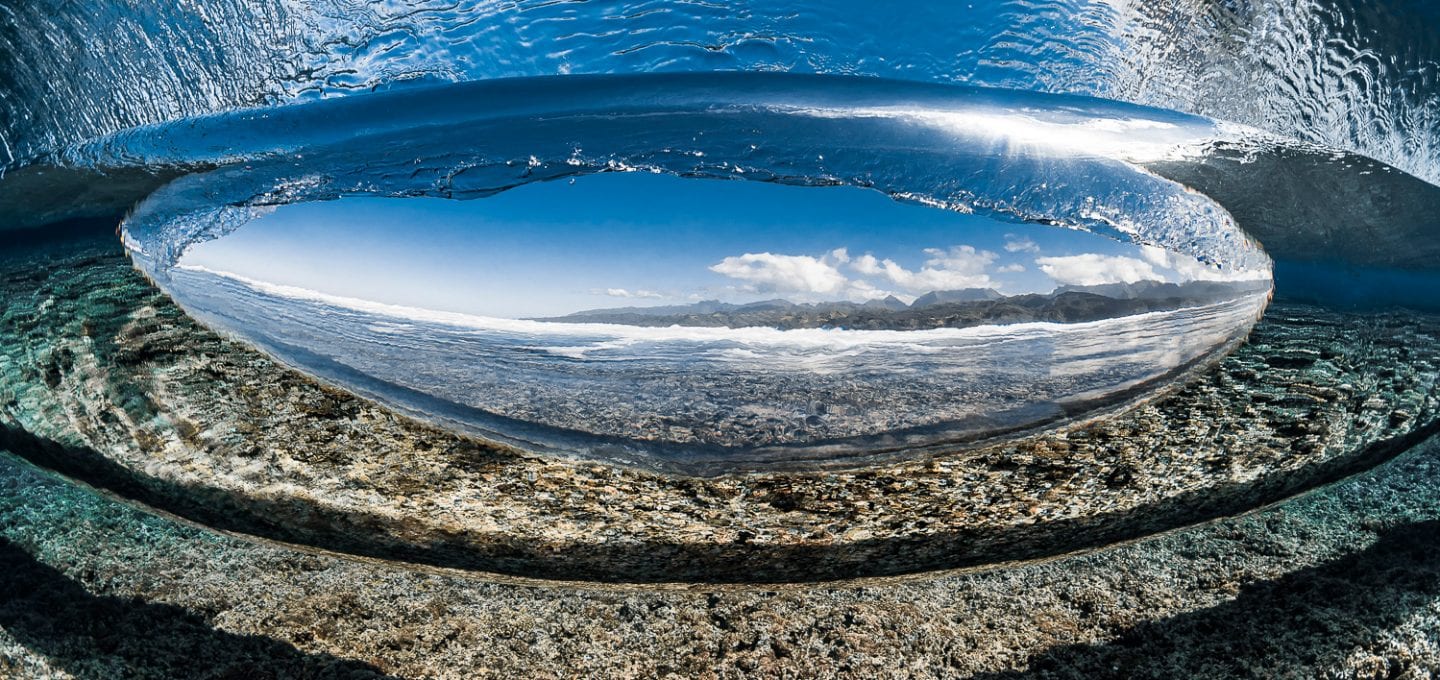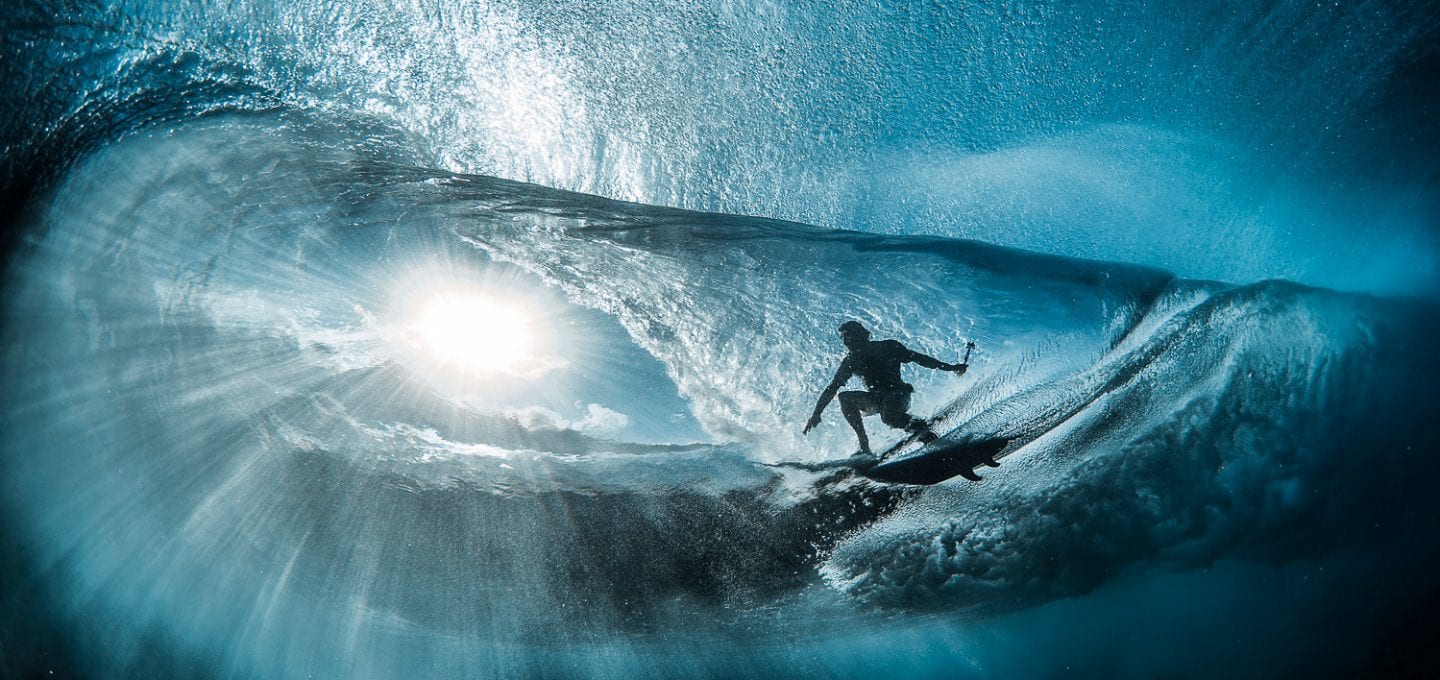 OM: You often work alone – have you ever been swept up in strong currents?
BT: It's happened a few times, fortunately nothing too bad has ever happened, but when you're swimming in large waves to take photos, there is always a risk! I got caught twice in Teahupo'o by big sets and could not make it under the waves, so I ended up being swept onto the dry reef. This is just part of the game, which actually adds to the thrill of it all. It's exciting knowing that there will be some challenge in achieving the desired shot.
OM: What has your work taught you about the ocean?
BT: I learned through my work that the ocean is unpredictable and powerful, and you need to be aware at all times. It's a force that demands great respect and attention. This is also what is so exciting about being in the ocean and why I love to take photos there. The moments spent out there will never happen twice and collecting photos from these unique experience as keepsakes is very interesting.
OM: How do you decide when and where to go shoot?
BT: The first thing I do is check the weather conditions – this is key to my work. I usually check the weather forecast at least once a day and I look at two or three different forecasts to know what is going to happen in the next few days, and what and where it would be most interesting to shoot. It's less about skills and more about the knowledge you acquire with time and practice. Sometimes, there can be a lot of preparation and it's all for nothing. I need to scout locations carefully and understand how the swell is reacting on every spot. This helps me to predict what size and direction of swell will work for each location. You also need to consider the wind and the light – it all has to come together. Trying to combine all those changing elements makes it challenging and that's why I love it.
OM: What has been your most memorable experience while out shooting waves?
BT: When I was shooting out in the ocean three years ago, in October 2016, I shot two photos called LOST and ANIMAL. I think they are the some of the most famous images from my portfolio. A big storm was approaching Tahiti, but the wave conditions were, until the very last second, glassy and idyllic so I was able to shoot photos of the perfect waves with the heavy storm approaching ominously in the background. I love these moments and I still remember that day pretty well. Making my way back home was a real mission as the storm hit pretty hard but it was all worth it.
OM: What are you working on next?
BT: Right now, I'm working on expanding my ocean collection of images and prints and organising exhibitions. I would love to be able to make big shows of my images worldwide – it's a big challenge but the more I work in this arena the more I realise that people are enjoying my photos, so it gives me confidence to keep going. And hopefully I'll be able to create a follow-up book to SURFACE in a few years. I Hope my work with encourage more people to go out and explore the underwater world and to create their own vision of it.
Discover SURFACE, a beautiful coffee table book of wave and ocean photography by Ben Thouard, which took him more than a year to shoot. 
__________
Unplug. Reconnect. 
#WhereWillYouReadYours?
Sea stories
Beautiful ocean stories straight to your inbox.
Join our community.