Exploration
Big little lives
Delicate and diminutive, pygmy seahorses are some of the most enigmatic characters on the reefs they inhabit. With new species discovered in recent years, including the first in the Indian Ocean, big questions are being asked of these little creatures.
Words & photographs by
Dr Richard Smith
Words & photographs by
Dr Richard Smith
Anticipation is always high when you're set on looking for a particular species on a dive. You need the right conditions, broadly the right habitat and of course a little luck. People often ask how I find the well camouflaged pygmy seahorses that I study, particularly when they're so tiny. I always say, it's about having a mental image, and knowing where to look. After that, finding an animal just big enough to stretch across a US dime or UK five pence coin in the great wide ocean is relatively easy! However, when you're looking for a brand new species, that just one or two people may have seen before, that advice becomes rather redundant. So, as I descended in the nauseating South African swells, on a dive in search of the first pygmy seahorse sighted in the Indian Ocean my anticipation was completely through the roof.
Pygmy seahorses have become well known in the dive community, which is hardly surprising given their cheeky puckered lips, neon colours and incredible miniaturisation. Despite their notoriety, we actually know shockingly little about them. The original pygmy seahorses, that we now know of as Bargibant's pygmy, were first spotted by a researcher at a museum in Noumea, New Caledonia. George Bargibant was bringing up a Muricella gorgonian for the museum's collection and happened to notice a pair of tiny seahorses clinging cryptically to its surface. The species was named in his honour in 1970.
Over the next twenty-five years, there were very few reports of pygmy seahorses, until they began to be spotted by eagle-eyed divers in Papua New Guinea. Of course, this caused a flurry of excitement and the tiny fishes became the celebrities of the coral reef. Divers began to realise that they lived exclusively on Muricella gorgonians and only certain ones of these. Later, pygmies began to be spotted living on other gorgonians, and those individuals tended to be smaller and more slender. In 2003, these were described as Denise's pygmy seahorses. The same year, a free-living pygmy was discovered at the remote Lord Howe Island, almost 500 miles northeast of Sydney, and named as Coleman's pygmy seahorse.
Beyond the scientific naming process, which included only basic ecological information, there had never been any further biological research into the biology of pygmy seahorses until I began my PhD in 2007. I focused on the two gorgonian-living species, Bargibant's and Denise's pygmy seahorses. Among other things, I investigated how rare or common they might be, as well as their social and reproductive behaviours. I found plentiful healthy gorgonians to accommodate them, but fewer than 10% were inhabited. Generally, these two pygmies were the least abundant of all seahorses. I also revealed surprising behaviours among the social groups living together on a single gorgonian, such as males attempting to strangle each other and ordinarily monogamous female seahorses mating with multiple partners. 
While writing up my thesis, several other new pygmies were added to the roster. In 2008, Pontoh's and Satomi's species were described. Both are free-living, preferring halimeda algae and hydroids in the case of the former, and soft corals and bushy gorgonians for the latter. The next year, 2009, they were joined by the Walea Soft coral pygmy seahorse, which lives on shallow soft corals only in Indonesia's Tomini Gulf. As divers' attentions around Southeast Asia moved towards smaller animals on the reef, the number of new pygmy discoveries was increasing. In fact, not only with pygmy seahorses, but many other creatures too. Around this time the tiny and hair-like thread pipehorse (Kyonemichthys rumengani) was also discovered, as well as other pipefishes, gobies and shrimps. Basically, almost any group of miniature habitat-specific creature you care to think of was burgeoning with new discoveries.
Continue reading...
To continue reading this article – and enjoy full digital access across Oceanographic – sign up to Ocean Hub today! More info below…
Keep reading by signing up for an Ocean Hub subscription
Ocean Hub. More than a magazine subscription.
As well the delivery of all new editions, members unlock access to exclusive products, services and discounts, as well as EVERY digital back issue we have published.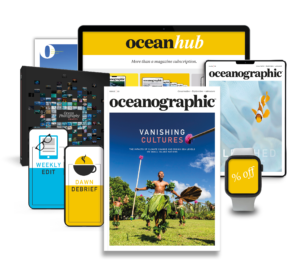 Find out more

about Ocean Hub subscription
Shop window
current issue
Back Issues
Enjoy so much more from Oceanographic Magazine by becoming a subscriber.
A range of subscription options are available.
Sea stories
Beautiful ocean stories straight to your inbox.
Join our community.