Conservation
Bio-logging blues
A team of researchers in the Azores are using a non- invasive tagging technique to better understand and protect the local blue shark population.
Words & photographs by
Nuno Vasco Rodrigues
Words & photographs by
Nuno Vasco Rodrigues
Blue sharks are the most fished species of shark. This is one of the main conclusions of a recently published report by TRAFFIC, a  non-governmental organisation working globally on the trade in wild animals and plants in the context of both biodiversity conservation and sustainable development. It is an assertion supported by numerous other studies. The blue's status as the most fished in the world translates, of course, to a dramatic decrease in population numbers globally. The species is now listed by the International Union for Conservation of Nature (IUCN) as 'Critically Endangered' in the Mediterranean and 'Near Threatened' worldwide.
The blue shark is a wide-ranging species. It can be found in both tropical and temperate regions and is predominantly fished as bycatch (non-targeted) by longline and driftnet fisheries, which target tuna and swordfish, species that attain a much higher market value than blue sharks. The sharks are discarded immediately after being fished, often while still alive, but not before being finned – blue shark fins are amongst the most abundant in international trade – which prevents them from swimming, leading them to sink to the seafloor and die of suffocation or blood loss.
Slow growth rate, delayed maturation and small number of descendants are some of the inherent conditions of blue sharks' biology (along with many other species of sharks), that make them extremely vulnerable to human exploitation.
As apex predators, sitting at the top of the food chain, these animals play a critical role in ecosystem balance. As such, there is an urgency in the need to implement efficient conservation strategies that promote the species' protection and population recovery. The starting point for those strategies is a comprehensive knowledge and understanding of the shark's functional ecology.
An innovative research approach is being developed in the Azores, where these animals are seen regularly. The ECODIVE-AZ Project, led by marine biologist researcher Jorge Fontes, from the OKEANOS group of the University of the Azores, is targeting a better understanding of the behaviour and ecology of blue sharks in Azorean waters.
Continue reading...
To continue reading this article – and enjoy full digital access across Oceanographic – sign up to Ocean Hub today! More info below…
Keep reading by signing up for an Ocean Hub subscription
Ocean Hub. More than a magazine subscription.
As well the delivery of all new editions, members unlock access to exclusive products, services and discounts, as well as EVERY digital back issue we have published.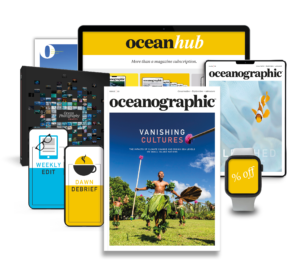 Find out more

about Ocean Hub subscription
Shop window
current issue
Back Issues
Enjoy so much more from Oceanographic Magazine by becoming a subscriber.
A range of subscription options are available.
Sea stories
Beautiful ocean stories straight to your inbox.
Join our community.