Words by
Captain Sophie Hollingsworth
Words by
Captain Sophie Hollingsworth
I sailed across the Pacific Ocean when I was a deckhand and watch team leader on a 110' sailboat.
The barometer had been dropping all day and about 200nm off the coast of the Tuamotu Islands an immense storm showed up on radar. We changed course, but the vessel was not fast enough to outrun the storm.
Anticipating the storm's power and acknowledging that I would need to muster all my strength, I attempted to get some sleep before my 1200-0400 shift, yet nature had other plans. I was literally thrown out of my bunk by the force of a wave hitting the hull. I fell out of my bed into the bunk below. I put on my personal flotation device and used the tether to latch myself down to the wall/bed in a futile attempt to get some rest. I laid there terrified and anxious with salty ropes preventing me from falling out of bed. I worried if I had what it took to lead the forthcoming watch – little did I know at the time but four months later I would take my captains license exam and become the youngest female in the world to obtain a 200-ton Yachtmaster Captains License. When 1200 rolled around I donned my full foul weather gear and left myself doubt in my bunk. I knew that, the moment I stepped on deck, fear would not serve me. There was only space for clear-headed and calculated action.
I tried to rise to the occasion. With sails reefed, buckets of rain soaked the watch team to the bone. We flew down immense waves, in the trough of the waves I would look up to the peak having to tilt my head backwards as if looking up at a Manhattan skyscraper. I assumed a wide stance, tightly gripping the ships wheel and ensured everyone on watch was tethered to a jack-line. The storm gave us a good beating. In the end, we safely made landfall and I learned that you can have all the training in the world but sometimes the ocean throws terrifying things at you and you just have to alter course, cope the best you can, and respect the oceans immense power.
The ocean has been in my veins since I was born. On my first trip out of the house as a baby, my parents took me deep-sea fishing in the Gulf of Mexico and growing up on a barrier island in Florida, I was taught to swim alongside walking. I started sailing Optimists around the age of seven, but racing was never really my thing – I would see a manatee and sail off course to go watch it. I loved being on the water but wasn't particularly concerned with the regatta. At sea, I feel at home. There is no better feeling in the world than looking across the horizon in all directions and not seeing any land. The ocean offers a chance to escape the hyper-connected, over-stimulated state of modern-day life and cuts us off from the rattle and hum of modern society.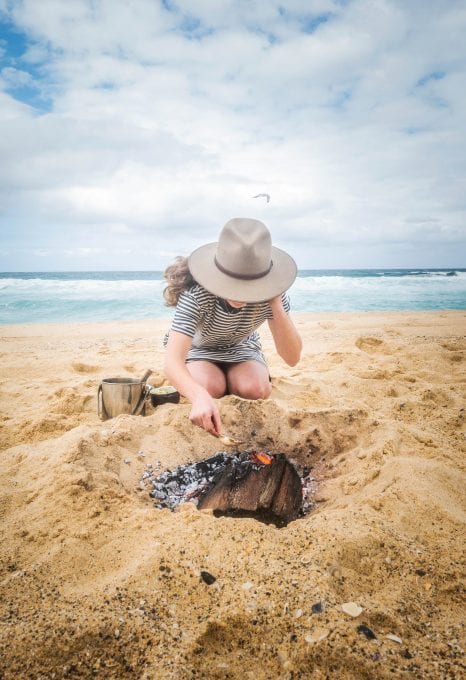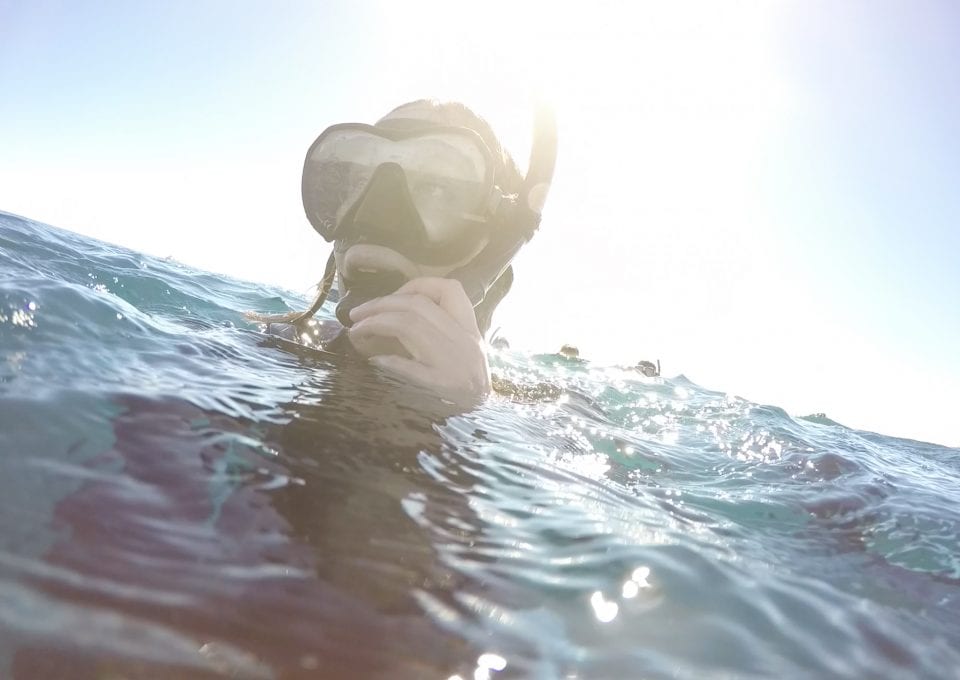 Growing up I devoured articles in National Geographic about deforestation and tribes disappearing at alarming rates. I was mesmerised by photos of the Amazon and cultures whose names I couldn't pronounce. I remember feeling this immense sense of urgency along with the realisation that we might be the last generation to live in a world where such places even exist. I knew that if I wanted to see some of these places, I was going to have to act fast. While I fantasised of visiting these remote and exotic lands before they disappeared, I never thought I could actually make a career out of it, in part because I didn't have any role models that looked remotely like me – I thought the closest I could get to being an explorer was to marry someone like Indiana Jones.
At the age of 15 my mother encouraged me to get a job – I reckon she meant something along the lines of a grocery bagger at the local supermarket or a position at the ice cream store – but all I wanted to do was travel. So I hassled a yacht captain who was a friend of the family to let me work for free for two weeks on the private yacht he ran in Puerto Rico. I then stayed on for the summer, and for every summer after that. I missed a lot of school to join yachts on various charters around the world. I was hooked.
It took me five years and many thousands of nautical miles to get my 200-ton MCA Yachtmaster ticket – at the time of certification, I was the youngest woman to ever do so. My favourite memory from this period was proving to myself that I was capable of doing so much more than I dreamed I was capable of. Everyone told me it was an impossible feat that I was not capable of – but I had a bull-headed stubbornness to continue. At the time a female deckhand was unheard of, let alone as a captain.
Over the years of captain's license preparation, I sweated through fire fighter training, grimaced through firearms practice, and learned to drink stiff rum cocktails after successfully and unsuccessfully docking. When I was turned away from captain's license classes I found loopholes. I fought for equal pay in an environment where there was no HR department in a jurisdiction regulated by international law.
One night, I was cooking over the fire, on a cliff overlooking the most gorgeous turquoise waters below. I was completely spellbound by the remoteness of the place and wondered why more people did not care about conservation of the oceans. I realised that part of the reason I felt such a deep connection to the planet was that I had had many experiences in those remote and awe-inspiring places. It occurred to me that if I could bring people a taste of adventure to their backyards or to a remote area just 30 minutes from their home, I could get them out of their comfort zone. Even if just for the evening, they could put down their phones and connect with their company, the food and the surrounding environment. It is a sneaky way to get people to engage with and think about the environment without preaching at them – because clearly if that worked, we wouldn't be in the predicament we are in.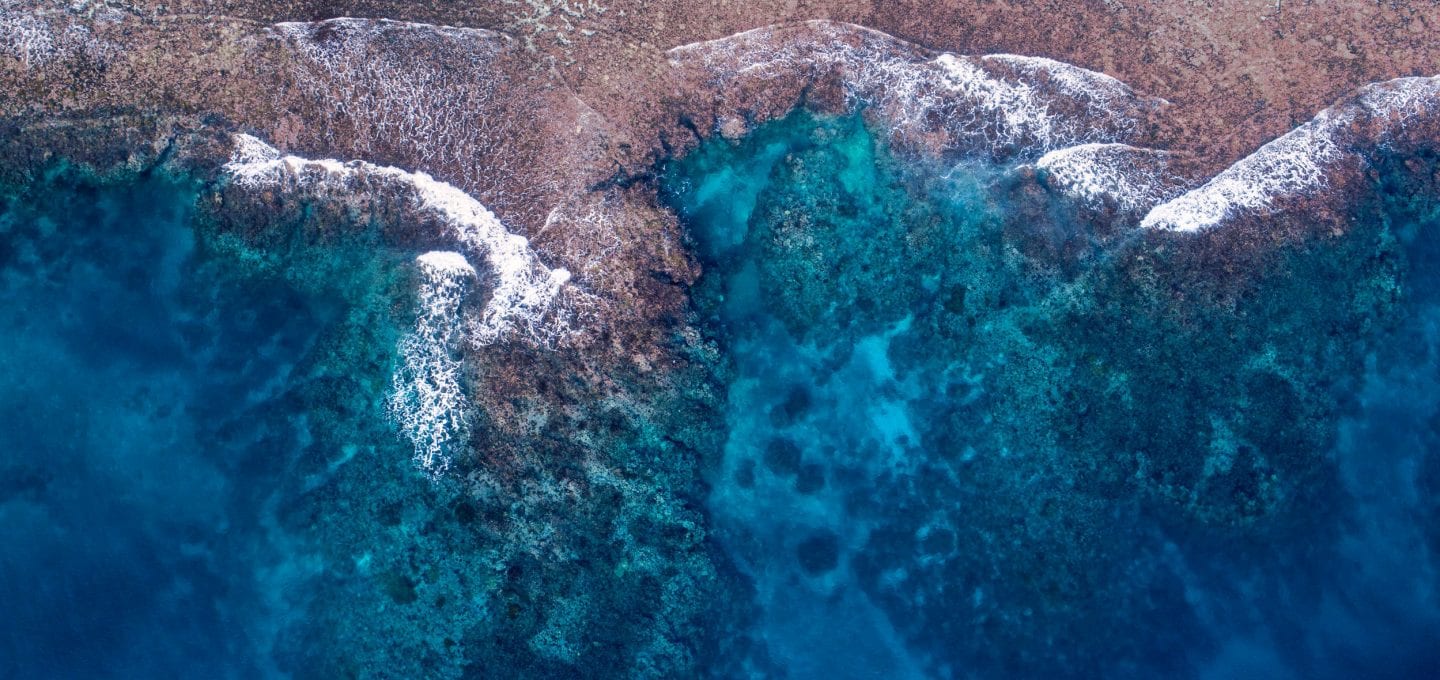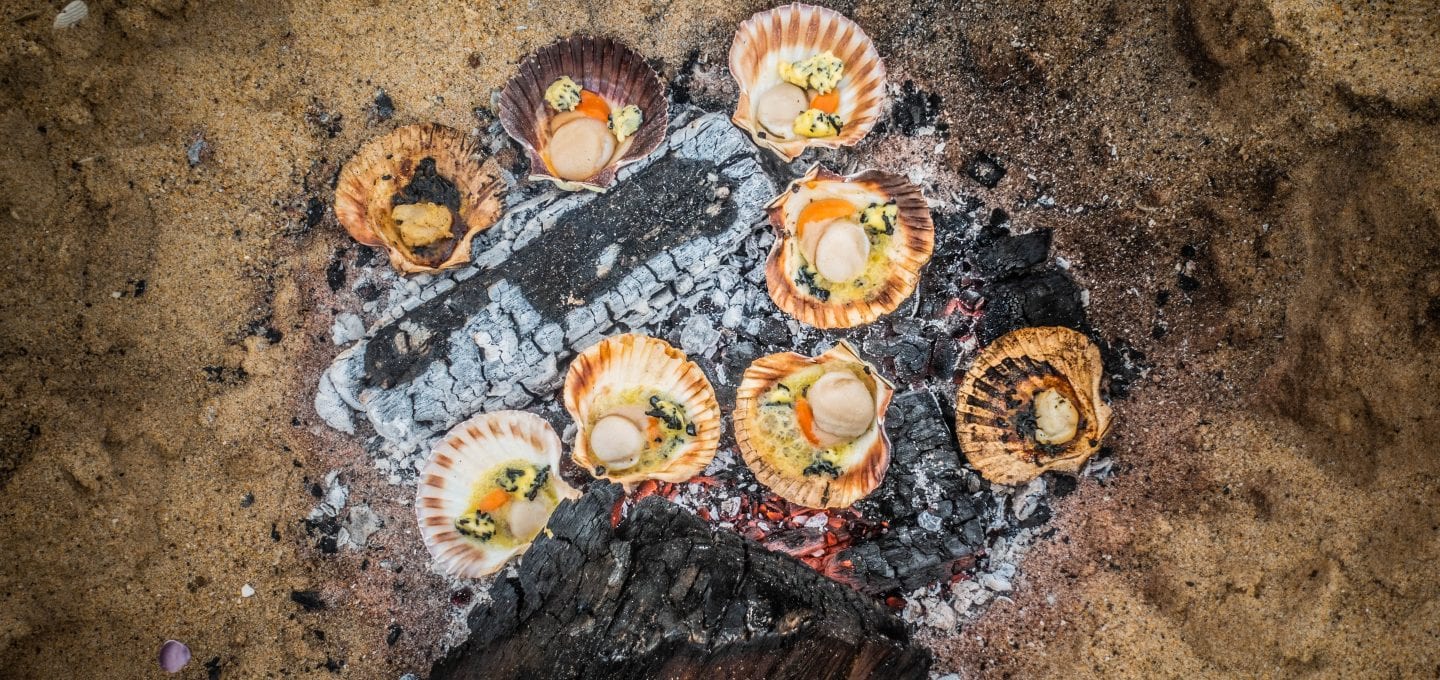 Food is one of our main survival needs. We are living in this odd time where we artificially separate our food system to nature, despite the fact that they are inextricably linked. And the reality is, there will be no food production without protection. Outdoor cooking is a complete sensory experience – there's nothing like the sound crackle of wood burning, the warmth of the flames, the smoky smell, and the hypnotising visual display. The challenge, the joy, the burnt fingers, the simplicity, and the adrenalin rush that is all part of the process. There is a magic that lights up in people's faces when they see how I am cooking. We are all a part of nature, to deny that relationship and knowledge just because we can order myriad takeaways with ease denies us an essential element of life.
It is this environment that breaks down people's walls and encourages a childlike wonder, where people usually engage in meaningful conversations. The purpose of good food and wine around the fire is even better conversation. In today's hyper-connected world, we communicate constantly behind keyboards, but I find that, despite the constant contact, there is less substance to our conversations. Sharing food in enchanting settings helps to ignite meaningful conversation and mutual sharing across ideologies.
Exploring these remote spots means that I have spent some time living with indigenous remote communities. I have found that we all have the same key priorities in life: food, water, shelter, and love. Yet given the common challenges, the range of cultural adaptation is extraordinary.
At the age of 16, I discovered that one in eight people don't have access to clean drinking water. It was my first time leaving the US and I was out on charter, sailing from the Caribbean through the Panama Canal up into the northern part of Costa Rica. The yacht set anchor for the night off the coast of Bahia Honda Panama – a tiny island where I met a single father in a dug-out canoe with two little girls who were looking to trade coconuts for fishing hooks. The little girls told me they were super excited to be starting school. I was curious as to why they were only just starting school as they looked older than the traditional age I started primary school. The girls told me there was a new underwater pipeline supplying their home island with clean water, so they no longer had to spend all day paddling to the mainland to collect water, allowing them the time to attend school.
I started researching the water crisis and found out that there were not many water companies working in remote communities, which I thought was bizarre because often that was where there was the most need. In 2012 I founded AquaAid because I was determined to help bring access to clean water to communities that other companies had written off as too remote. By 'too remote', I mean places that take at least three days of hiking, horseback riding and paddling in dugout canoes to get to from any sort of road. Alongside my adventure cooking experiences, I have found true exploration coupled with attempts to build a more sustainable and just world.
When the opportunity arose to explore and document a potential anthropological 'discovery', female chiefs in the South Pacific, I was ecstatic. For more than 100 years, literature declared there were no female chiefs in the Pacific Islands of Vanuatu. But in 2016, my team and I re-wrote anthropological history and found that there are female chiefs in the islands of Vanuatu. For me, this demonstrated that the golden age of exploration is not over. Exploration is now more important than ever because there is a time pressure that didn't exist for explorers 200 years ago. As a result of climate change and globalisation, practices fundamental to indigenous cultures are vanishing at alarming rates. And with every worldview that fades we are left with a diminished capacity to cope with the common challenges that face us all.
The people of Vanuatu are famous for their tradition of sand drawings. The tradition developed as a method of communication between tribes in a country with approximately 115 language groups. Sand drawings are made using volcanic ash, or sand, the drawer uses one finger to trace a continuous line which create a beautiful and mysterious design. The designs represent local rituals, mythology and everyday events and songs. They can also be used like a text message or note. Say you went to visit your neighbour and they weren't home, you could simply crank out a little sand drawing by their hut to say you'd stopped by to say hi.
Globalisation now effects even the most remote corners of the earth. Vanuatu's continually expanding telephone network has meant many youngsters are more interested in learning how to text in the national language of Bislama than learning the sand drawings of their island language. It seems we aren't the only ones worrying about our youngsters becoming glued to technology.
The effects of a changing climate also pose a threat the diversity of cultures. In the village of Narovorovo, access to clean drinking water used to be found in a natural spring, a mere five-minute walk from the village. Women would collect drinking water and then engage in the practice of water music, an enthralling tradition that involves standing waste-deep in water and rhythmically slapping the surface to create an aquatic symphony. That spring has now dried up after a year of unprecedented drought. Now the women must walk into the jungle, 30 minutes each way, to collect water. By the time the women get to the new spring they are tired and tight on time, which has resulted in a decline in the amount of water music practiced. This is just one example of the threat climate change poses to cultural survival. Besides, how boring would it be if we were all one homogenous culture glued to our smartphones.
There is an old quote that says 'travel is fatal to prejudice and bigotry'. I think the similar is true for conservation, as travel in remote places innately breeds a passion for conservation and sustainability. Unfortunately, people change their opinions based on feelings not facts. I believe that the storytelling element of exploration can be laced with themes of sustainability in order to creatively compel people to help build a more sustainable world.
Adventure is the foundation for any achievement and every moment that you didn't expect. The more people that get out of their comfort zones and step into the unknown, whether that means new responsibilities at work, or trekking across Namibia, the better the world will be. You don't have to sail across an ocean or live with an indigenous tribe to break the confines of your own comfort and create the positive ripple from living a life you are passionate about. Find your passion and your adventure will follow.
On October 3rd, Sophie Hollingsworth will feature in the six-part National Geographic Channel documentary Activate: The Global Citizen Movement, in an episode focused on plastic pollution in the ocean and plastic's impact on people living in extreme poverty in the Philippines.
Photographs courtesy of Sophie Hollingsworth and Lumino Creative.
__________
Unplug. Reconnect. 
#WhereWillYouReadYours?
Sea stories
Beautiful ocean stories straight to your inbox.
Join our community.