Exploration
Changing winds
Amid the horror of the North Pacific Gyre, adventurer and plastic pollution activist Emily Penn, along with her all-female eXXpedition crew, finds something unexpected: optimism.
Photographs by
Eleanor Church
We're a thousand miles from anywhere, five days from land, right in the middle of the North Pacific Ocean. It starts when we spot a fragment, about the size of a 50 pence piece. Then, things we recognise: a toothbrush, a washing basket, a loo seat, a garden chair. We begin to notice hundreds of fragments in between. It gets to the point where a piece is floating past the hull every ten seconds. And when we get the trawl into the water to take a surface sample handfuls of plastic come up, pieces we couldn't see on the water's surface – microplastics, smaller than our fingernails.
That's the moment we realise. Looking out over mostly blue ocean, a few pieces of plastic floating in our sight, we see what's actually there: a soup of tiny pieces, covering the entire surface, as far as the eye can see in any direction. There is plastic everywhere.
How did we get here?
A ship in search of answers
eXXpedition is a series of all-women voyages. Sailing around the planet on Sea Dragon, a 72ft racing yacht, we investigate the effects of plastic pollution. It began for me when I was 21 and was given the chance to crew a boat (the biofuelled Earthrace) around the world. I witnessed the plastic accumulation zones – the gyres – where the waste in the ocean converges. I saw how tiny the pieces are, their introduction into the food chain and the dangers of subsequent pollution. Working with the UN, I went on to have my own blood tested. I discovered that 29 out of 35 chemicals, banned for their toxicity, were already inside my body.
The experience threw up so many questions. How're these chemicals getting into our bodies? Where are they coming from? So eXXpedition began as a search for answers. Many of the chemicals being introduced into the environment by plastics are endocrine disruptors. These mimic our hormones and particularly affect women, passed on through pregnancy and childbirth. So, we tackle the issue by taking teams of amazing women out into the marine environment, undertaking expeditions and scientific work to better understand the impact of plastic on the ocean and ourselves.
After these journeys end, it's all about outreach and awareness. And as eXXpedition grows and shifts, we're developing an army of ambassadors for the issue. With each voyage a tribe of women from vastly different backgrounds gain first-hand experience of the problem. On board, we look at their skillsets – their superpowers – and ask, 'where do they intersect the plastic problem? How do we turn that into something amazing?'
Beating into the wind
This summer, we, the eXXpedition crew,  headed to the North Pacific Gyre, the densest plastic accumulation zone on the planet and our most ambitious voyage to-date. Starting in Hawaii and making our way across to Vancouver, we planned to cross right through its centre.
The minute the eXXpedition crew first came together in Oahu, Hawaii, we launched straight into a beach clean-up. Oahu sits right on the southern edge of the gyre, acting as a natural net to all the plastic that floats around at the shoreline. We'd only just landed and you could see the shock on everyone's faces. The beach is in a protected national park and isn't open to the public, but we couldn't see the sand. Alongside larger pieces of rubbish, a fine layer of microplastics completely covered the surface. We tackled the tiny bay with 30 to 40 people and still could've stayed there for a week. Sifting sand through fine nets to weed out the plastic, it's hard not to think, 'how on earth are we ever going to get these bits of plastic out?' They're the same size as the natural debris – the sand, seaweed, rocks and shells – and are completely mixed in with it. That was our first day. It was a fairly brutal start that threw us straight into thinking about the problem.
The next morning we were off and straight into the grind. The North Pacific is remote, with strong trade winds, and can be unforgiving. Heading towards specific co-ordinates where we expected to find plastic, we weren't sailing with the wind as you would normally. Those first five days we slogged through a pretty gnarly ocean, wind and waves right on the nose of the boat, keeled over at 40 degrees and smashing through the swell. Many of these women had never crewed a boat before – it was a fairly intense bonding experience.
Sailing connects you to the ocean as well as each other. At the helm of a 72 foot yacht, you're constantly thinking about the wind and waves and steering your way through, as the environment changes around you. The winds pick up, the waves change direction, and you have to respond. It places you right in the moment. It's central to the transformational experience we're creating onboard, the psychological journey that the crew members go on. And when you're in on a common goal with a team of people, driving in the same direction, you end up forming bonds that last forever.
Photographs by
Eleanor Church
Continue reading...
To continue reading this article – and enjoy full digital access across Oceanographic – sign up to Ocean Hub today! Right now, you can enjoy 50% off too, using coupon code LAUNCH50. More info below…
Keep reading by signing up for an Ocean Hub subscription
Ocean Hub. More than a magazine subscription.
As well the delivery of all new editions, members unlock access to exclusive products, services and discounts, as well as EVERY digital back issue we have published.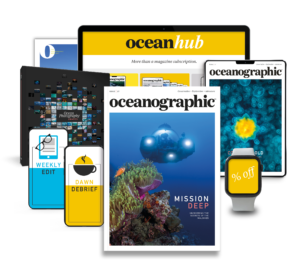 Find out more

about Ocean Hub subscription
Shop window
current issue
Back Issues
Enjoy so much more from Oceanographic Magazine by becoming a subscriber.
A range of subscription options are available.
Sea stories
Beautiful ocean stories straight to your inbox.
Join our community.