Adventure
Colour & Cold: Vibrancy and mystery in Alaska
Alaska is wild, remote and home to myriad ocean species - including a particularly elusive one, the mysterious salmon shark.
Words & Photographs by
Ron Watkins
Words & Photographs by
Ron Watkins
What first brought me to Alaska was the desire to find and photograph the salmon shark, a species so difficult to find that many refer to it as a 'unicorn'. In the summer of 2016, I ventured to a remote area of Alaska in search of this mysterious shark.
The salmon shark is a cousin of the mako and white shark, but has adapted to hunt and survive in cold (4-10 degrees Celsius) waters. The sharks are drawn to Alaskan waters during the summer to feast on the dense congregation of spawning pink and chum salmon returning to the nearby streams to complete the circle of life. Despite carefully planning my trip around the perfect time, having all the right gear and going with the best guide, I left Alaska in 2016 like many before me, with no underwater photos of the aquatic unicorn. But I left with something much more important – a greater appreciation and newly kindled passion for these sharks and the other wildlife above and below the water that share this beautiful but fragile ecosystem.
My Alaska port of entry is Ted Stevens Anchorage International Airport and after a brief overnight stay, I board a small twin-engine turboprop and fly over impressive mountain peaks still covered in snow – as well as several glaciers – on my way to the city of Valdez.
Valdez, while technically a city, is a small commercial fishing town of approximately 4,000 people, surrounded by towering mountain peaks. It is often associated with the 1989 Exxon Valdez tanker oil spill, which occurred nearby in Prince William Sound at Bligh Island. The area has had more than a quarter of a century to heal after the massive cleanup effort and while there is no visible trace of the spill, the ecosystem has not yet fully recovered. For me, Valdez is where I meet up with a few other adventurers heading out in search of salmon sharks under the skilled guidance of Daniel 'Boone' Hodgin.
From Port Valdez, a two-hour boat ride takes us past Columbia Glacier and its many floating icebergs, and brings us into Port Fidalgo with its surrounding rugged green mountains.
At this time of year, the mid-summer days are long, with 20 hours of sunlight. Our searching time certainly won't be hindered by nightfall, but in order to locate salmon sharks, the weather conditions have to be perfect, with little or no wind and calm water, so that their dorsal fins can be spotted as they cut through the water. Unlike other sharks, salmon sharks are not attracted to chum slicks or bait buckets, which means those searching for them have to be able to see them from the boat.
Once spotted, Boone observes the behaviour of the shark. If it appears to be a 'player', he tries to lure it close to the boat with a herring tied to the end of a fishing line without hook. Once the shark locks onto the herring, it will chase after it until it either catches the fish or loses interest. Boone is a master at this game and knows how to keep the sharks interested long enough while we quietly slip into the water with our snorkel gear and cameras.
It wasn't until my second trip to Alaska in 2017 that the forces of nature finally aligned, and I was able to get in the water with a few salmon sharks for an extended period of time and get my first photo of this elusive species. During this particular trip, I was fortunate enough to spend more than 70 minutes in the water with eight different salmon sharks over a two-day period. One unique encounter included interactions with four different salmon sharks, until a large dominant male showed up and chased the others off. On the third day, the weather changed and the sharks disappeared. Anyone who has photographed wildlife can appreciate that encounters are never guaranteed, but for two magical days that year, we were able to swim with and photograph these elusive sharks.
In contrast, during the summer of 2021, we had very limited interaction with the sharks and were only able to experience a handful of quick encounters. The weather wasn't ideal during our search time on this occasion. We saw fewer sharks in the water and the individuals were skittish. Another interesting observation: the salmon didn't return on their annual journey. In Boone's 10 years as a local expert, this has only occurred on one other occasion – during a year when the Prince William Sound experienced unusually high water temperatures. He believes the salmon that live most of their lives in the cooler coastal seas couldn't make it through the warm barrier at the entrance to Port Fidalgo. The warmer water could be an impact of global climate change, paired with the increased rate of glacial retreat at Columbia Glacier since 1980. Another worrisome observation: several sharks seen in the area both this year and last, had what appeared to be necrotic skin around their mouths and undersides. The specific cause of this condition is unknown but appears to be an infection.
Although salmon sharks are usually what initially lures adventurous souls to the Prince William Sound area, there is so much more to see and do both above and below the water. Scuba diving in the area is very unique, offering diverse dive sites that include large plumose anemones, sloping underwater rock formations, pinnacles and kelp forests that host an abundance of marine life. Some of the popular sites include the Ravencroft dock where you can find an array of small subjects including hooded nudibranchs, colorful shrimp, decorator crabs, and an abundance of bottom dwelling fish to keep even the most seasoned macro photographer busy. Larger subjects like the colorful Irish lord, sculpin, rockfish, halibut and giant Pacific octopus may be spotted on any given dive. 
Another favorite dive site is Manomi's Rocks, a dive site I discovered and is named after my wife. This site is an amazing forest of large 3 to 4 feet towering plumose anemones on top of a large rock formation a few feet below the surface at low tide and an interesting underwater sloping ledge full of life leading down to a large sea grass meadow with more plumose anemones.
One of the most out-of-this-world-experiences is diving in a moon jellyfish (aurelia aurita) bloom so thick it blocks out the sun. It is a natural phenomenon for jellyfish to congregate in huge numbers to reproduce, but it has been happening every summer with increased frequency. According to Boone, the blooms have been getting larger over time. This may be in part due to increasing water temperatures as well as overfishing of jellyfish predators. Like any imbalance in an ecosystem, an excessive amount of these jellyfish can deplete tiny zooplankton that other animals and small fish rely on, thus potentially disrupting the overall food chain.  
In the evenings after dinner, there were plenty of opportunities to explore the wildlife on and around the water. In Port Fidalgo, it is very common to see curious harbor seals and large rafts of sea otters laying on their back, some with young pups resting on their chest. Alaska also has a healthy population of bald eagles, and they can be seen nesting in trees or actively hunting fish. The surrounding areas are also home to bears, river otters, and a myriad of other wildlife. 

Boone fondly shares memories about times when they saw hundreds of salmon sharks and spotted their dorsal fins in front of the lodge as they sipped their morning coffee. Over the last decade, the salmon shark population in the area has significantly declined from sport fishing pressures and commercial by-catch. Unfortunately, Boone now sometimes struggles to locate more than a handful of sharks. He has attempted to educate the locals on the importance of salmon sharks and their decline over the years, but has faced many challenges. 
Continue reading...
To continue reading this article – and enjoy full digital access across Oceanographic – sign up to Ocean Hub today! More info below…
Keep reading by signing up for an Ocean Hub subscription
Ocean Hub. More than a magazine subscription.
As well the delivery of all new editions, members unlock access to exclusive products, services and discounts, as well as EVERY digital back issue we have published.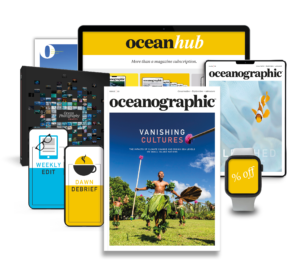 Find out more

about Ocean Hub subscription
Shop window
current issue
Back Issues
Enjoy so much more from Oceanographic Magazine by becoming a subscriber.
A range of subscription options are available.
Sea stories
Beautiful ocean stories straight to your inbox.
Join our community.