Conservation
Community coral conservation
In the mainly patriarchal society of Papua New Guinea, women are at the forefront of protecting some of the world's healthiest coral reefs, thereby challenging the status quo – above and below the surface.
Photographs by
Andy Lewis
A school of powder blue tang swims back and forth in excited unison on its quest to find the next meal. Yellow butterfly fish dart in and out of colourful coral unimpressed by the human presence swimming above them. In the distance, a large group of big-eyed barracuda hangs out on the reef edge. A turtle flaps its fins to dart off into the deep blue distance and thousands of small, multi-coloured fish dance above the vibrant brain, staghorn and soft corals. Upon taking a closer look at the varied underwater landscape, spinecheek anemonefish hide within the swaying arms of translucent bulb-tentacle sea anemones. The coral density and its health in this special place is one of the world's most astonishing. 
Equipped with a short wetsuit, a snorkel, pair of fins and a camera, Naomi Longa swims over the coral reef with her colleague, surveying the reef using a variation of the common 50m x 5m visual transect survey method. 
While Longa swims at the front, she counts the many fishes that are relevant to the area. Her colleague follows closely behind, carefully taking a set of geotagged images every five metres. "The Sea Women of Melanesia programme was started in 2016 by Dr Andy Lewis," explains Longa, the team leader of the Sea Women of Melanesia programme and adds: "We empower these women by training them with basic reef survey techniques so that they are able to find an ideal area for a marine reserve in their community. We usually start with snorkelling training, and then once I see that the women are confident in the water, we do the survey technique. After I train them, I can see a very big difference. They can all swim confidently in the water, they can I.D. the fish and they can identify the corals. Once they finish the training, they're going to go back to their own community and they're going to do the survey in their own reefs, while talking to the village elders about what they learn." The Coral Sea Foundation, an Australian not-for-profit organisation is working with Melanesian women like Longa to better assess and protect the local reefs through the Sea Women of Melanesia programme which is aimed at training local women to help the indigenous people of Melanesia to better look after their marine resources. 
Papua New Guinea lies in the southwestern Pacific. The country is made up of New Guinea's eastern half and numerous small offshore islands. With rich cultural heritage, traditional tribal villages, different spoken languages and a rich biological diversity, dense rainforests, and active volcanoes, it is a country of exceptional beauty and contrast. Pristine beaches and some of the world's healthiest coral reefs dot the country that lies within the famous Coral Triangle. Low human population and geographic isolation of most of the islands have preserved healthy ocean ecosystems in the region that sport over three-quarters of the world's hard corals, around 2,000 reef fish species as well as at least 131 kinds of rays and sharks.  
Papua New Guinea's reefs are generally healthy, according to Dr Andy Lewis, founder and executive director of the Coral Sea Foundation: "If the reefs are near large centres of population, they're overfished. However, they haven't suffered as many bleaching events as other places in the last five to ten years. It's a huge archipelago. If you're away from people, the health of the reefs is generally pretty good. Sharks and the bigger elements of the fish populations have been overfished and there are very few functioning marine protected areas in the country but in terms of their biodiversity, these reefs are still some of the world's most stunning, and they probably will be for some time to come." 
Photographs by
Andy Lewis
Continue reading...
To continue reading this article – and enjoy full digital access across Oceanographic – sign up to Ocean Hub today! More info below…
Keep reading by signing up for an Ocean Hub subscription
Ocean Hub. More than a magazine subscription.
As well the delivery of all new editions, members unlock access to exclusive products, services and discounts, as well as EVERY digital back issue we have published.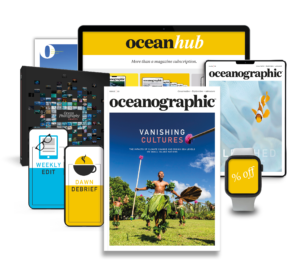 Find out more

about Ocean Hub subscription
Shop window
current issue
Back Issues
Enjoy so much more from Oceanographic Magazine by becoming a subscriber.
A range of subscription options are available.
Sea stories
Beautiful ocean stories straight to your inbox.
Join our community.