Conservation
Community-driven ocean change
A small collection of island communities in the Maldives is collaborating on a new programme that could revolutionise the sustainability not just of their own islands, but of the whole country.
Photographs by
Matt Porteous
The small coral islands of the Maldives are surely among the most beautiful locations on our planet. White sand beaches, fringed with coconut palms, give way to crystal clear blue waters lapping over colourful coral reefs teeming with fish. 
Yet the vibrant colours on the reefs do not only come from the bright green parrotfish, the darting yellow damselfish and the reds and greens of the corals themselves. Some of the most bright colours come from a new threat – marine plastic, which now litters reefs and beaches as never before. This new problem, of marine plastic litter, has joined the existing scourges of climate warming and sea-level rise as a long-term threat to the ecological health and viability of this highly vulnerable nation. 
A staggering 280,000 single-use water bottles are consumed every day in Male', the capital city of the Maldives, contributing to a total of 100 million across the Maldives per year. In 2018, 104 million non-biodegradable plastic bags were imported into the Maldives. With the scale of these figures for a tiny country, it is easy to see how current estimates predict that emissions from the manufacturing of plastic will rise to 17% of the global carbon budget by 2050. 
Fortunately the islanders are beginning to rise to the challenge, paving the way for other island and coastal communities to tackle plastic waste. Famously, the Maldives first democratically elected leader, President Mohamed Nasheed, held an underwater cabinet meeting in 2009 to highlight the desperate threat the Maldives is facing from rising sea levels. His passionate advocacy took the Maldives onto the international climate stage when he declared his country would be the first in the world to become climate neutral.
Unfortunately, on the very day that ambitious funding plans were submitted to the World Bank to radically change the energy infrastructure of the Maldives, Nasheed's Maldivian Democratic Party (MDP) was ousted in a coup. Six years of thuggish authoritarianism followed. The Maldives lost its place at the top table of climate talks, crashed out of the Commonwealth and all talk of carbon neutrality was forgotten. 
Fast forward to now and the MDP has returned to the Maldives with an increased majority and with Nasheed as Speaker of Parliament. Bogus criminal charges against him – since dropped – prevented him standing as President but could not stop the MDP sweeping to power with new president Ibrahim Solih at the helm.
Ask Nasheed today, as I did, how large-scale use of plastic fits with a low carbon target and you'll get an incredulous response: "It doesn't! It really doesn't at all. If we have a low carbon target, you can't have plastics because plastic is a by-product of fossil fuel. The plastics problem and climate change are the same thing."
While the Maldives has given democracy a second shot and elected a government on a promise of transparency and accountability, the national mood on the environment has shifted. Islanders who witnessed the broken promises of a renewable revolution are equally fed up with an ineffective waste management system. 
With waste collection and treatment already barely functioning across the complex geography of 187 local islands and 150 resort islands spread out across 820 kilometres, everyone can see where the plastics problem is heading. Tourists produce three times as much waste daily as local islanders, much of it single-use plastic.The Maldives already welcomes 1.4m visitors per year and the government has a target to almost double this number within five years. 
Maalhos, a sleepy island of 735 inhabitants located in the heart of the Baa Atoll Biosphere Reserve, is typical of many Maldivian islands. Walking along its sandy streets, women in traditional long dress and hijab can be found sweeping the paths clean of fallen leaves and branches from the overhanging vegetation or picking through a harvest of sea almond nuts.
It is a proud island that has retained much of its jungle cover where other islands have covered themselves in concrete. Maalhos benefits from recent changes in the law allowing local islands to host tourists in guesthouses, though to maintain the official Islamic integrity of Maldivian communities a visitor wanting to indulge in alcohol or pork will still need to check in at a resort island.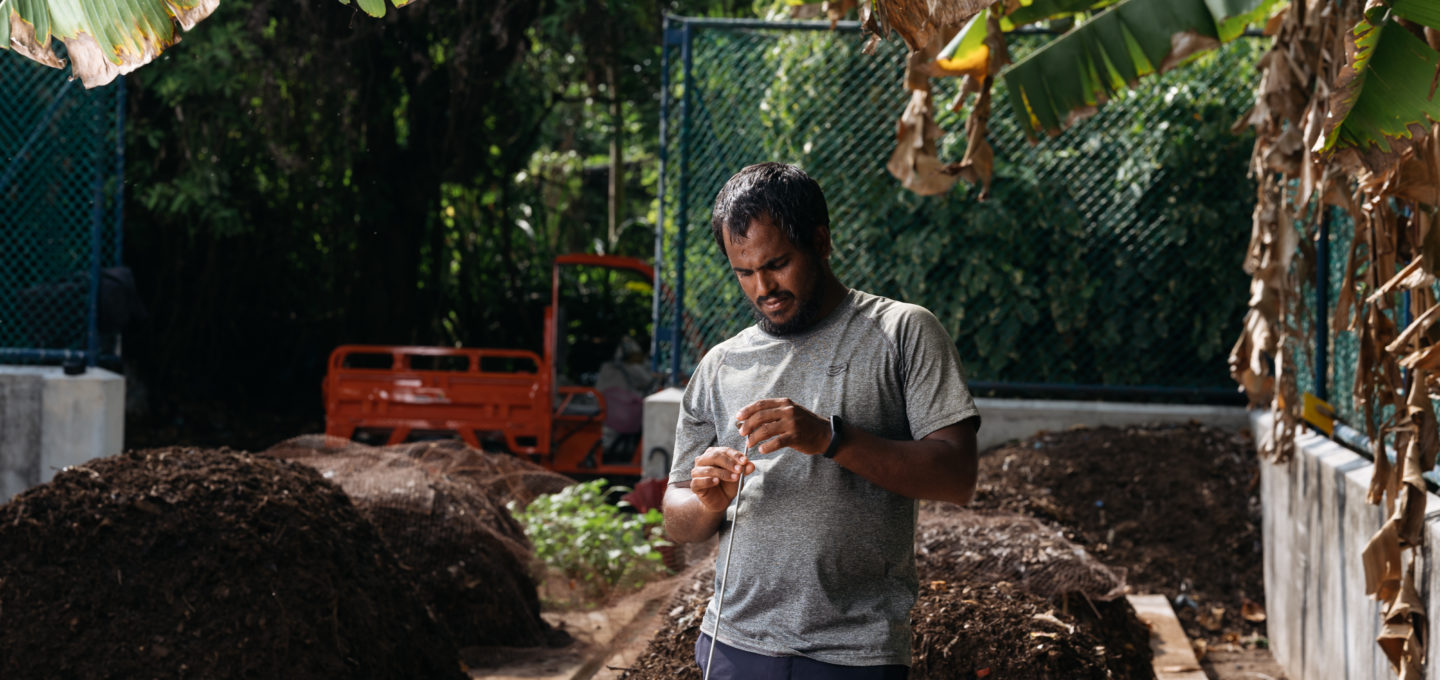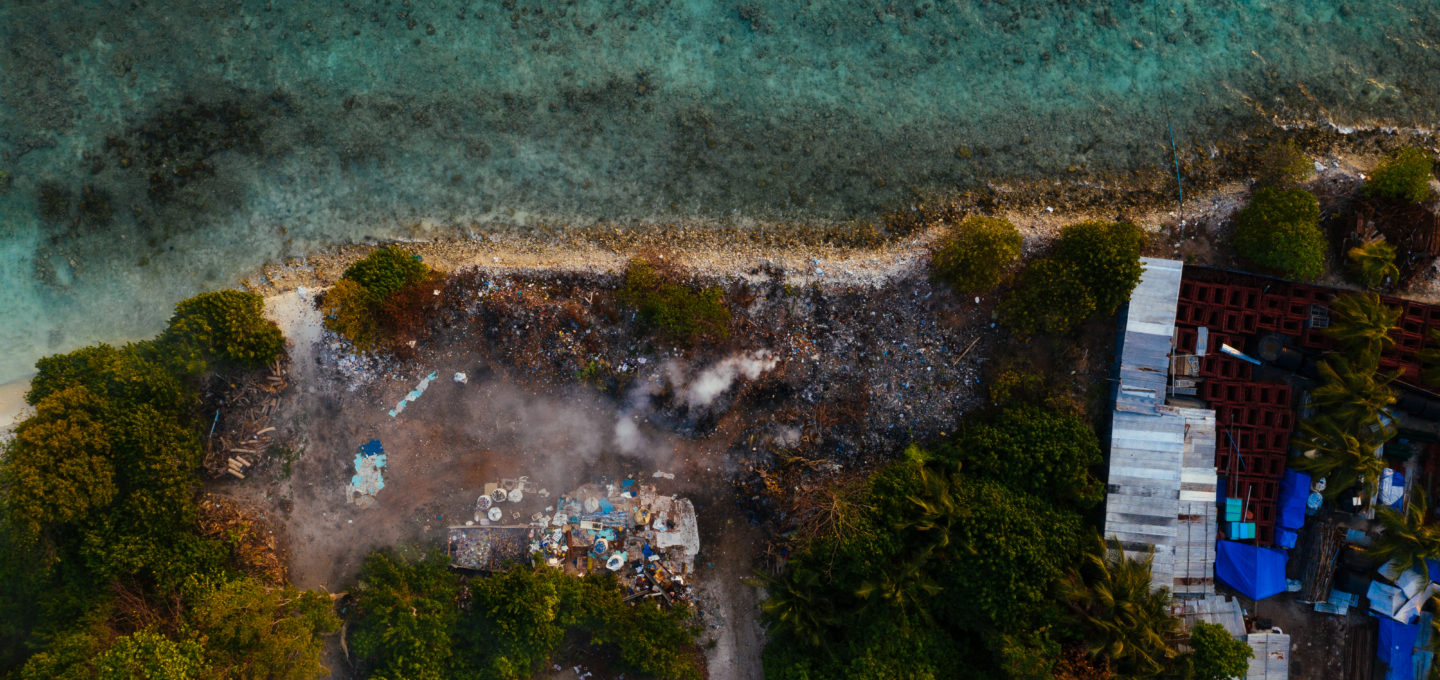 So far, so idyllic. But stroll a bit further along the beach from the four guesthouses and eventually you will stumble across an area of open burning, a scar on the otherwise picture-postcard beach. This is the dirty secret of Maldivian islands, almost without exception. Waste that cannot be taken off the island for logistical or financial reasons accumulates and is burnt in open fires as a last resort to prevent it piling up and spilling into the ocean.
Maalhos is often held up as an example of a traditional and beautiful island. 
Abdulla Shujau, the island's youthful council president, takes issue with this status. 
"Maalhos is not an example right now," he says. "We practise methods that are not friendly to the environment. We are still burning some things. Plastics are a major problem in the Maldives. We don't have any recycling technology here in the Maldives but we still need to find a way to get rid of these plastics. The first thing we should do is try and eliminate plastic from our daily lives."
A quick survey of a burning area soon reveals all sorts of household waste items, just as we would all be confronted with piling up outside our homes if we had no municipal waste facilities. Right at the edge of clear ocean in a smouldering mass is everything from food packaging, tin cans, discarded bikes and fridges to nappies and sanitary products. And mountains of plastic.
Eline Postma, marine biologist at neighbouring eco resort Soneva Fushi, has been studying the effect of plastic on the marine ecosystem of the Maldives. She says: "Surveys show that nine out of ten seabirds have plastics in their stomachs and with sea turtles there was a study that came out only last year that said 100% of sea turtles have plastic in their stomachs. With these types of marine creatures being so abundant in the Maldives, it's really a cause for worry.
"There is an iconic picture of a plastic bag next to a jellyfish (on which turtles prey) and you could barely tell the difference. That's when you really understand how big the problem is."
Back in January 2019, Shujau was sceptical that any meaningful changes in legislation would be implemented by the new government to tackle the rising plastic problem.
"Right now, I don't see any evidence of that taking effect. In every forum I attend, I always tell them that the majority shareholder in producing plastic bottled water is still the government. We even have technology in Maalhos to produce water in glass bottles. I have written to the Environment Minister saying don't open bottling plants using plastic bottles. It is a lot of plastic and it locks us into a system."
Frustrated by the lack of progress and determined to send a clear message to central government, in January Maalhos council co-created Namoona Baa. Namoona means exemplary in the local Dhivehi language – Exemplary Baa Atoll. 
Ratified by a signed charter, the partnership with neighbouring islands Kihaadhoo and Dharavandhoo, the resort Soneva Fushi, and international marine plastics NGO Common Seas aims to model a new way of managing waste that will clean up islands and remove single use plastics. Their ambition extends way beyond the shores of their own islands – their aim is to revolutionise the concept of waste within the Maldives. 
Initially starting with plastic bottles, step one is to replace plastic bottles with desalinated water bottled in glass. Rather than import water, a water bottling plant has been established on Maalhos, creating local employment and offering a service that can be extended to Dharavandhoo and Kihaadhoo.
"We started selling water in November last year and we've already reduced plastic bottles by about 60%," says Shujau. "It is mineralised water and the quality is up to government standard. Now most of the guesthouses and 80% of households use our water. We can already see the difference on our beaches." 
However, the problem with waste in the Maldives is so acute that dealing with plastic waste is impossible without reinventing the whole waste system. The starting point of understanding this approach is a tour of Soneva Fushi, a luxury resort which prides itself on its sustainability credentials. While the capacious wooden villas and Michelin quality dining may be its main selling points, the Eco Centro, a waste management centre premised on a philosophy of 'waste-to-wealth', is the company's badge of honour. 
Neat bays of compost that will be used in the kitchen gardens sit alongside jumbo bags of crushed waste glass, waiting to be recycled into construction bricks. Metal is compacted and shipped to the Maldives' only recycling company, privately operated Secure Bag. Plastic is compacted and bagged, ready to be sent to Parley for the Oceans, who in turn will use it to make high-end sportswear for companies like Adidas. 
It's an impressive system that with some imagination could be exported to local islands. Funded by Soneva as a proof of concept, Eco Centros will replace existing under-performing waste management centres and be operational on all three local islands by the end of the year with the aim that this will provide a successful model for the government to adopt as future waste policy.
For Shujau, success will come when the pile of burning rubbish on Maalhos is extinguished for the last time. "Firstly we want to stop open burning here so we can say that Maalhos is not burning any sort of waste," he says. "We can make something of value from everything. We can turn waste into wealth. We can make charcoal from wood waste, we can use crushed glass in construction. If we have the right machinery, we can shred plastic into small pieces and use it in manufacturing. 
"The beauty of these small islands is a gift from nature and we have to maintain this. This land on this tiny island is not just for us. There will be many generations to come after us so we have to be responsible to deliver this as it is created by God."
Photographs by
Matt Porteous
Continue reading...
To continue reading this article – and enjoy full digital access across Oceanographic – sign up to Ocean Hub today! More info below…
Keep reading by signing up for an Ocean Hub subscription
Ocean Hub. More than a magazine subscription.
As well the delivery of all new editions, members unlock access to exclusive products, services and discounts, as well as EVERY digital back issue we have published.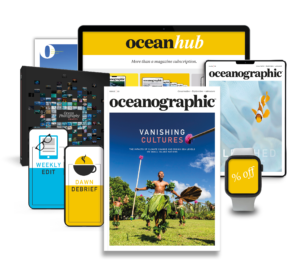 Find out more

about Ocean Hub subscription
Shop window
current issue
Back Issues
Enjoy so much more from Oceanographic Magazine by becoming a subscriber.
A range of subscription options are available.
Sea stories
Beautiful ocean stories straight to your inbox.
Join our community.