Adventure
Behind the lens: Cristina Mittermeier
Behind the Lens places a spotlight on the world's foremost ocean photographers. Each edition focusses on the work of an individual who continues to shape public opinion through powerful imagery and compelling storytelling.
Interview by
Oceanographic Magazine
Photographs by
Cristina Mittermeier
Interview by
Oceanographic Magazine
National Geographic Photographer, Co-founder and Vision Lead at SeaLegacy
Cristina is a Sony Artisan of Imagery, the editor of 25 coffee table books on conservation issues and the founder of the International League of Conservation Photographers. Most recently, Cristina was acknowledged as one of National Geographic's Adventurers of the Year for 2018 and is a National Geographic Woman of Impact. Earlier this year, she released a Fine Art photography book, called Amaze.
OCEANOGRAPHIC MAGAZINE (OM): WHEN DID YOU FIRST CONNECT WITH THE OCEAN
CRISTINA MITTERMEIER (CM): I have a memory as a young child, probably 7 or 8 years old, of going to the coastal town in Mexico where my father grew up, a place called Tampico. The oil industry was big there. I remember going to the beach and really enjoying the waves and then coming out of the ocean with tar stuck to me. My mum spent 30 minutes with a piece of cloth cleaning the tar off me. I don't remember it as a bad thing – it was just what happened when you were on the beach. I remember loving being in the water, something I feel to this day. Growing up in Mexico, which was – and is – such a fast-growing country, you witness a lot of environmental devastation, beautiful ecosystems turned into developments almost overnight. I've been witness to that my whole life. The real thing that I wonder: why are people not as concerned as I am? Take the devastation of the mangroves on the Yucatan Peninsula, for example. I went there in 1985 and returned in 1991. Hotels had replaced the mangroves and estuaries. The ecosystems were gone. In adult life, the ocean has been an ever-present. Just last week I was in Isla Mujeres photographing whales sharks, spending hours in the ocean. It feels like the place where I belong.
OM: YOU WERE A MARINE SCIENTIST BEFORE YOU WERE A PROFESSIONAL PHOTOGRAPHER. WHEN DID YOU REALISE THE POWER OF OCEAN PHOTOGRAPHY?
CM: I spent 20 years as a photographer focussed on terrestrial subjects and people before I had the opportunity to shoot underwater. It's expensive and the learning curve is massive. You need the equipment and the opportunities to get in the water. I was only able to do it because Paul Nicklen, my partner, is a phenomenal underwater photographer and he mentored me. Otherwise there would have been very little chance for me to buy a housing and go experimenting. He loaned me the equipment. I wanted to do it, but just didn't know how to go about it. It felt like an insurmountable wall of knowledge. I have huge respect for underwater photographers because it's not easy.
OM: A CENTRAL THREAD OF YOUR WORK FOCUSSES ON HIGHLIGHTING THE RELATIONSHIP BETWEEN THE OCEAN AND HUMANITY. WHY IS THAT CONNECTION SO IMPORTANT TO YOU
CM: I often think if extra-terrestrials were to look at the Earth from space they would recognise it as an ocean planet. It is the largest ecosystem, the dominant ecosystem. We are, therefore, all ocean creatures – even if we don't know it. Our existence is because of the ocean, so it's important to make that connection – to show people that the ocean is not some foreign place that we visit on holiday, but that is it our life-support system. Building that understanding is at the core of what I do.
Photographs by
Cristina Mittermeier
Continue reading...
To continue reading this article – and enjoy full digital access across Oceanographic – sign up to Ocean Hub today! More info below…
Keep reading by signing up for an Ocean Hub subscription
Ocean Hub. More than a magazine subscription.
As well the delivery of all new editions, members unlock access to exclusive products, services and discounts, as well as EVERY digital back issue we have published.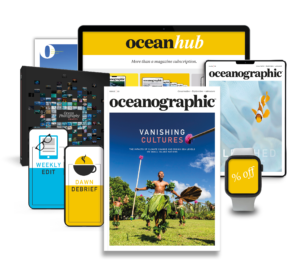 Find out more

about Ocean Hub subscription
Shop window
current issue
Back Issues
Enjoy so much more from Oceanographic Magazine by becoming a subscriber.
A range of subscription options are available.
Sea stories
Beautiful ocean stories straight to your inbox.
Join our community.