Conservation
Cyclones and cultural loss
Over 3,000 kilometres northeast of Australia lies a delicate string of 83 remote islands, an archipelago that makes up the country of Vanuatu. Here, storms and sea level rise are damaging cultural sites, fracturing local customs, language, and communities, and causing mass displacement. Vanuatu is now leading the call for international climate justice and the legal recognition of UN member states' responsibilities to address climate change, domestically and abroad.
The South Pacific Ocean that surrounds Vanuatu permeates the landscape and culture alike, carving channels of thousands of years of ancient knowledge still passed down to this day. According to a common Vanuatuan folk tale, the deity Qat sculpted humans from a tree and lifted the land scooped up from the seafloor to form every island and mold every hill, before covering the earth with lush and magnificent trees, tame animals, and fruit-bearing plants. But generations later, Qat's bountiful resources are in jeopardy. A new tale is being told in rapid and dramatic fashion. As sea levels rise and storms intensify, the climate crisis is leaving Vanuatu's communities struggling to stay afloat. Tropical cyclones. Floods. Ocean acidification. Sea level rise. Together, the effects of climate change are threatening Vanuatu's barrier reefs and hundreds of native species on both land and sea. The damage from climate change is coupled with the frequent earthquakes and volcanic activity that result from its precarious placement along the Australian and Pacific tectonic plates, depleting natural resources that provide a secure standard of living through fisheries and coastal industries.
Willy Missack, technical advisor to the Vanuatu Climate Action Network, diagnoses the problem: "Vanuatu is ranked one of the riskiest countries on the Earth because of two things: One is that Vanuatu is located in the belt of cyclones, so with global warming […] the cyclone seasons have shifted and become longer. Now, our cyclone season starts from November to April, which is not usual. Also, we are on the Ring of Fire, which [according to the] most recent World Risk Report, recorded 40,000 yearly earthquakes in Vanuatu."
Today, Vanuatu is still recovering from Cyclone Pam, which struck in 2015, one of the two most disastrous cyclones in the Southern Hemisphere since records have been kept. This catastrophic storm ripped through approximately 17,000 buildings, razed 96% of food crops, and displaced approximately 65,000 people. The destruction caused by Cyclone Pam amounted to $450 million USD, nearly 64% of the country's GDP. And the crisis hasn't let up: Since then, Vanuatu has experienced the impact of 15 medium-to-high-intensity storms. In March, 2023, Vanuatu was hit by two severely destructive Category 4 cyclones, with wind speeds of up to 251 km/hr and an extreme likelihood of catastrophic damage, less than five days apart. The twin tropical storms were followed by a 6.5 magnitude earthquake, together affecting over 80% of the population. The price tag of this dual disaster was approximately $50 million, a costly toll on a nation with a GDP of $1.06 billion USD. Experiencing two severe cyclones within a week is highly unusual for any small island state. Normally, Vanuatu encounters an average of just two to three storms annually.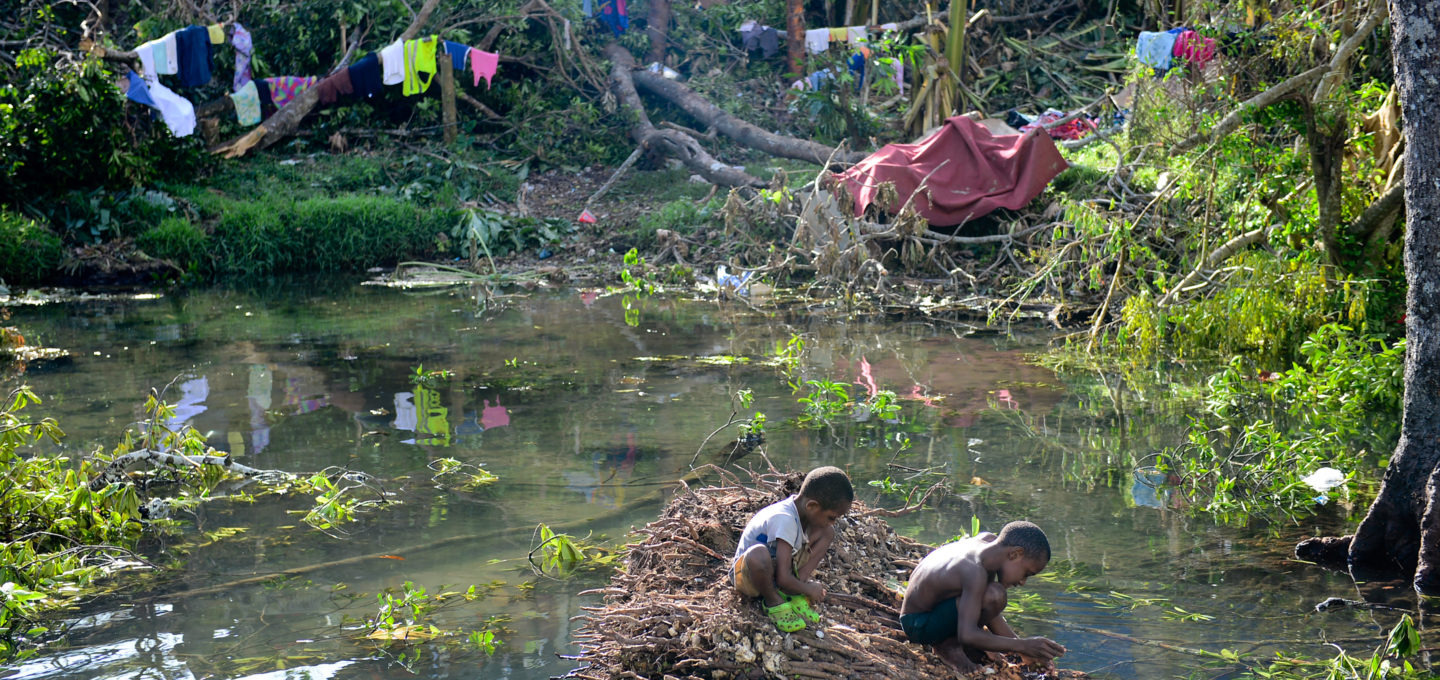 Scientists estimate that this number is soon to change, as extreme weather is predicted to occur at an increasing frequency as a result of climate-induced sea-level rise and disruptions in weather patterns. Within the next 80 years, Vanuatu could be confronted by more than six tropical cyclones every year. Cyclone- driven contamination of fresh groundwater is a major challenge in Vanuatu and throughout the Pacific. Strong winds bring seawater ashore, which seeps into fresh groundwater. As this process, known as salinization, escalates, islanders become increasingly dependent on rainfall for drinking water. But with many rainwater collection tanks unpurified and polluted by high concentrations of bacteria such as E. coli, more than two-thirds of Vanuatu's households have unreliable access to safe drinking water. With diminishing water security, coastal residents are being forced off their ancestral lands, relocating to inland regions where clean drinking water is better maintained.
As sea levels continue to rise, cyclones are becoming more destructive, destroying and submerging homes and businesses and rendering coastal areas uninhabitable. Since 1993, Vanuatu's sea level has risen by 6mm per year. Added up over decades, and this means that miles and miles of viable coastal land have disappeared in the last 30 years, a submergence only expected to worsen in the coming years. Willy Missack worries about the cultural impact of crop and land loss, describing how when people move away from farmland, they also lose the livelihoods of past, present, and future generations. He explains this cultural loss through the example of the yam, a staple crop that has deep cultural significance: "The value of Indigenous crops are embedded in the culture [and when we lose farmland], people cannot do their marriage arrangement. People cannot do their birth celebration ritual for agriculture. People cannot even do peace ceremonies." Missack links how non-economic loss leads to actual economic loss. As vital farmland is submerged and farmers are forced to move farther inland due to sea level rise, the yam's supply and demand are both reduced; production decreases and villages unfamiliar with farming the crop may not see the yam's value. New climate change-resilient 'golden yams' are currently under development.
The damage affects more than just the places of the living, with cemeteries desecrated by the rising water levels. After travelling to Pete Island, Missack described a disturbing scene: bones scattered all along the beach. In a moment's time, Vanuatuans are witnessing their ancestors' graves being swept into the ocean, fracturing their cultural identity.
Continue reading...
To continue reading this article – and enjoy full digital access across Oceanographic – sign up to Ocean Hub today! More info below…
Keep reading by signing up for an Ocean Hub subscription
Ocean Hub. More than a magazine subscription.
As well the delivery of all new editions, members unlock access to exclusive products, services and discounts, as well as EVERY digital back issue we have published.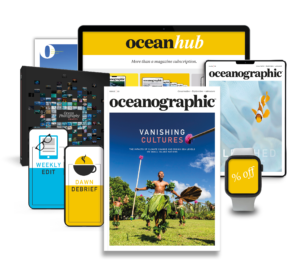 Find out more

about Ocean Hub subscription
Shop window
current issue
Back Issues
Enjoy so much more from Oceanographic Magazine by becoming a subscriber.
A range of subscription options are available.
Sea stories
Beautiful ocean stories straight to your inbox.
Join our community.