Conservation
Waves of change
We are careening towards a bus in the right-hand lane. At first, I took this sort of high-speed lane switching as a matter of cultural difference; it wasn't until I caught sight of my taxi driver's face that I realised something was wrong...
Words & photographs by
Timothy Lyons
Words & photographs by
Timothy Lyons
He clenched the wheel as we drifted across four lanes into a sand embankment on the right, narrowingly missing a bus full of people (and two goats). In a mixture of English, Wolof, and broken French, we would work to replace the blown-out tire fast enough that we weren't taken out by the barrage of traffic that honked around us. Luckily elbow grease appears to be a universal language. After a cup of coffee and a refill of petrol, we would return on our journey back towards the city of Dakar, I had only just arrived in West Africa, and my trip was already off to an interesting start.
As the car left the countryside behind, the haze of the city began to set in. There was a palpable feeling of growth. Construction seemed to be happening in every direction, from new apartment complexes to freshly paved roads. The city today appears very different from the depiction in the opening sequences of Bruce Brown's 1964 surf classic Endless Summer. Senegal's rapid development can be partially credited to the fact that it is one of the most stable African countries, with three (relatively) peaceful political transitions since independence in 1960.
I am on my way to the Copacabana Surf Village to meet Babacar Thiaw, the business's founder, owner and lead surf instructor. Starting in 2018, Babacar has used the restaurant and surf school as a vehicle for jump-starting a zero-waste movement. I arrive at the restaurant early, walking up the long driveway to dip around the entrance under the large, thatched hut-style roof. The rear of the restaurant is open, leaving room for a completely unobstructed ocean view. It was high tide, and the waves broke on a rocky reef about 40 yards out; two surf lessons were underway. The surf is dotted with small figures in brightly coloured wetsuits trying to learn how to drop in. As I drink my cup of coffee and watch out at the waves, I am greeted by Babacar. We were supposed to meet the day prior, but he had to handle an issue with an electrician, so he apologised by pointing up, saying, "With a roof like this, electricity is a big concern."
As we made our way to find a seat, we were greeted with a barrage of activity. A surf lesson is making its way in, and as the wetsuits are coming off, a tired parent and child step between Babacar and me. It appears surfing was more challenging than they anticipated. Amidst the conversation the three of them were having in French, an antsy waitress came with a question; apparently, it couldn't wait. Two conversations now; switching between Wolof with the waitress and French with the family, Babacar put out two fires and even made time to greet a kite surfer packing up his gear in the restaurant. As we departed from the scene, everyone walked away happy and heard. Afterward, he turned to me, apologising for the distraction while giving me his full attention and presence. Before we even spoke, it struck me that this is what a leader looks like.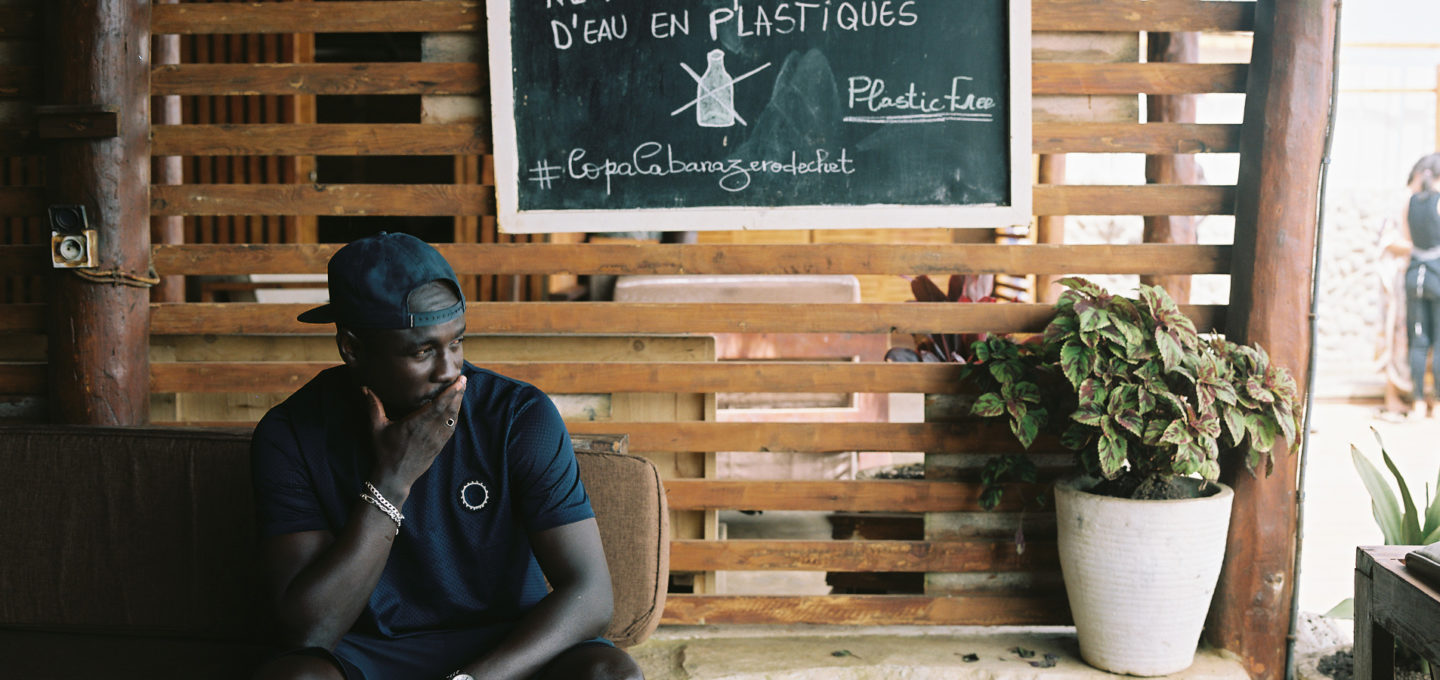 Originally from the small fishing village of Yoff, the plot of land that would grow into the restaurant where we sat began as a place where his father would rest after a day of fishing. Gradually the property would transform into a beach community where surfers would frequent; as a kid, this is where Babacar first learned to surf. Initially on a bodyboard, surfing proper wouldn't come until a traveling Spaniard left behind a 6.2 thruster.
The board became a vehicle not only for riding waves but also for business. The board became valuable to travellers who would discover how good the surf was after arriving, allowing Babacar to set up a rental service. One board became two, two became four, and surf rentals became surf lessons. With his father, the restaurant and surf package became a bustling business.
Opening up about his past further, he centres upon a single story. His disposition changes, and the presence he was giving me shifts; he's looking past me at something in the distance. Despite speaking about the past, his gaze was set upon the future. He talks about a single moment in 2010 when the garbage became unbearable while surfing. This moment would lead to him dumping out the trash bins at the restaurant one by one. Seeing where the bulk of the trash was coming from, straws, lids, and coffee capsules were the first offenders to go. Gradually every single-use container in the restaurant would be replaced with reusable alternatives. Combined with regular community beach clean-ups, the club would see decreased waste around the surf beaches.
It is important to acknowledge that despite the country's relatively small population of close to 15 million, Senegal is one of the world's largest ocean polluters. In 2010 alone, Senegal would produce over 250,000 tons of mismanaged plastic waste. In response to this and following similar legislation in Kenya and Rwanda, Senegal banned single-use plastic bags in 2015. Despite the law, however, in practice, everything from single-served butter and cheese comes triple wrapped. Unfortunately, plastic still prevails.
Through our conversation, it became clear that as much as there is an interest in picking up individual pieces of garbage, Babacar's more considerable interest lay in nurturing and seeing an idea grow. In partnership with the organisation Zero Dechet Senegal, the Copacabana Surf Village has acted as the pilot program for a standard of what constitutes a zero-waste restaurant. Like the surfboard, one restaurant became two; two became four, and Today 35 restaurants meet the zero-waste standard. This standard and labelling system has prevented thousands of bottles, straws, and coffee filters from finding their way into the sea. Babacar sees the concern for the ocean as a shared space between European travellers and the local Senegalese community, and he is leveraging that as a tool for development. In a world where most of these efforts (either environmental or developmental aid) come in the form of foreign assistance that looks similar to the legacy of European colonial powers, it is essential to say that this effort comes from the local community and, most importantly, it is working.
Announced In November 2020, the Surfrider Foundation would be opening a chapter in Senegal, with Babacar at the head. Since 1984 the foundation has built a global network devoted to protecting and keeping the oceans clean. Thanks to an aligned vision, the decision to expand into Senegal on the organisation's part gives Babacar access to international resources and the opportunity to scale. With Senegal historically being such a significant ocean polluter, perhaps we all have something at stake in seeing Babacar's vision scale.
Our conversation begins to wind down, and the buzz of a new problem to solve already starts to creep in from the periphery of the restaurant. Shifting back from looking at the future, Babacar, back in the present, thanks to me for my time.
It wasn't until I was on the flight home that I realised what made this interaction special; hope. Hope is the missing ingredient from so much of the environmental conversation, and my brief conversation with Babacar was full of it. Perhaps he can see something that the rest of us can't. Maybe he saw the wave of change coming back in 2010 and, in the right place and time, knew to paddle in.
Shop window
current issue
Back Issues
Enjoy so much more from Oceanographic Magazine by becoming a subscriber.
A range of subscription options are available.
Sea stories
Beautiful ocean stories straight to your inbox.
Join our community.