Adventure
Behind the lens: David Doubilet
Behind the Lens places a spotlight on the world's foremost ocean photographers. Each edition focusses on the work of an individual who continues to shape public opinion through powerful imagery and compelling storytelling.
Interview by
Oceanographic Magazine
Photographs by
David Doubilet
Interview by
Oceanographic Magazine
Behind the lens
A CELEBRATION OF THE ART CREATED BY PIONEERING OCEAN PHOTOGRAPHERS. FEATURING EXCLUSIVE INTERVIEWS AND BEAUTIFUL PHOTOGRAPHY.
Award-winning and internationally-renowned underwater photographer and National Geographic contributor for 50 years.
David Doubilet is an American photographer and photojournalist. He has received numerous photography awards, including the Wildlife Photographer of the Year. He is a member of the Academy of Achievement, Royal Photographic Society and International League of Conservation Photographers.
OCEANOGRAPHIC MAGAZINE (OM): WHEN DID YOU FIRST CONNECT WITH THE OCEAN?
DAVID DOUBILET (DD): The first time I went underwater wasn't in the ocean. It was at a little summer camp in the Adirondack Mountains, about 150 miles from where we live now – lots of archery, canoeing and baseball, that sort of stuff, and mountain climbing, which I detested. But there was this little dock on the waterfront and I was asked to head in and clean out some branches and other detritus. I put on a mask – a French blue, soft, rubber mask that moulded to my face – and went underwater. Everything changed. I was eight years old at the time.
We had a family place on the Jersey shore and over the next few years I got in the water more and more. It became an obsession. Eventually I decided I wanted to take photographs underwater and decided to build an underwater camera housing for my Kodak Brownie Hawkeye. I thought about using a hot water bag, but it was too stiff. My father, who was a Professor of Surgery at NYU, suggested I use an anaesthesiologist bag, which is made from a soft rubber that expands easily and is tough. He duly brought one back from the hospital. That bag, with a reconfigured faceplate from an old mask that unscrewed easily, was my first underwater housing. I had to manipulate the controls – winding the camera and pushing the shutter – through the side of the bag. The first time we tried it, we hadn't taken the air out, so we couldn't get it to sink! With the air out, we could get it down a couple of metres in depth. I was 11 or 12 by then. That was when my underwater photography journey truly began.
I was certified at the age of 12 in a New York pool and went to work at the age of 13 as a volunteer helper at a place called Small Hope Bay Lodge in The Bahamas, one of the first real dive resorts in the world. I was filling tanks, carrying tanks, occasionally tending bar, cleaning up, waiting on tables and, most excitingly, being an extra dive guide or safety dive guide. That's where my connection with the ocean deepened.
OM: WHEN DID PHOTOGRAPHY BECOME MORE THAN A HOBBY FOR YOU?
DD: Pretty early on to be honest. I began to get serious about underwater photography when I was 13. I wrote a letter to Jerry Greenberg in Miami and ordered the Argus C3 housing from Seahawk. That camera was in many ways the precursor to the Lewis Photo Marine, manufactured by Leica in London. The Lewis Photo Marine had a choice of f-stop or focus, but not both. Obviously I chose focus. I began to shoot in black and white because of the exposure latitude. It was a great decision – it taught me about light. At that point I began to get serious. One of my first black and white pictures won a prize in California. I think I was 14.
OM: HOW DID THAT FIRST PROFESSIONAL ASSIGNMENT FEEL AS A YOUNG PHOTOGRAPHER?
DD: This year I'll have been working with National Geographic for 50 years – I shot my first story for them in 1971. I was invited by Stan Waterman, the Emmy Award-winning cinematographer, to join him in Eilat in the Red Sea to film Dr Eugenie Clark's National Geographic research grant expedition to study garden eels. Garden eels are round as a finger, a metre tall, and live in large colonies that burrow into the sand. If you approach them they disappear like a mirage. I approached Bob Gilka, the magazine's Director of Photography, for the assignment and he said no – Jim Stanfield, an extraordinary journalist and staff photographer, was already there. I said I was going anyway, and asked him for some film. Again, he said no. I had to make it happen myself.
Stan had shot some garden eels with a remote camera in Tahiti eight years before, and I'd seen that footage, so I knew what I was dealing with. In order to photograph the eels, I approached the team at OceanEye and asked them if they could make me a remote unit – one with about a 15-metre-long cord with a trigger at the end of it. They said yes, and made one for me. As I've mentioned, garden eels, when you approach them, disappear into the sand, so you need a remote control camera. You can't put it on a tripod because that'll be too high for them. You want to be across and looking up. So I developed a flat plate monopod, weighted down with two dive weights and held together with the most important of all underwater photography accessories, electrical tape.
We set up the camera, Dr Clark's team built a hide from burlap and pipe, and we spent two weeks diving with garden eels, under the cover of our hide, taking pictures. We did this every morning for two weeks. Then, one morning, we're in the water at about 6:30am with a decent current running. The eels came out and started to feed right in front of the camera. Dr Clark swam out of the hide and looks down at the eels as I push the remote shutter button. We got what we wanted – a picture, taken blind, of Dr Clark and the eels. That was the key picture, the image that told a story and had drama to it. It was a story that National Geographic would now run.
OM: HAS COLLABORATION BEEN AN EVER-PRESENT THROUGHOUT YOUR CAREER?
DD: Collaboration is the key to everything. No photographer makes an image by themselves. There's always an expert behind the scene who points us in the right directions, takes us to where we need to be – people like Max Benjamin, who sadly died earlier this year, who with his wife Cecilie, founded Walindi diving resort in Papua New Guinea, a place that has supported a multitude of underwater photographers over many decades. Every picture you make as a photographer, you carry around these people with you, with the image. When I see a picture, I see those behind it.
OM: IN 2019, YOU WON THE UNDERWATER SECTION FOR THE WILDLIFE PHOTOGRAPHER OF THE YEAR FOR A PHOTOGRAPH OF GARDEN EELS. HOW DIFFERENT WERE YOUR TWO EXPERIENCES IN 1971 AND 2019?
DD: The more recent image was taken off Dauin, in the Philippines. The garden eel colony there is enormous. Prior to going out and working on the story, I'd seen some pictures that were okay, but the photographers just weren't getting close enough. I thought to myself: I need you to make this picture. I had Harold Hordosch at Seacam build me a remote system, again with a 15-metre- long remote control cord. I used the same flat plate and small tripod on the base of the flat plate, and the same electrical tape! The biggest difference, of course, was that the latest eel image was taken on a digital camera. And we didn't have to build a hide this time – Jennifer [Hayes, a marine biologist and photographer, and David's wife] and I had a shipwreck to hide behind, enabling us to watch the eels swaying and feeding before clicking the remote shutter. The technology has certainly changed but the eels are as remarkable and beautiful now as they ever were.
OM: HOW DID THE EVOLUTION FROM FILM TO DIGITAL AFFECT YOU AS A PHOTOGRAPHER?
DD: The most important and useful aspect of the digital revolution is the ability to see your pictures instantly. It means you can correct yourself instantly. You can improve the picture or try something different the next day – you can really make the technology work for you. The other end of it, which took people a long while to realise, is how the relationship between negative and print transitioned too. Ansel Adams, who was a musician before he was a photographer, said: "The negative is the equivalent of the composer's score, and the print is the performance". With a digital image, the score comes after the edit, using tools like Photoshop. That doesn't mean cheating – adding subjects to your image, for example – but instead using this incredibly dense piece of information to enhance your image via saturation, contrast, brightness, and so on – all the things you could have done with a black and white negative.
Digital has also pretty dramatically reduced the luggage load! I once spent 40 days and nights on Howard Rosenstein's ship Fantasy in the Red Sea. I took ten cameras out, along with 600 rolls of film. You imagine, even if I was able to take all ten cameras underwater with me, a 36-roll film in each, I'd be able to make just 360 images! Compare that with the capabilities of memory cards today, it's unfathomable. When I landed back in Paris from the Red Sea, those films now filled with assignment photographs from all that time at sea, I shipped them in three different shipments and headed off on another job. I didn't see those pictures for three months. Back then, you'd do a story and didn't get to see your pictures. Digital has fundamentally changed the nature of assignment photography. Amazingly in roughly 45 film assignments, I never lost a shipment.
Of course, we have to hold on to the physical side of photography – that's the aspect of this technological advancement that we have to be wary of. So much photography is digested in the digital space now. Underwater photographers are making pictures that have never been made before – they're getting better and better every day, every year. We're making the best pictures we've ever made. At the same time – and this is the bit nobody is really taking about – alongside our digital revolution, printing has had a revolution, the quality of inks and paper, the ability to translate a digital file onto a piece of paper. So here's the problem: we are now making the best pictures that have ever been created, but we're looking at them on tiny phone screens. You have to step away from the internet to truly experience art. Photography, as an art form, belongs on the printed page – magic brought to life.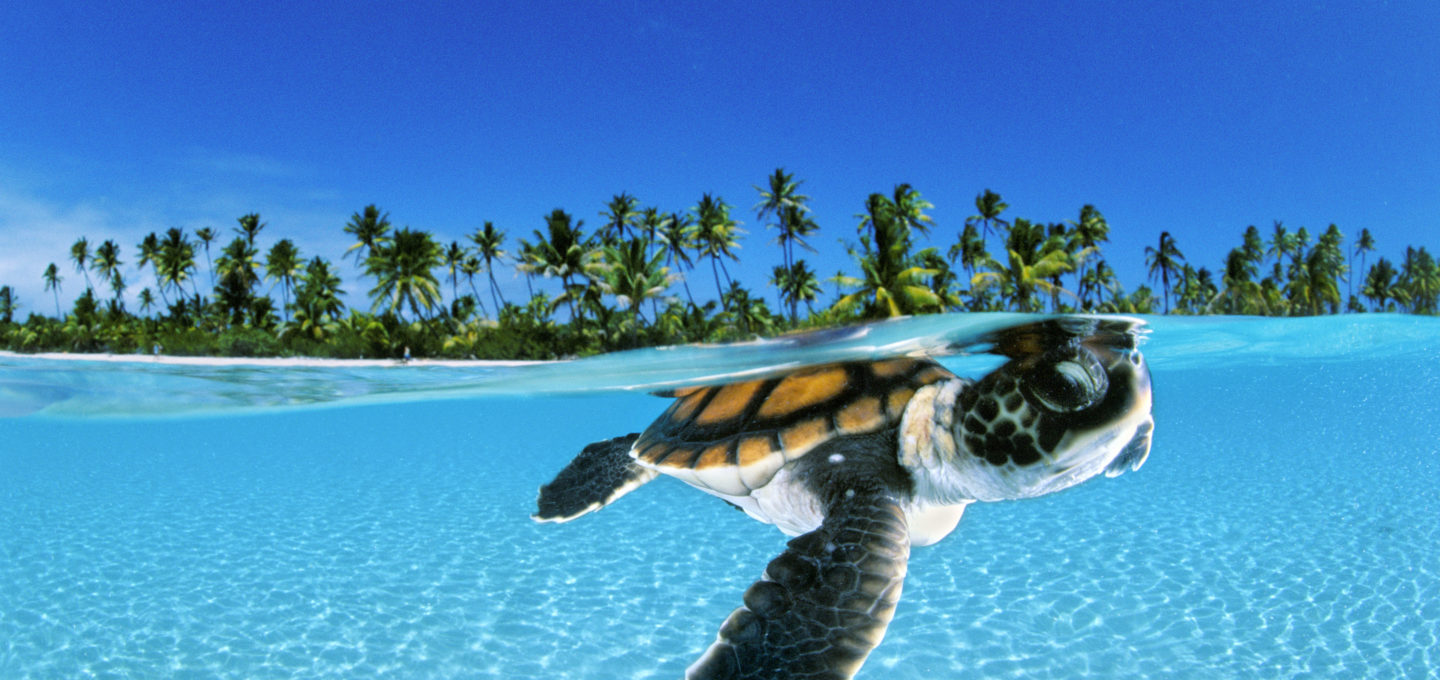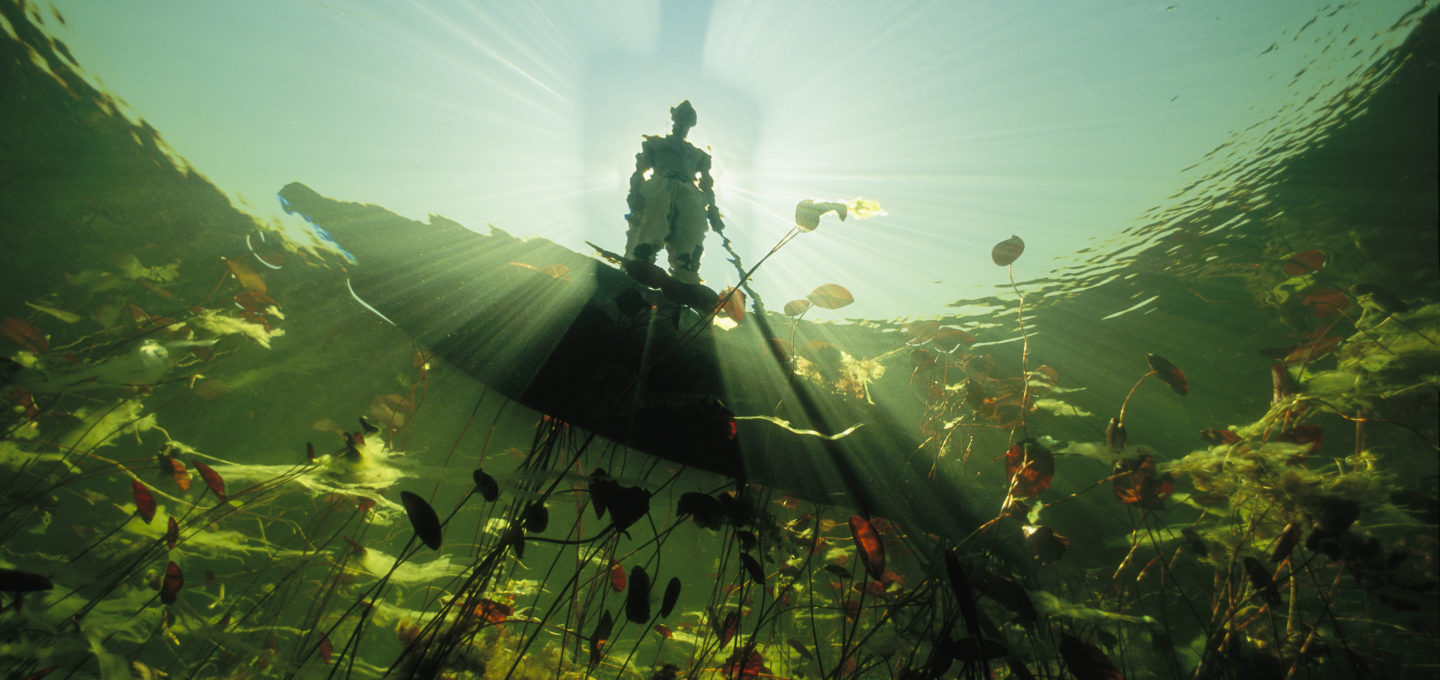 Photographs by
David Doubilet
Continue reading...
To continue reading this article – and enjoy full digital access across Oceanographic – sign up to Ocean Hub today! More info below…
Keep reading by signing up for an Ocean Hub subscription
Ocean Hub. More than a magazine subscription.
As well the delivery of all new editions, members unlock access to exclusive products, services and discounts, as well as EVERY digital back issue we have published.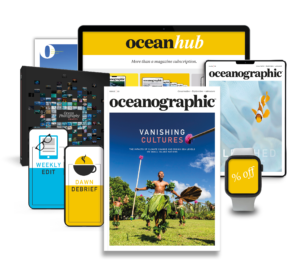 Find out more

about Ocean Hub subscription
Shop window
current issue
Back Issues
Enjoy so much more from Oceanographic Magazine by becoming a subscriber.
A range of subscription options are available.
Sea stories
Beautiful ocean stories straight to your inbox.
Join our community.