What started as a way for photographer Mike Guest to alleviate pandemic-driven fears and worsening mental health has quickly turned into a concept that shares a simple message; nature has the power to heal. Hugh Francis Anderson discovers more about the growing Dawn Days community.
Words by
Hugh Francis Anderson
Photographs by
Mike Guest
Words by
Hugh Francis Anderson
4:15am. The sky is smothered in blue, as if an absent hand has spilled an inkwell onto a blank page. But the light, it changes so fast. Now pale, now streaked with pink hues as cirrus clouds drift in from the east; the cinematic production that is the blue hour, and the dawn chorus its remarkable anthem. I sit beneath a red horse chestnut. The tendrils of spring soar into the canopy above. The woodland is alive.
At once the moment abounds with peace and rages with life. The blackbirds, robins, wrens, chaffinches, warblers, thrushes and finches rise into a crescendo. A pheasant bellows from afar. An owl sounds its final cry. All around the birds rejoice at this, a new day. 
Yet within the tremors of life, a river of calm meanders its way through the woodland. It has a grounding effect. I feel safe, as if I have always been here. It is a homecoming to a state where modernity has no influence, and all is as it should be.
A light breeze whips the morning mist off the lake and the oaks and elms oscillate. A mallard lands before me. A heron elegantly drifts across the horizon, its neck folded, the darkened tips of its wings slicing the inky sky. And now the wood pigeons awake. Their harmonious coos bolster the dawn ensemble.
Sunrise is masked by growing cloud cover, but sunrise was hardly the goal. I realise that now.
Home. I think about the blue hour. There was moment of perhaps 5 minutes, 5 minutes where I felt totally present. The worries of everyday life diffused and I was at one with the landscape I have always known. I was quiet.
I awoke at 4am, shortly before writing this article, to journey into the woodlands near my home and embrace the Dawn Days concept that I had recently learned about. I wanted to experience the blue hour (the hour before sunrise), to feel connected to nature, and, in doing so, discover whether I felt more connected to myself. The above is what I wrote.
Dawn Days was born from a humble idea; through the simple act of immersing yourself in nature during the blue hour, it is possible to find a state of calm that allows you to be totally present, if only for a moment. "You're just reacting to what's in front of you, experiencing something new, submerged and immersed in it and there to watch things unfold," says Mike Guest, creator of the Dawn Days concept. "It's about having time to let things unfold in front of you and within you, so you have the ability to create." 
For Guest, the ritual of entering the ocean during the blue hour every morning became an antidote to Pandemic-driven uncertainties and unstable mental wellbeing, and it's grown into something of a movement. In late April last year, he was on the phone with fellow photographer Nick Pumphrey. Pumphrey was experiencing similar personal and professional strains and suggested getting into the ocean with their cameras during the blue hour. "It started as a personal thing, to go out and have a committed action, to let things organically grow and to look at the ocean from a different perspective every morning," he tells me. Though Pumphrey was in Cornwall and Guest in Portobello, Scotland, they began entering the ocean every morning throughout May and became fascinated by the abstract nature of water. "I felt a sense of freedom, of being alone but happy in the ocean and nature. It was a sense of relief, a sense of calm and I realised later that I had chilled out."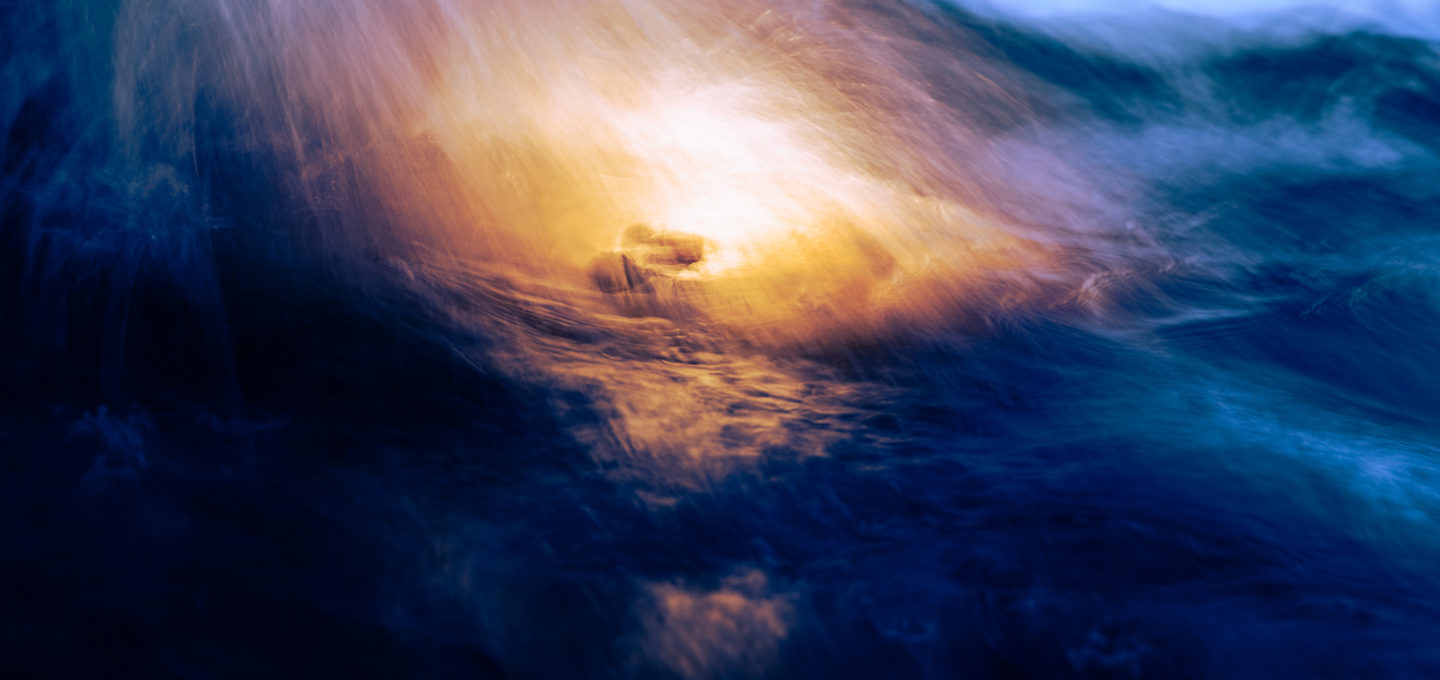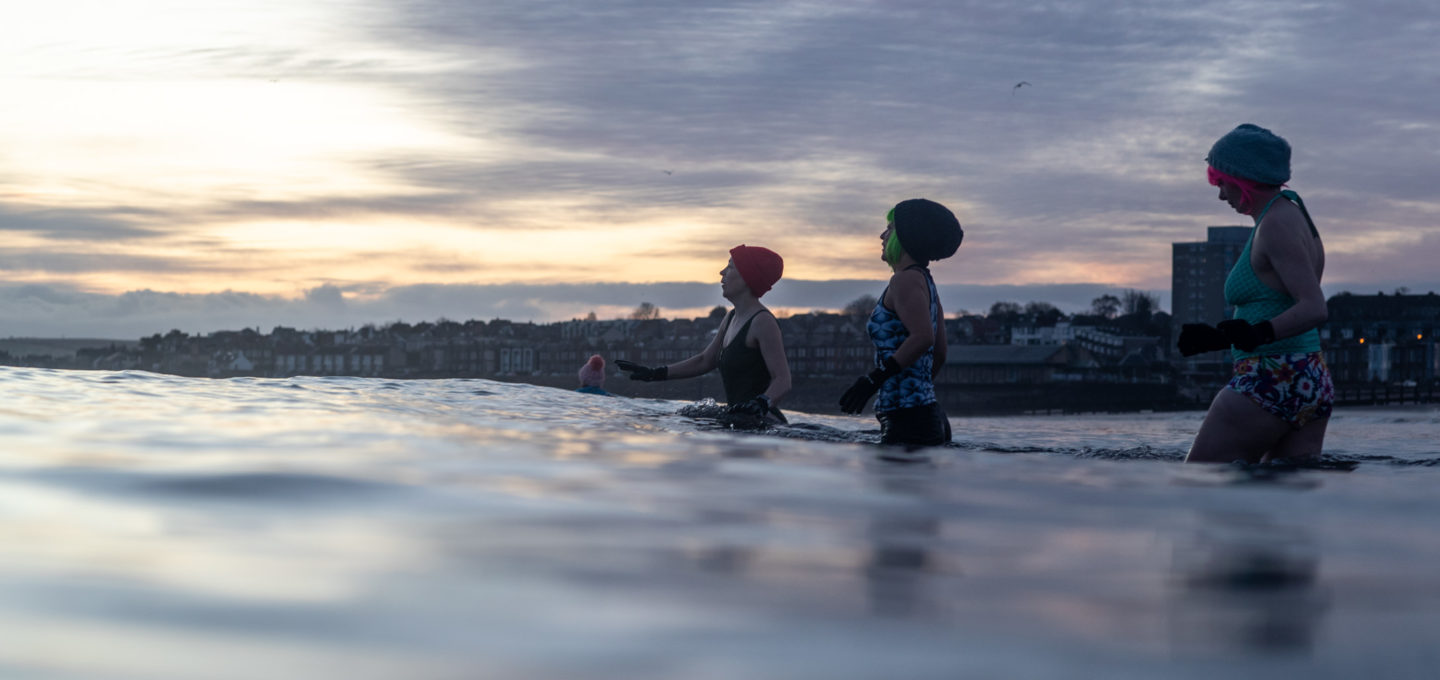 Photographs by
Mike Guest
Continue reading...
To continue reading this article – and enjoy full digital access across Oceanographic – sign up to Ocean Hub today! More info below…
Keep reading by signing up for an Ocean Hub subscription
Ocean Hub. More than a magazine subscription.
As well the delivery of all new editions, members unlock access to exclusive products, services and discounts, as well as EVERY digital back issue we have published.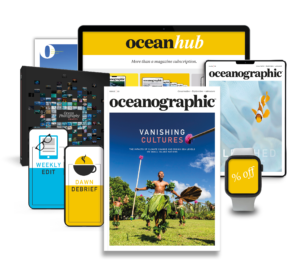 Find out more

about Ocean Hub subscription
Shop window
current issue
Back Issues
Enjoy so much more from Oceanographic Magazine by becoming a subscriber.
A range of subscription options are available.
Sea stories
Beautiful ocean stories straight to your inbox.
Join our community.