Exploration
Into the unknown
Deep sea exploration organisation, Nekton, earlier this year embarked on a two-year quest to reveal the deepest secrets of the Indian Ocean. Programme director Oliver Steeds discusses the first phase of their newest mission, conducted in waters off the Seychelles.
Photographs courtesy of
Nekton
"I sat down there on the ocean floor, looking out from a square mile of lush kelp jungle off the Isle of Aran at a bleak, underwater desert thinking: 'My God, what on Earth are we doing to our ocean?'" 
During his former life as a broadcast journalist, Nekton founder Oliver Steeds was sent to Lamlash Bay off western Scotland to investigate the ecological impact of scallop trawling in the area, a small portion of which had been protected as a designated marine conservation site. "It's akin to a massive bulldozer driving across the countryside destroying everything, scooping up all the wildlife just to catch a couple of cows. The scale of it is devastating," says Oliver. "When you dredge and trawl across sea mounts you are destroying an underwater Galapagos that's never been discovered. It's never been researched. That was the trigger for me. I decided that I needed to do something."
Six years later, the Nekton Oxford Deep Ocean Research Institute was born, and its main aim was to facilitate the exploration of the deep ocean. While 12 people have collectively spent 300 hours on the moon, until this year, only three people had visited Challenger Deep, the deepest known part of the ocean, for a collective total of three hours. In spring 2019, The Five Deeps completed four dives to the site, two of which were solo descents piloted by explorer Viktor Vescovo. "It's easier for us psychologically to look up at the stars," explains Oliver. "We're told to imagine other worlds in outer space, but many people have a sense of trepidation associated with the oceans. The deep ocean is the most important part of our planet, and yet it's the least known."
Nekton's first mission, the 2016 XL Catlin Deep Ocean Survey, which focussed on the deep waters of Bermuda, the Sargasso Sea and the NW Atlantic, produced some extraordinary results. The team discovered more than 100 new species and confirmed the discovery of the Rariphotic Zone (The Rare light zone, found in depths of 130m to 300m) and the expedition lead to the launch of Octopus, the global ocean data portal. "All my previous expeditions and long reporting assignments had been on land, so Bermuda was my first stint at sea. I spent four weeks out there." adds Oliver. "The Rariphotic Zone is this new unique habitat and ecosystem that exists in the ocean, which has been identified in Bermuda and also in Curaçao, but never anywhere else. It's an extraordinary aquatic adventure."
It's been nearly three years since the Nekton team returned from Bermudan waters and they've just completed a series of landmark dives, this time focusing on the waters surrounding the Seychelles in the Indian Ocean. "We chose to focus on the Indian Ocean because it's the least researched ocean on the planet. It's the least protected and one of the most at risk because 2.5 billion people live in the nations surrounding it. How the ocean changes over the next few decades is going to profoundly affect the lives and livelihoods of those people," explains Oliver. "If you look at current ocean protection, 4% is protected and there's commitments for 7.5% to be protected in the future. But scientists are saying we need 30% protected by 2030. What's the plan for that? There is no plan at the moment. We've made a plan, but we don't know if it's the right one. We're constantly iterating it, trying to improve it."
The team completed 85 submersible dives in 48 days, collecting more than 1,200 biological samples and 20 terabytes of data. They mapped 30 million square metres of seabed and completed more than 300 scientific deployments. "It was a very different kind of challenge. It was exhausting, physically, mentally, emotionally and psychologically," laughs Oliver. "My batteries were totally drained! It was an extraordinary mission and a great success overall.
"There was a moment while diving off Astove," he continues. "The reef came out from the shoreline for around 200m but only to a depth of 5m-8m. Then there was just a sheer cliff, which stretched down to around 500m. The symmetry of the seabed topography and the biodiversity at these different depths was mind-blowing."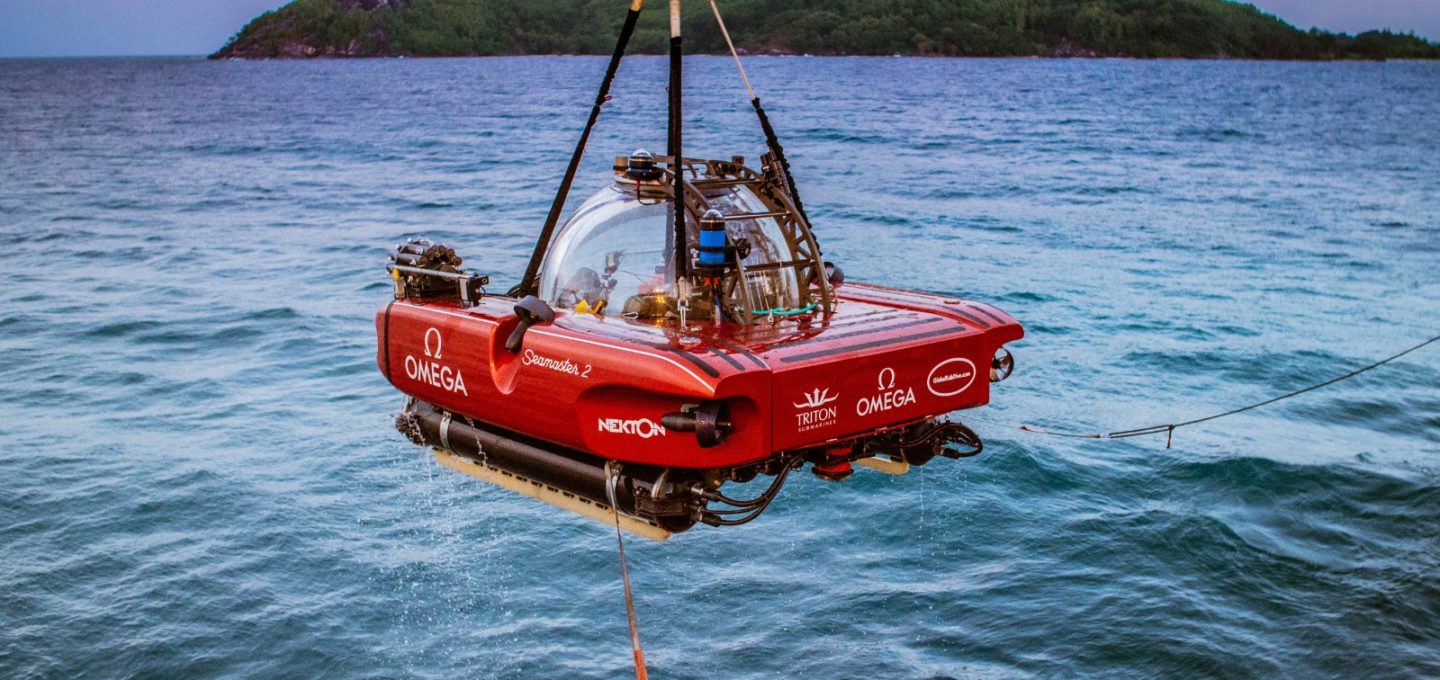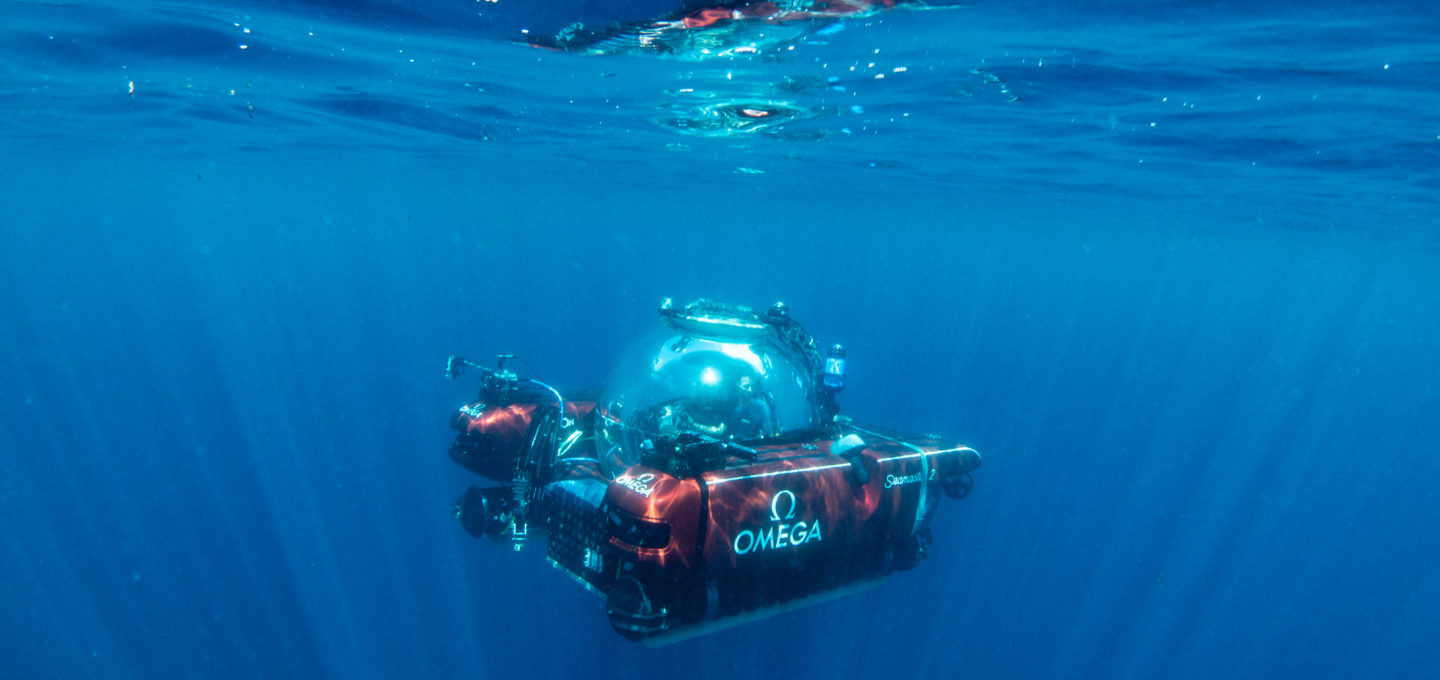 Diving with the submersible in unchartered waters, with zero data available regarding currents (apart from one brief record from the 1890s) and an orchestra of new technologies to deploy inevitably presented its challenges. "We constantly deployed the ADCP from our partner, Teledyne Marine, because it enabled us to measure the currents down to 1000m," said Oliver. "The remote atolls we were diving on are essentially underwater mountains, so from the summit they descend away, thousands of feet to the sea bed. You have the force of the Indian Ocean coming up against these atolls in the middle of the ocean, like winds against a mountain." 
Over the 48-day period, the team collected significant data on the Indian Ocean's geophysics, currents, seabed, water quality and biology, information which will be analysed and collated to build a better picture of the state of those mysterious, unknown areas. "Compared to the noise of the ship, it was extraordinarily peaceful. As we descended down the side of the cliff with went through a whole range of different ecosystems," he adds. "There was less biodiversity and more focus in particular enclaves. The ability to do a vertical transect enabled us to really get a sense of the variety of life that exists down there. All abundant, in different ways." At the core of the Nekton approach is understanding how these different factors interact with each other. For example, current patterns in the deep waters off Astove Island provide upwellings of cold water, which protects these particular reefs from bleaching.
"Our work combined biological, physical, chemical and social aspects of research, so we can answer the questions of what lives here, why and how it survives and how this might change. These questions are fundamental to appropriate decision making," explains Dr Lucy Woodall, principal scientist at Nekton. "Until we analyse the data it is not possible to state our findings, however we are interested in seeing the patterns of marine life across geography and depth."
Despite not having solid answers at the time of writing, Oliver's awe is clear. "Some of our biological samples that we're now analysing to see if they're genuinely new to science are certainly new to us. We've got some great experts alongside us and they were staggered by some of the things we found."
The Nekton plan is to complete a series of expeditions between 2019 and 2022 across the Indian Ocean, culminating with a summit where the team will bring together their collective data together with findings from other research teams and governments. Here they will discuss a plan for the sustainable governance and management of the Indian Ocean to ensure its resilience to support the lives of those 2.5 billion people. "That's our goal. It's a lofty ambition for a small charity like ours, but no one else is doing it," adds Oliver. "We need to speed up our understanding of how the ocean is changing and how it can be protected."
Key to their success as a small charity has been the collaborative effort with the Seychellois government. In the final days of the Nekton First Descent mission, President Danny Faure delivered a speech to the world from a submersible 120m underwater. "From this depth, I can see the incredible wildlife that needs our protection and the consequences of damaging this huge ecosystem that has existed for millennia," he said in his speech. "Over the years we have created these problems. We can solve them." Described as a bellwether for marine conservation and sustainable blue economy management, the hope is that other coastal nations will follow suit.
Currently, the First Descent mission is in a stage of deep analysis, which will include a two-week taxonomic workshop in South Africa where world experts will put their heads together to decipher the data. Nekton is already planning its next expedition, a process that can be likened to the piecing together of a vast jigsaw puzzle against a ticking clock. "We're looking for nations who have the political willing to protect their part of the ocean to ensure there's resilience and a commitment to sustainable management of their wider resources. If we can find those nations then we hope that we can help them achieve those goals." The criteria for selecting destinations is expansive. As demonstrated by the Seychelles, political willing is vital. Then there's the question of which areas will provide the most answers. Where are the spots of greatest biodiversity? Amid cool upwellings off the coasts of Kenya and Tanzania or tucked away on the shores of Maldivian coral atolls? Then there's the Exclusive Economic Zones (EEZ). India notably has the largest EEZ as a nation but how can Nekton engage with its people about the ocean? Working through these competing needs to figure out where to place their limited resources is no mean feat.
Photographs courtesy of
Nekton
Continue reading...
To continue reading this article – and enjoy full digital access across Oceanographic – sign up to Ocean Hub today! More info below…
Keep reading by signing up for an Ocean Hub subscription
Ocean Hub. More than a magazine subscription.
As well the delivery of all new editions, members unlock access to exclusive products, services and discounts, as well as EVERY digital back issue we have published.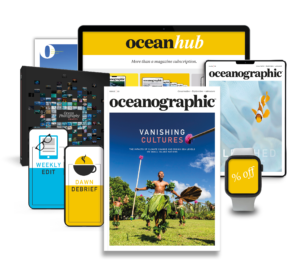 Find out more

about Ocean Hub subscription
Shop window
current issue
Back Issues
Enjoy so much more from Oceanographic Magazine by becoming a subscriber.
A range of subscription options are available.
Sea stories
Beautiful ocean stories straight to your inbox.
Join our community.