Exploration
Deepwater Guyana
The South American country of Guyana is a carbon sink. However, since the discovery of oil reserves offshore, the World Bank has been funding the creation of a potentially devastating gas and oil sector.
Words by
Ute Koczy and Denis Schimmelpfennig
Photographs by
Tom Vierus
Words by
Ute Koczy and Denis Schimmelpfennig
From the unique mud coast seamed with mangroves to the lush, pristine rainforest at its very heart, the small South American country of Guyana is home to an incredible amount of biodiversity. But this exceptional gem is in danger. Giant reserves of crude oil have been discovered in the deep sea off its coast. Big oil companies have already begun drilling. 
"That's all?" I am looking in disbelief at a crumbling, waist-high concrete wall. It is dark and I can only hear the waves smacking in the distance in the low tide. But I don't need much convincing to understand that this structure is by no means suitable for protecting the thousands of people whose lives currently depend on it. The so-called seawall is 260 miles long and runs along much of Guyana's coastline. Around 90% of the population live in coastal areas, many of which are situated below sea level at high tide. Georgetown, the country's capital, is situated a concerning two metres below sea level. Thanks to the continually rising sea level due to global heating, flooding is a threat that is becoming more and more serious for the tropical country. In the past few years alone, Guyana has already witnessed the devastating effects of the Atlantic Ocean overtopping its sea defences, resulting in the erosion of vast strips of land, loss of coastal communities and salinisation of key agricultural areas.
I heard about Guyana and its precarious situation for the first time in 2019. I had been working with the environmental and human rights organisation Urgewald for a couple of months, supporting their work in trying to stop public banks from financing fossil fuel projects. My Washington-based colleague Heike Mainhardt had just discovered that the World Bank was planning to support the development of an oil and gas sector in Guyana, the third-smallest country in mainland South America and the third poorest in the Western hemisphere. Currently, Guyana is still a carbon sink – a country with negative CO2 emissions. Thanks to its sprawling rainforests, which cover more than 80% of the country and act as a giant natural filter for carbon dioxide, Guyana as a nation absorbs far more of the greenhouse gas than it emits. Yet, 120 miles off the coastline, big oil companies like the notorious ExxonMobil have made the largest oil find in recent history. A massive 13.6 billion barrels of oil and 32 trillion cubic feet of natural gas could potentially be drilled. If all were exploited and burnt, the resulting emissions could get close to 2.5 billion tons of CO2. There's no other way to put it – this would be a carbon bomb. Big oil would transform Guyana from a crucial mitigator of global warming to the country with the world's highest greenhouse gas emissions per capita.
In the months that followed our researcher's initial discovery, we worked hard to convince the World Bank's board members not to follow through with assisting the Guyanese government in facilitating oil drilling. After all, the bank had published a commitment to comply with the Paris climate target of keeping global warming at 1.5 degrees. Moreover, it had promised to "no longer finance upstream oil and gas after 2019" in its task to end poverty all around the world. But when it came to deciding whether the World Bank should support Guyana's fossil fuel development program to support building an industry thus far non-existent in the country, all of the bank's executive directors voted yes. The representative for Germany was the only one to abstain from the vote, an unprecedented move at the time. 
The World Bank has since given the Guyanese government US$55 million in public assistance aimed at oil development, fuelling an ongoing political crisis. In December 2018, the ruling political party in Guyana APNU-AFC was voted out of office in a motion of no-confidence over allegations of corruption. Re-elections were supposed to be held within three months of the motion. They finally took place in March 2020, a year behind schedule and monitored by international observer organisations for fear of electoral fraud. As apprehended, the results were unclear, with the People's Progressive Party (PPP) claiming the victory and the APNU-AFC refusing to concede. As public protests and negotiations over a recounting of votes ensued the COVID-19 pandemic hit. The international observers left, the country went into lockdown and is still without a legitimate government at the time of writing. While the APNU-AFC and the opposing PPP still fight over who gets to manage the oil funds, the US oil giant ExxonMobil is already beginning to reap the rewards of the first oil drilled, which took place three months ahead of schedule. The World Bank funds, aimed at making operations and most of all oil sales run smoothly, played a significant role in speeding up the process. The oil well from which the crude is extracted on the seabed is located 5,719 feet below the surface of the sea. It extends almost 18,000 feet into the ground, making it a highly risky deep-sea operation. The project is comparable to the Deepwater Horizon oil exploration in the Gulf of Mexico, the disastrous consequences of which have still not been fully dealt with, 10 years after the oil spill. While there are plenty of aspects that bear investigating in this catastrophic drilling project, it was the similarities the Deepwater Horizon oil spill, which became one of the worst marine disasters known to humankind, that compelled me to set out on a fact-finding mission. I wanted to travel to Guyana and find out why the country had been set on a path to self-destruction.
Photographs by
Tom Vierus
Continue reading...
To continue reading this article – and enjoy full digital access across Oceanographic – sign up to Ocean Hub today! More info below…
Keep reading by signing up for an Ocean Hub subscription
Ocean Hub. More than a magazine subscription.
As well the delivery of all new editions, members unlock access to exclusive products, services and discounts, as well as EVERY digital back issue we have published.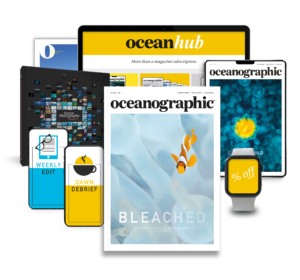 Find out more

about Ocean Hub subscription
Shop window
current issue
Back Issues
Enjoy so much more from Oceanographic Magazine by becoming a subscriber.
A range of subscription options are available.
Sea stories
Beautiful ocean stories straight to your inbox.
Join our community.