Conservation
Defending Bangkaru
On a remote island in Indonesia called Bangkaru, rangers are turning the tide on turtle egg poaching, safeguarding the future of an ancient population of greens and leatherbacks.
Words by
Jane Dunlop and Tom Amey
Photographs by
Paul Hilton and Alex Westover
Words by
Jane Dunlop and Tom Amey
We set off from the ranger camp after eating dinner – the typical Asian island mix of rice, vegetables and dried fish. Although well into the night, the walk through Bangkaru's forest is a sweaty business. Whereas in the day the trees provide welcome shade, at night they seem to breathe warm moist air. This humid tropic climate and pristine primary forest means Bangkaru is home to an abundance of frogs and insects that, when night comes, produce a cacophony of orchestral proportion. 
After the half hour torchlit trek, we stepped out from the forest onto the beach. Lightning flashed over the sea in front and over the mountains behind, illuminating rock formations and trees, and casting dramatic flashing shadows over the pure white moonlit sand. 
The ranger patrols are a serious business. We were given a briefing from the lead ranger: "I will go ahead and scope the beach, stay at least 50 metres behind me. If I see something, I will give you the flash signal with my red light. Stop and wait for a second flash and approach slowly with the rangers. There is to be no use of phones or lights except your red head torch." Turtles are very sensitive to light and may choose not to approach the beach if they see any lights. Red light isn't visible to turtles and is therefore used to minimise disturbance.
Huddling together we waited for the lead ranger to make his way up the beach. After being given the all clear, we set off along the beach. Stomping along the beach, electric blue specks in the sand dance and shimmer as our feet on the sand disturb bioluminescent plankton. The flashing lightning above and the twinkling sand below was quite a spectacle! 
All of a sudden, a red light bobbed up and down some way ahead. A mother turtle had been spotted. She had just excavated her hole and was beginning the process of laying. In the water turtles are graceful and seem to glide effortlessly. On sand it is another story. The whole process is clearly a hugely exhausting experience of heaving, hauling, digging and flapping, and can take up to three hours from exiting to re-entering the sea. 
In this instance the species was a green turtle, the most commonly found species on Bangkaru. Around a meter in length and weighing between 110 – 190kg, green turtles are impressive creatures. But leatherbacks – the other species that nest on Bangkaru – are real prehistoric beasts. Leatherback's are the only remaining species of their kind and have remained relatively unchanged since true sea turtles evolved over 110 million years ago. Around two meters long and up to 700kg in weight, they really do resemble living dinosaurs.  
A chain of pristine deep-sea islands, Simeulue and Bangkaru offer one of the last refuges and nesting sites for critically endangered turtles as well as several bird species. The EcosystemImpact foundation aims to keep these Islands wild through a sustainability approach where business, people and nature thrive alongside each other. 
Leatherbacks nest on the beach around 40 nights a year, between October – April. Green turtles nest every night of the year. Each night can result five to 20 nests, sometimes more. An average of 200 turtles visit the beach per month. EcosystemImpact provides immediate solutions to urgent problems of biodiversity and habitat loss through ranger programmes, breeding programmes and habitat protection and restoration. This is all alongside long-term solutions via sustainable business, sustainable financing stream and education.
To get to Bangkaru, one must travel from Medan on mainland Sumatra – already quite remote – to Simeulue Island via a small island-hopping plane. From Simeulue it is then approximately an eight-hour boat ride. 
There are very few places left in the world as unaltered by humans as the Simeulue and Bangkaru Islands. Bangkaru's beaches are home to the largest nesting site for green sea turtles in Western Indonesia, along with being an important nesting site for leatherback turtles. However, just because Bangkaru and Simeulue are remote, does not mean that the wildlife there is safe. Before we started supporting the Bangkaru Ranger Programme, close to 100% of turtle eggs were poached. The poaching of sea turtle eggs is a culturally ingrained practice in Indonesia, with the eggs being considered a local delicacy, along with being a free and easy source of food. Turtle egg poachers sometimes took as many as 1,500 eggs a night, threatening the existence of Bangkaru's sea turtle populations.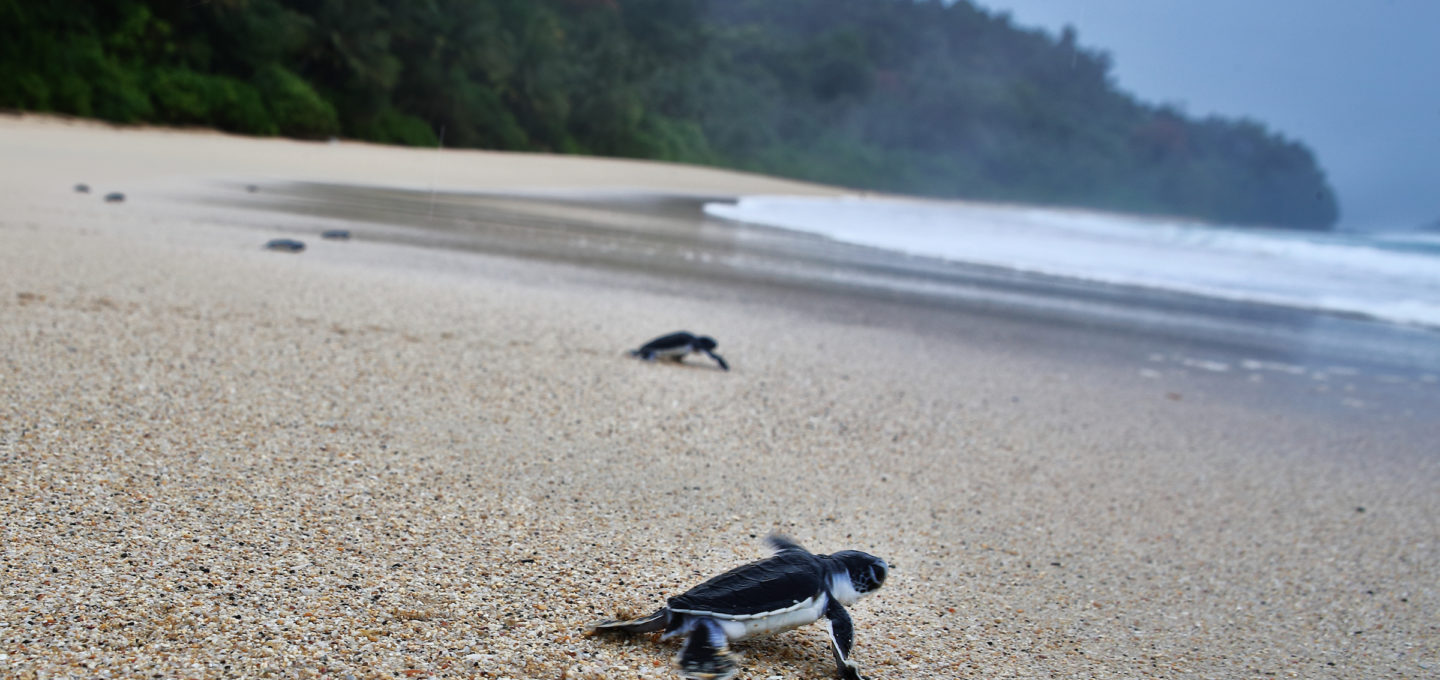 Photographs by
Paul Hilton and Alex Westover
Continue reading...
To continue reading this article – and enjoy full digital access across Oceanographic – sign up to Ocean Hub today! More info below…
Keep reading by signing up for an Ocean Hub subscription
Ocean Hub. More than a magazine subscription.
As well the delivery of all new editions, members unlock access to exclusive products, services and discounts, as well as EVERY digital back issue we have published.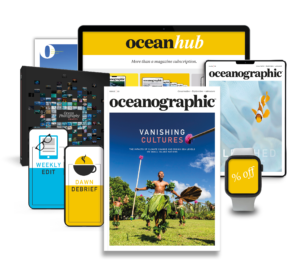 Find out more

about Ocean Hub subscription
Shop window
current issue
Back Issues
Enjoy so much more from Oceanographic Magazine by becoming a subscriber.
A range of subscription options are available.
Sea stories
Beautiful ocean stories straight to your inbox.
Join our community.