Adventure
Adventures in the homeland
Photographs by
Dive Buddies 4 Life
You can read about a place. You can look at pictures of it. But unless you've been there, gone beneath the surface and felt the ocean envelop your body, it's not the same.
As a scuba diver, I am obsessed with anything that has to do with water and will go to phenomenal lengths to submerge myself in it. Yet, until last April, my husband Joey and I could probably count on a single hand the different locations we have been diving in our home country of Canada. Given my love affair with scuba diving, it should come as no surprise that after countless dives all over the world, I felt an unrelenting urge to start exploring what's in my own backyard. We dreamed up an ambitious plan – to dive and explore the 13 provinces and territories that make up Canada to discover the beauty and fragility hidden beneath the waterline.
Six months ago, we flew to Saint John to embark on our Canadian Splash journey. Flushing tides, strong and unpredictable current and less than ideal visibility are some choice words that come to mind when I think of the Atlantic ocean in the province of New Brunswick. It's a disconcerting place for divers. It's home to the famous Bay of Fundy, where twice a day the largest tides in the world flush in and out moving billions of gallons of water into the bay and then back out to sea. Here, the seawater is dense with silt, plankton, and nutrients, meaning that divers need to be comfortable in an underwater world clouded by hues of green and brown. Although there are a few places along the Fundy shoreline that are considered dive sites, Deer Island captured our hearts. On the southern point of the island, we slipped into an icy world brimming with vibrant invertebrates and other alluring macro life.
After a short ferry ride from the mainland, Joey and I made our way south to one of my favourite Deer Island dive sites – Cancat Beach. When the tide level was just right, we donned our heavy gear and slipped into a cold water world brimming with spunky invertebrates and other alluring macro life. Swimming out from the shoreline, we followed a gradually tapering pebbled seabed. The seabed was dotted with snails and urchins. As we got deeper, a cascading wall decorated with colourful creatures, split from the seabed. Vibrant pink and red anemones ranged in size from being as small as a fingernail to being as big as a dinner plate. The anemones were laced intermittently with other marine life such as sea stars, nudibranchs, urchins and tunicates. In the rocky cracks and crevasses of the Cancat wall, we spied wolffish, crabs, gunnels, and sculpin taking refuge. As I moved my camera lighting over them, they seemed to retreat deeper into the darkness. Peering at the rocky outcrops, I was lucky enough to spot a rolly-polly quarter-sized lumpsucker bashfully perched on a plateau. When I tried to snap a picture, it didn't swim away, but simply turned away from the camera lens and flashed me his backside.
Following a month of working and diving in New Brunswick, the second stop on our adventure was in the neighbouring province of Nova Scotia. Having lived in the province's capital city of Halifax for the better part of eight years, Joey and I are well acquainted with the fauna and flora of its plentiful underwater diving spots.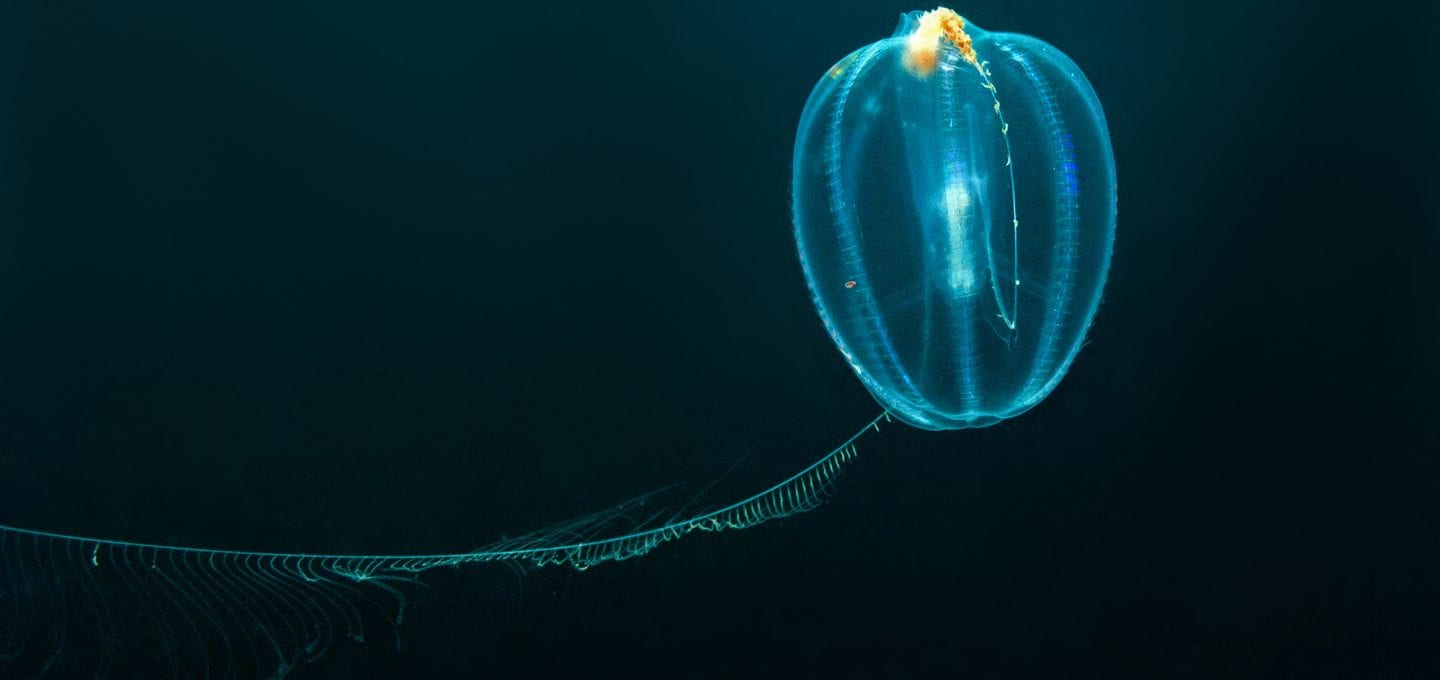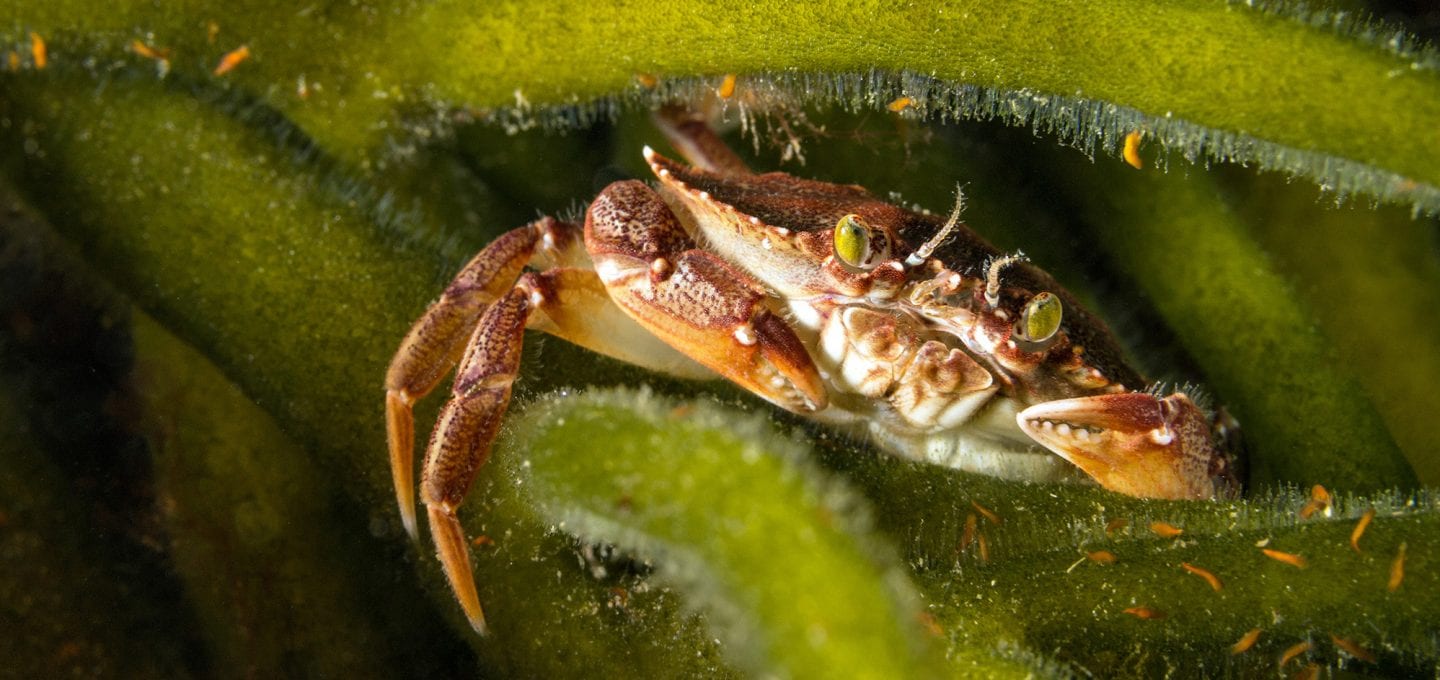 Pulling up to Paddy's Head, nestled on the edge of St Margarets Bay, I watched as a pair of divers exited the water looking exhilarated. We parked up and begin to assemble our scuba equipment, all while they disassembled theirs. Heading into the shallows, I braced myself as a few waves try and knock me over. Mask on, regulator in, then Joey and I gave each other the okay before sinking to the bottom. Underwater, my eyes adjusted and the first thing I caught sight of were hundreds of minuscule hermit crabs scampering for cover along the gravel. The crabs made me feel like an enormous and prehistoric sea monster that had suddenly invaded their humble abode. Carefully following the scattered queue of hermit crabs, Joey and I kicked out deeper into the bay. We passed sea stars, sand dollars and boulders carpeted in rock-weed. Pollock, perch and comb jellies were a few of the species roaming free in the dynamic water column, whereas snails, crabs, and flounder lurked in the kelpy benthos.
I watched the ebb and flow of the waves rock the bulbous plant life back and forth in a symphonic rhythm. Even more intriguing, as I poked around in the green flora, a ruby red sea raven popped out of its hiding place. The sea raven's pouty downturned lip and eyes were fixed on me – I have never seen a more ill-tempered looking fish.
After a short but sweet stopover to dive in Halifax, Joey and I boarded a plane to fly northwards to Newfoundland and Labrador. Those who've visited the stunning island of Newfoundland will easily understand my passion for this wild and rugged place. For those who haven't, let's just say, you'd be hard-pressed to find a cold-water diving location as unique and thrilling as this isolated landmass. Bell Island in Conception Bay is one of the few locations in North America directly attacked by German Forces during World War II. Twice U-boats raided the bay, striking four iron ore carriers and sending them to the North Atlantic seabed.
A five-day Bell Island wreckspedition was a much-anticipated dive trip for Joey and I. The PLM, the Saganaga, the Lord Strathcona and the Rose Castle are much loved cold-water shipwrecks and it was time for my husband and I to see what all the hype was about. I gasped as I jumped from the dive boat. The cold of the water was biting and made any exposed skin quickly lose sensation. Following the anchor line into the abyss I kept my eyes open for my first look at the PML-27, the shipwreck we were diving on that particular day. When the ship came into view, the towering framework made me feel so small and insignificant. I expected the boats to be large, but nothing had prepared me for this mammoth-sized shipwreck. These gigantic ships ran as far as the eye could see before gradually disappearing into the blue. Swimming alongside the hull, I slowed to try and take in every inch of abundant marine life. Soft tentacles of a plumose anemone extended into the water and flamboyant pink coralline algae seemed to encrust every square inch of the metal structure. We were surrounded by water that was so clear, simply floating around above the wreckage was enough to give me an odd sense of vertigo. My heart was full.
One month and four shipwrecks later, our diving in Newfoundland passed in the blink of an eye. Before we knew it, it was time to fly home to Ontario. Convinced that we'd witnessed the creme-de-la-creme of cold-water scuba diving, Joey and I were a little apprehensive about returning and diving in our home province. Anyone who's previously visited a truly life-changing dive location can attest that the first few dives back in the real world can be a tad monotonous.
With the Great Lakes to the south, Hudson and James Bay in the north, and small lakes scattered everywhere in between, the province of Ontario is a freshwater gem. Tobermory and the Thousand Islands, boast a multitude of vintage shipwrecks, but our initial return to Ontario wasn't going to bring us to any diving hotspot. We wanted to explore the smaller, less-known lakes, rivers, and quarries in the north. Ontario Parks is at the heart of the province's nature scene and I was keen to discover the strange critters and unique aquatic environments found within the its boundaries.
Hidden dive sites are everywhere and Finlayson Point Provincial Park, on Lake Temagami, is a testament to the unknown beauty in northern Ontario. What started off as a dark and dismal dive, turned into a dive that pleasantly surprised me. It's pretty incredible what a carefully trained pair of eyes and a little patience can find in the plant-riddled wetlands. We found colonies of hydroids on decaying logs. The hydroids were light pink and made up of a stem and wispy tentacles flowing haphazardly in the water searching for food. There were also a huge number of transparent shrimps hiding in rocky fissures. The shrimp had a delicate appearance and I could see their inner organs through their glass-like exoskeleton.
Of all the unexpected things we saw underwater, the best part of the dive was towards the end, where we had just enough air left in our tanks to poke around in the shallow wetlands. Not only are wetlands enormously productive environments for our planet, but they are also tremendously beautiful. I loved navigating through what felt like a wetland jungle, with plant stems running vertically in the water and lily pads draped across the surface of the water like a canopy of vegetation. What surprised me even more than the picture-perfect appeal of this swampland, was the striking pink bottoms on each lily pad, creating a nice contrast against the green surroundings.
Whether you're getting brain-freeze in the high Arctic or exploring the brown muddy depths of Ontario's lakes, there is something truly magical about seeing Canada from beneath the surface of the water. Diving in our country is not luxurious, but with three oceans and the largest group of freshwater lakes in the world, it has some of the most pristine and untouched underwater environments on the planet. For Joey and I, our journey is far from over. Having four provinces checked off the list, we have only scratched the surface of diving in Canada.
__________
Unplug. Reconnect. 
#WhereWillYouReadYours?
Photographs by
Dive Buddies 4 Life
Sea stories
Beautiful ocean stories straight to your inbox.
Join our community.