Conservation
Dwarf minke, big questions
Words and photographs by
Craig Parry
Words and photographs by
Craig Parry
"The longer I was in the water with them, the closer they approached."
Little is known about the dwarf minke whale, a subspecies of the northern hemisphere minke, which is yet to be given a formal taxonomic description. A team of researchers from the Minke Whale Project is harnessing citizen science in a bid to better understand the mysterious cetaceans. In Issue 09 of Oceanographic, underwater photographer Craig Parry heads out to the Ribbon Reefs to discover more.
A section of the Great Barrier Reef known as Ribbon Reef 10 is one of the most northerly migration destinations of dwarf minke whales, a subspecies of the northern minke whale, which typically visit on their seasonal journeys north from the Southern Ocean. It is presumed the whales complete this migration to warmer waters to breed, just as other whales do. Unlike other baleen whales, however, nobody has encountered dwarf minkes mating in the area, so the motivation for migration currently remains a theory. It is one of many mysteries regarding these little-understood cetaceans.
Earlier this year I joined an expedition to Ribbon Reef 10 in search of dwarf minkes, joining researchers from the Minke Whale Project (MWP), an organisation based out of North Queensland's James Cook University in Australia. The MWP is working to better understand the biology and behaviour of a whale group only recognised as a subspecies as recently as the 1980s. While occurring throughout the southern hemisphere, the northern Great Barrier Reef aggregation area is the endpoint of the subspecies' recently discovered north-south migration route to and from the Southern Ocean. Relatively new to marine science means one thing: lots of questions.
In order to start answering these questions and building a broader understanding of dwarf minke whales, the MWP relies – perhaps unusually – on the whale-watching tourism trade. Accessing remote parts of the Great Barrier Reef aboard research vessels would be expensive. Far more affordable is joining swim-with-whales operators who head to sea every year for the only known predictable aggregation of dwarf minkes in the world. There is a hidden benefit too: tourists, rather than being bystanders, play an important role in the collection of scientific and photographic data – via whale behaviour observation and image sharing – that is subsequently used by the MWP team. They become citizen scientists. This collaboration and cooperation between the MWP research team and the swim-with-minke tourism industry not only aids scientists in better understanding the subspecies, but also allows the industry to grow sustainably and for effective management strategies to develop and evolve. This helps maintain the health and safety of the whales, the quality of interactions and, ultimately, safeguarding the long-term viability of the industry – a symbiotic relationship of sorts.
I have long been fascinated by whales. It is an obsession that took hold while on assignment in Tonga, swimming with and photographing humpback whales. That first moment I came face-to-face with a curious and unthreatening 40-tonne mammal is something I will never forget, a bucket list experience that I continue to recall on a regular basis, and one that I want to experience again and again. The second time I shared the underwater world with humpback whales I noticed them mimicking my movements, even following me back to the boat. On one occasion, while I was checking images on my camera screen, a whale snuck up behind me and gave me a gentle push, as if asking for attention. That experience was a defining moment for me personally, not just as a photographer but as a human. The connection I felt was overwhelming.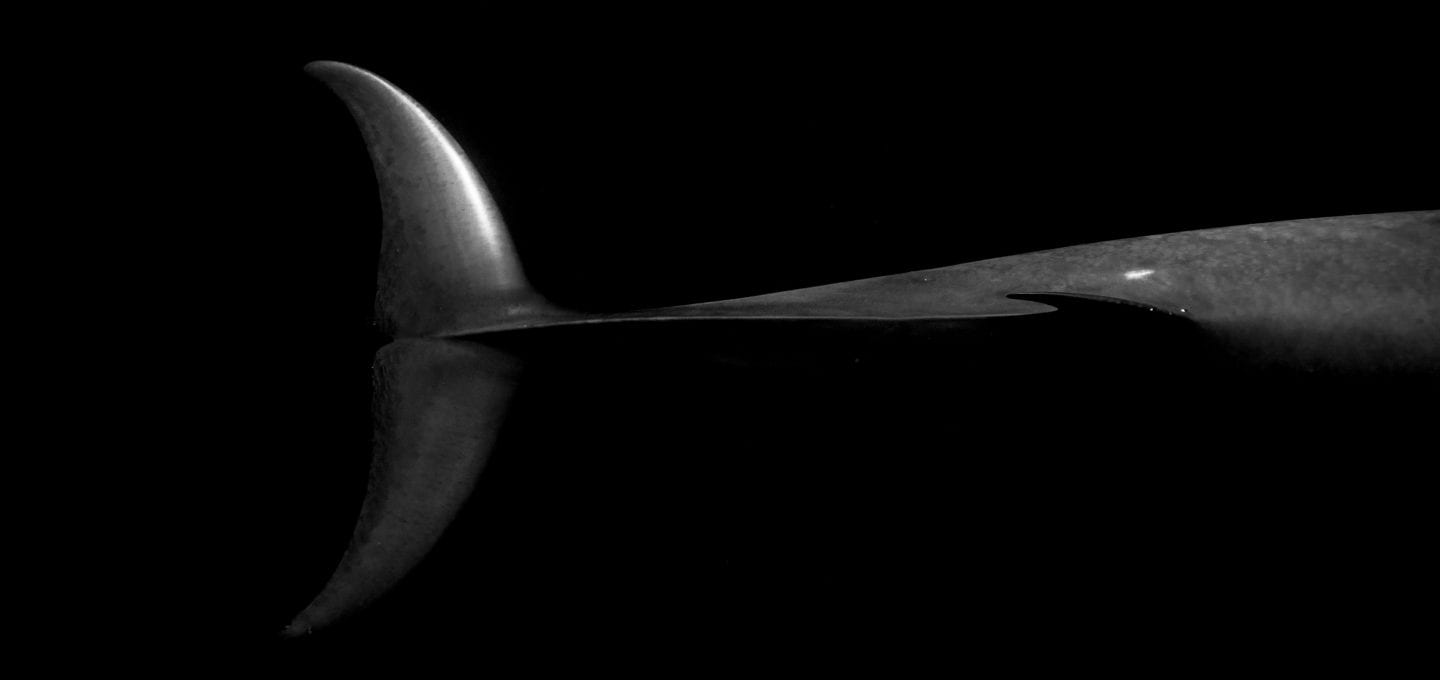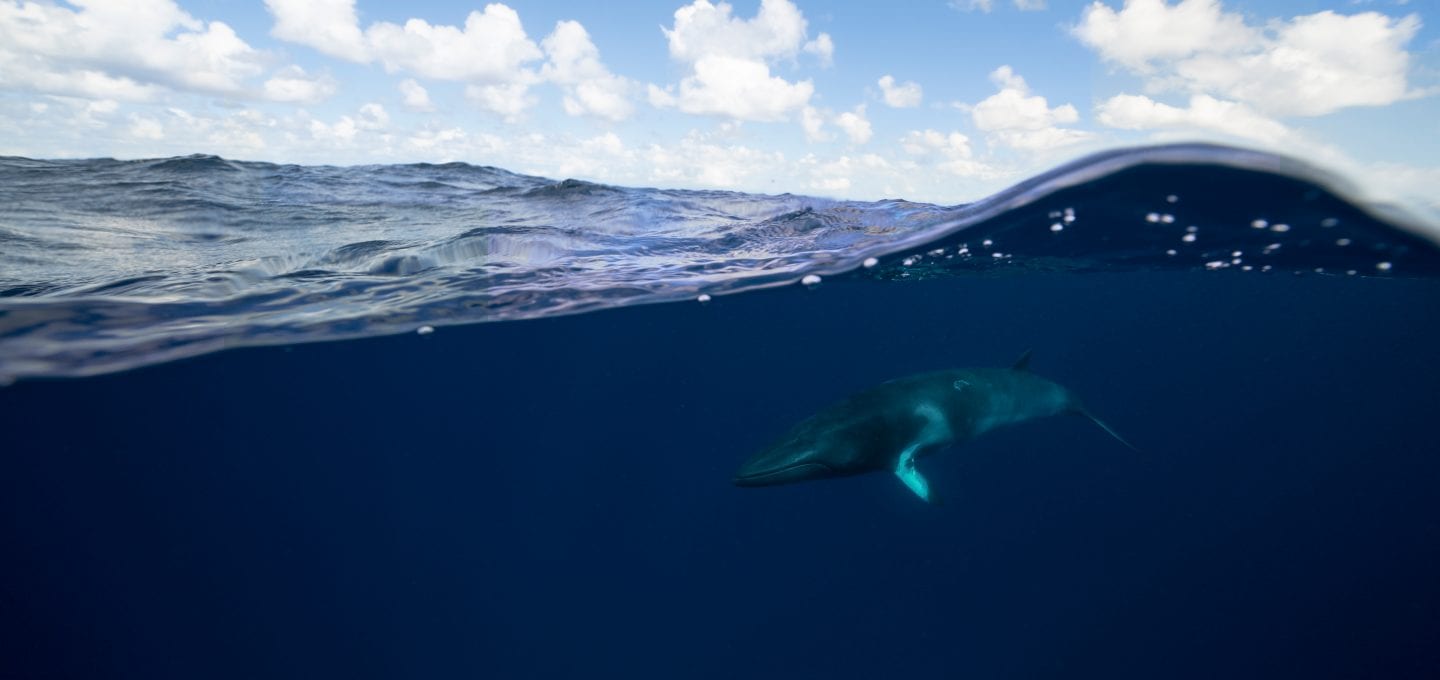 My fascination with whales grew further still when meeting Australia's highly regarded dwarf minke whale scientist, Dr Alastair Birtles, in 2018. He inspired me. I wanted to learn more about this purportedly social subspecies of the northern – or common – minke. I wanted to interact with dwarf minkes underwater. Would the connection be as impactful as those initial encounters with humpbacks?
It was because of Dr Birtles that I found myself on an expedition from Cairns to the Ribbon Reefs area of the Great Barrier Reef. Our objective was to photograph, ID and observe dwarf minke whales along their migration route. Images and data from the trip would, it was hoped, bolster the important work being done by Dr Birtles and the MWP team, some of whom were onboard alongside a number of photography students under my tuition.
Three days in, we hadn't encountered any dwarf minkes. Approximately 50km south of Ribbon Reef 10 we stopped for a dive at a site called Steve's Bommie, a 30m coral head famous for its abundance of healthy fish and spectacular corals. We glided through schools of curious yellowtail snapper and explored the reef's array of colourful corals and anemones, meeting the gaze of various clownfish, angelfish and anthias.
As we surfaced and started returning to the boat, I spotted a small blow on the horizon…
Read the full article, Dwarf minkes, big questions, in Issue 09 of Oceanographic Magazine – out now, available worldwide. 
__________
Unplug. Reconnect. 
#WhereWillYouReadYours?
Sea stories
Beautiful ocean stories straight to your inbox.
Join our community.