Conservation
Safeguarding ancient wonders
The Edges of Earth expedition is on a mission to share untold ocean stories from around the globe. Over the next 24 months, the team will travel to 50 of the most remote dive destinations in the world and Oceanographic will share their stories along the way. On their first stop, in Malaysia, it documents one team's effort to protect endangered turtles on the Semporna Archipelago.
Photographs by
Andi Cross, Adam Moore, Connor Holland & Grant Thomas
Dating back to approximately 220 million years ago, turtles have been on this earth since the time of the dinosaurs. They've outlived many other ancient reptile species. Being one of the oldest reptile groups still remaining on earth, they have managed to adapt and survive against all odds. But somehow, there are turtle species that are critically endangered, including the loggerhead, green and hawksbill turtles. Why? Because of humans. Even the oldest living reptiles on earth can't beat human motivation and drive.
The Edges of Earth Expedition officially kicked off in Malaysia, heading to one of the most remote parts of the country, Sabah, Borneo. Known for its exceptional marine biodiversity, it is part of the Coral Triangle, a region that was once densely populated with those three critically endangered turtles. Our team was on a quest to find anyone and everyone who could tell us about the turtle population today, and what they were doing to protect it.
We took a 2.5 hour flight from Malaysia's capital, Kuala Lumpur, to a regional town called Tawau on Borneo island. From there, we took a 1.5 hour car transfer from Tawau to Semporna, known for being the gateway to some of the world's most renowned dive sites. Semporna is lackluster in itself, but it's the main access point for exploring the Semporna Archipelago, a cluster of 50 islands and coral reefs that are some of the most impressive you can imagine. After a 45 minute boat ride, we made it to Mabul Island where we met the only team in the archipelago that has aligned diving with ocean conservation. Shocking, I know.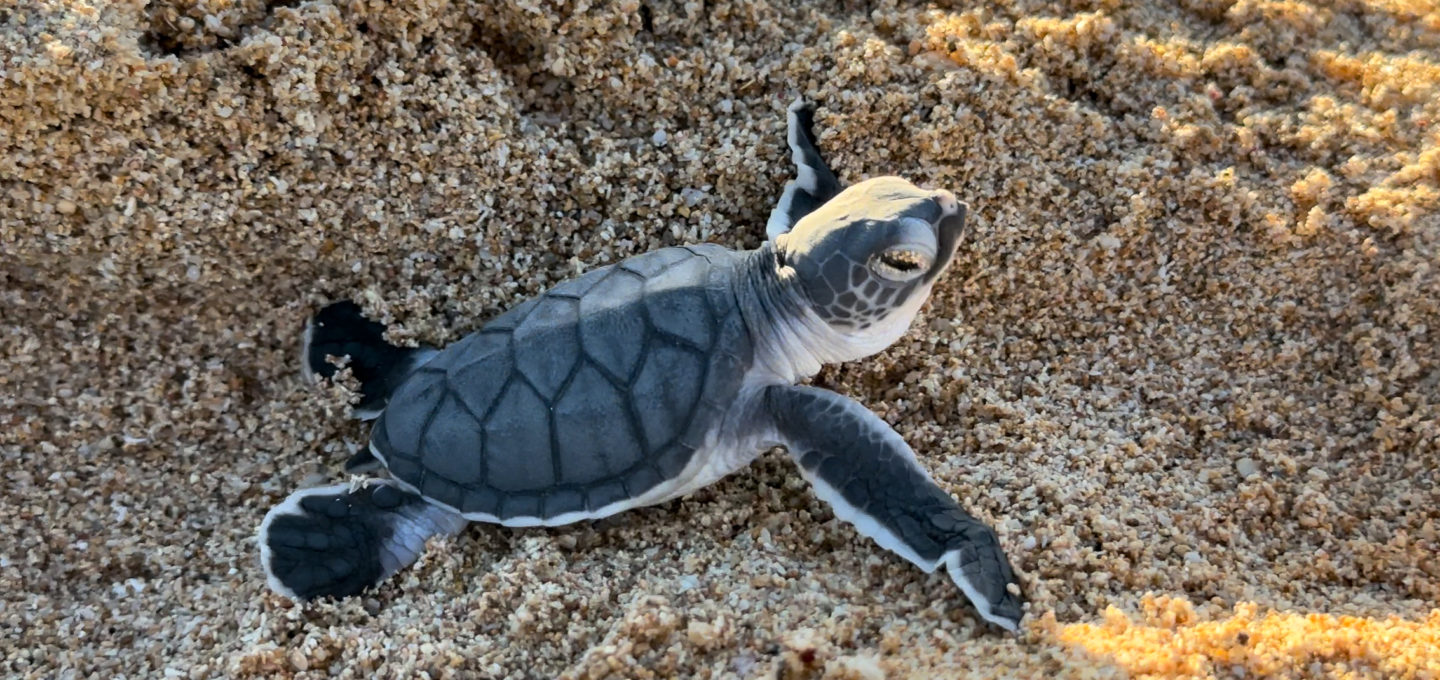 Scuba Junkie is a five-star dive center and resort with conservation at its heart – from the design of the resort itself to its eco-best practices and conservation programs. The dive deck alone was impressive and breathtaking for anyone who's scuba obsessed. But our main focus was the Scuba Junkie SEAS team. With many conservation and community programs under their belt, one of their most notable was the conservation, restoration and protection of sea turtles. We had found our people!
As we walked from the dive deck to our accommodation that was beachside, we followed a long connecting boardwalk over the sea. On that walk alone (and being onsite for approximately five minutes) we encountered three of the biggest green turtles we had ever seen in our lives. The water was not only crystal clear, it was moving and alive. Turtles grazing on seagrass, surrounded by schools of darting fish – we had officially entered diving paradise.
That's when we met Rachel Thompson, the head of all SEAS efforts. We learned pretty quickly that she's a busy human. SEAS has multiple active conservation programs across waste management, beach cleanups and animal protection, and Rachel is conceptualising more around coral restoration and plastic upcycling. She manages them all with a very small, tight knit team, day in and day out in the blazing Malaysian sun. However, we were here to learn all about the turtles and we looked to Rachel as our newfound turtle spirit guide.
The story starts out as a negative one, but I promise, it will get better in the end. Sadly, turtle poaching has been a significant issue in the Semporna Archipelago, as well as other parts of Sabah and Malaysia. Turtles are highly valued for their meat, shells, and eggs, which are considered a delicacy and used in traditional medicine. The turtles that occupy this remote part of the world face a variety of threats, including habitat loss, pollution, and illegal poaching.
SEAS created a turtle nesting sanctuary, where the team collects nests and provides safe haven for them so they can avoid poaching. The team will dig holes, sift sand, and incentivise the locals to get involved and help with collection. The hatchery was set up in 2011 after eggs were being poached from their natural nesting location by the local communities and sold on the black market.
To get the program off the ground, SEAS incentivised the identification and communication of any turtle nesting activity in the area by offering a 1,000 Ringgit ($225 USD) reward. This is huge, as it completely shifts the narrative from poaching to protecting, and helping the local communities thrive all the while.
The natural nesting process itself takes around three hours and generally happens during the night. The female turtle will drag herself up the beach, hollow out a 'body pit' using her fins and then dig a meter deep chamber where up to 120 eggs are laid. From there, a wildlife officer is sent out to carefully dig up the eggs, noting the exact order in which they have been laid.
The eggs are then relocated and re-buried within the secure hatchery on Scuba Junkie premises (right next door to the security outpost) and marked with nesting date, egg count and estimated hatching date (approximately 60 days from date of nesting.) When the eggs start hatching, security notifies the wildlife officer, and the hatchlings are gathered from the hatchery. Being a natural occurrence, the hatching event can happen at any time. Rachel noted that the most recent event had her out of bed at a wonderful 3am.
The hatchlings are then transported to the beach not more than 30 metres away, where they are set free to follow their natural migration down to the shoreline and out into the water. Most often, they're not seen again for approximately 25 years. Unlike trees or sharks for example, the ageing process for turtles is not an exact science with no bone rings or body markings giving an indication of exact age. Instead body growth dimensions and appearance are used to tell the strokes of time.
From re-burying the eggs in the same order in which they were laid to ensuring the baby turtles take their own journey from the higher sand down to the shoreline, the entire program is centred around mimicking the natural process as much as possible. The goal: limit human handling all together.
As part of the program, frequent maintenance occurs in the hatchery including 'sand changes' that involve digging out the sand in the compound and replacing it with the sand closer to the shoreline that would be naturally accessible to the turtles. Due to the waste pollution that plagues most beaches around the world, the sand is first sifted and separated from any microplastics and other matter that has washed up, before being placed in the hatchery. This sand recycling is aimed at reducing bacteria forming from re-use of the same sand for nesting activity. The bacteria can impede the egg development and reduce the conversion rate from eggs laid to baby turtles hatched.
Now, for the great news! To date, over 18,000 turtles have been hatched through the SEAS program. In 2023 alone, 1,000 baby turtles were released into the ocean. Not to mention, there is now an added financial incentive for the local community to be custodians of all turtles in the wild. This is to ensure the species stays in abundance and protected to give the best chance of frequent nesting activity. With that, the turtle rehabilitation effort was born.
When an injured turtle is found, SEAS has set up a rehabilitation centre to help nurture each one back to health. Our week with SEAS had us spending lots of quality time with one special green turtle, affectionately known as Barbara. She was struck by a boat causing shell and rear fin damage. Barbara receives daily treatment including things such as water changeovers in her tank as well as iodine ointment on her fin wounds.
This treatment is slowly working to reduce infection build up and increasing mobility in the hope that Barbara will be released back out into the wild. Her feeding sessions are where she shows her real personality – demanding squid over the seagrass and seaweed variety that Rachel and team carefully hand pick for her.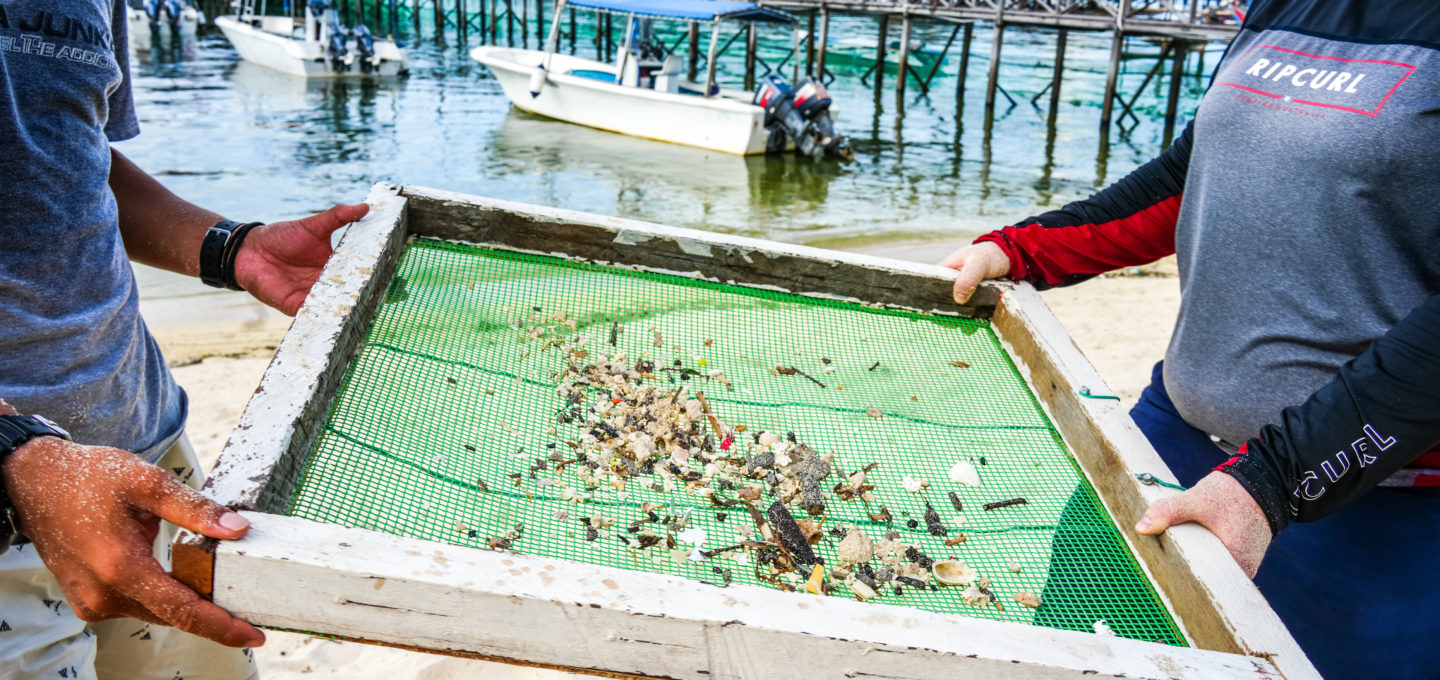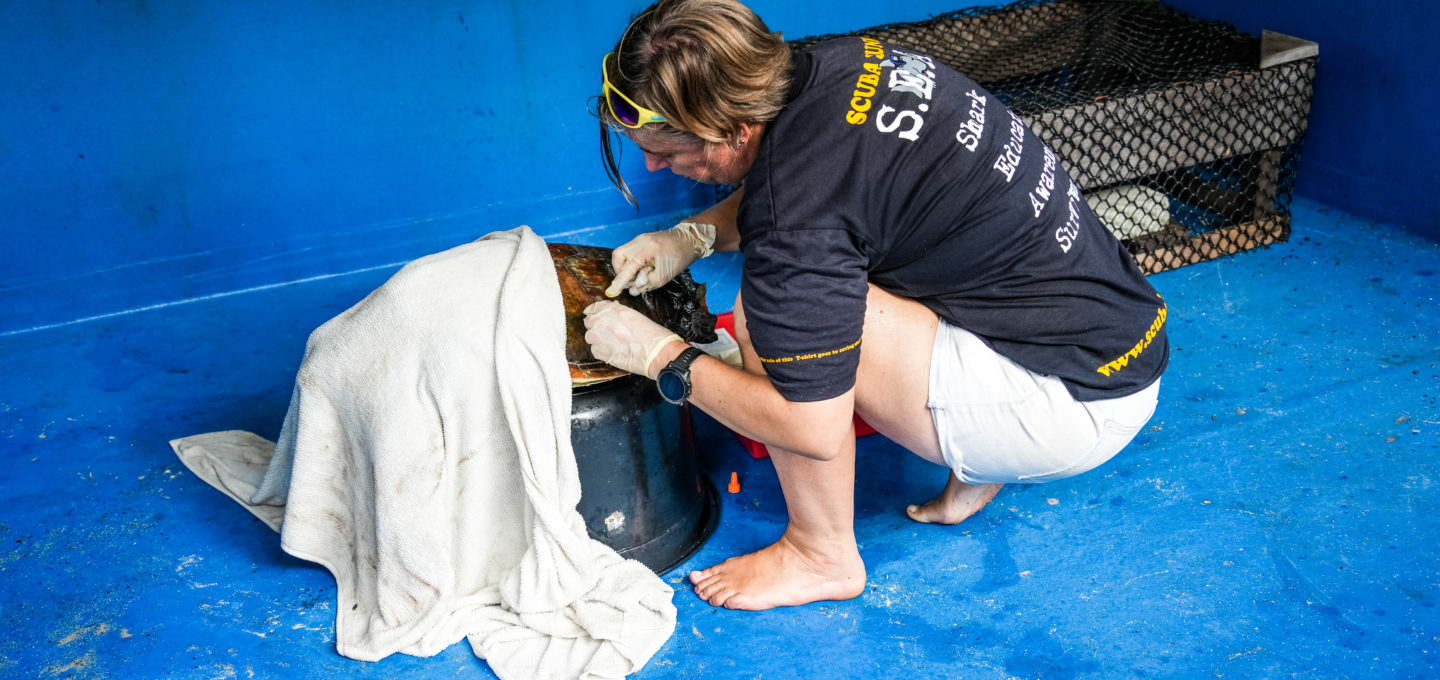 After the week on Mabul Island – and saying goodbye to our best friend Barbara – it was hard not to reflect on how these ancient creatures have such a profound ecological impact on marine ecosystems. Turtle presence helps maintain biodiversity, promote healthy habitats, and ensure the overall stability and functioning of marine environments. Protecting turtle populations is not only vital for their own survival, but also for the well-being of marine ecosystems and the many species that depend on them.
As you travel around the world, look for programs like SEAS to get involved with. Prioritise dive centres that put conservation and protection of marine species and the environment first. It's our obligation as divers and ocean stewards to contribute in any way we can – on vacation, in our work and every day. As we venture to the edges of earth, we will continue to highlight operators, teams and individuals dedicated to doing their part, so that the next generation has a chance to fall in love with green turtles like Barbara.
Watch the video to find out more about the Edges of Earth Expedition: 

Photographs by
Andi Cross, Adam Moore, Connor Holland & Grant Thomas
Shop window
current issue
Back Issues
Enjoy so much more from Oceanographic Magazine by becoming a subscriber.
A range of subscription options are available.
Sea stories
Beautiful ocean stories straight to your inbox.
Join our community.