Adventure
From sheep farm to dive site
The Edges of Earth expedition is on a mission to share untold ocean stories from around the globe. Over the next 24 months, the team will travel to 50 of the most remote dive destinations in the world and Oceanographic will share their stories along the way. In Australia, the Edges of Earth team explores the Kilsby Sinkhole.
Photographs by
Adam Moore
What lies beneath Mt. Gambier is what makes it the freshwater capital of Australia. From sinkholes to cave systems, the Limestone Coast is a geological wonder. With 95% of sinkholes in a 20km radius, I was eager to fly from Australia's west to south to meet those who have spent their lives protecting and preserving this unparalleled destination.
Upon arrival, I was greeted by Darren Mitchell, the owner of Dive Experience, and his trusted associate, Abi Harwood. The two of them run one of the few operations in the area that's able to take recreational divers out to the sinkholes. Within minutes of meeting, we were unpacking Mt. Gambier's history, the importance of building up the cave diving community and what the next few days together were going to look like.
Kilsby Sinkhole is the premiere landmark in the area, and I was getting the chance to privately explore it alongside Darren and Abi. This freshwater site is located on the Kilsby family farm, monitored by Graham Kilsby and his partner, Jo Feast. As fourth generational owners, they have set strict regulations and procedures for how to dive this dangerous and otherworldly site. Today, they are the only family operating sinkhole ecotourism in all of Australia.
Darren explained exactly how we'd navigate Graham's guidebook. Plunging into 15 degree freshwater with anticipated visibility of nearing 65 meters, we'd have 40 minutes to explore the site. With a lower surface area compared to other sinkholes, sunlight is limited, which reduces algae growth that can cause murkiness. Darren was hyping me up, rattling off fact after fact about the sinkhole. Especially when telling me with full certainty, it would be the clearest water I'd ever seen. In geological terms, this sinkhole is considered 'ancient' – a word I could not escape when in Mt. Gambier.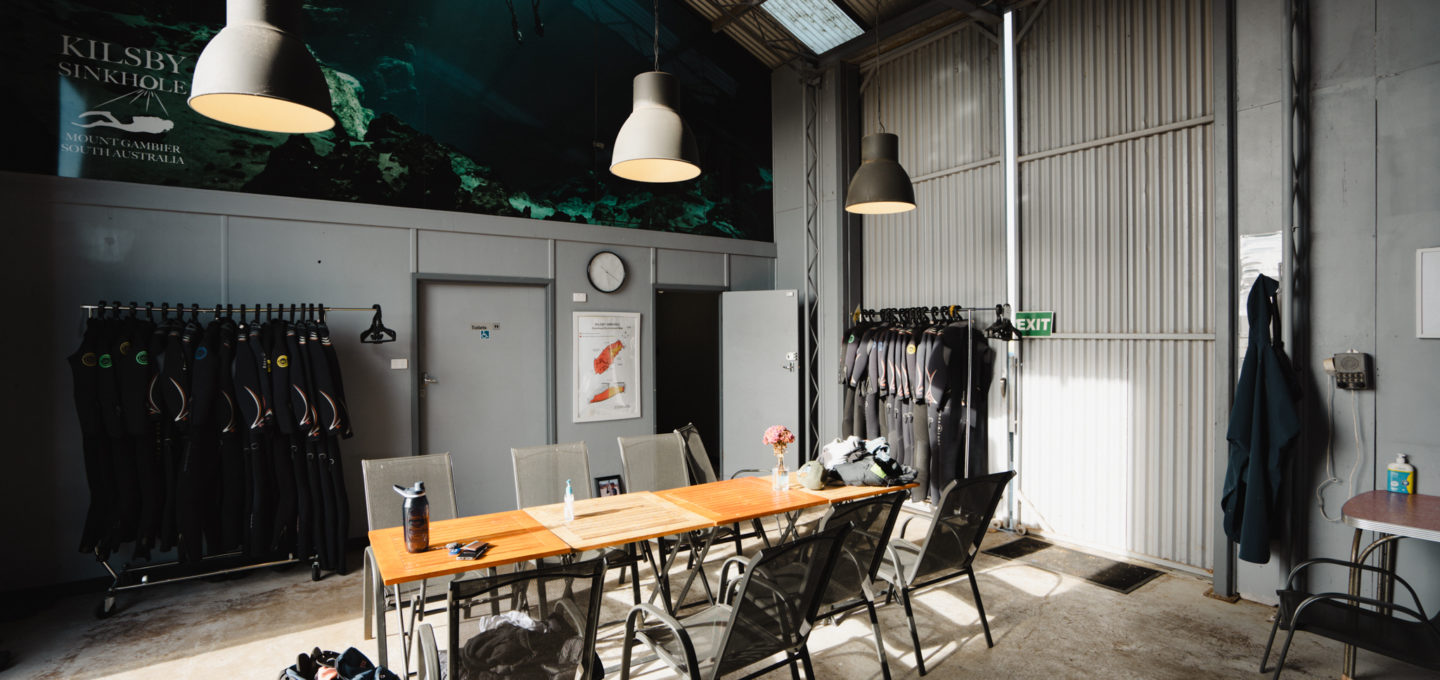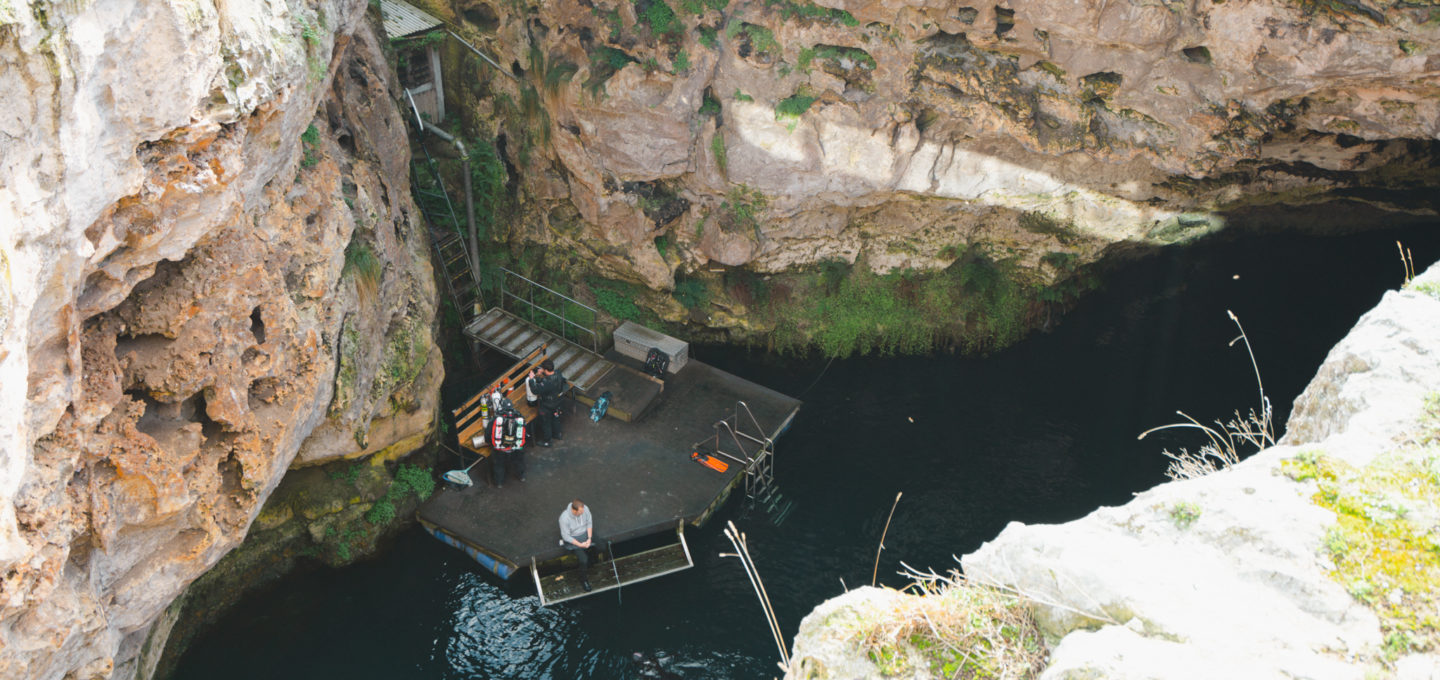 Sinkholes are formed through a combination of geological processes and environmental factors. The first being that the area was once ocean, and over millions of years, the remains of marine organisms accumulated and formed thick layers of limestone. The next factor is the presence of groundwater. Rainwater seeps into the ground and interacts with the limestone, causing a chemical reaction. Over time, this process (known as carbonation or carbonic acid dissolution) gradually dissolves the limestone and creates underground channels and dips in the earth.
Volcanic activity in the region, which occurred approximately 4,500 years ago, also played a role in the formation of sinkholes. The activity released gases that combined with rainwater to create carbonic acid, further accelerating the dissolution of limestone. It's worth noting that while the limestone bedrock provides the foundation for sinkhole formation, not all in the region are visible at the surface. Many of them remain hidden underground until they collapse or are discovered through cave diving.
The formation of sinkholes in Mt. Gambier is an ongoing natural process, albeit a relatively slow one. While new sinkholes may not be opening up frequently, the existing sinkholes are a testament to the geological history and characteristics of the region. Mt. Gambier sinkholes are not only unique due to the abundance in a small concentrated area, but also because they contain drinkable, fresh rainwater.
Driving past picture-perfect farmland on the way to Kilsby, I was taking in the fact that we were 25km away from the ocean, we were landlocked and we would soon be going diving. A foreign concept for most divers, and certainly for me. Before I knew it, we arrived onsite.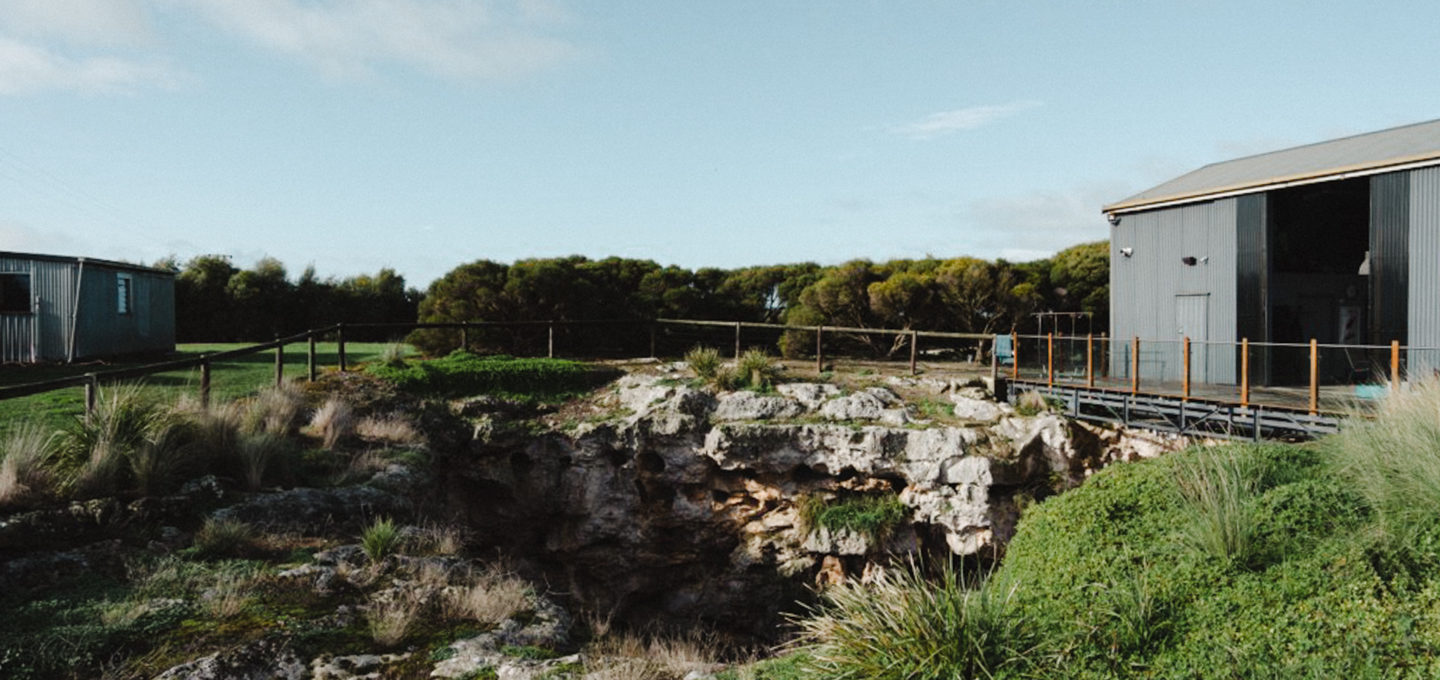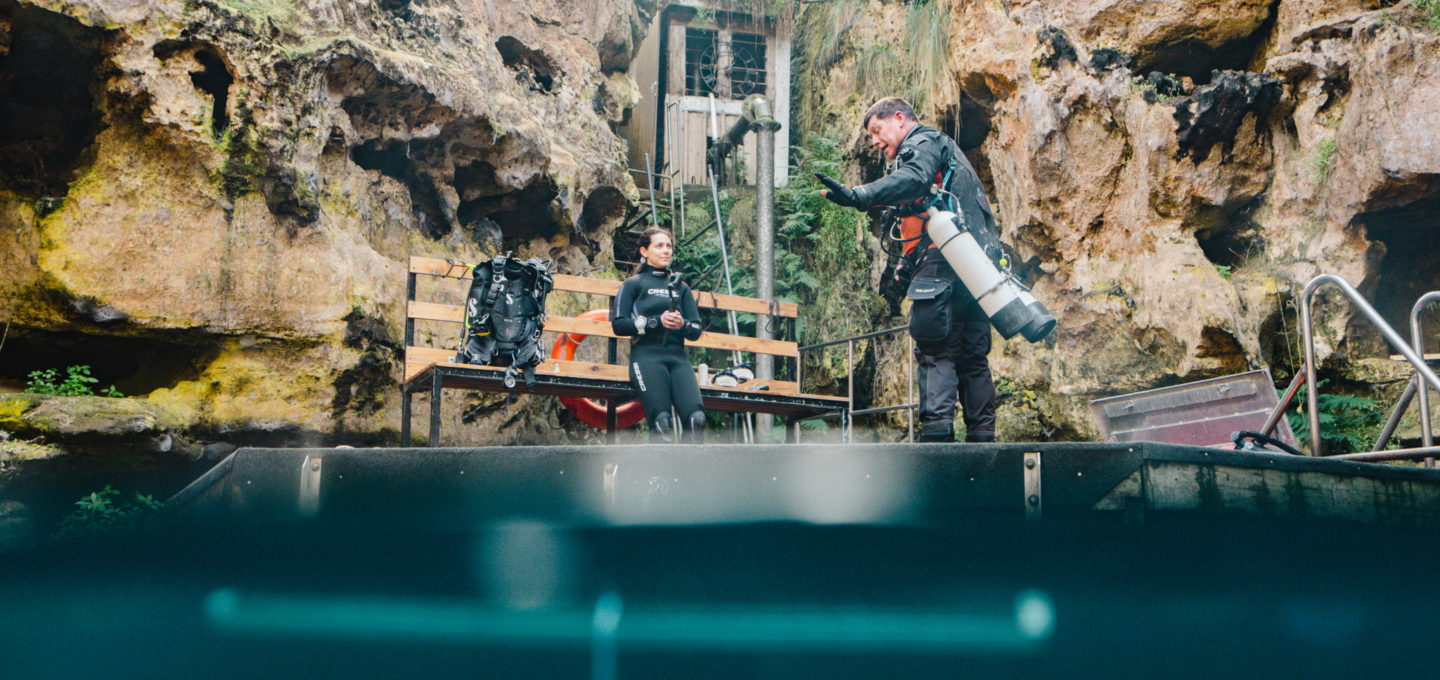 The dive briefing in itself was extremely detailed, as precautions are much different when you're diving in a freshwater sinkhole. Even the most experienced ocean divers will need a second to get their bearings. This is due to buoyancy, visibility, marine life, equipment maintenance and thermal protection. Freshwater offers better visibility, requires less weight for buoyancy, and has different marine life. Saltwater on the other hand, necessitates extra equipment maintenance and thicker thermal protection due to higher salinity.
It isn't just the freshwater that requires this site to be highly regulated. The diving technique here is all about knowing limits. There are zones within the site that determine how deep you are going and act as markers throughout the dive, with "the viewing rock" being the famous spot. This is where you can look up from an underwater platform and see the expansive view of the entire sinkhole from the depths. Because the water is so clear, it's easy to lose perspective and become somewhat disoriented. This could potentially harm the fragile sinkhole environment or anyone diving.
With the summer solstice being the peak time for most recreational divers to visit, the winter solstice—when I was there—had expert-level cave divers flocking to Kilsby. Avoiding crowds, the pros seek the clearest water possible with the most visibility which is found in winter. The empty sinkhole becomes their training ground to further their education and perfect their niche skills.
After my dive, I acknowledged that Darren was right: this water was unlike anything I'd ever seen before. Next up, I was to meet Graham Kilsby to hear directly from him about his experience as the custodian of the sinkhole – a moment we had been planning for a long time.
It quickly became clear to me that responsible diving, ecotourism, community building and sustainable land management were the reasons this landmark was operating so smoothly. And it was all because of Graham and his affiliated teams.
In 1984, Graham and his father dug out the sinkhole passageway, making it accessible for the first time. Initially, the intent was only for farming irrigation purposes, as the family had no idea it would become the iconic spot it is today. Graham recalled that growing up, he didn't think his sinkhole was anything special, as everyone had one in their backyards. A wild concept for a New Yorker like me!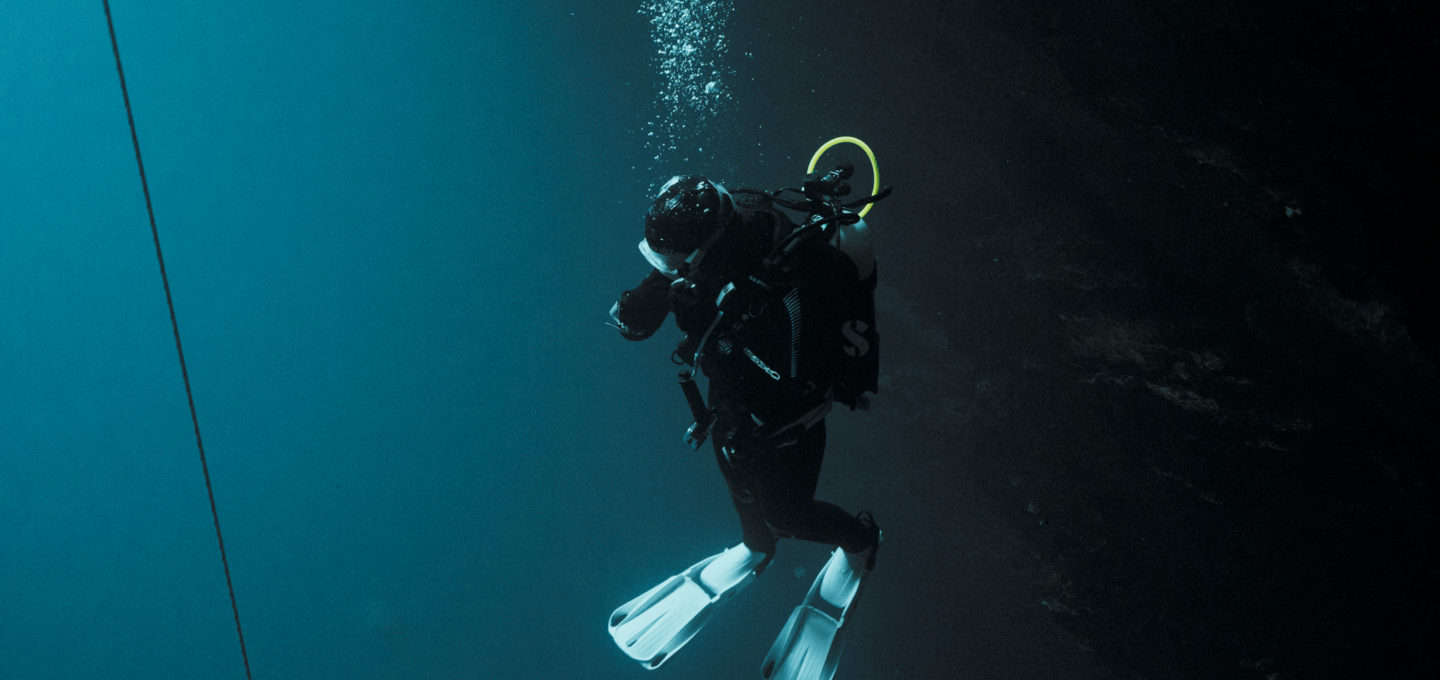 Randomly one day, the Australian military knocked on the Kilsby's door and said they needed a private, secret, underwater location and they wanted to access the sinkhole. For 17 years, the sinkhole was involved in military simulation testing of devices that were to be dropped from high altitude to track deep underwater activity. Graham joked that this operation was far from secret, as it regularly made headline news all over the state.
It was only a decade ago that the sinkhole became utilised by trained cave divers. Seeing how impactful diving the sinkhole was for the cave community, Graham became passionate about ensuring it was accessible to external parties. That meant he had to obtain expensive public liability insurance. Cave diving is extremely niche and at the time, was not generating enough funds to offset costs. So, Graham worked to open the site more broadly to freedivers, open water scuba divers and even snorkelers.
Graham started to realise his sinkhole meant a lot of different things to a lot of different people. From farming to the military to the dive community, the sinkhole played many roles in a lot of people's lives. The vision for what the sinkhole could be became much more clear, and far surpassed anything the Kilsby family ever imagined.
Decades ago, many of the sinkholes in the region were filled with rubble and trash, ultimately destroying them. Back then, the general attitude in farmland was if there was a hole, it had to be filled. Kilsby Sinkhole has been cared for differently by the family from the start, which is why it stands today in flawless form. Even during the period of military testing, the family was careful to emphasise leaving the sinkhole in the same condition it was found.
Graham acknowledged that even though there's a big emphasis on sustainability, farming activity might have an impact on the sinkholes in the region. Increased animal ablutions, chemical usage and run off and heavier irrigation are his main concerns as an actively operating sheep farmer himself. For him, it's all about finding a balance—take only what's needed.
The freshwater found in the sinkhole and cave systems is useful for farming, as it keeps the land rich. Years ago, the farming community thought they could access this type of water forever and it wouldn't deplete. Today, it's widely understood that this is not true. Running out of resources is highly possible if careful management is not put in place.
Graham is regularly monitoring the sinkhole water levels and ensuring it is always at a constant. His aim has been to find ways to blend the worlds of farming and the natural sinkhole so that they can co-exist and work together. This fresh rainwater is the lifeblood of the area, and what keeps not only Graham but many others in business.
The Kilsby sinkhole acts as a proof of concept for what is possible when heavy management, a commitment to sustainability and community is created around a geological wonder. Graham proved what was possible when opening up his land to others—from cave to open water divers. Every day, as he tries to achieve the perfect balance, he's inspiring many to care much more about our planet. Especially once they have had a chance to see first hand what lies beneath the surface in Mt. Gambier, South Australia.

Photographs by
Adam Moore
Shop window
current issue
Back Issues
Enjoy so much more from Oceanographic Magazine by becoming a subscriber.
A range of subscription options are available.
Sea stories
Beautiful ocean stories straight to your inbox.
Join our community.