Conservation
The Great Wall of Fiji
Words and photography by
Tom Vierus
Words and photography by
Tom Vierus
Fiji's custom of managing ocean resources is, in essence, the blueprint of the modern marine protected area approach.
Fishing grounds, in Fijian referred to as qoliqoli, are traditionally owned by clans or communities. On occasions of cultural significance (the death of a chief, for example), specific areas of these qoliqolis are temporarily declared as tabu, effectively making it a no-take zone. These tabu areas would rotate over time, ensuring a sustainable and healthy way of ocean resource use. Unfortunately, poaching, overfishing and a general move away from traditional values and management threaten the integrity of the tabu system.
I first came into contact with this management system in 2015, when I studied a potential shark nursery area in Fiji as part of my master's program. Based in a small village in the north-western part of the main island Viti Levu, I had to first seek various permissions in the respective community that traditionally owned the estuary. With the approval of the assigned headman, I was able to conduct my research over several months and eventually published an open-access paper that added to the understanding of local shark populations and their ecology.
Several months later, back in Germany, I found myself at a crossroad: should I keep pursuing a career in academia and start a PhD? Or should I follow my passion and dedicate my life to visual communication and environmental photojournalism? Fate helped me make that decision: a photo series of my shark research won me the German Prize for Science Photography. The outreach and media presence I received through the award enabled me to repeatedly talk about my work and shark conservation reaching many different households in Germany.
In 2016, my partner and I decided to move back to Fiji, where I created my company Pacific Media House, and have since been closely working with international and local NGOs, inter-governmental agencies as well as sustainable tourism operators. When the World Wildlife Fund (WWF) approached me to document the Great Sea Reef expedition, I didn't need asking twice.
Fiji's Great Sea Reef is the third largest continuous barrier reef in the world and stretches over 200km all the way from western Viti Levu to the most north-eastern point of Vanua Levu. As a natural barrier of the two main islands in Fiji, and locally known as Cakaulevu Reef, many Fijian communities refer to it as the 'Protector of Fiji'. Not only does it protect the shorelines, but it also contributes yearly between USD $6-8 million of fisheries value. At least a tenth of the entire population directly relies on it for their livelihoods.
In 2004, an initial WWF survey found more than a dozen threatened species living in and around the reef and a large amount of overall biodiversity. Today, Fiji's Great Sea Reef is a priority within WWF's Global Coral Reef Rescue Initiative which focusses on climate-resilient reefs and the dependent communities. The motivation of conducting a second large-scale expedition was to re-visit surveyed sites more than 15 years later and assess the trajectory of the barrier reef's state.
Coordinated by the WWF head office in Washington, the Fijian Ministry of Fisheries and the University of the South Pacific put together a diverse team of 14 people consisting of scientists, conservation officers and other trained personal to survey the entire reef. Along with a crew of almost ten people, they would spend the coming three weeks living on the government-owned vessel Bai Ni Takali, which was equipped with a compressor and two additional fibreglass boats to facilitate the diving.
Besides conducting baseline underwater surveys for benthic, invertebrate and fish composition, WWF's lead scientist Dr Andradi-Brown and his team were particularly interested in learning more about the traditional ocean resource management system that is in place here in Fiji. Several stops in villages and meetings with community representatives were scheduled throughout the entire range of the Great Sea Reef. Not only to inform about the findings in real-time but also to find areas in which WWF could support the already existing management structures.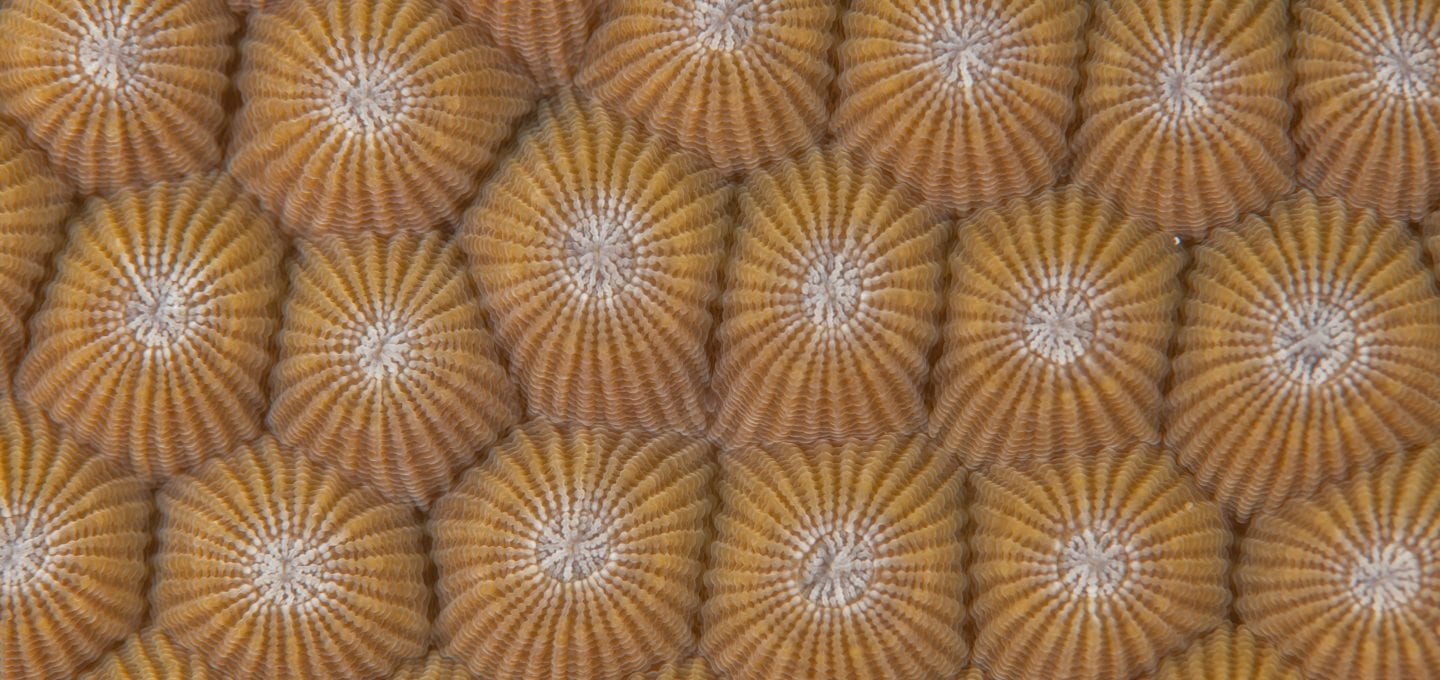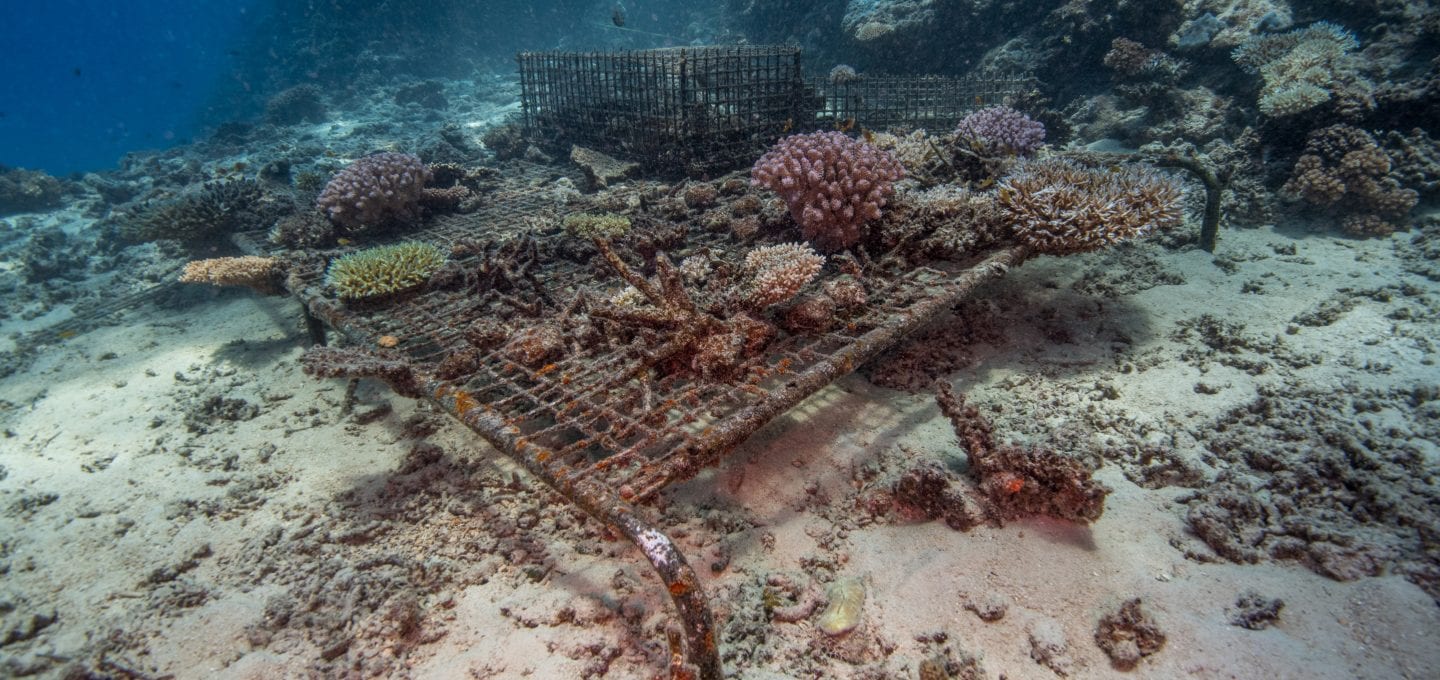 Traditionally, Fiji's approach to fishing grounds management ensured that marine life could recover in the temporarily closed tabu zones and prevented overfishing of the reefs. As with all protected (and properly enforced) marine protected areas, the reasoning behind it is to give marine life a pause from fishing pressure. Over time, fish stocks recover and would eventually also replenish surrounding areas, a process referred to as spillover.
While the tabu system is still in place in Fiji, poaching of these zones has increasingly become a problem. The introduction of scuba gear coupled with spearfishing at night has enabled poachers and fishers to decimate entire fish communities in certain reef areas – practically within a matter of nights. In many areas around Fiji's shore, a lack of patrol boats and the possibility to enforce of tabu areas deeply worries community leaders.
While talking to the community representatives on land, the dive team was split into three groups to simultaneously survey different sites. Using a variety of survey methods, the researchers recorded economically and ecologically important fish and invertebrates, and also looked at the health and type of corals that were present. Once back on the Bai Ni Takali, the data was entered into MERMAID, a freely-accessible global data management system that is used by researchers throughout the world.
Towards the end of the trip, participants prepared to leave the boat with mixed feelings. Metui Tokecene, one of the conservation officers at the WWF-Pacific office in Suva, was most surprised of how much deeper the fish seemed to be. "When I was young, we saw more larger fish closer to the water surface. Today, one has to dive much deeper to find the fish because there are fewer and they're hiding."
I've not been lucky enough to experience how the shallower reefs once looked decades ago, but what struck me most personally was the lack of larger fish and that we didn't encounter any large schools of fish. Fiji is often referred to as the soft coral capital of the world, and while many reefscapes in Fijian waters are stunning, fish stocks are dwindling in a large number of locations. Even on the most remote reefs, which lie many kilometres from the next villages, we encountered small fishing boats that would spend days on one reef. Underwater we'd often find discarded or broken fishing lines and although those were from handlines, too many of them coupled with targeted spearfishing at night can have drastic effects.
On a positive note, the team dived healthy reefs with high percentages of coral cover and inquisitive reef sharks and recorded healthy reef fish communities. On land, we met inspirational local community representatives that had made it their personal duty to safeguard the natural resources for future generations. According to the WWF, Fiji's harbours some of the most resilient reefs in the world, and the expedition observations seemingly confirmed this with hardly any signs of bleached corals.
In line with the world's numbers, Fiji's population is growing and with it the domestic need for fish and other resources. In future, NGOs, government agencies and the community representatives will need to come together to increase general awareness work in the communities, reinforce traditional ways of harvesting, and better enforce existing tabu areas.
The data from the Great Sea Reef expedition will help to identify the most resilient reefs as well as those areas that will need support in the coming years. The WWF is working closely together with several communities to not only support the tabu system but also to help communities create their own alternative livelihoods and diversify income opportunities. But with a traditional and sustainable management system already in place, Fiji is well-equipped for a future with healthy and resilient reefs and enough fish for everyone.
Sea stories
Beautiful ocean stories straight to your inbox.
Join our community.