Exploration
Rafts in fizzing water
Underwater filmmaking for big budget series comes with challenges, none more so than in the freezing waters of Antarctica. While these Antarctica expeditions are ultimately about entertaining and educating viewers at home, they are also a great ocean adventure for those behind the lens.
Photographs by
Olly Scholey and Alex Voyer
Not many journeys to Antarctica start in an English quarry, but through a series of unusual circumstances, ours did.
I sat on the quayside on a cold November morning with photographer Alex Voyer, both preparing for our individual challenges, both puzzling over a £50,000 underwater housing for a cinema camera, neither of us had ever used. Alex, an talented underwater photographer, had so impressed my producer, Sophie Lanfear, with his underwater images of the freezing waters of the Antarctic Ocean that she asked him to join our Silverback Films team on one of the biggest filming expeditions for Netflix's "Our Planet" series. There were, however , two small details which needed addressing; Alex had never used a video camera before and I, after a seven year career in wildlife film making, had never dived in anything less than 20'C water, and I was about to take on the Antarctic as Alex's safety diver… in a wetsuit. So that is why we were training at a flooded quarry, hoping that practice with this giant camera in the cold water, might in some way prepare us for filming in the world's most challenging marine environment. 
Fast-forward a few months, the long arduous journey to the Antarctic was over, and Alex and I were aboard the legendary Hans Hansson, as part of a massive filming effort for the Frozen Worlds episode of Our Planet. The aim was to capture the story of the ecosystem in Antarctica, by filming the interconnected relationships between all of the Antarctic Peninsula's wildlife, from Antarctic krill through to penguins, humpback whales, and pods of orca.  This involved not only filming with cameras on land, but also from zodiacs using  gyrostabilized camera systems, and using drones to follow wildlife from the sky. Alex and my part of the mission was simple; "Get what you can of all of this from underwater" with an aspirational goal of securing the first underwater footage ever of  huge flocks of foraging gentoo penguins.  As a result, we were effectively given free rein to freedive at any location where Hans Hansson was moored, to try and capture images from under the sea which would complement what the rest of the crew were filming.  It was a wonderfully creative challenge and thankfully the expectation on us was very low, so we could take on this massive challenge with little or no weight  on our shoulders. We were in an icy heaven.
The first steps were obvious to both of us, we had to fill in the gaps in our skillsets quickly, as not surprisingly they were still a bit lapsed despite our extensive, flooded quarry, training. Throughout the first week, Alex worked tirelessly so that using the huge, underwater housing became second nature.  I was accelerated up the learning curve of freediving in a wetsuit in the painful cold of minus 1 degree C water, learning a huge number of techniques from Alex about how to deal with the cold – almost all of which involved the easily mastered skill of "eating a lot of chocolate before you start"!    Alex's skill as a photographer transferred almost immediately into video, and my fears of the cold were, in fact, quite un-founded – it turns out when you're swimming in the most extraordinary ocean on the planet, the Antarctica Ocean, you couldn't care less how cold you are!
Now the real challenge lay ahead of us – how to capture world class underwater footage of wildlife in one of the world's most challenging marine habitats.  Dozens of film crews have gone to this region of Antarctica before, and despite the amazing amount of top quality sequences filmed there, very few feature underwater footage – and for good reason.  The freezing cold water is just the start of the issues you face.  The in-water visibility in the Peninsular is notoriously bad, rarely exceeding five meters, and often significantly less.  Weeks can go by when there is constant cloud cover, so you rarely have enough light to compensate for the poor visibility.  The animals in Antarctica themselves are also hard to see, let alone get close enough to film underwater – even leopard seals, famous for their inquisitive nature, will more often than not completely avoid divers – and penguins, our main target, are perhaps hardest of all.  Anything in the water that vaguely resembles a seal is bad news for penguins, given how often leopard seals predate them, so being two divers in black wetsuits created an innate, and unavoidable hurdle for approaching these birds underwater.  The black wetsuits were in fact, our secret weapon. Unsurprisingly, very few people have spent significant time freediving in the Antarctica Ocean, with most preferring to use far warmer drysuits and SCUBA. Alex was one of the first to spend a significant amount of time just freediving in Antarctica, and his photographs from previous expeditions were good evidence that freediving could prove to be an effective method for getting close to these skittish penguins.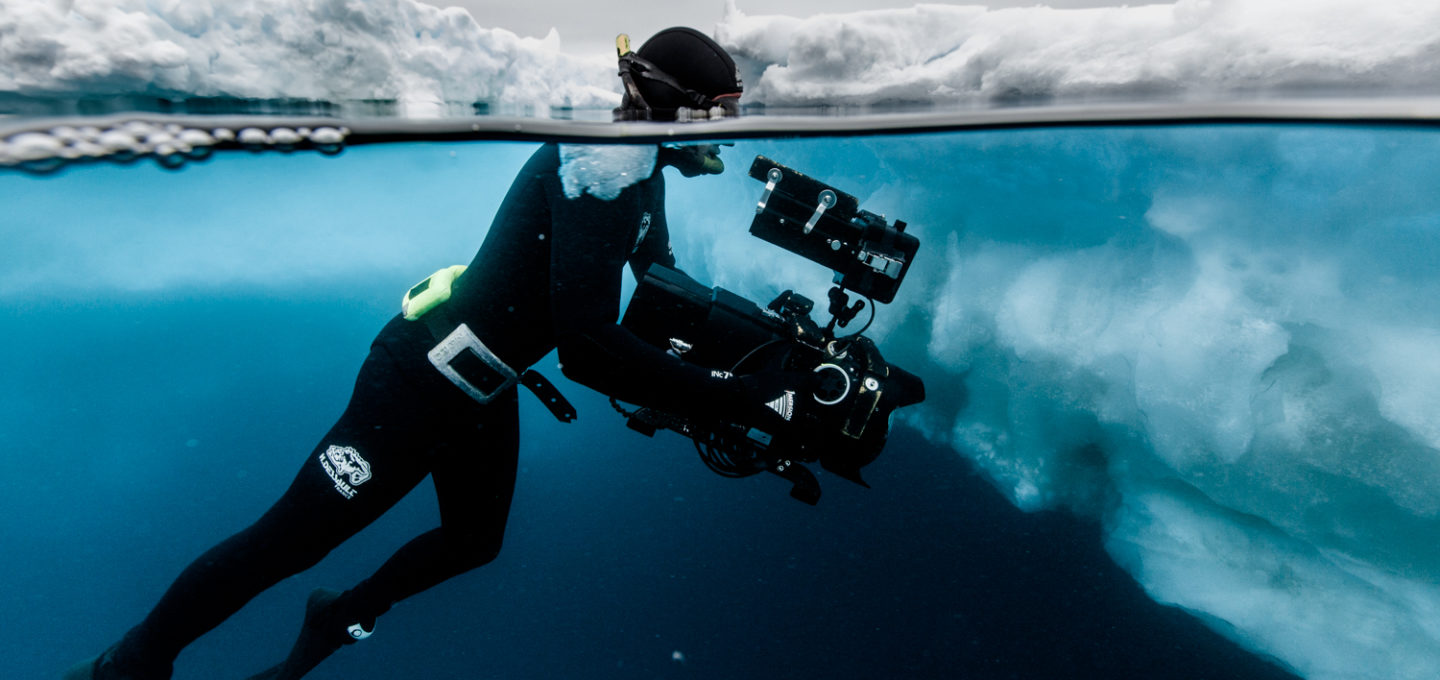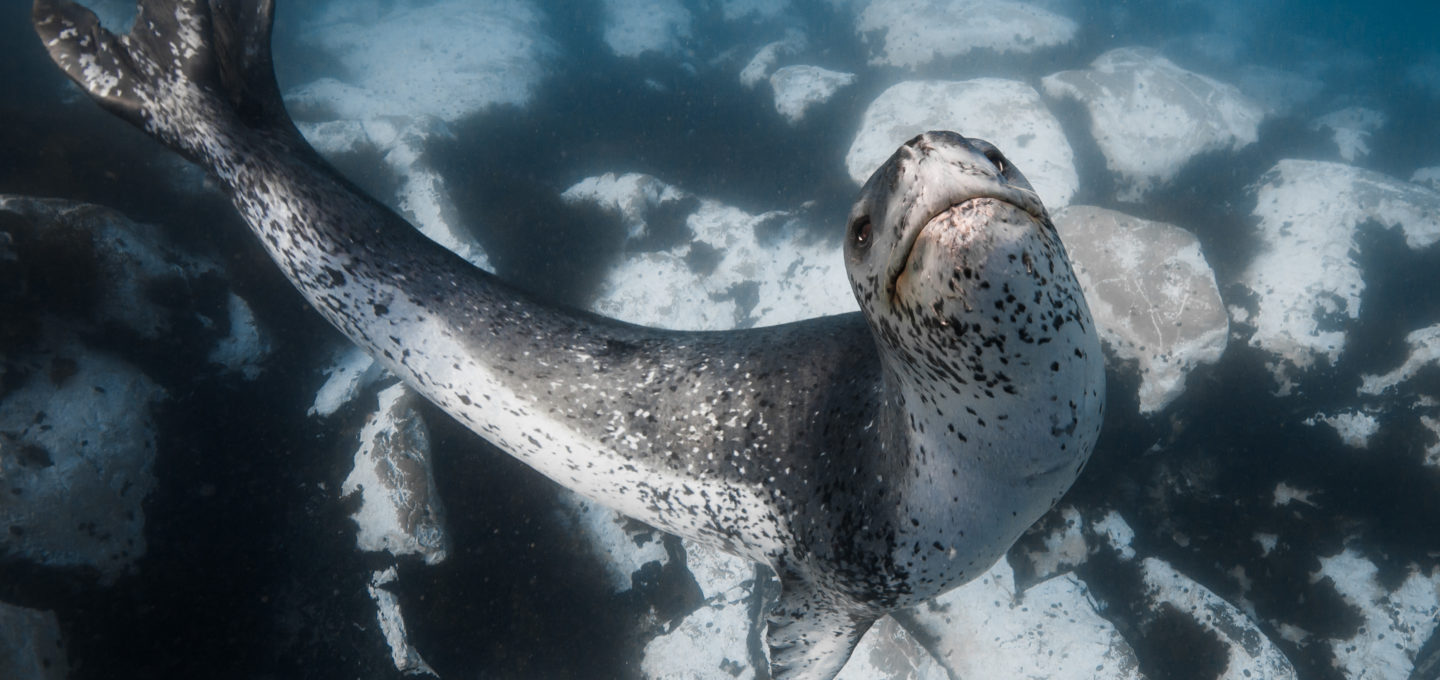 Photographs by
Olly Scholey and Alex Voyer
Continue reading...
To continue reading this article – and enjoy full digital access across Oceanographic – sign up to Ocean Hub today! More info below…
Keep reading by signing up for an Ocean Hub subscription
Ocean Hub. More than a magazine subscription.
As well the delivery of all new editions, members unlock access to exclusive products, services and discounts, as well as EVERY digital back issue we have published.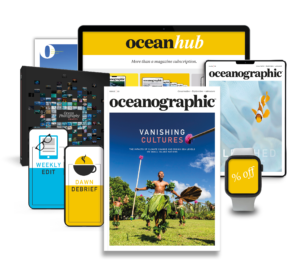 Find out more

about Ocean Hub subscription
Shop window
current issue
Back Issues
Enjoy so much more from Oceanographic Magazine by becoming a subscriber.
A range of subscription options are available.
Sea stories
Beautiful ocean stories straight to your inbox.
Join our community.