Every week is 'Shark Week' for Bill Eberlein who dives the waters of Coastal Georgia in search of remnants of the dinosaurs of the seas.
Photographs by
Bill Eberlein
Additional photographs by
Sterling Lanier, Timothy Kassis & David Clode
Off the coast near Savannah, Georgia, Eberlein who has dived for almost 40 years, secures his scuba gear and leans off the side of his boat, bobbing in the muddy low country water. On the count of three, he jumps off the boat into the river, making sure to connect himself to the boat's anchor to stop him from getting lost in the low visibility waters of coastal Georgia waterways. The sun reflects off the water, and Boat Captain Josh waits patiently for Eberlein to reappear on the surface. After a little while, he pulls up from the water holding a muddy clump of what will be cleaned and polished to reveal an ancient fossil – a Megalodon shark tooth. He brushes off the excess dirt, places the fossil in the boat, and repeats the process.
Megalodons were once enormous sea creatures. Their distinctive name can be translated from Greek to 'big tooth' which is fitting for this creature's stature. Evidence shows that these ancient sharks could measure up to 60 feet in length. A single tooth from this shark is generally three to four inches but the rarest examples can measure as much as seven inches long and may weigh as much as a pound. The force of the teeth added up, given that Megalodons had around 276 teeth. The bite force of a Megalodon equated to about an impressive 40,000 pounds per square inch, which is greater than the bite force of a T-rex dinosaur.
Today, only the fossils remind us of the legacy of the Megalodon which roamed the deepest parts of the oceans around 23 to 3.6 million years ago. The warm and muddy waters of Coastal Georgia now are the perfect excavation sites for these ancient relics, giving the modern world a glimpse into prehistoric times. "Our ocean floor is the secret home to these amazing ancient fossils, which are only exposed by the changing tides and currents," Eberlein said. "It's thrilling to have the honour of uncovering these unique pieces of history and share them with the world."
A Pennsylvania native, Eberlein began his scuba diving journey exploring the Great Lakes for wreckage. Besides diving, he also spent time volunteering as a search and rescue diver in the Erie area and taught classes as a NAUI scuba instructor. It wasn't until he moved to the coastal town of Savannah, Georgia in 1999 for a computer programming job, that he was introduced to the form of diving where divers explore murky waters along local waterways and rivers to reveal unique creatures of all shapes and sizes. Excited to explore new forms of diving, he took a charter boat trip off the shores of Hilton Head island in South Carolina where he would discover his soon-to-be passion for fossils and prehistoric diving.
Eberlein began collecting his discoveries and noticed he had quite a talent for finding and retrieving ancient Megalodon teeth and other fossils. In 2001, he created MegaTeeth Fossils as a side project – mostly to justify his investment in a new shark-tooth dive boat. What began as a fun project would soon turn into a full-time career, with Eberlein leaving his prior job and starting diving full time in 2008. "I never imagined a casual hobby turning into my passion, and certainly never imagined creating a business for myself doing what I love every day," Eberlein said. "My diving experience was founded on my love for exploration, and that same passion is at the center of MegaTeeth Fossils."
Fast forward to 2023, Eberlein now completes over an average of 300 dives a year searching for ancient fossils. With over 200 searched locations under his belt, Eberlein is well versed in which local waterways and dive spots hold the most promise and which spots hold the most challenges when it comes to finding Megalodon teeth. Most of his dives are done alone on his 25-foot boat, but always with the company and protection of ex-Navy chief Josh as his boat captain. He frequents areas close to his home in Coastal Georgia, but also explores areas in South Carolina, North Carolina, and Florida.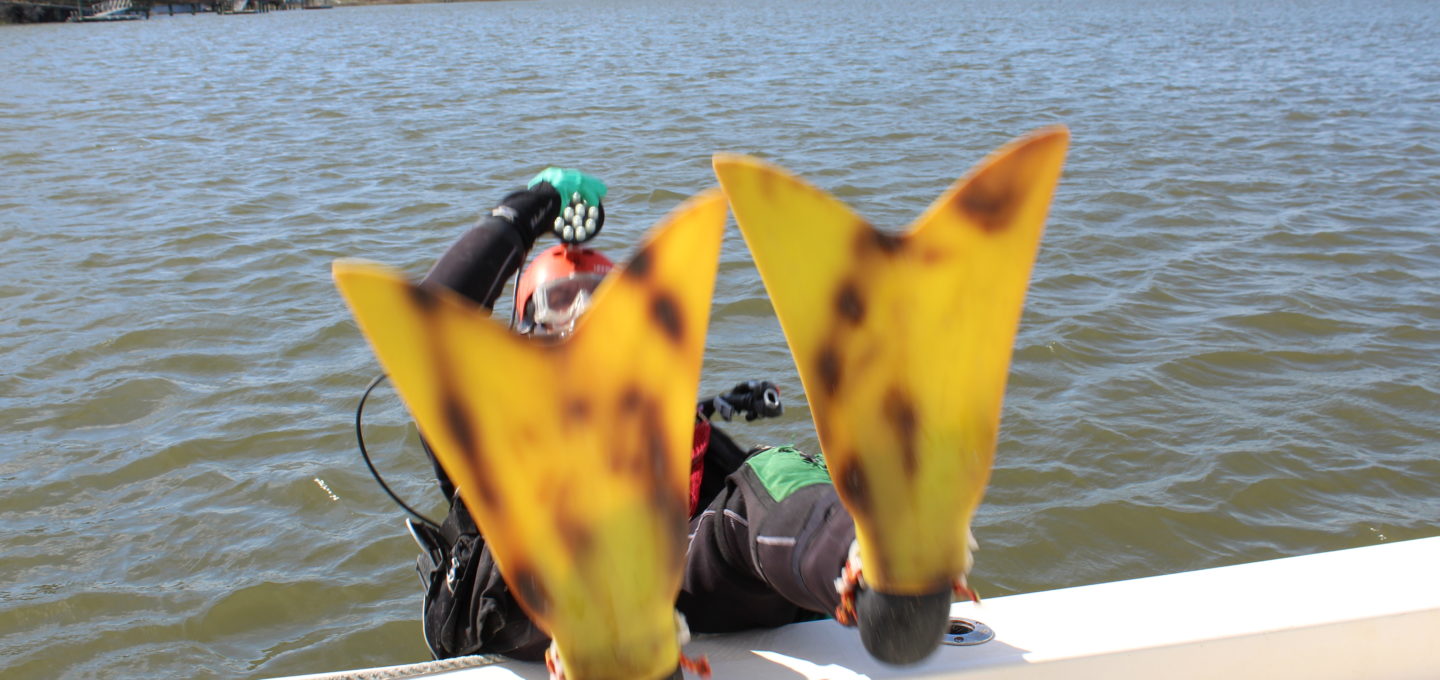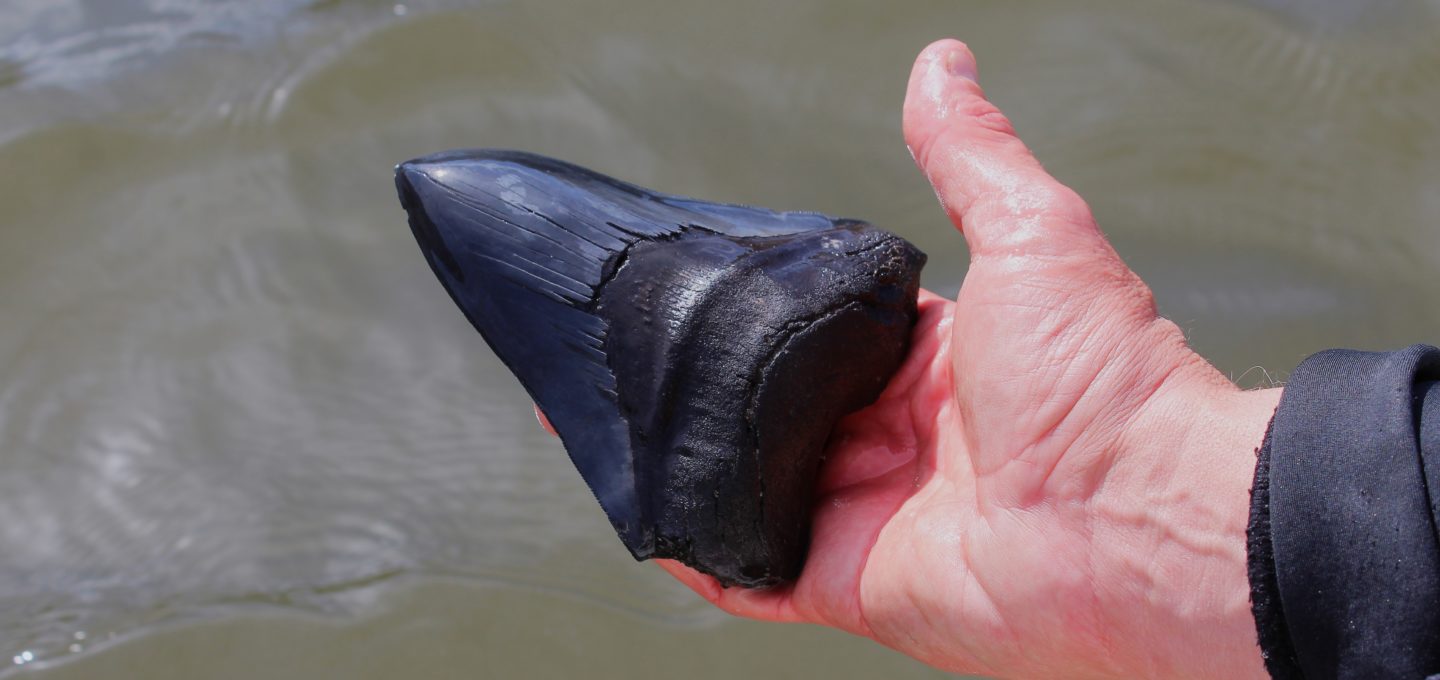 Most of Eberlein's dives range from one to two-hour sessions on which he explores sites between 40 and 80 feet, carefully combing the selected area yard by yard to look for exposed fossils. He tends to find around one to three teeth per session. Eberlein keeps watch on the select spots he has repeated success in, knowing the tide currents will eventually move sediment around, exposing more fossils and covering old ones never discovered. "When looking for the fossils, I try to keep an eye out for the hard bottom of the tooth, which are sometimes exposed in the muddy floors," said Eberlein. "Some fossils are a few inches below the surface, while others can be buried a few feet. I tend to focus on those closer to the surface since I have consistent success doing so."
Hidden in the Lowcountry muddy soil, the teeth appear a dark rich grey colour due to the water's minerals. The clay-based mud allows the teeth to remain preserved, unlike sandier areas which erode the serrations over time. Once Eberlein retrieves the fossils, he begins the cleaning and grading process. His business partner and wife Dodie helps curate the gallery of fossils, cleaning and storing the teeth until it is time to photograph each piece for the online storefront.
Eberlein has always understood the importance of preserving these fossils, doing his part to provide the most clear and accurate representation of the fossils he finds. On his website, he provides potential customers with a look into collecting Megalodon teeth through his Collector's Guide. He also ensures all teeth he offers are fossils he has found, to confirm the history and authenticity behind each tooth. This is why he does not offer repaired teeth, only unrestored museum quality fossilised teeth. This dedication and commitment to conservation is due to Bill's passion for exploration and eco-friendly collecting.
While the store has helped Bill fund his diving, it is the adventure that keeps him going. A self-identified thrill seeker, Eberlein loves the hunt for fossils regardless of the risks that may come with it. While the strong coastal tides bring new fossils, they also bring new challenges. Strong coastal currents combined with low visibility in the muddy Atlantic water make diving especially dangerous, with Eberlein coming into close contact with some less-than-ideal situations.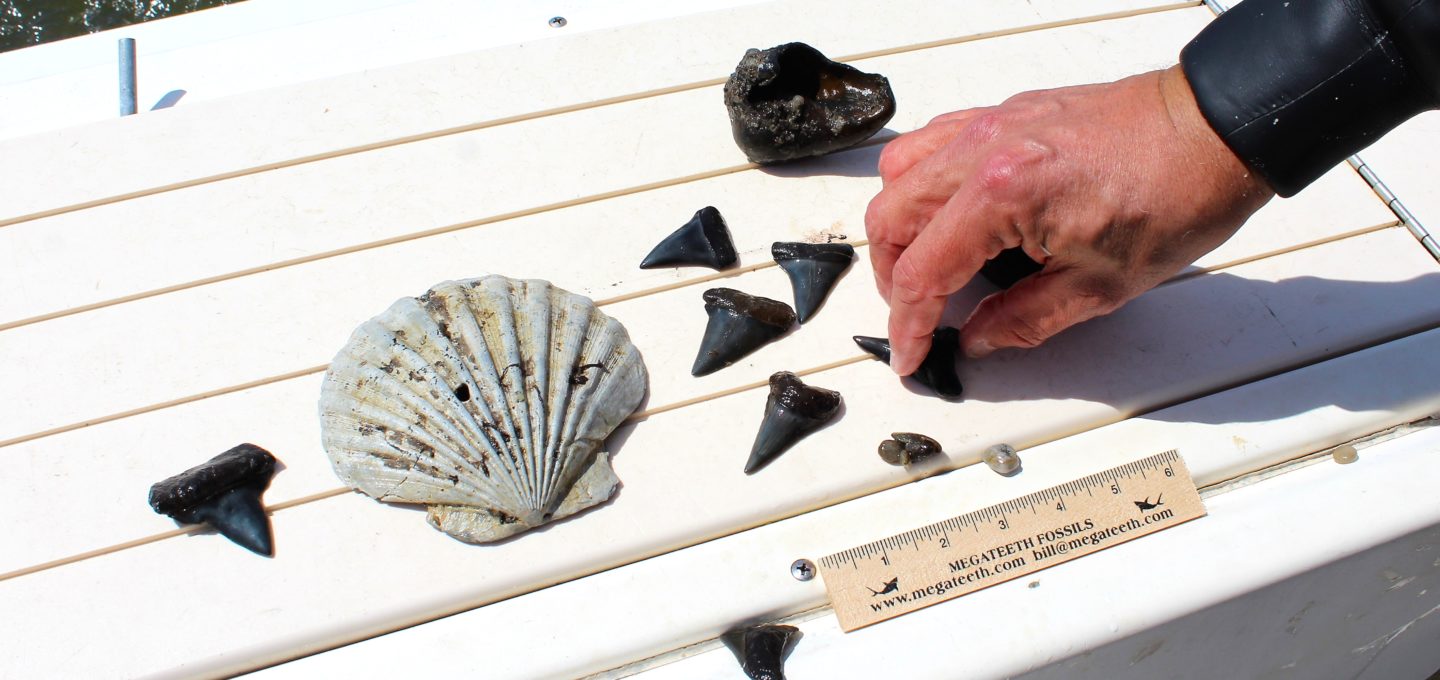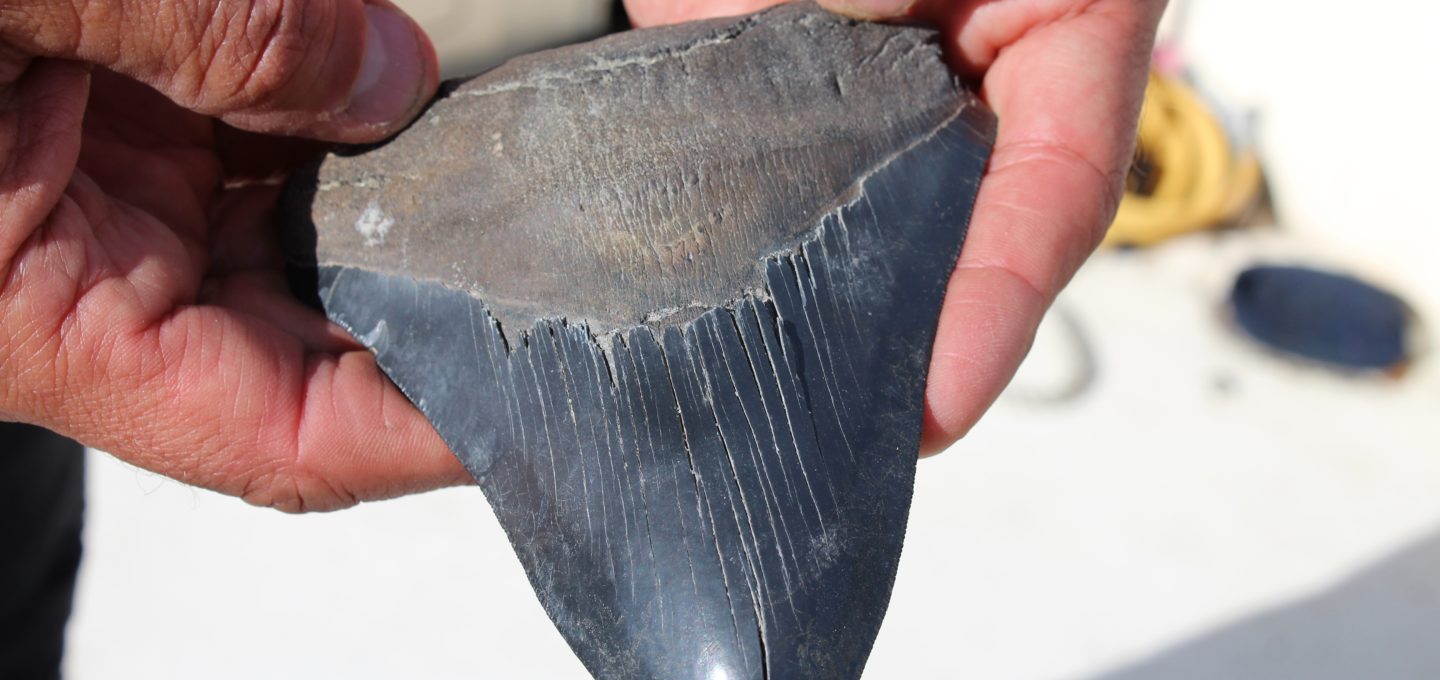 On one occasion, Eberlein noticed he wasn't having much success on his dive despite the search area being a consistently good spot for him. He started drifting down the river and dropped into a short trench that he did not know was there. The depth went from about 35 to about 45 ft instantly. The currents had carved out an area, and covered it back up a short time later, creating a trench. Inside that small area Eberlein discovered over 70 Megalodon teeth in just two dives. He continued to go back to the spot over the next two weeks, where he found almost 500 teeth in just one small area. When he went back a couple months later, the trench had disappeared due to the shifting currents.
Swimming along the ocean floor occasionally results in bumping into large creatures native to the area, including sharks and alligators. Low-to-zero visibility creates issues using dive gear, which is why Eberlein always takes his dive light, mounted on a helmet. Beyond the standard scuba gear, the only additional items he will bring include a reel, SMB, knives, and shears.
Sometimes Eberlein's dive sessions for fossils result in a rarer discovery buried beneath the muddy surfaces. During one dive, Eberlein was searching for an area with many fossilised shark teeth around what he thought was a log deep under the mud. Thinking it was hiding some more teeth beneath it, he began digging out the log only to discover it to be a giant 50-pound Mastodon jawbone with two Mastodon teeth in it. "It is such a thrill to discover a fossil of such a giant, powerful creature that hasn't been touched by humans for over two million years," Eberlein said. "Searching the clay riverbeds for these ancient treasures never gets old, and every time I find something it feels like the very first exciting discovery."
Many collectors reach out looking to purchase the museum quality artifacts, which is what Bill expected most of his clientele to be. However, he has been most delighted to see younger generations interested in fossil collecting as well. "It is so rewarding to see children and younger crowds be so drawn to these fossils.  There is no better way to get your kid interested in science. I send teeth out with lots of free information for that very reason," Eberlein states. "Reading it in a book doesn't com­pare to running a finger along the sharp, serrated edge. There is nothing like feeling the weight of one in your hand. Every prehistoric Megalodon tooth is a prize worth keeping."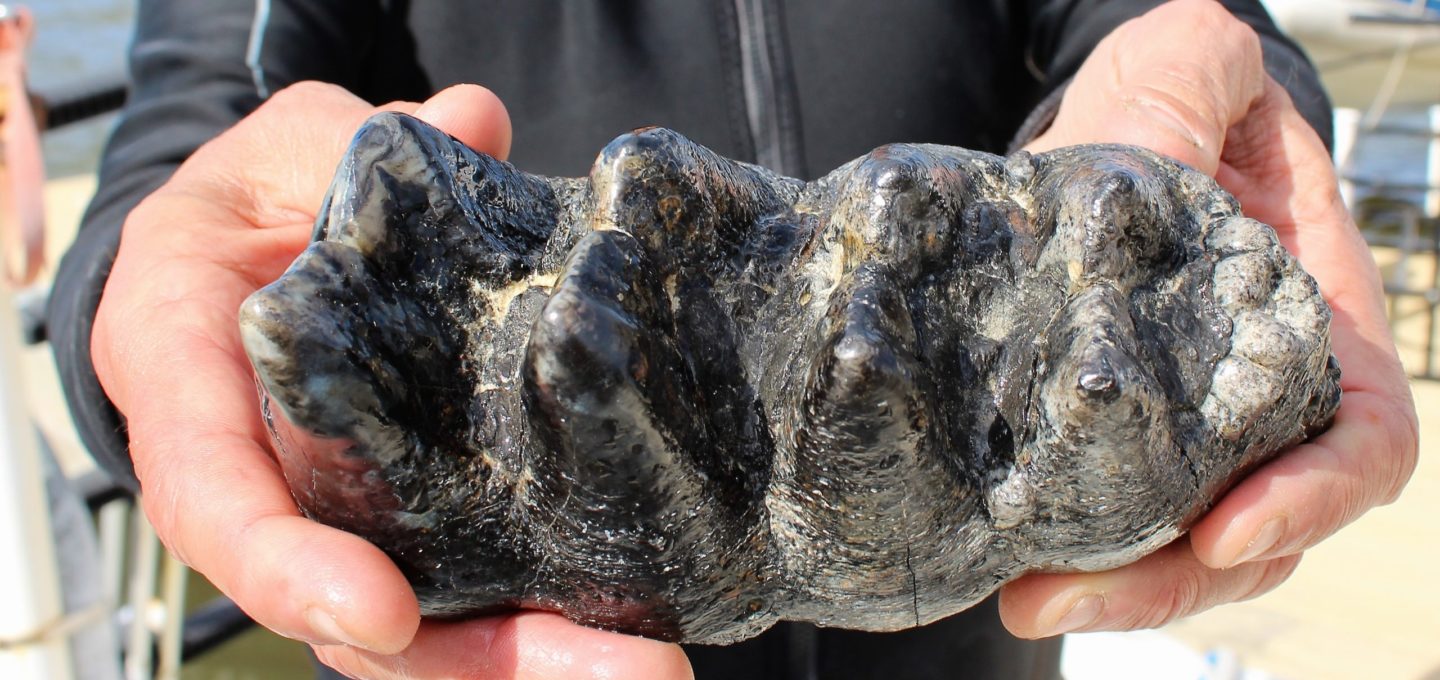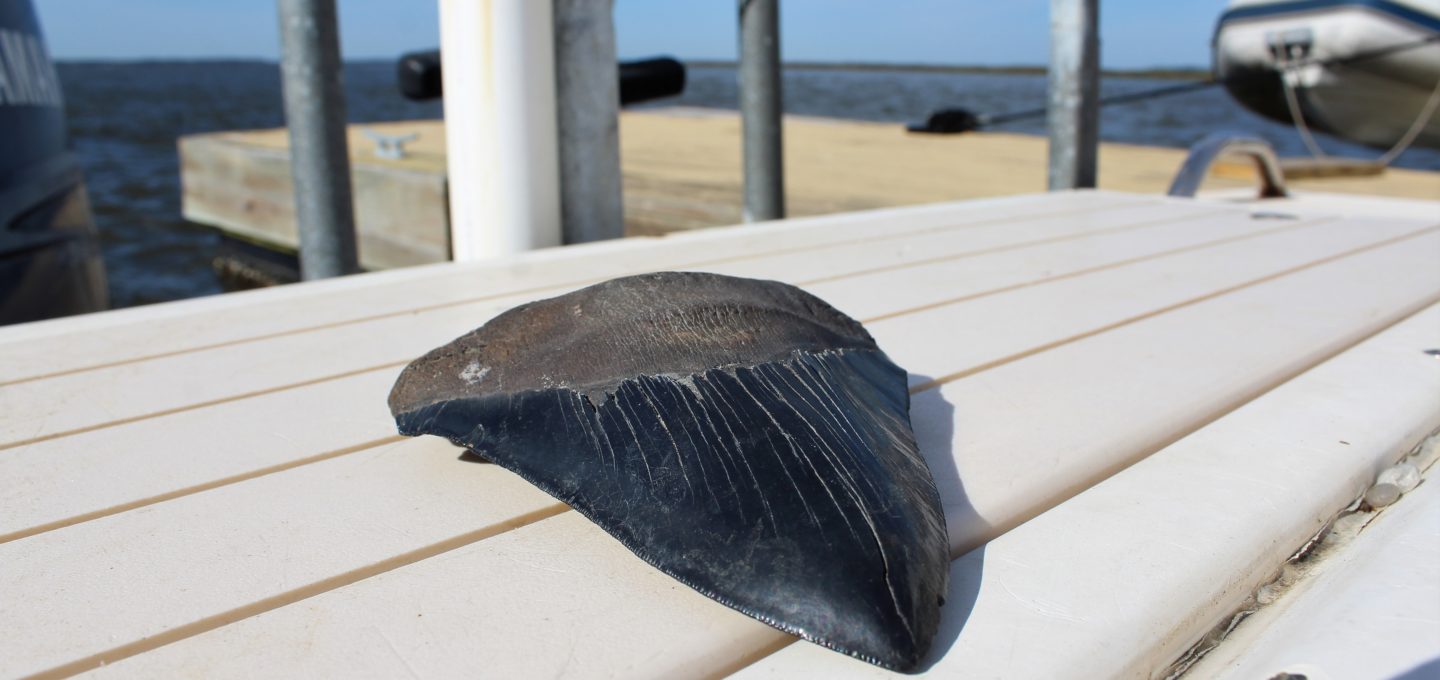 As Bill wraps up another summer of diving, he is optimistic about the future of MegaTeeth Fossils. He remains dedicated to sharing the incredible legacy of Megalodons and exploring the coast's beautiful waters for little pieces of history. One thing is for certain, and that is as long as currents shift and tides come and go, Bill Eberlein will continue pursuing his love for diving and passion for collecting Megalodon teeth.
"Every dive is different. I am bumped by anything from a shrimp to something unknown that is much larger. I feel blue and horseshoe crabs with my hands on most dives and grab ahold of a stingray from time to time. I never know what to expect, but that is part of the thrill," Eberlein says. "All of this is worth it when I run my fingers across the smooth enamel belonging to a prehistoric shark's tooth. I always think that I am the very first human to have touched a treasure that I can't even see. Often, I want to jump back on the boat and see what I've found, but the thought of more finds keeps me diving for as long as two hours at a time."

Photographs by
Bill Eberlein
Additional photographs by
Sterling Lanier, Timothy Kassis & David Clode
Shop window
current issue
Back Issues
Enjoy so much more from Oceanographic Magazine by becoming a subscriber.
A range of subscription options are available.
Sea stories
Beautiful ocean stories straight to your inbox.
Join our community.