Conservation
Estuarine shallows
Words and photographs by
Grace Cajski
Words and photographs by
Grace Cajski
Writer and marine conservationist Grace Cajski takes us on a journey to an ingenious form of aquaculture engineered by the ancient Hawaiians – fishponds.
On a bright July afternoon, as the birdsong swelled and the tide started coming in, I drove down a dirt road in my grandfather's old silver SUV. The road led me through a farm gate, past a sign that warned 'KAPU' – restricted – in bright red, down a steep incline, along a grove of papaya trees, past a small green shed, and eventually, to Moliʻi Pond.
Moliʻi Pond is a 128-acre fishpond in the northern fold of Kāneʻohe Bay, on Oʻahu in Hawaii. Its water is translucent green. Its shoreline is muddy and viscous. Mangroves grow along the fishpond perimeter, and their pneumatophores drive ripples in the pond's surface. A thin scum of yellowish algae floats on the southern side of the pond. Stout palm trees and elongated coconut trees rustle, and the sweeping canopies of hau trees print a kaleidoscope of shadows on the ground. The Koʻolau mountain range hugs the pond. Its ridges dip and swell. The mountains directly behind the pond are jagged and severe. The mountains in the distance slope gently.
I had come to this pond many times before. My father grew up on Oʻahu, and he lived on the same block as phycologist and aquaculturist Vernon Sato. In 2006, the Oceanic Institute asked Sato to write a book about Moliʻi Pond. He titled it The Keeper of Moliʻi Pond, and it recounts the life and work of the former fishpond caretaker, George Uyemura. In the years since his book's publication, Sato has returned to the pond often, and, when my family was in town for the summers, he'd bring us along. We'd fish and talk. To me, Vernon Sato is Uncle Vernon, and the trips we took to Moliʻi Pond were formative and enchanting.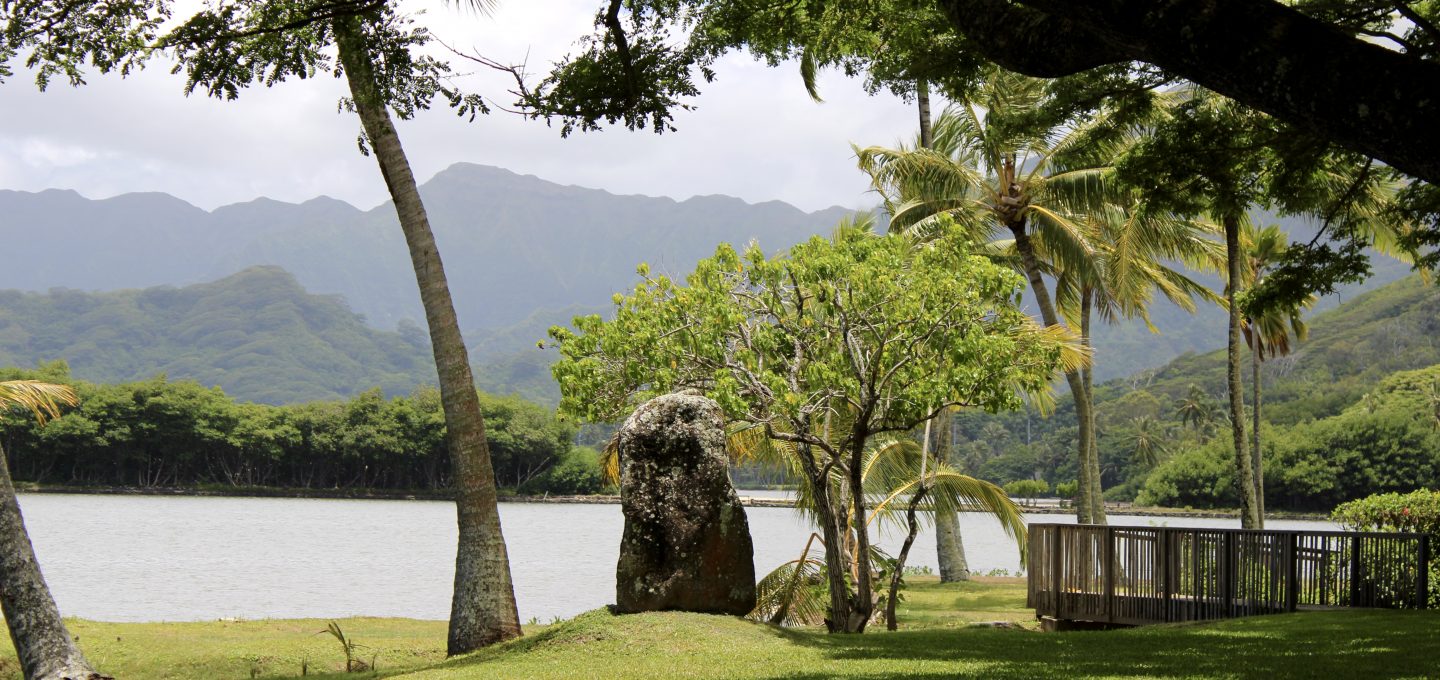 When the pandemic struck, Yale sent its students home. I returned to the heavy rains and oak trees in New Orleans. I took a gap year to work on and write about marine conservation. I became obsessed with fishponds. During the summer months of 2021, I rented an apartment in Kailua, the small beach town where my grandparents live. I embarked on a project to learn about fishponds and the communities that work around them.
Fishponds are an ingenious form of aquaculture engineered by the ancient Hawaiians. More than 900 years ago, as their population was growing into the hundreds of thousands, the Hawaiians realised that they needed to have fish available in case of a poor catch or a surprise visit from royalty. They noticed that fish came to the estuarine waters where freshwater streams flowed into the ocean. The Hawaiians fenced in these areas with lava rock walls, called kuapā. They built sluice gates, called mākāhā, that allowed small baby fish to swim into the ponds from the ocean. The fish grew so fat within the pond – on chain diatoms and seaweeds that flourished in the nutrient-rich brackish shallows – that they couldn't fit through the mākāhā to swim back out to the ocean. This way, the Hawaiians could always catch fish from their ponds.
Fishponds were operated by fishpond caretakers, or kiaʻi loko. They understood the pond's cycles and needs, and they understood how the ponds changed with the tides and the seasons. They learned successionally, through apprenticeship. To care for a fishpond was an art, and it took years to master. This art was lost when the West colonised the islands. The fishponds languished. Then, invasive species and overpopulation disrupted the processes that powered the fishpond system. Many fishponds were filled in and developed into neighbourhoods.
In the latter half of the 20th century, encouraged by the Hawaiian Cultural Renaissance, community groups started organising to restore the fishponds. They wanted to grow fish again.
I have great respect for these ponds and the people who steward them. Fishponds, in their recovery, are symbols of hope and reclamation. I believe that they are an opportunity for food sovereignty and economic self-sufficiency. They are a potential means to combat climate change, invasive species, and resource scarcity. And fishponds are a beloved and communal space. Through my summer project, I planned to learn the histories of the fishponds, to explore the current work being done at them, and to meet the people who are behind their revival. I hoped to hear their stories, learn what the fishponds meant to them, and, in sharing their stories with a wider audience, celebrate and uplift their work.
Earlier in the summer, driving Uncle Vernon's Toyota Tacoma, I had visited Moliʻi Pond to document and interview. But this time, my parents and younger brother were in town, and we were at the pond to have fun and talk story. We got out of the SUV and retrieved our snacks – poke, chips, and beer – out of the trunk.
At this corner of Moliʻi Pond there was a pier, and two boats floated in the water. Sitting atop a large concrete foundation slab, there was a faded shipping container that had been converted to an office area: windows and doors cut out, air conditioning, and electricity. Extending from the shipping container was a large wooden awning, painted green. It faced the pond. The awning protected a couple wooden tables, some chairs, a whiteboard outlining pond tasks, and three gurgling plastic blue tanks. Hoses hung from hooks hammered into wooden support beams, and, at the edge of the awning, there was a tall wooden table, covered in mesh, for washing oysters.
From this place, called the depuration facility, emerged Kuʻuipo McCarty. Her skin is sun-loved, and her wispy brown hair was tugged into a little bun. She is in charge of aquaculture at Moliʻi Pond, which is owned by the nature reserve Kualoa Ranch. I call her Aunty Kui.
We set the snacks on the table. I sat next to Quinn, an engineer and Aunty Kui's husband. He designed her depuration tanks. Uncle Vernon and his wife, Aunty Amy, arrived. They brought an entire case of Heineken, a platter of sushi, and M&M cookies. Aunty Amy's son, Matt, who was one of my father's best friends growing up, arrived with his two sons. We ate on paper plates, with chopsticks. When the wind rose, ammoniacal, wet wafts of old seafood soured the prevailing salty breeze. The smell came from a cluster of black, cylindrical mesh cages in a corner by the oyster washing station. They were waiting to be filled with oysters.
Aunty Kui was expecting an oyster shipment. Moliʻi Pond receives oyster larvae, called spat, from a shellfish hatchery on the Big Island. They fly interisland, snuggled tight in insulated cardboard boxes. The spat are tiny. For seven months, they grow in the cylindrical mesh cages.
When fishpond caretakers gather – to discuss problems or share discoveries -Aunty Kui brings her oysters. I learned about these gatherings about a month earlier, in June, when I sat down for lunch at the New Mui Kwai Chop Suey in Kaneohe with Uncle Vernon and some folks from the nonprofit Kuaʻāina Ulu ʻAuamo (KUA). Kevin Chang, a garrulous and pensive man, is the organisation's co- director. He loves New Mui Kwai Chop Suey, and he ordered all his favourite dishes for us to try. Brenda Asuncion, warm and earnest, is the Hui Mālama Loko Iʻa Coordinator. She told me that she considers her job two-pronged: to take care of the loko iʻa network and provide a physical space for it to gather, and, as the networks evolve, to give members the capacity to be more engaged. After gatherings, Asuncion said, community members tell her that they felt validated and assured that they were not alone in the work that they do. The chance for busy fishpond workers to come together, relax, and eat good food was revitalising and encouraging.
That afternoon at Moliʻi Pond, Aunty Kui brought out fresh oysters in plastic takeout containers. They had just gone through the depuration tanks. She put out shoyu, lemon juice, tabasco, and cocktail sauce. I grabbed an oyster. It was the size of my palm. The exterior of its shell was rough and calciferous. Dirt and algae were stuck in thin layers of calcium carbonate. The oyster itself was smooth and firm. It tasted like ocean water. I looked at the empty shell in my hand. The nacre reflected the sunlight.
The research for this story was made possible through the generosity of the Yale Law School's Law, Ethics & Animals (LEAP) Student Grant Program, the Yale Sustainable Food Program's Global Food Fellowship, the Yale Environmental Humanities Grant, and the Yale CIPE Summer Journalism Fellowship.
Sea stories
Beautiful ocean stories straight to your inbox.
Join our community.