Exploration
Floridian water
Florida's waterways have acted as my photography muse for years.
Words & photographs by
Wilson Haynes
Words & photographs by
Wilson Haynes
Florida is surrounded by ocean, namely the Atlantic Ocean, the Straits of Florida and the Gulf of Mexico. At its core, the country is made up of an interconnected lake and river system that is feeding the Everglades National Park in the south which is home to the American alligator, Florida's own panthers, manatees and many more species.
Photographic exploration of Florida's waterways, the Atlantic Ocean, major rivers, springs, and lakes near my home is the basis of a significant part of my body of work. Each one of these ecosystems, and my relationship to them, has inspired my perspective. Of these places, the ocean is the most special to me.
Starting out as a photographer, Florida's ocean was where I would go to work and find inspiration. Back then, my main focus was surf photography. Unfortunately, Florida surf is not always photographically exciting; creativity became paramount. Transitioning from shore-based photography to shooting in the water was a significant step in my creative journey. I decided to ditch the telephoto lens and get a surf housing. I wanted to wade into shallow water to allow for those immersive shots that really give you the perspective of being in the action.
I quickly learned that the ocean can be a fickle beast. The lone photographer fighting waves, tides and sea life… constantly adjusting my position to line up with any surfer who might be charging down the line. Random shots came from a place of turmoil and ended up being some of my best shots.
When using a surf housing it is hard to check and review any pictures during the shoot, which means you have to be very confident in your settings producing the outcome you see in your mind. I can remember so many times thinking I had just gotten the shot of the day, going home to edit, only to find the focus off or a huge water spot on the lens port.
As a photographer, I have always wanted to learn new skills and try to capture new moments. I remember scrolling through Instagram one day and coming across an abstract photo taken by Josh Kirshner. It really had an impact on me: the blurred horizontal lines, saturated intense colours, and the fact that it did not even look like a picture amazed me. Kirshner's image was a pivot point for me, creating the tension to have to try for myself this new abstract form, inspiring me to begin a journey of exploring new angles, perspectives, and stories with my photography.
One day, just like on a typical morning, I was heading down to the beach, about 45 minutes before the sun came up, camera in hand, ready to try out this new technique. After many, many tries I was able to figure it out. I used all the elements of my Florida home to capture a new moment. Florida might not have the bluest water, there aren't any huge waves or ridiculous cliffs that line the coast. What the country does have is plenty of white sand, water, beautiful sunrises, and the ability to surprise yourself. It can help show you something beautiful that you might not have seen before.
These abstract photos were an example of that: they combined elements in a way not seen with the naked eye, only experienced with my final image. The beauty of these photos lies in their uniqueness. The image depends on many different things: Florida's clouds, the waves, the tides, if it had stormed the night before, how early or late you attempted them before the sunrise, and so on. All captured together in a singular moment and presented in a fashion unique to my vision.
There is something very special about being the one person to see something beautiful. This discovery of abstract photography gave me the push to try other styles, namely in the water. I began to do more 'macro sunrise' photography which would include me being in the water, focusing very closely on a ripple with the sun just coming up to be blurred and appear larger than it really is. These are still some of my favourite shots to date because of how challenging they were to capture. One small movement and the shot could be trashed due to the small details held in close focus. While frustrating at times, it was these moments where I would experience pure joy, being out in the water, no one else around, having an unobstructed view of the sunrise and getting to do what I love.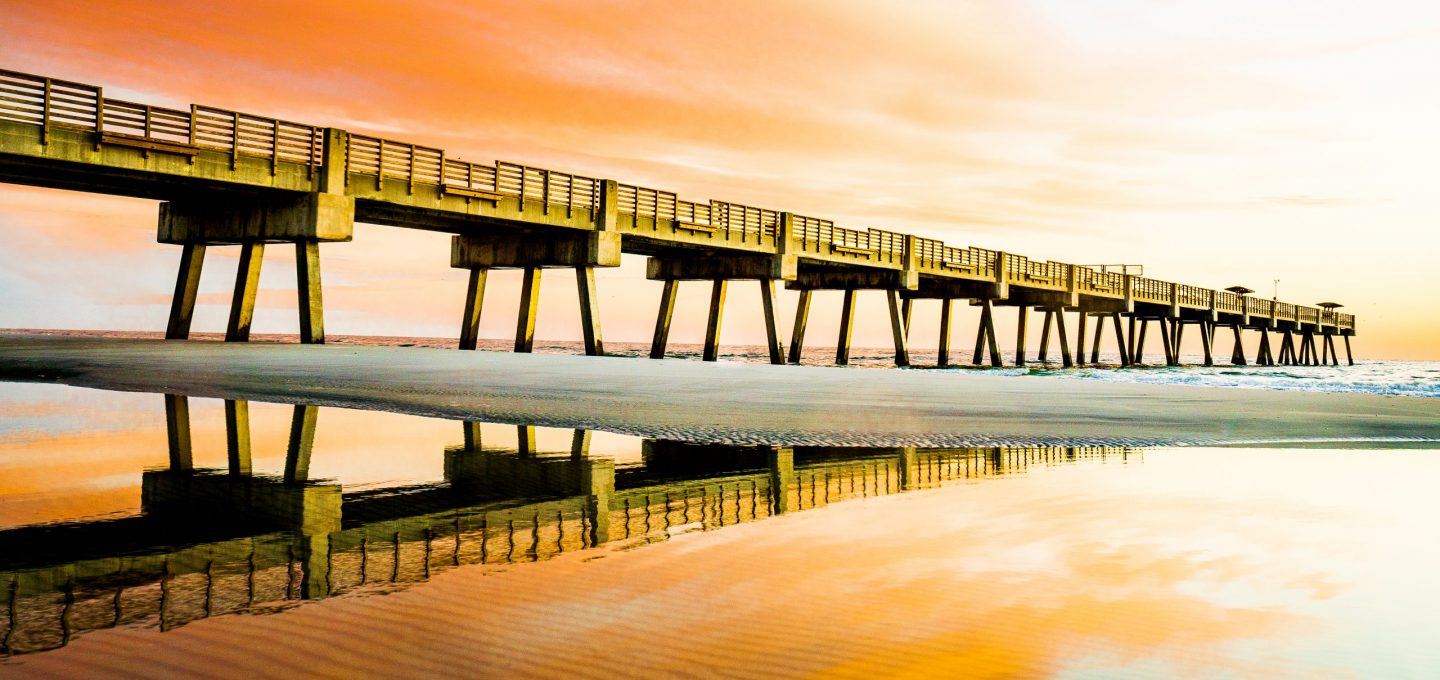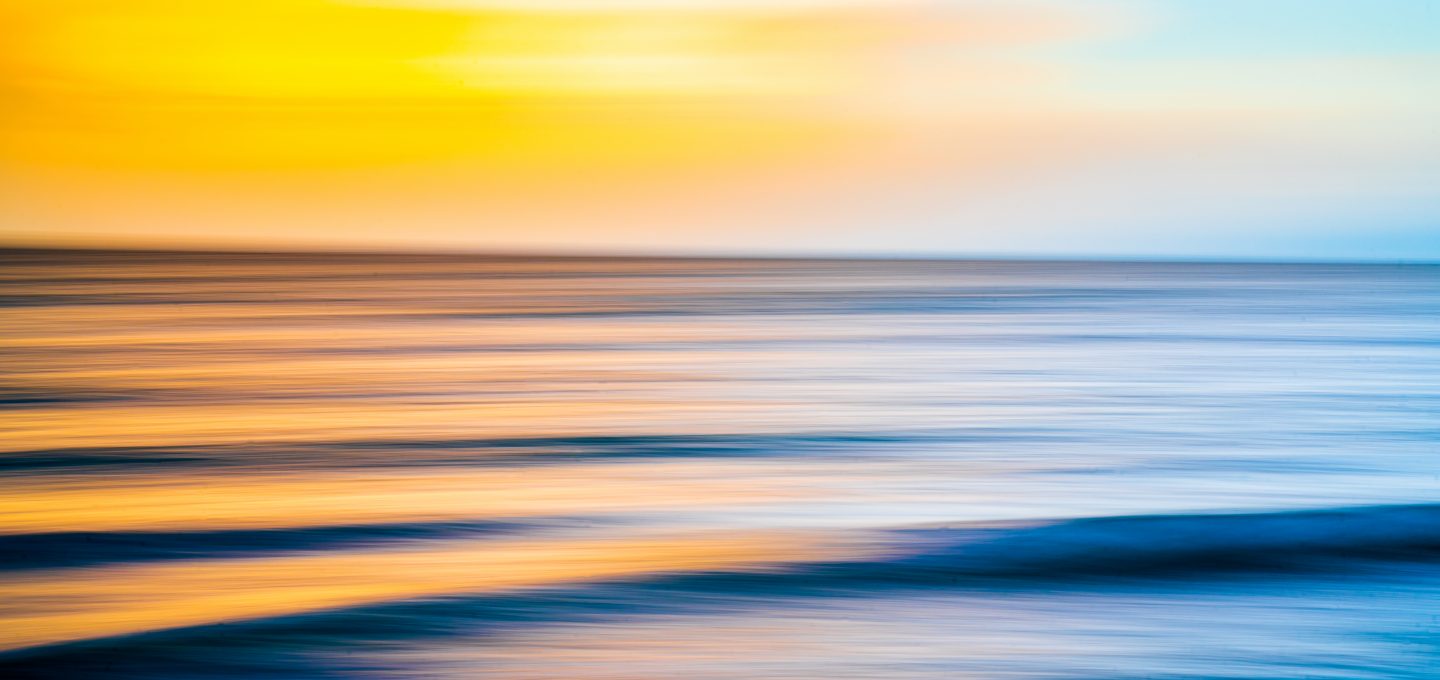 Unplanned shots are also some of my favourites. One image always sticks out in my mind when I think of this. I was doing a sunrise shoot in the water, not going as well as I had hoped. I was heading back to shore when I noticed a tide pool that had formed near the base of the pier. It looked kind of cool, so I decided to take a few shots of it. Later when I got home and started editing, I realised that there was a nearly perfect reflection of the pier and clouds in the tide pool, which happened to look a lot like cotton candy. To this day, it is still in my top three favourite pictures I've ever taken.​​
Florida's ocean is a very unpredictable place. One minute there are no waves at all and it is calm and serene. Then, before you know it, you are swimming out, trying to beat the incoming set of waves, while preparing for the shot. This drastic change in ocean conditions is one of the more challenging aspects of trying to capture artistic moments on the beach or in the water. It is important to stay calm and collected and always try to make the most out of a situation because sometimes an angry storm which might ruin your day can turn out to look unique and beautiful from your vantage point. This notion of being calm in the chaos and being open to experiencing new things happening in the water is probably best exemplified when I went swimming with sharks for the first time in Florida.
I called up one of my good friends Kiefer Washburn to see if he'd want to go shark diving in Florida's Jupiter. Without hesitation he said yes. On the drive, the confidence was still high, and the nerves had not kicked in. It all changed once we were on the boat and the captain started giving us the rundown before heading in the water. I will never forget that first moment when I jumped into the water, looking down to see a bull shark swimming beneath me. The nerves I had felt on the boat immediately went away. I was in awe. I could not believe my eyes. I was in the water with a shark.
Growing up surfing in Florida, you are always aware that sharks are there too, but you just try not to think about it. This experience took me out of my comfort zone and allowed myself to see the truth behind the misleading media coverage that portray sharks as evil. Without that moment, I would never have pursued even more intense underwater photography projects in the open ocean. These photos have opened doors for me professionally. They have led to work with organisations like Beneath the Waves which help promote sustainability and conservation.
When people talk about Florida, they usually about the beach, the warm weather, and people play playing golf. While those things are true, there is so much more to it. If you open yourself up to new experiences and are willing to try new things, you can start to get so much more out of your own environment.
I am incredibly fortunate and grateful to call Florida home and to have the opportunity to present Florida's beauty through my camera lens.
Shop window
current issue
Back Issues
Enjoy so much more from Oceanographic Magazine by becoming a subscriber.
A range of subscription options are available.
Sea stories
Beautiful ocean stories straight to your inbox.
Join our community.