Conservation
For the love of reefs
A team of marine biologists from the California Academy of Sciences is working to better protect deep mesophotic reefs around the world. Their most recent Hope for Reefs mission took them to the Fernando de Noronha National Marine Park in Brazil – a marine park they would like to see expanded.
Photographs by
Justin Grubb and Luiz Rocha
Our research vessel rocked back and forth in moody seas off the coast of Fernando de Noronha – a volcanic island nearly three hundred miles east of Brazil. The view from our starboard side included the expansive Atlantic Ocean, which contrasted with the crashing waves and hundred-foot cliffs on our port side. Below us, was hundreds of feet of open ocean. The hisses of regulators and clunking of cylinders dominated the soundscape as the team prepared its gear for the long dive ahead. 
The expedition was undertaken in pursuit of a larger mission to reverse the trend of extinction for reefs all over the world. An initiative called "Hope for Reefs" is the driving force behind this mission. It is led by the California Academy of Sciences – a research institute and natural history museum in San Francisco, California. With nearly 75 percent of the world's reefs threatened by overfishing, habitat destruction, water pollution and climate change, the academy sends teams of scientists out to descend to unexplored depths of the ocean to learn what it takes to save this valuable habitat. 
With every expedition, the team of six travels to some of the world's most remarkable reefs and Fernando de Noronha is no exception. With its picturesque clear blue water, white sandy beaches and stunning topography, this island not only serves as a destination for tourists but a haven for ocean life. The biggest industry on the island is scuba diving as visitors flock from around the world to get up close to the wildlife that has benefited from the protection of the Fernando de Noronha National Marine Park, established in 1988. The park, however, mostly encompasses shallow reefs, only affording protection for smaller fish species and animals that move through its waters. 
Beyond these shallows, lies a completely different and unprotected ecosystem called the mesophotic reef. This habitat is from 100 to 500 feet in depth and contains unique coral and fish species that are as vulnerable to exploitation as shallow-reef marine life. Throughout the world, these deeper reefs are often ignored when establishing new protected areas because they are not considered as vulnerable. The California Academy of Sciences visited Fernando de Noronha with help and funding of Fundação Grupo Boticário to study its deep reefs and to collect data that they hope can be used to expand the marine protected area with the help of the Brazilian government. The local government has taken great strides in conservation practices by limiting the number of tourists on the island, banning the importation of plastic by visitors and by applying a hefty daily visitation fee to support continued environmental protection. 
As the voice of the dive safety officer carried the team through their pre-dive checklist, Luiz Rocha, Associate Curator and Follett Chair of Ichthyology at the California Academy of Sciences, lifted his head and pointed to a small fishing boat between us and the towering cliffs. "See that?" he said to me, pointing with his head. "That boat is fishing in protected waters; we are on the edge of the reserve right now." A quick radio call to the proper authorities followed, but the team remained focused on the dive. 
Luiz is a Brazilian native and grew up along the coast. As a child he had an extensive collection of live marine organisms in aquariums where he replicated their ecosystems to study their husbandry. This is where Luiz found his love for the ocean, and as time went on, his drive to protect it. "It is a little bit depressing at times when we get to a place and we see the ecosystem that we love and grew up with dying in front of our very eyes, but for the most part, this has been very rewarding." Luiz made this remark as he reflected on being back in Brazil to conduct this valuable research and on what the team had accomplished thus far. Through the Hope for Reefs initiative, Luiz and his team have been on more than 16 expeditions since 2016 and have discovered a handful of new species that aid in developing new conservation strategies.
On the boat, Luiz pushed his weight off the front of the bench, dipping his body down to slip on his rebreather that is decorated in sea animal stickers. He then lifted the whole system over his head and sat up as the rebreather fell into place. As he completed this maneuver, the team, one by one, stepped off the boat and slowly disappeared into the dark blue water below.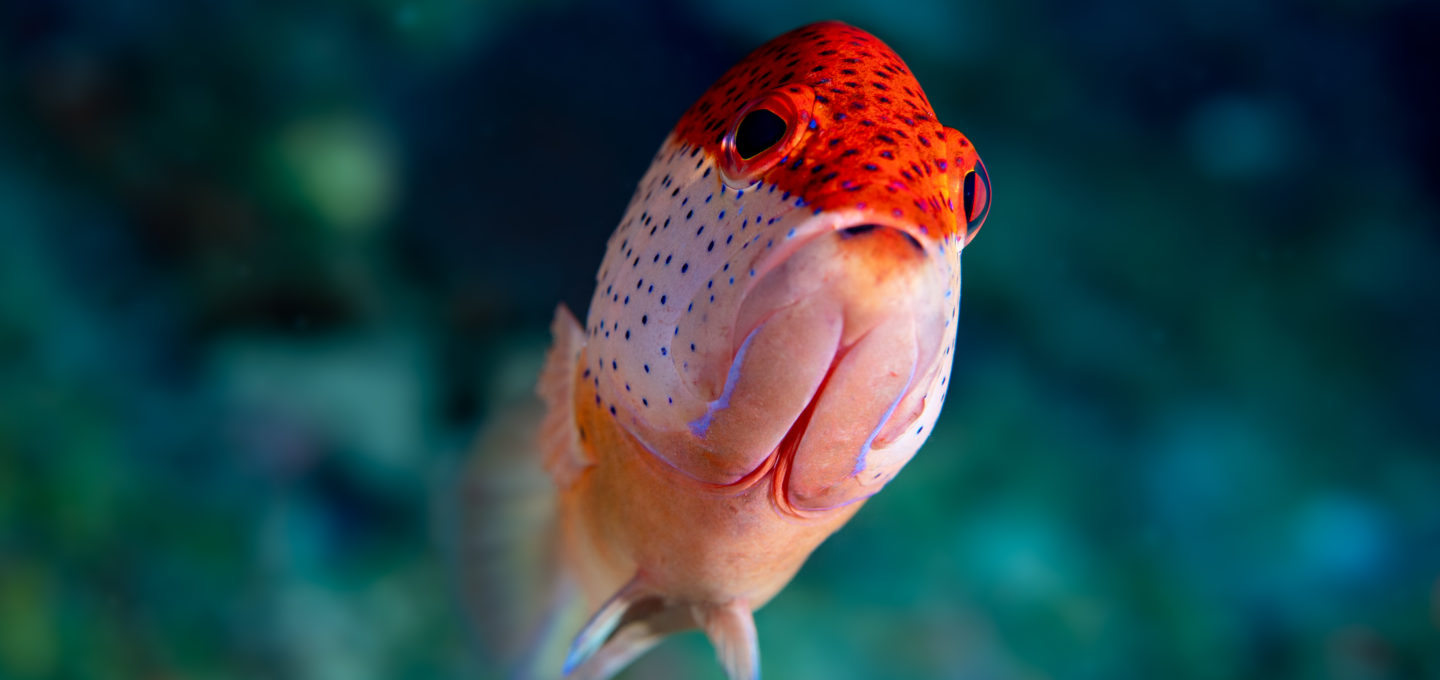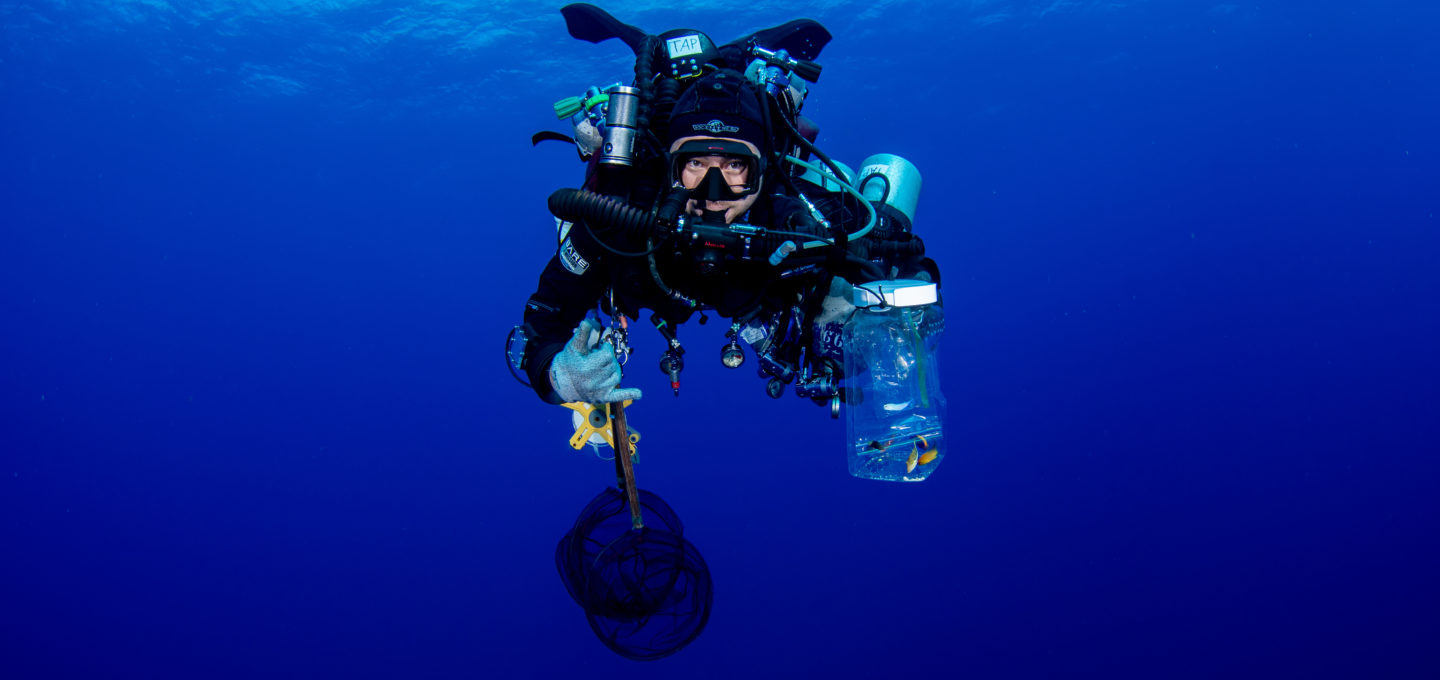 Photographs by
Justin Grubb and Luiz Rocha
Continue reading...
To continue reading this article – and enjoy full digital access across Oceanographic – sign up to Ocean Hub today! More info below…
Keep reading by signing up for an Ocean Hub subscription
Ocean Hub. More than a magazine subscription.
As well the delivery of all new editions, members unlock access to exclusive products, services and discounts, as well as EVERY digital back issue we have published.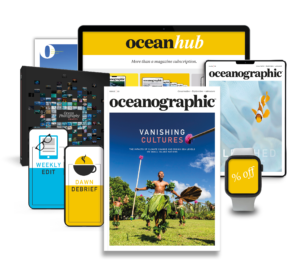 Find out more

about Ocean Hub subscription
Shop window
current issue
Back Issues
Enjoy so much more from Oceanographic Magazine by becoming a subscriber.
A range of subscription options are available.
Sea stories
Beautiful ocean stories straight to your inbox.
Join our community.