Adventure
Behind the lens: Francis Pérez
Behind the Lens places a spotlight on the world's foremost ocean photographers. Each edition focusses on the work of an individual who continues to shape public opinion through powerful imagery and compelling storytelling.
Interview by
Oceanographic Magazine
Photographs by
Francis Pérez
Interview by
Oceanographic Magazine
Award-winning photographer, conservationist and economist with a particular focus on the Canary Islands.
Francis Perez is a Canary Islands-based photojournalist and conservationist on a mission to better protect the waters around his home archipelago. He is a regular contributor to National Geographic Spain, is a founding member of Pelagic Life Canarias and was recently appointed a member of the International Ocean Artist Society.
OCEANOGRAPHIC MAGAZINE (OM): WHICH CAME FIRST, YOUR LOVE OF THE OCEAN OR YOUR LOVE OF PHOTOGRAPHY?
FRANCIS PÉREZ (FP): My love for the ocean came first. About six years after I started diving, I felt the need to show family and friends everything I saw underwater. Encouraged by other underwater photographers and friends, I bought my first camera and housing. I started to dive in 1994 and I bought my camera in 1999. Initially, I focused on macro photography, trying to capture the smallest lifeforms. My favourites were seahorses and nudibranchs – their fragility and bright colours were enchanting. I soon became a collector of species photographs. After a few years I evolved as a photographer. Eventually, I began lifting my head up from the seabed and I began to photograph the ocean landscape and cetaceans.
OM: HOW AND WHEN DID YOU FIRST CONNECT WITH THE OCEAN? AND WHAT WAS IT LIKE GROWING UP IN THE CANARY ISLANDS?
FP: Here in the Canary Islands I have never lived further than five minutes from the sea, so it's almost inevitable to be connected with it. Even now, I spend every day looking at weather forecasts. From a very young age, I spent every vacation on the islands with my parents, always in coastal areas. When I was a little boy I could usually be found on the rocky beaches watching the tides, the wind and the sea. I still swim every day and sometimes I participate in long-distance open water swimming races. When I was little, it didn't occur to me that the ocean needed protecting, but around 30 years ago, when I began really seeing the intricacies of the underwater world, I noticed that year after year there were fewer and fewer species, and that the promised marine reserves were not being implemented.
OM: HOW DOES YOUR BACKGROUND IN ECONOMICS IMPACT YOUR PERSPECTIVE OF THE UNDERWATER WORLD AND OF MARINE CONSERVATION?
FP: After the third year of studying economics I was offered two routes for the following two years. I chose the regional route, with subjects such as Ecological Economics, Development Economics, Natural Resources and the Environment. It was this route that ignited my interest for the environment and for marine conservation. This, coupled with my passion for the sea, resulted in my current approach. I started diving in my final years of university, and I started to see what was happening in the ocean. I was meeting other divers, biologists and oceanographers, and my interest in marine biology grew. I realised that in my economics career there was a lot of talk about development and resources but little about marine resources and marine reserves. I began to ask these questions and started collaborating on projects to help better protect the ocean. The ocean needed our support.
OM: WHAT IS IT THAT YOU FIND SO ENCHANTING ABOUT CETACEANS?
FP: Their social structure. It can be as complex as ours and I'm fascinated by their vital role within the ecosystem as top predators and fertilisers of the ocean. One of my great memories with cetaceans was in 2013, in Tenerife, in the Canary Islands. The spring sea was full of life and teeming with many Bryde's whales. I jumped into the water in front of one of them that was heading swiftly towards a baitball. When hunting, these whales don't pay much attention to us, but it's possible to have extraordinary interactions with them when they're not distracted by dinner. Swimming with them reminds me of how small we are as a species. However, it's important to be careful and not interfere with their course and behaviour. To swim, dive or freedive with cetaceans in the Canary Islands, you must have a special permit from the government. Bryde's whales are common in Tenerife – every spring and summer with the explosion of life, they come. I feel a deep respect for this beautiful animal and also great sadness for how we have treated them throughout history. I do think the role of whales in the ocean is often misunderstood. For many years they were seen only as an oil or meat resource. Few really understand their role as top predators (some whales) and fertilisers that contribute to carbon sequestration. To eliminate whales means to unbalance the marine ecosystem, which would result in widespread problems, to say the least.
OM: WHAT ARE YOUR THOUGHTS ON THE LEVEL OF MARINE PROTECTION IN THE CANARY ISLANDS?
FP: In my opinion, the level of protection here is too low. While 42% of land has some kind of protection, only 7% of the ocean that surrounds the islands is protected. We are living with our backs to the sea. Currently, we are working towards implementing a large Marine Protected Area stretching across the whole of the Canary Islands, which Sylvia Earle and Max Bello of Mission Blue are helping us with. We are preparing a proposal for the government, which is being worked on by several scientists and myself with the support of Mission Blue. We think that the archipelagos are a truly extraordinary system. The islands are not independent and there is an oceanographic relationship between them all. It's not worth protecting just a small area of each island if we do not protect the whole ocean that surrounds them. That is why we think a large Marine Protected Area across the entire Canary Islands is required. Hopefully, it will span up to 200 nautical miles where possible, and up to the EEZ boundaries with Portugal and Morocco. Within this large area there should be marine reserves, a shark sanctuary where the fishing of sharks is forbidden, and national parks. We'd like to implement measures ensuring that it is only possible to fish artisanally, and that 20% of the coastline is a "no take" zone. But this is all a work in progress. Mission Blue wants to achieve better protection for the Canary Islands, and for 30% of Spain's waters to be protected by an MPA before 2030. Spain has one of the largest fishing fleets in the world and less than 10% of its waters are MPAs. Mission Blue announced the designation of the Hope Spot SAC Teno-Rasca in 2019, dubbing this thriving archipelago the 'Hawaii of Europe.' I am also looking to get La Rapadura – a huge structure of basaltic columns made from the interaction between volcanic magma and sea water – declared a Natural Monument and protected by the government.
OM: HOW HAS THE CANARY ISLANDS MARINE ECOSYSTEM CHANGED IN YOUR 20+ YEARS AS A PHOTOGRAPHER?
FP: I think it has worsened, like all the world's oceans. When I started diving I saw far more fish, but now overfishing, increased pollution and the lack of protection makes it increasingly difficult to see some species – sharks, for example. There are only three marine reserves here, all of which are very small and of keen fishing interest. While there are some management plans in place there, fishing still occurs. The real problem is further out, where there is the threat of large-scale, industrial fishing, with no policing or management. Also, in the SAC Teno-Rasca, there is the problem of illegal companies running whale watching tours. There are many legal companies that have a good approach to the whales, but illegal ones are cropping up. They are difficult to control, as there is a lack of funding, but the government of the Canary Islands is applying measures for the issue. More protection is needed to fight threats such as the construction of industrial and tourist ports in the middle of special conservation areas – such as the harbour of Fonsalía – or threats such as oil exploration. The Canary Islands have always opted for mass tourism, but after the global pandemic, I hope we can follow the trend towards change and greener tourism. I am hopeful for the future of the ocean though, because there are so many organisations fighting to create Marine Protected Areas and I believe that among all of us who work in the ocean we will be able to achieve results soon.
Photographs by
Francis Pérez
Continue reading...
To continue reading this article – and enjoy full digital access across Oceanographic – sign up to Ocean Hub today! More info below…
Keep reading by signing up for an Ocean Hub subscription
Ocean Hub. More than a magazine subscription.
As well the delivery of all new editions, members unlock access to exclusive products, services and discounts, as well as EVERY digital back issue we have published.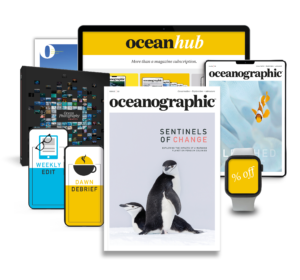 Find out more

about Ocean Hub subscription
Shop window
current issue
Back Issues
Enjoy so much more from Oceanographic Magazine by becoming a subscriber.
A range of subscription options are available.
Sea stories
Beautiful ocean stories straight to your inbox.
Join our community.