Adventure
From predator to protector
Millions of sharks are hauled out of the ocean each year for their fins and their absence from the global seas is having a negative impact. Project Hiu, founded by Madison Stewart, seeks to convert those same shark fishermen into shark conservationists.
Words by
Madison Churchill
Photographs by
Tanner Mansell and Madison Stewart
Words by
Madison Churchill
I was diving though the crystal-clear waters of Lombok, Indonesia, when Mogli, my guide, grabbed my arm underwater. He pointed ahead of me as we hovered above the vibrant reef. Squinting to make out the shapes up ahead, a small blacktip reef shark pup came into focus. He started pointing in all different directions, showing me the baby sharks that began to circle around us. He could spot them long before my untrained eyes. Mogli's livelihood once depended on this skill, because he grew up as a shark fisherman. But that day, instead of fishing, he was there to show me the sharks he now works to protect. 
I was in Lombok to experience the realities of shark fin trade first-hand, and my week was peppered with both joy at seeing vibrant reef systems and heartbreak on witnessing the scale of devastation caused by the ever-increasing global demand for shark fins. I walked through an open-air market on the island which served as a hot spot for fin exporting. Mogli's former colleagues had dragged nearly one hundred sharks to the market that day. Lifeless and missing their fins, they rest in neat rows across the floor while men whisked around making quick work of processing them. I saw piles of fins, including many from endangered and supposedly protected species, reduced to unidentifiable cartilage, ready for export. This was his reality, and used to be his day-to-day life. Now, his livelihood depends on saving them.  
Project Hiu, which means shark in Indonesian, is a non-profit organisation founded by Australian filmmaker and shark conservationist Madison Stewart. She is often known as 'Shark Girl Madison.' Madison has spent her life advocating for the protection of sharks through education and film. A few years before I set foot here, she had stumbled across this same shark market while filming a documentary. She set out on a mission to expose the world to the barbaric practice of shark finning, but the project has since evolved into so much more. 
"Sharks are everything to me, my entire life has evolved around them," Madison told me. "I wanted to swim with them… but my life changed when I began to see them disappear from the oceans. So, my mission then became to save them."
 Lombok, Indonesia, while being lush and ecologically diverse, is one of the biggest shark fin exporters in the world. Many communities within the island have been fishing sharks for generations, embedding the practice deeply within their culture and livelihood. So, instead of demonising or challenging the men Madison saw in the fish markets, she set out to befriend them. 
Every year, approximately 100 million sharks are killed for their fins. Shark fin soup is considered a delicacy in a number of different countries around the world. To meet the growing demand for this soup, an estimated 11,000 sharks are killed every hour. Many fishers practice finning while at sea, which essentially means the fins are cut off and saved while the animal is still alive, before being thrown overboard to reduce the weight they are transporting. Not only is this an incredibly inhumane practice, but it creates opportunity for many legally protected or endangered species to be killed . Once the bodies are reduced to a pile of fins, it is very difficult to tell which species they came from. 
The majority of the meat typically isn't saved, as it contains too high a level of mercury for safe human consumption. However, it can often go under the radar and is sold in grocery stores or to surrounding communities under other names such as 'flake' or 'white fish'. This is a huge threat to already disadvantaged communities without the healthcare necessary to treat the effects of mercury poisoning and is especially dangerous for children and pregnant women. The levels of mercury found in shark meat are often high enough to cause brain damage in children, infertility in both males and females, and in some cases high enough to cause miscarriage in pregnant women. Yet the meat is commonly served in the community as a cheap source of protein. 
To provide alternative to this dangerous operation, Project Hiu employs these shark fishermen to take part in Lombok's growing eco-tourism industry. Instead of contributing to the global shark fin trade, they take divers and shark enthusiasts out on their fishing boats to the best diving and snorkeling spots, most of which are unknown to commercial tour boats. The money they make from hosting guests on their boats is enough to supplement their income to where they no longer need to fish. 
Photographs by
Tanner Mansell and Madison Stewart
Continue reading...
To continue reading this article – and enjoy full digital access across Oceanographic – sign up to Ocean Hub today! More info below…
Keep reading by signing up for an Ocean Hub subscription
Ocean Hub. More than a magazine subscription.
As well the delivery of all new editions, members unlock access to exclusive products, services and discounts, as well as EVERY digital back issue we have published.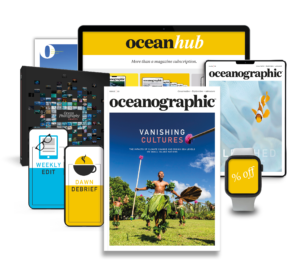 Find out more

about Ocean Hub subscription
Shop window
current issue
Back Issues
Enjoy so much more from Oceanographic Magazine by becoming a subscriber.
A range of subscription options are available.
Sea stories
Beautiful ocean stories straight to your inbox.
Join our community.