Adventure
Behind the lens: Ian McAllister
Behind the Lens places a spotlight on the world's foremost ocean photographers. Each edition focusses on the work of an individual who continues to shape public opinion through powerful imagery and compelling storytelling.
Interview by
Oceanographic Magazine
Photographs by
Ian McAllister
Interview by
Oceanographic Magazine
Behind the lens
A CELEBRATION OF THE ART CREATED BY PIONEERING OCEAN PHOTOGRAPHERS. FEATURING EXCLUSIVE INTERVIEWS AND BEAUTIFUL PHOTOGRAPHY.

Author, photographer, conservationist, co-founder of Pacific Wild, member of the International League of Conservation Photographers and the Sea Legacy Collective.
Ian McAllister is a Canadian conservationist, cinematographer and photographer who has dedicated that past 30 years to protecting the Pacific northwestern coastlines, specifically Great Bear Forest. Working alongside indigenous First Nations communities, he places himself at the frontline of the environmental movement in British Columbia.
OM: WHEN DID YOU FIRST CONNECT WITH THE OCEAN?
IAN MCALLISTER (IM): I grew up on the west coast of British Columbia. I guess it's always been part of my formative years and childhood experience. From a young age I ran around the beaches, sailed little dinghies and eventually ventured further north into wilder parts of the coastline. Ever since I can remember the ocean has been part of my life.
OM: WHAT WERE YOUR EXPERIENCES OF GROWING UP ON THE WEST COAST?
IM: I definitely got dragged around to lots of very wild and scenic parts of the West Coast. I naturally fell in love with the beauty of the Pacific Northwest. Just to be able to explore and play as a kid around these towering, ancient rainforests and in an ocean that's so full of life was amazing. There is this amazing interface between ocean and rainforest and to have that in your backyard – that definitely forged a strong bond between myself and this coast.
OM:DO YOU THINK IT WAS INEVITABLE THAT YOU'D GO INTO FOREST CONSERVATION?
IM: Well it certainly seemed to naturally evolve that way. In so much of our work we try to inspire and educate people and hopefully help others fall in love with this coast like I did. That sense of place comes with a lot of responsibility as well. I had the opportunity to travel further north up Vancouver Island during high school and witnessed the brutality of the logging companies. I saw how they were hell bent on liquidating the rainforest and treating it like a renewable resource, cutting down thousand-year-old trees and replanting them with even-aged monocultures, it seemed almost impossible that this could be happening. From valley to valley, they were just clearing out every single tree and witnessing that at a fairly young age definitely inspired in me the activism and the need to try to protect the rainforest.
OM: WAS THERE A KEY MOMENT WHEN YOU FELT YOU BECAME AN ACTIVIST?
IM: We don't have a long history of environmental activism in this province. It was only about 30 years ago when people in British Columbia started saying "this is too much" and started actually standing on the front lines in front of bulldozers and logging trucks as a last effort to try to protect what was left of the forests of Vancouver Island. At the time, there were no laws to enforce. There was no forest practices code. There was no there was no oversight. The timber companies ran everything. They ran the politics they ran how logging occurred and they'd never been confronted before. When I was a teenager I ended up on the front lines and that was a life- changing experience because, even though everyone got arrested and hauled off to the jail, it was incredibly empowering because it felt like we were actually doing something.
OM: WERE YOU EVER SCARED?
IM: Somehow, I deal with combative environments like that fairly well. But also, when you compare it to the destruction of this incredible, globally rare rainforest, it always seemed like it's the least that we could do. It's such a powerful experience to grow up in these forests and equally powerful to see them be destroyed without a second thought. Whatever actions we take it never seems enough.
OM: WHEN DID YOU FIRST PICK UP A CAMERA?
IM: As I travelled further north through the northern rainforest, I realised that far more inaccessible coastal wilderness areas existed. Some of these large primary watersheds didn't even have names on a map. Of course, First Nations had names for everything but these were largely unknown to the outside world. There were hundreds of these primary watersheds still intact but very much threatened. Exploring those areas by boat in my early 20s, I'd come back and tell people about how beautiful they were and what amazing scale in terms of conservation opportunities existed there, but nobody knew what the hell I was talking about. So I realised that I needed to start taking pictures of these places. Photography and filmmaking quickly became one of the main tools in our conservation arsenal and visual storytelling has remained a critical part of the work that we do. We're such a visual species and we respond viscerally to images in a way that I don't think words can really duplicate.
OM: HAVE YOU ALWAYS HAD A FASCINATION WITH BEARS?
IM: Certainly since I started in this field. They're such intelligent and fascinating animals and have such individual personalities. They tell us a lot about the landscape. When grizzly bear populations are healthy it often tells us that the forests are intact and the salmon are still returning and that the less known, less understood and less visible species may also be fairly healthy. Grizzly bears have always been a great entry point into understanding the greater landscape in which they live. But I've always had a fascination with their behaviour. They have an uncanny similarity to humans, even just in their physical structure when they stand up on their hind legs, it's amazing. They have individual personalities like us and, like humans, they're very habitual. When they learn something that works for them they'll repeat it. So there's a lot of similarities between us.
OM: WHAT TRIGGERED YOUR DECISION TO LAUNCH PACIFIC WILD?
IM: If I could go back to 30 years ago, I would have thought we would have solved most, if not all of our environmental problems and recognised how rare these last wild places are on the planet by now. I would have thought that plans and solutions to protect them indefinitely would have been well under way today but unfortunately, it seems that the opposite has happened and we've become even more entrenched in finding ways to exploit every square inch of this coast. One of the founding goals of Pacific Wild is really to better understand the connection between ocean and rainforest and how the ocean influences almost every aspect of our life here. From climate to sustenance, to species diversity. When we founded Pacific Wild there were plans starting to form to build multiple pipelines to the west coast. This would facilitate a tremendous amount of environmental damage, but especially in the way of introducing supertankers carrying oil and LNG [liquified natural gas] through the quiet pristine waters of the Great Bear Rainforest. Trying to stop these megaprojects from occurring in this sensitive quiet place has been a big part of our work over the years. When you consider that there's been just a few small First Nation communities standing in between the second or third largest known recoverable oil reserves in the world and the insatiable appetite of Asia. The odds are pretty stacked because you have every single major oil company in the world invested in the tar sands and you have provincial and federal governments that also want these pipelines. So the odds are really stacked against us.
OM: DO YOU FEEL LIKE PEOPLE HAVE BECOME DISCONNECTED FROM THE WILD?
IM: As we exponentially increase densities within urban areas I suspect that that's true. But I also like to think that there's more people now who do care deeply about protecting this planet. It's no longer an issue for many people that they're trying to protect some place they'll probably never see, visit or taste. There's an understanding that it's about protecting the very fabric that supports them. We're finally seeing people waking up to the fact that this planet is running out of time. More people, even in urban centres, are standing up for this planet and for the environment. So I think at the same time that industry and governments are becoming more intransigent and acting ever more egregiously, we're also seeing this citizenry, especially in young people, to stand up and challenge the status quo in ways we haven't seen before.
OM: DO YOU REMEMBER YOUR FIRST TRIP TO THE GREAT BEAR FOREST?
IM: I was super fortunate to join one of the earlier voyages of exploration, mapping out the extent of the intact rainforest in the area and going into a river valley. I saw some grizzly bear tracks along the beach and the salmon were jumping all through the river and so I climbed up in a tree, slung a hammock and spent the night in the tree. First thing in the morning when the light was just starting to appear, I could hear a little splashing down below and I looked down and there was a grizzly bear underneath the trees running around in the shallows fishing for salmon. I'm pretty sure that moment was what got me hooked on living in and working for the protection of the Great Bear Rainforest. That trip was only meant to be about a week long but it's been almost a 30-year-long roller coaster ride of conservation work.
Photographs by
Ian McAllister
Continue reading...
To continue reading this article – and enjoy full digital access across Oceanographic – sign up to Ocean Hub today! More info below…
Keep reading by signing up for an Ocean Hub subscription
Ocean Hub. More than a magazine subscription.
As well the delivery of all new editions, members unlock access to exclusive products, services and discounts, as well as EVERY digital back issue we have published.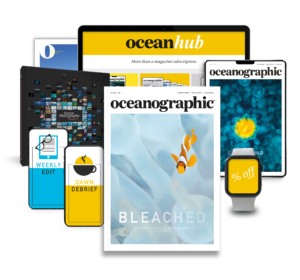 Find out more

about Ocean Hub subscription
Shop window
current issue
Back Issues
Enjoy so much more from Oceanographic Magazine by becoming a subscriber.
A range of subscription options are available.
Sea stories
Beautiful ocean stories straight to your inbox.
Join our community.