Conservation
Indigenous wisdom
In the face of climate change and severe weather events, Fiji and Samoa's Indigenous knowledge systems highlight the need for the integration of science and Indigenous expertise to mitigate the effects of climate change.
The northeast winds pick up as the sun hides behind ink-dark clouds enveloping the sky. The roar of the 170-mph wind becomes deafening. Lightning flashes. This was Cyclone Gita: Over the course of two weeks, Gita wreaked havoc across the Southern Pacific, causing millions of dollars in damage in Samoa alone.
No impact of the climate crisis is more violent and visible than the severe weather events battering Pacific Island nations. In 2016, Cyclone Winston struck Fiji with unprecedented ferocity, earning the title of the most powerful tropical cyclone ever recorded in the Southern Hemisphere. The Category 5 storm unleashed wind gusts in excess of 180 mph and generated waves up to 12 metres high. Winston claimed more than 40 lives and destroyed homes, vital infrastructure, and valuable crops. The aftermath of this disaster affected more than 340,000 people, approximately 40% of the archipelago's total population. Samoa, an island country just over 700 miles to Fiji's northeast, is still reeling from the ruinous effects of Cyclone Evan, which struck in 2012. In its wake, 600 homes were destroyed and 7,500 people were displaced. The total price tag of the damage added up to approximately $313 million, or 30% of the country's gross domestic product (GDP) in 2011.
Cyclones are just one consequence of the climate crisis facing communities in Fiji and Samoa. Rising sea levels are causing food shortages and mass displacement, ravaging villages whose culture centres on the interconnectedness of people and nature.
Communities on the island of Vanua Levu Island, Fiji, reflect on life before and after experiencing the effects of climate change in interviews with members of the Pacific Ocean and Climate Crisis Assessment (POCCA). Sera Diiva, an elderly woman living in the village of Karoko, describes the impact of rising sea levels on her home and recalls happier days. "Today, you can see the difference. Whenever there's a high tide, we are swimming here." Due to rising sea levels, Sera and her family no longer have access to the fruit and vegetable garden that once occupied the neighbourhood. The influx of seawater has degraded gardens and farmland, depriving people of traditional foods such as breadfruit. Adi Sivo Yabakitolu from the village of Vunidogoloa laments: "After saltwater intrusion, most of what our forefathers planted to survive struggles to grow. Anything that [we] plant mostly dies because of salt water."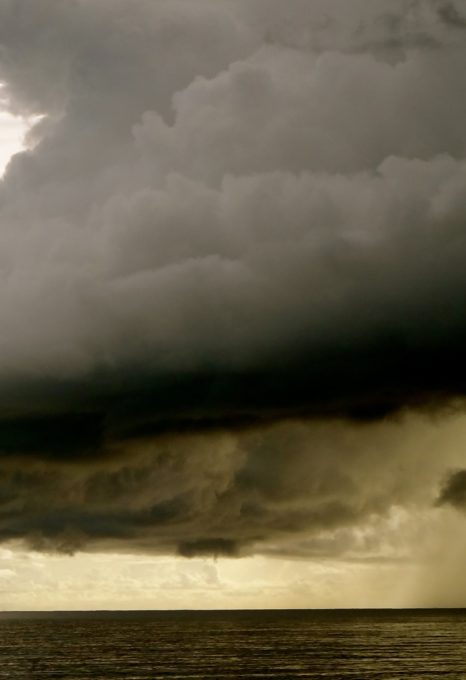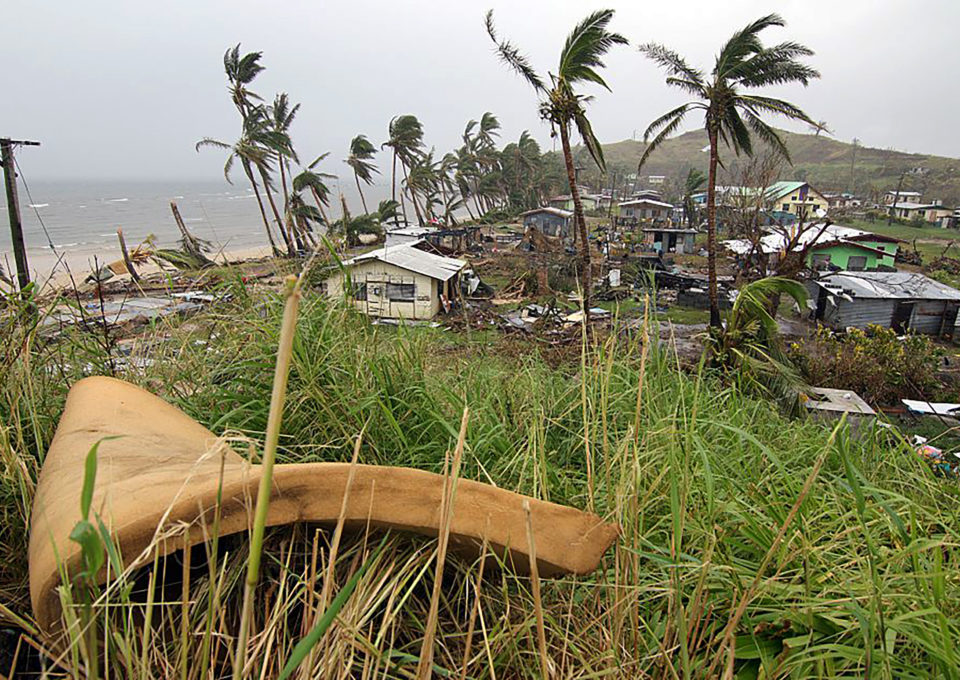 Efforts to combat rising sea levels have been largely ineffective. After numerous floods, all of the sea walls that communities built to protect their homes from flooding were completely submerged, so damaged that residents were unable to build new ones. Perhaps most devastating of all is the scale of what's been lost due to sea level rise and the landslides that come with it. "One of the biggest changes that we've seen [in] our villages is that most of our land areas no longer exist," says Kelepi Delaimataitoga from Nawaikama Village.
Kasiano Medralawa and Mikaele Niabe, residents of Karoko Village, estimate that they have already lost half an acre of land to the sea. "We have water streaming down and filling up our village. Most of the places are now filled up with sediments. The level of the sea is higher […] and during high tide the water surrounds our village like an island," says Mikaele, his face etched with overwhelming concern.
Kasiano and Mikaele agree that most of the problems their community has faced in the past have been overcome through collaboration, with the community meeting regularly to find solutions. With the intensity of climate change-induced impacts that Vanua Levu Island has faced in recent years, this spirit of camaraderie has taken a turn, now replaced by a more individualised approach. Due to natural disasters, flooding, and high temperatures, community meetings have become infrequent, no longer providing a regular forum for togetherness during regional crises.
In the Pacific, there is an ancient concept called 'Fa'atoaga', known in Samoan as the connection between people, the ocean, and the sky that has been alive for generations. Although a different term is used in Fiji, the meaning is the same, and this principle of harmony between people and nature guides both Fijian and Samoan ways of life, strengthening bonds within the community. Far from being a physical feature of their environment, the ocean is a deeply rooted aspect of Fijian and Samoan identity, spirituality, and survival. For many coastal communities, fishing is the primary means of subsistence. From a cultural perspective, the ocean is the spiritual bridge linking the living and the spirits of the ancestors. Fijian folklore personifies this marine link through stories of deities and spirits believed to dwell in the ocean, like Dakuwaqa, a shapeshifting shark god who protects fishermen at sea. Safeguarding the ocean and its resources goes beyond environmental conservation. It's about preserving culture, heritage, and multigenerational ways of life.
Continue reading...
To continue reading this article – and enjoy full digital access across Oceanographic – sign up to Ocean Hub today! More info below…
Keep reading by signing up for an Ocean Hub subscription
Ocean Hub. More than a magazine subscription.
As well the delivery of all new editions, members unlock access to exclusive products, services and discounts, as well as EVERY digital back issue we have published.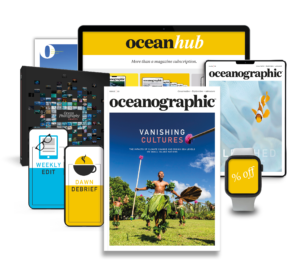 Find out more

about Ocean Hub subscription
Shop window
current issue
Back Issues
Enjoy so much more from Oceanographic Magazine by becoming a subscriber.
A range of subscription options are available.
Sea stories
Beautiful ocean stories straight to your inbox.
Join our community.