As photographers are able to submit their images to the Ocean Photographer of the Year 2023 until 30 June, we chat with the overall second place of 2022, underwater photographer Katherine Lu who specialises in blackwater photography.
An interview with and photographs by
Katherine Lu
An interview with and photographs by
Katherine Lu
Oceanographic Magazine (OM): You won second place in the 2022 overall Ocean Photographer of the Year category. Tell us a bit more about the background of the winning shot. How did it come to life? What planning was involved?
Katherine Lu (KL): I travelled to Anilao in the Philippines specifically to do blackwater diving with the goal of seeing the blanket octopus among other target species. After the Taal volcano eruption, the marine life seemed to disappear and the visibility dropped due to ash in the water. The eerie rumbling sound of earthquakes could be heard every night underwater during the dives. The water was cold and I had the flu. I spent a lot of time trying to equalize near the surface when suddenly my dive guide began to frantically signal me to come down. I hesitated for moment on what he might have found. I decided to go for it and pushed myself down. Luckily, my ears equalized and there before my eyes, was the beautiful blanket octopus. We swam alongside it and then, like magic, she opened up her blanket to show herself in all its full glory.
OM: Any advice for people wanting to enter the Ocean Photographer of the Year competition this year?
KL: Photography contests are subjective. I often think about how an image I select can stand out among the thousands of entries that the judges will review. Some factors include uniqueness, the composition, emotional impact and story. Even if you don't win, the feedback is valuable and it's all a learning experience and an opportunity to keep experimenting, refining your skills, and exploring your creative vision.
OM: How has winning the OPY2022 furthered your career?
KL: The media exposure, recognition, and visibility have been great. Photography is a passion and hobby that I pursue to express my creative and artistic abilities and to help create awareness and conversations surrounding the ocean and its marine life.
OM: How have photography competitions in general helped your underwater photography?
KL: Competitions can provide a platform to gain exposure, receive valuable feedback, and grow. It helps to motivate me to explore different techniques, ideas, and push the boundaries of my artistic vision and style.
OM: How do you plan your images? What thought process goes into it?
KL: It starts with developing a concept or idea for the photograph. This involves the type of subject, the desired mood or atmosphere I want to create and the story. Then I think about how to technically execute it such as location, camera settings, and lighting technique. Sometimes I might even experiment with the idea on land first. When I am diving, I might have a few ideas in my mind and then I just look for the right subject and opportunity to execute the idea on.
OM: How did you become an underwater photographer? How did you turn passion into profession?
KL: I went on a trip to Lembeh Strait in Indonesia because I heard so much about it being famous for macro photography and muck diving. In my years of diving, I had mainly done drift dives, and explored walls and coral reefs with large pelagics. During the trip, my dive guide asked if I had a wish list of critters I wanted to see. When I said no, he was surprised and also surprised I didn't have a camera like my friends in the group.
During my dive, the guide introduced me to many fascinating critters, many of which were too small for my eyes to see. I found myself growing a bit bored as I waited for my friends to take their photos. However, that evening, when they shared their images, I could really appreciate the variety of critters I had just seen, their vibrant colours, and the intricate details. My eyes hadn't been able to fully appreciate the beauty, but the camera had captured it in stunning detail. I became fascinated by this macro world. After the trip, I approached one of my friends about advice on buying a compact camera, and that marked the beginning of my journey as an underwater photographer.
OM: What do you want to achieve and convey with your photography? Do you have a specific aim or style?
KL: Photography is my passion and hobby, and an outlet to express my artistic vision. I hope I can create visually impactful images that raise awareness and inspire others to appreciate the wonder and diversity of the ocean and protect it for our future generations.
OM: What are the technical aspects of your shots?
KL: Some of the technical considerations that go through my mind:  Basic capture settings, the lighting necessary to achieve the desired effect, the background as well as foreground and ensuring they enhance the main subject, composition and framing to make it visually interesting, and the story or I want to express, whether it's capturing a moment, showcasing a unique perspective, behavioural, or evoking a particular emotion.
OM: Are there any moments throughout your career that fill you with a particular sense of pride?
KL: Winning my very first underwater competition in the first year of my photography journey. The subject of the winning photograph was a sea snail, captured in the murky waters of Singapore. There was nothing extraordinary about the subject itself. It was just an ordinary sea snail. However, what caught my attention was the pearl white inside of the shell. As the snails eyes started to emerge I framed and took a few shots.  When I reviewed the images later, I was pleasantly surprised and thought the photo had a minimalist but artistic quality.  It quickly became a favourite of mine. Encouraged by it, I decided to submit it to a local photography competition even though I didn't have high expectations.
To my astonishment, my photograph emerged as a winner of the competition. I attended the award ceremony with exhibition at one of the nature reserves in Singapore. I was honoured to have my image displayed alongside the creations of other wildlife photography winners.  It was a surprising moment and one of pride, and encouragement as I was just starting my photography journey. It taught me that, even the most ordinary subject and place can become extraordinary, and it encouraged me to continue pushing the boundaries of my creativity.
OM: Favourite moment underwater?
KL: My longtime dream was to see a whale. I'd been to numerous places and never seen a whale, even from a boat (e.g. whale watching trips in Alaska, South Africa, and Boston). I think I was just unlucky. One year, I decided I was going to finally do it and what better place to go for that than Tonga. I joined a sailing trip through the Ha'apai islands of Tonga, and with no other boats around it meant we could have exclusive encounters with humpback whales. The beginning of our trip was quite rough. We lost one sailing day due to bad weather and then set off the next day for a six hour sea crossing in rough seas. Nearly everyone, including crew on the boat, was sea sick. However, I was lucky and not one of them. When we were told to get ready and jump into the rough open seas with swells for our very first whale swim, everyone was feeling horrible. Little did we know we would meet a special humpback whale we named ballerina girl.
Ballerina girl was so curious and playful. She would swim right up to us turn, twirl, spin and swim upside down. It was almost as though she was showing off her dance moves. She would come so close and check us all eye to eye. All the while, her male escort watched from below. As wild animals, it is the whale who determines the interaction not you. This encounter lasted for one hour with everyone rotating in and out of the water many times. Afterwards, the crew told us how lucky we were to have such an extraordinary interaction and called it the swim of the season.
OM: What is the one photo you really want to take that you haven't yet?
KL: The one critter I want to take an image of a glaucus atlanticus, a pelagic nudibranch, feeding on a jellyfish. I think they are such beautiful creatures and works of art themselves. I do have one secret idea which I have not seen anyone do before. It requires considerable luck on the water conditions and is also challenging to execute. If I am able to succeed one day in that, you will be sure to see it.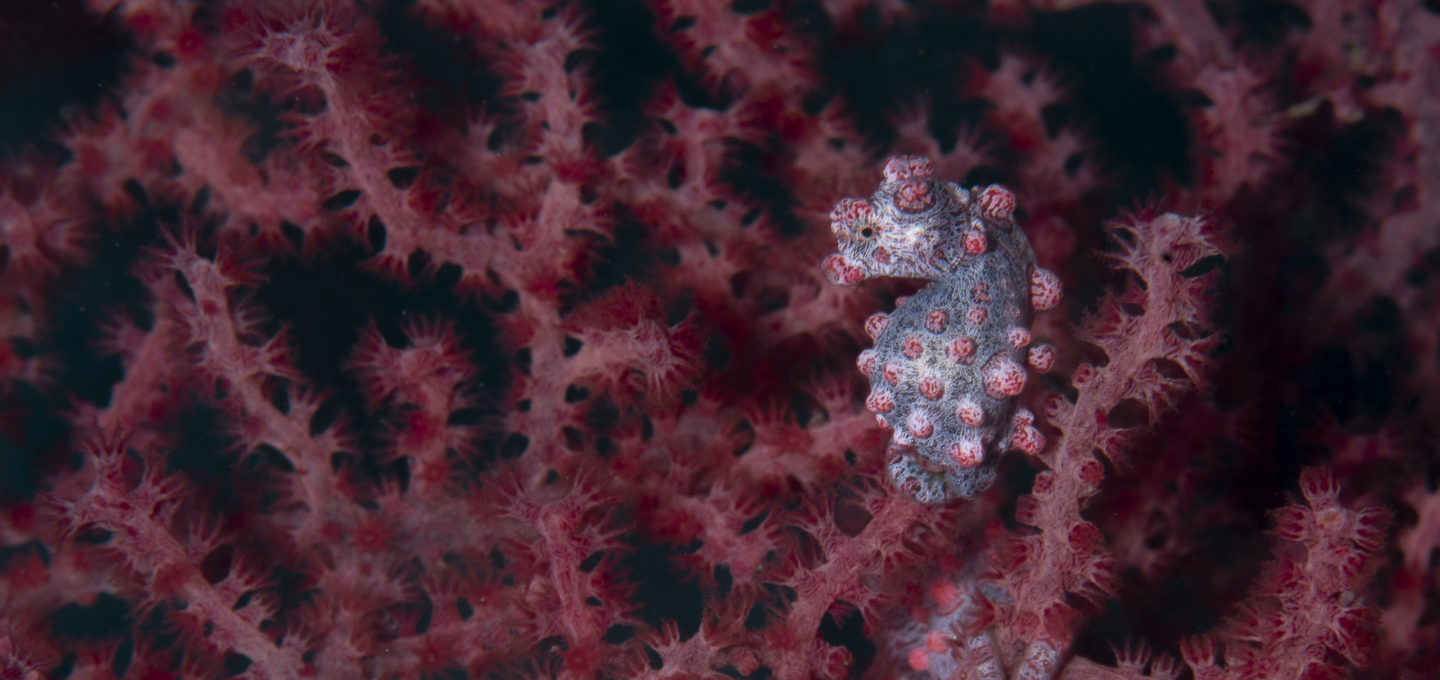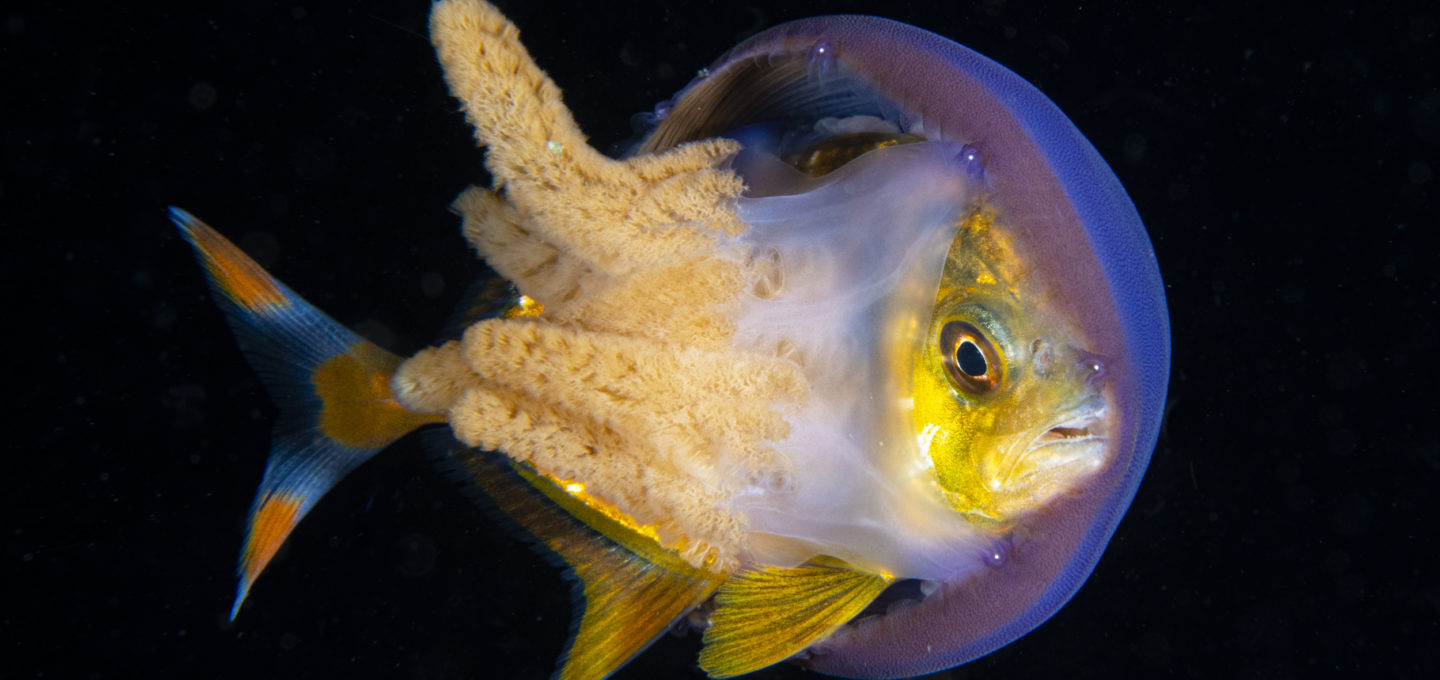 OM: What is planned for the future for you? Any projects for 2023 that you want to talk about?
KL: I'm just glad that we can travel again after the pandemic.  I have a few upcoming trips that were delayed for three years as a result of Covid. I will head to Derawan Island and the Sangalaki Archipelago in Borneo, East Kalimantan. I will also go back to Tonga to swim with the humpback whales and will travel to Anilao, Philippines for more blackwater diving and photography.
Entries are now open for the Ocean Photographer of the Year 2023 photography competition. You can enter here. Or for the latest updates on the entry process and more, go follow us on Instagram: @opy_awards
Good luck; we can't wait to see your images!  

Shop window
current issue
Back Issues
Enjoy so much more from Oceanographic Magazine by becoming a subscriber.
A range of subscription options are available.
Sea stories
Beautiful ocean stories straight to your inbox.
Join our community.