Adventure
Into the vortex
Endurance swimmer Ben Lecomte swam 300 nautical miles through the Great Pacific Garbage Patch. He hopes his feat of endurance, and message of ocean connection, will convince others to join the fight to protect it.
Photographs by
Corbin Marshall, Josh Munoz and Dr Adam Hill
Voices calling out from the dinghy pulled me back to the present from my daydream. To swim for eight hours a day it's important that I disconnect my mind from my body, so I carefully plan memories to relive while I'm in the water. Suddenly, I became aware of the currents rushing over my skin, the tightness of my goggles and the salt water in my mouth. I stopped swimming to look in the direction my support team were pointing, just in time to see a spout in the distance. I jumped into the dinghy and we sped off to see if we could predict the whales' path through the Pacific. Guessing correctly, I jumped into the water and a pod of sperm whales soared towards us. It was surreal. One flipped on his back as he passed, gliding along around 10 metres away, meeting my gaze before diving into the deep. It's an incredible thing to make eye contact with a whale – you can sense that they have feelings, that there is a great brain behind that eye. At the end of that amazing day, I finished my swimming and clambered back onto the support yacht, Discoverer. The crew told me that in the same area as we'd swum with sperm whales, we had broken our record of the number of microplastics collected in half an hour. "We've found the highest concentration," Drew Mcwhirter, our on-board lead scientist, told me. "There were over 3,000 pieces today."  
This experience took place well into our 79-day stint in the Pacific. I'd heard of the Great Pacific Garbage patch more than 10 years before heading out to see it for myself. Far from the often-depicted floating island of trash, the reality is much more sinister. We called this expedition The Vortex Swim, because that's what this area is – a swirling vortex of micro plastics and marine debris. I wanted to highlight the issue at a scientific level, to create a discussion based on fact and figures rather than just being perceived as a 'tree hugger', so it was important that we had a scientist and photographers on board to help us collect data correctly, visualise what we found and to tell the story in the right way. So, on June 14th, we set off for California from Hawaii to swim 300 nautical miles – representing the 300 million tonnes of plastic being produced every day – through the Pacific gyre.
My father taught me how to swim in the ocean off the southwest of France. I remember how he held me at the surface of the water, his hands supporting my belly as he lifted me up and over each wave. Once, a huge wave came and pushed us both back onto the beach. Of course, I didn't like being tumbled underwater or getting sand in my mouth, but my father just said: "It's ok, no big deal. Come back in the water." That has always stuck with me. He died at 49 from cancer when I was in my early 20s, and so swimming became a way to express myself and to communicate a subject that's important to me to the rest of the world. The inspiration came from Gérard d'Aboville, who rowed across the Atlantic and then the Pacific. I was a teenager when he did that, but I thought: "Well, if a person can row across an ocean in a small boat and carry everything that he needs, maybe somebody can swim across an ocean with the right logistics."
It wasn't until 15 years later that I did my first big swim. It was to raise awareness and funds for a cancer research charity – I swam across the Atlantic. Swimming is a way for me to source myself, to connect with the ocean. That gives me a strong connection with my father, so I want to preserve what my experience of the ocean has been for my children. I have been swimming for many years and I've seen the evolution of plastic in our seas and on our beaches. I saw nothing in the water when I was a child, but now when I go to the beach with my kids, we see so much debris. The ocean is an area that should be pristine and safe from the impact of human life. I think the ocean might have been the last place on Earth that looked the same 100 years ago as it did many thousands of years ago. A lot of changes are happening. I want my kids to have the chance to have that same connection with the ocean. What if their children can only know what a sperm whale is by looking at old books or videos?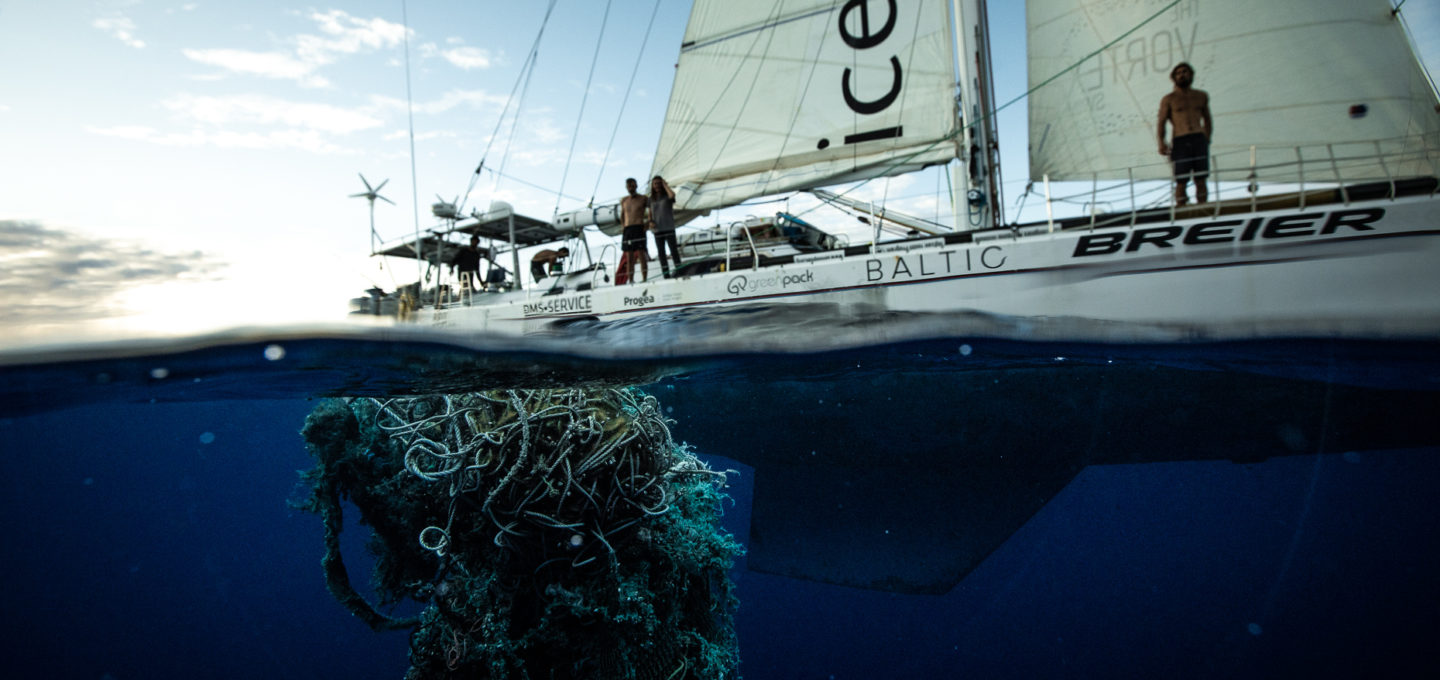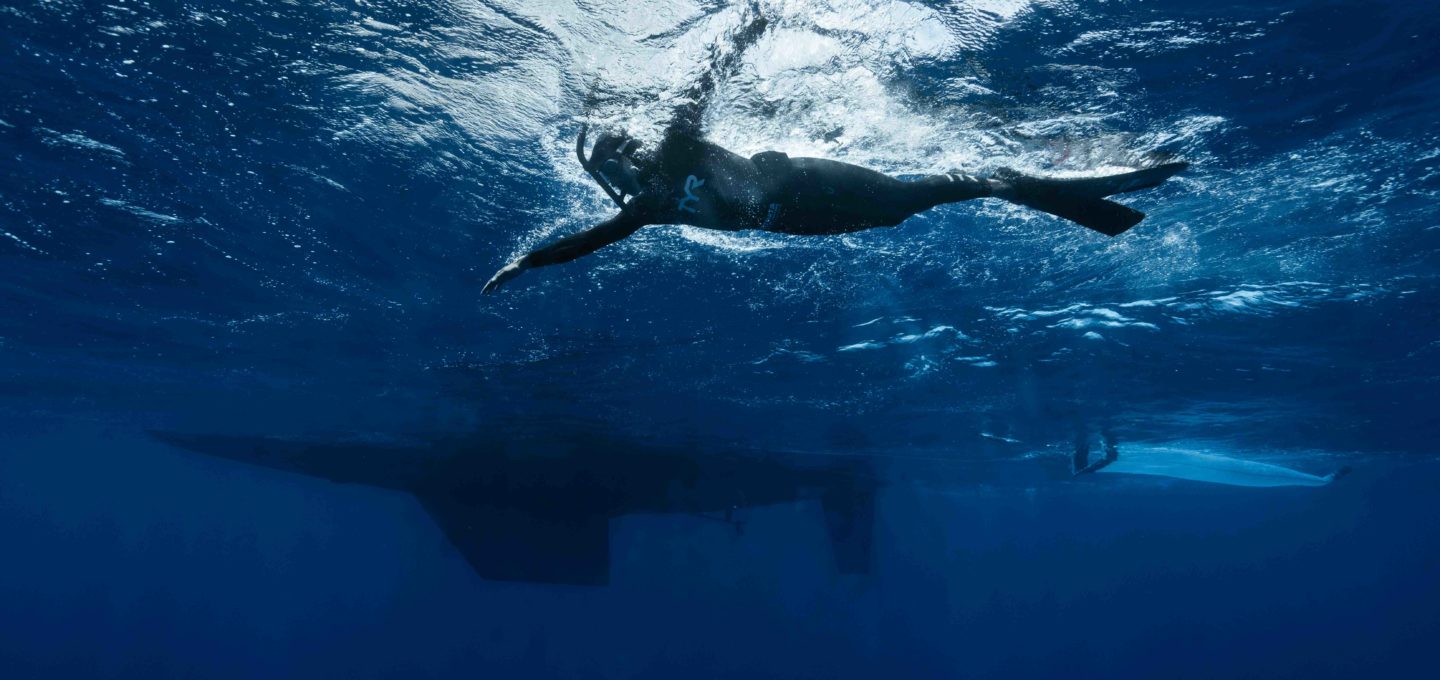 Going into the vortex, I knew exactly what I was going to encounter – there wasn't a big 'aha' moment for me. Seeing plastic every day became a part of my routine. I became numb to it. We soon discovered how important it was for me to be actually in the water, especially since sea state and weather condition came to have a huge impact on visibility of micro plastics from the boat. Quickly we realised that just because we couldn't see it in choppy waters or low winds, it doesn't mean it wasn't there, just below the surface – that was a big revelation. When I was swimming, I was able to tell more easily when we hit areas of high concentration and to let the crew know when it was a good time to take samples in the manta net and grab some photographic data. 
"The first day we broke 1,000 pieces of microplastic in a 30-minute manta net tow and we were all shocked," said Drew, reflecting on our experiences. "The days leading up to the highest concentrations we were only collecting tows of 200-600 microplastics. None of us knew what to expect as far as microplastic concentration was concerned. After breaking 1,000, we hit over 1,700 the next day, and over 3,000 the day after. The tows over 1,000 were demoralising in the sense that we were finding a man-made product over 1,000 miles from the nearest coast, as well as physically demoralising – we counted by hand, with tweezers, one piece at a time. It was painstaking work, especially for the eyes and back, and demanded full crew participation all day long." 
Collecting a large bank of imagery was extremely important for the project, for both science and communication. I discussed these trials this with Corbin Marshall, one of our lead photographers, after our return from sea. "I think the largest challenge of the media side of the project was debunking the myth of the Great Pacific Garbage Patch without downplaying it to the public. Many people have the idea that the Great Pacific Garbage Patch is a massive floating island of garbage that you can walk on," he said. "At no point did we find a massive collection of debris all packed together. Instead what we found was scattered debris and thousands of micro plastics littering the surface. Many people would see that as 'less harmful' to the ocean because it is visually less immense."
Photographs of the larger marine debris we found can be easier to make sense of when trying to wrap one's head around the enormity of this issue. So many mini ecosystems had flourished on vast ghost nets and other plastic items, some of which housed coral fish species that had followed the debris as it drifted out into the middle of the ocean. While I was swimming, it was these brilliant colourful schools of fish that would guide me to the larger pieces of debris on which they had made their home. There was a lot of debate on board as to what to do with larger marine debris, as pulling it out would kill all of the life around it, but leaving it would mean further microplastic breakdown. There was one occasion, when I was trying to free some live fish from a huge ghost net, and a dead one dropped below me. Out of the corner of my eye I saw a shape zoom past and snatch it. I stayed in the water hoping to see it again and a little later the shark briefly reappeared. I wondered how much plastic was in that dead fish and where those microscopic pieces might end up.
It was a huge challenge for the photography team to capture microplastics on camera. They jumped in the water and filmed from the surface a number of times trying to show what the Great Pacific Garbage Patch really looked like, but had little success early on. Then we hit an extremely dense area of plastic pollution. It was a bit of a shock to the team. "Jumping into the water was such an eye-opening moment," explained Corbin. "The surface looked like confetti in every direction – so much that we could actually capture it very effectively. As 'exciting' as it was to finally find an area we could utilise to help visually demonstrate what the real problem was, it was also a very impactful moment."
Photographs by
Corbin Marshall, Josh Munoz and Dr Adam Hill
Continue reading...
To continue reading this article – and enjoy full digital access across Oceanographic – sign up to Ocean Hub today! More info below…
Keep reading by signing up for an Ocean Hub subscription
Ocean Hub. More than a magazine subscription.
As well the delivery of all new editions, members unlock access to exclusive products, services and discounts, as well as EVERY digital back issue we have published.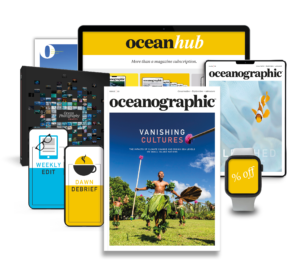 Find out more

about Ocean Hub subscription
Shop window
current issue
Back Issues
Enjoy so much more from Oceanographic Magazine by becoming a subscriber.
A range of subscription options are available.
Sea stories
Beautiful ocean stories straight to your inbox.
Join our community.