Conservation
The historic lifeline of Jersey
Photographs courtesy of
Ocean Culture Life
"I think this time will make us all appreciate where our seafood comes from."
No matter where you are in Jersey, you are never more than ten minutes from the sea. For the community, the coast provides endless opportunities to forage and explore, as well as an ancient lifeline. The twice-daily change of the 30-foot tide brings an abundance of valuable fish and shellfish, including crab and lobster, close to the shore.
In Jersey, we have a deep-rooted appreciation for seafood. During the Second World War, Jersey was an occupied territory. While fishermen were grounded to prevent islanders escaping by boat, the community experimented with seafood they could access from the shore, such as limpets, winkles and razorfish, to supplement their diet. Exchanging recipes, such as the classic Jersey razorfish soup, and relying on a strong sense of community spirit brought many islanders through that turbulent time. Despite being under tight control, our knowledge of the tides and diverse local marine life gave us the means to survive and thrive.
Fast forward 75 years, and our 130-vessel fleet of fishermen is facing yet another stark challenge in the form of COVID-19. Restrictions put in place to stop the spread of the virus caused the export market and the restaurant trade to grind to an immediate halt. The markets that Jersey's small-scale fishermen depended on dried up overnight. Under normal circumstances, about 80% of Jersey's catch – mainly shellfish – is exported. The main port for our exports is Granville, France, but they can also end up in Spain, and Italy. Southern Europe's lockdown meant that Jersey's fishermen could no longer sell their catch via their usual methods.
Thankfully, as it did so many years ago, Jersey's ocean culture community has stepped up to solve the problem and provide a clear way in which we can support one another. The solution was clear: we needed to be able to buy seafood directly from local fishermen.
Marine conservation charity Blue Marine Foundation (BLUE), started the #LocalFishForDinner campaign to help local small-scale fishermen across the UK and Jersey to find new routes to market. BLUE works with low impact fishing communities across the British Isles to implement fisheries and conservation models that deliver wins for both nature and people. In addition to the social media campaign, BLUE are working with chefs to produce cooking demonstration videos using locally caught fish, encouraging the public to try out fish that they might not usually buy, reviving those forgotten recipes that were passed around the community 75 years ago.
Jersey's enthusiastic response to the call to buy locally has made it clear that the community's resilience and passion for the ocean exhibited during the War is still alive today. "We as members of the public have an opportunity through our purchasing power to help the fishermen who fish in small boats around our shores, usually in the most sustainable of ways," said Charles Clover, Executive Director of BLUE. "They are the life and soul of communities and are vital to the management of our marine protected areas."
The Jersey Alternative Fish Market Facebook group, set up by local fisherman Jez Strickland in March, already has more than 10,000 members – 10% of the island's population. "I started the group on March 18th," Jez told me. "The motivation was a Jersey Evening Post article where Don Thompson mentioned that the export market had closed due to COVID-19. I thought that if I could find a hundred people interested in buying direct from the fishermen we might be able to help one or two of them. I wasn't expecting the phenomenal response that then occurred."
Queues stretching the length of the beach began to form, where people maintaining a safe distance waited patiently to purchase fresh, local seafood. "The most popular shellfish are scallops with local buyers, followed by Brown and Spider crab," added Jez. "Lobsters were popular, but sales have dropped off, recently. Fin fish is very popular with people asking for Bass, mackerel. Many islanders are trying new species such as Bream, pollack, and Gurnard."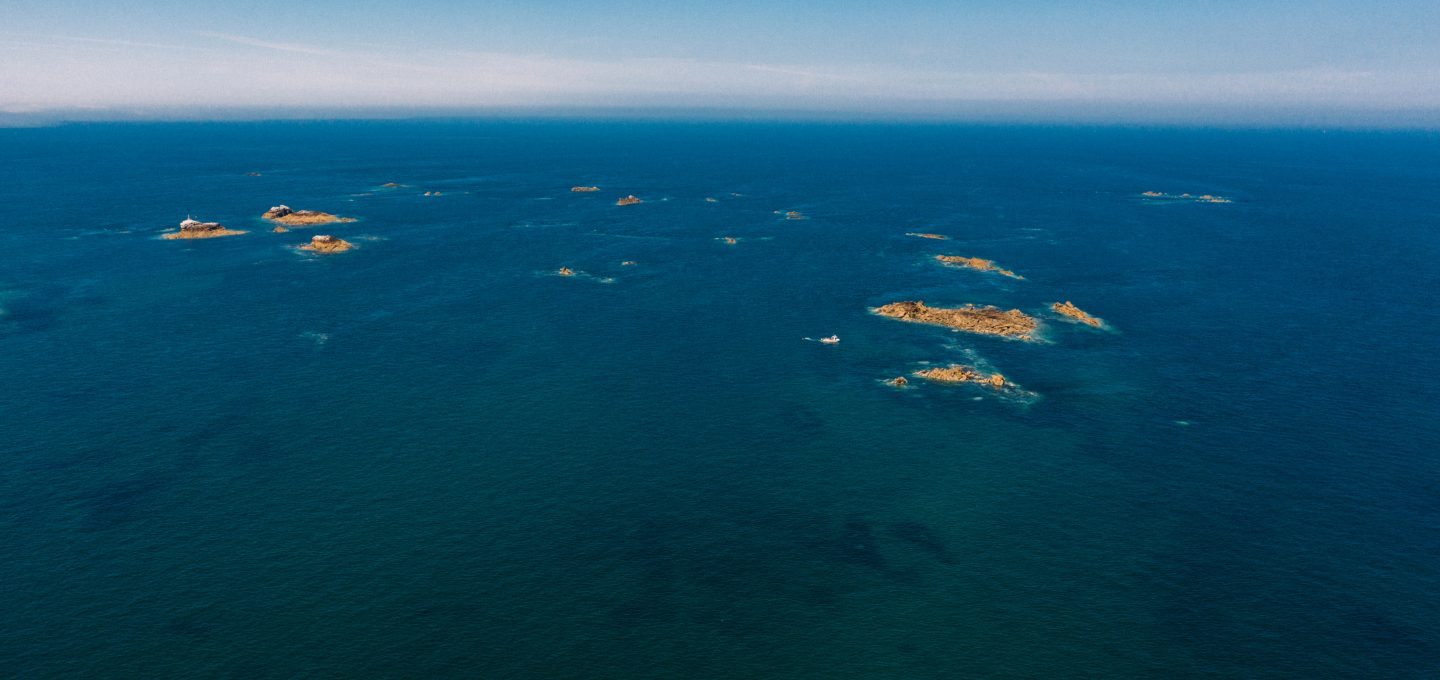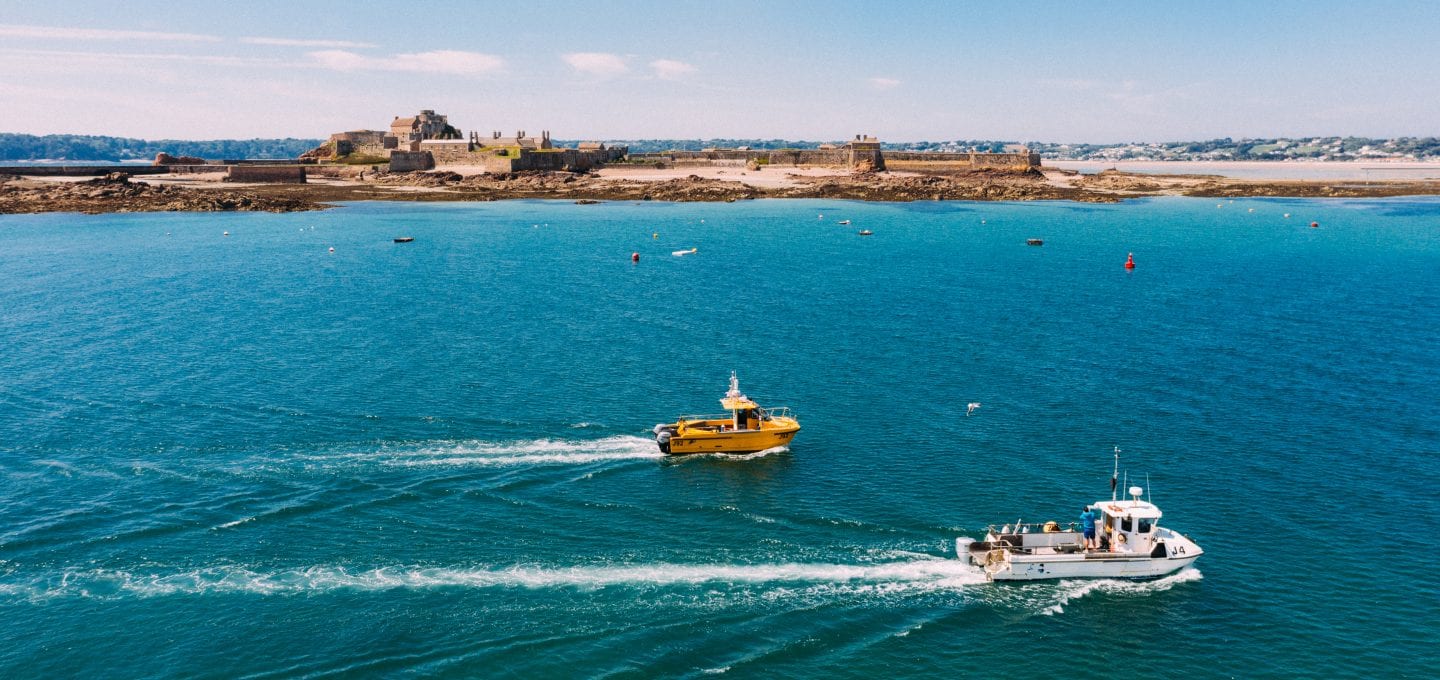 The convenience and simplicity of these online forums has allowed fishermen to keep the community up to date with their daily catch, with some fishermen even donating leftover fish to emergency service workers from their community. At a safe distance, I walked down the beach one particularly busy morning to hear from the line of customers, new and old. "Buying locally really has made me think more about where my food is coming from," said one resident. "I don't mind queuing, and it's nice to know we're supporting our local fishermen."
Through initiatives like the Jersey Alternative Fish Market and the #LocalFishForDinner campaign, there has been a resurgence of preparing and cooking local fish and shellfish, providing an opportunity for the island's younger generations to learn some of these skills. Local chefs are also getting involved, hosting live cooking demonstrations with seasonal fish, hoping to encourage islanders to use this time at home to get creative in the kitchen.
It is estimated that around three-quarters of the fish consumed in Jersey is imported, as consumers expect an extensive and consistant variety of fish on the supermarket shelves all year round. "With regard to imports, that is down to public choice as the fleet can't supply some species locally, such as cod, salmon, langoustines, prawns or smoked fish," explained Jez. "Our fishmongers do sell locally caught fish alongside imports. We could do more for public awareness when it comes to trying new species for example cuttlefish are very similar to squid yet there appears to be little appetite for it. We also have a healthy biomass of Ray yet it doesn't appear on menus. Some of our super markets could do more to source local produce despite irregularities in supply."
As well as helping Jersey's fishermen, BLUE's #LocalFishForDinner campaign has helped to connect fishermen with customers in Lyme Bay, North Devon, Cornwall and Berwickshire. Despite the community effort witnessed across the country, many fishing boats are still tied up, unable to sell enough fish to economically justify going to sea.
"It's fantastic to have the support of our local community, I just hope this continues post-pandemic as these few months have allowed me to make up for the terrible first two months of the year," said local fisherman Toby Greatcatch.
With time comes the art of reflection, and the global COVID-19 crisis has highlighted the vulnerability that comes with high dependence on global markets for the fishing industry. Once the restrictions of COVID-19 have passed, Jersey should maintain these new relationships between local fishermen and the community. As a result of this community action, people have made it clear that they will continue to source local seafood. The fact that we can buy it direct from a fisherman provides a clear provenance of local, sustainable low-carbon footprint produce, and this definitely resonates with many Jersey residents.
Don Thompson, president of the Jersey Fishermen's Association, has urged Islanders to keep buying local and has said that, as demand increases, so will the range of supply. This will require some investment in infrastructure to allow fish processing to meet demand, ensure that local fish are traded safely, and to encourage the public to be brave and try seasonal fish that they might not have tried before. These shortened supply chains would help to reduce "food miles", significantly reduce the island's carbon footprint and therefore contributing to Jersey's commitment to be carbon neutral by 2030.
It has been inspiring to witness and document how the best can come from the worst, how people are waking up and realising that our connections with each other are some of the most important things we have. In this time of global reckoning, the island's connection to the sea has proved as important to its people now as it was 75 years ago. Jersey has been given an opportunity to hit the reset button on the way it sources its seafood. A more sustainable future for Jersey's fish and its fishermen is within reach and could ensure the continuation of livelihoods and the way of life for Jersey's fishermen and the communities they serve.
Photographs by Matt Porteous and Dave Ferguson, of Ocean Culture Life.
Photographs courtesy of
Ocean Culture Life
Sea stories
Beautiful ocean stories straight to your inbox.
Join our community.