Adventure
Killing your darlings
Photographs by
Byron McLoughlin
In a world that is heavily influenced by social media, finding new and innovative ways to photograph popular subjects like surfing has become increasingly difficult. 17-year-old photographer Byron McLoughlin explains how he is finding his feet in the world of surf photography and takes us on a photo tour to Sydney's Northern Beaches.
"Editing one's own work is one of the most difficult skills a photographer can possess. Have you heard the expression 'You must learn to kill your darlings'? It means you must let go of all the efforts and mental and physical exertion that was required to obtain an image when judging its worth. I still struggle with this when looking at my own work," smiles Byron McLoughlin who, at the young age of 17, focuses on water-based surf and wave imagery.
Originally from Sydney's Dee Why suburb, surf photographer Byron only started taking photographs in 2021 when he turned 16. He explains: "I used to surf all the time and when I paddled in the line-up, I sat and watched surfers catching waves. I just couldn't help blinking my eyes and pretending I was taking photos of what surrounded me. I then picked up my first camera and I have never looked back. I have been hooked ever since."
"I started shooting from land. It was fun but I found that my work was the same as everyone else's. It was really hard to diversify and separate myself from most photographers," he adds. That's when he picked up an underwater housing to start taking in-water images.
With over 95 million photos and videos being shared on Instagram daily, the challenge of making one's own images stand out is an arduous task. Today, almost everyone has a smart phone capable of taking images that look good enough to be shared on social media.
"A top tip that has always stuck with me is to be unique and to not compare my work to others. While it's good to learn from other work and to be inspired by different photographs, I try to explore different styles and different niches myself. I never try to get too caught up in comparing my work to others. Another super important lesson I've learnt over the past year is to diversify. I never try to stick to one niche. I try to be broad and mix it up a little to keep things pure," explains Byron.
Through his images, which are primarily shot at his local spot in Dee Why, the young surf photographer tries to convey what the ocean feels like, while pushing boundaries and exploring new and innovative ways of shooting to separate his images from the rest. "I think the possibilities and limitations of innovating your work are endless in the water. On land, it feels like there aren't that many innovative opportunities. I'm always trying new things with my work. For example, my process originally was to shoot with a 70-200mm lens from far away. I then tried taking photos with a 50mm and now I usually go for a 15mm for wide angle shots. The shorter and wider the lens, the closer you have to be and the scarier it is."
What makes Byron's images stand out from others is the wealth of different angles and the use of various techniques. He explains: "I'm obsessed with light just like any photographer is, but I'm actually super in love with bokeh, reflections, clouds and shapes of waves and ocean movement in general. I also love being creative with camera housing ports. When the water runs off the acrylic or glass dome or flat port, it can create some really cool effects and images."
"I also love playing with the depth of field, combining focused subjects and blurred backgrounds. I'm a big believer in imagery that gives context, meaning I have never taken a surf photo without some sort of industrial background or any sort of background or distraction. I have seen plenty of photos which just show a surfer, a wave and the sky and I don't think it's enough to connect with your viewers on a meaningful, deep level. With my images, I want to explain what my home means to me. I want to capture raw moments in the ocean that define surf culture in one way or another," Byron adds.
Inspired by the people he photographs, as well as by other creatives, Byron takes special emphasis on positioning and timing. He explains: "When the ocean lays out everything for you, it's up to you to capture that moment. I think that taking an image with good exposure and good framing is essential. I'm a simplistic editor and I see a lot of fake surfing shots of people replacing the sky, reducing noise or changing colours. I believe you will know you have a good photo when your RAW file looks like something that has been edited already."
At the young age of 17, Byron only shoots locally, while also working at a wave pool in Melbourne doing in-water photography. In the near future, he hopes to start travelling to explore more of Australia and cold-water destinations such as Iceland, Norway and Russia with his camera. "It's definitely scary as you feel like a small little Sydney boy in a big man's world. You need to go there with an open mind and an open attitude. You need to learn and not just think you know it all," he laughs.
Photographs by
Byron McLoughlin
Explore the current issue
Beautiful photography. Captivating storytelling.
Take a look inside the latest issue of Oceanographic Magazine.
DIGITAL SUBSCRIPTIONS
Subscribe to the digital edition for just £20 a year, or enjoy it for free courtesy of Oceanographic's partnership with Marine Conservation Society. No cost, no catch.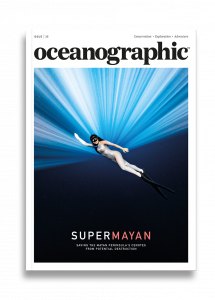 Sea stories
Beautiful ocean stories straight to your inbox.
Join our community.