Exploration
Last of their kind
Jeju Island's Haenyeo are a South Korean icon. The women of the sea make a living by harvesting seafood during strenuous freediving missions. But their lifestyle might soon be lost due to a lack of women wanting to follow in their footsteps.  
Words & photographs by
José Jeuland
Words & photographs by
José Jeuland
It's about 6am on a March morning, and I am waiting to board a boat that will take myself and a group of 15 veteran female divers out to the East China Sea off the coast of Jeju Island. As we wait for the boat, the elderly ladies laugh and chatter amongst themselves in Korean and prepare their equipment for the upcoming dive. I follow suit and do the same with my camera gear. I catch the eye of a particular diver and she scowls and mutters under her breath. She is displeased that the group and the boat captain have allowed me to join them.
When we board the vessel, she pointedly takes the seat next to me, as if to watch over me in case I was up to no good. Soon enough, we arrive at the dive site, and the women drop into the cold waters one by one. Before the disgruntled diver exits the vessel, I manage to capture a portrait of her. I return to shore with the captain, ride my scooter back to my accommodation, and print out a copy of the image. When the captain and I make the return trip to pick the divers up, I present the picture to her. Her face lights up and she smiles at me for the first time. I've managed to charm a Haenyeo. 
The Haenyeo, or 'women of the sea', are an icon of South Korea. A unique culture found on the island of Jeju, the women have been in charge of diving for seafood to provide for their families since the 17th century when many of the men were either conscripted to the army or had lost their lives at sea while fishing. Additionally, the Korean ruler at that time had imposed heavy taxes on the earnings of men, but exempted the labour of women. The womenfolk of the island had no choice but to become the main breadwinners of their families. This evolved into a system where only girls were trained to perform the dangerous freediving work of the Haenyeo to harvest items such as abalone, conch, seaweed, sea urchin, and octopus from the ocean floor. 
To become a Haenyeo is indeed a dangerous and tiring path. These women train from the age of ten or younger to dive to depths of up to 20m and hold their breath for up to 2 minutes underwater. They dive with no protective equipment other than their wetsuits, flippers, goggles, and weighted vests or belts to help them dive deeper. Lives can, and have been lost during these dives, including Haenyeo that I have met and photographed. 
The risky and demanding nature of the job has caused a sharp drop in the numbers of the Haenyeo in the past two decades, as less and less of women in Jeju are inclined to continue the traditions. With more opportunities to make a living in a less dangerous fashion, the younger generations of women living on Jeju Island are forgoing the way of the Haenyeo, preferring to work in other industries or head to the mainland. After all, the path of the Haenyeo was born out of necessity and a desperation to survive in a difficult situation. As a result, most of the Haenyeo still diving for a living are aged between 50 to 80 years of age. Many of them regard themselves as the last of their kind. 
Prior to becoming a professional photographer, I was a competitive triathlete who participated in races around the globe. I have always had an interest in photography and utilised the time when I was not racing or competing to hone my photography skills. Whenever I was abroad for a race, I was sure to bring my camera to capture the sights and people to document my time in a different country. When I signed up for a 50km race on Jeju Island, I decided to find out more about the island and its attractions. What caught my eye amongst the images of orange trees, lush greenery, waterfalls and pristine beaches, was a photo of an elderly woman. Her face, partially obscured behind diving goggles, was wrinkled and weather-beaten, her body spoke of exhaustion as she emerged from the ocean. Yet, there was obvious strength and endurance in her despite her advanced age, and I was fascinated. It was then and there that I made up my mind to find out more about the Haenyeo. I ended up travelling to Jeju Island two more times after my race to spend time with the individuals. I slowly got to know divers from various villages and earned their trust.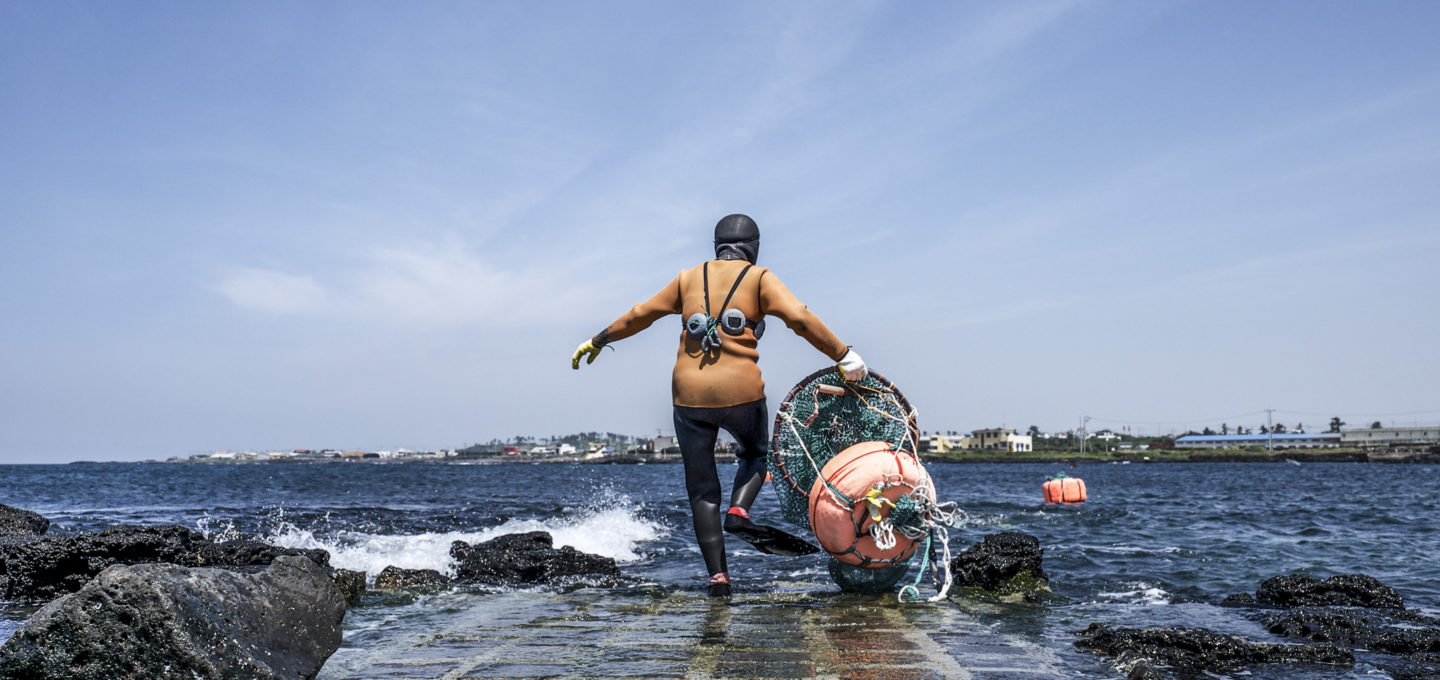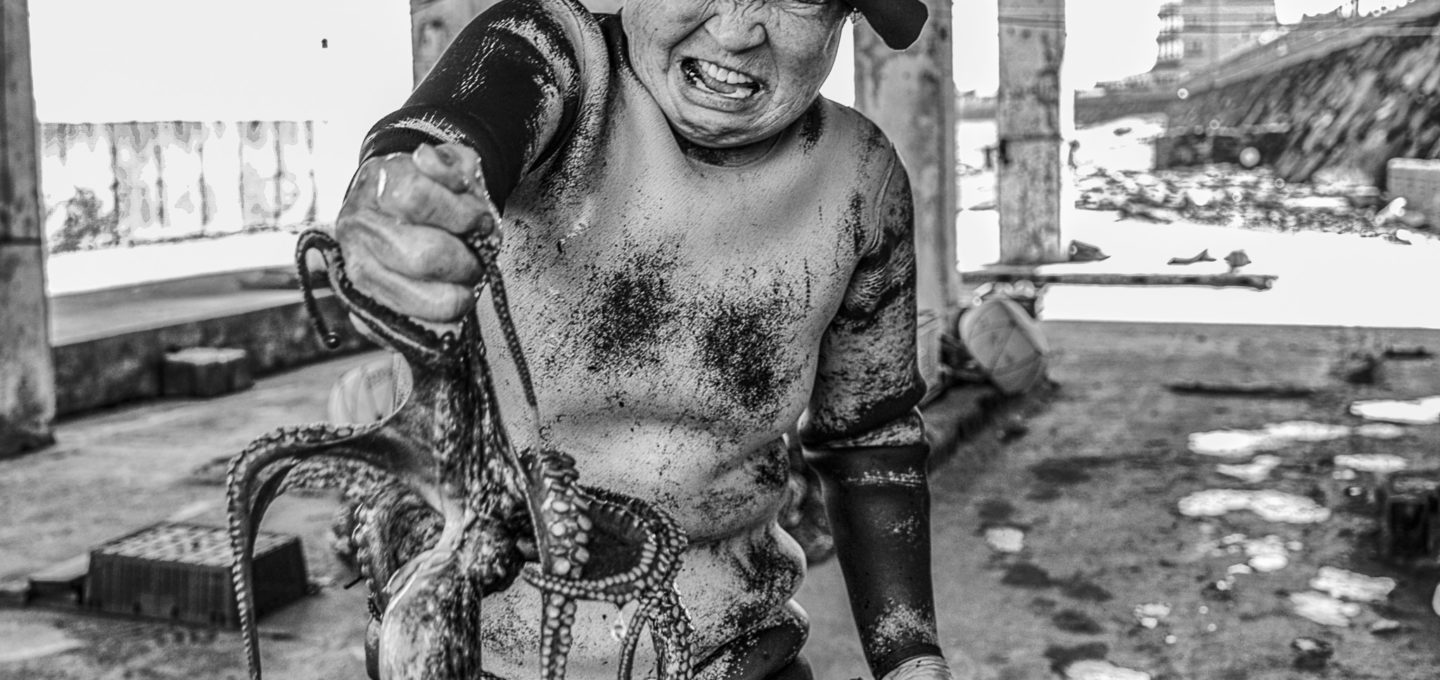 Continue reading...
To continue reading this article – and enjoy full digital access across Oceanographic – sign up to Ocean Hub today! More info below…
Keep reading by signing up for an Ocean Hub subscription
Ocean Hub. More than a magazine subscription.
As well the delivery of all new editions, members unlock access to exclusive products, services and discounts, as well as EVERY digital back issue we have published.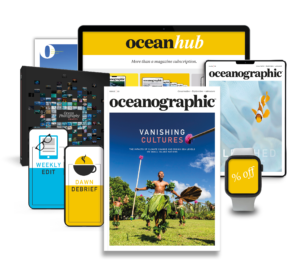 Find out more

about Ocean Hub subscription
Shop window
current issue
Back Issues
Enjoy so much more from Oceanographic Magazine by becoming a subscriber.
A range of subscription options are available.
Sea stories
Beautiful ocean stories straight to your inbox.
Join our community.