During the summer of 2022, the red sea fans of the western Mediterranean basin experienced a major mortality episode. Shortly after, a scientific exploration programme came across a glimmer of hope: red gorgonians in deeper realms were able to resist climate change.
Words and photographs by
Alexis Rosenfeld / Fondation 1 OCEAN / UNESCO
Words and photographs by
Alexis Rosenfeld / Fondation 1 OCEAN / UNESCO
Over the past decade, the Mediterranean Sea has experienced frequent marine heat waves. Sea surface temperatures in the region have, at times, been 5° Celsius higher than normal which had widespread negative effects on numerous ecosystems and species, including slow-growing species like the red gorgonian. A study from 2021, for example, found that Mediterranean coral reefs were still recovering from a marine heat wave dating back to 2003 because heat events continued to affect them almost annually after that. 
During the summer of 2022, divers made an alarming observation in the Marseilles area. They witnessed the death of the vast majority of red sea fans, or gorgonians, at depths of up to 30 metres. On specific sites, they found that 100% of the gorgonians were decimated. Only greyish skeletons were left behind where colourful gorgonian colonies once dominated the scene. According to scientists, this mortality episode is most likely linked to the particularly high temperatures experienced in the region during the summer. 
But unlike hard corals that make up coral reefs, gorgonians are not directly affected by temperature variations, researchers have found. Global warming affects red sea fans for a very specific reason. It seems that the rise in water temperature has enabled the proliferation of vibrio cholerae, the bacterium responsible for cholera. As this bacterium is highly efficient at high temperatures, it multiplies rapidly and seems to have infected the gorgonians. 
As with all Mediterranean corals, red sea fans reproduce in summer. The large amount of energy invested in reproduction and the lack of nutrient supply during the season make gorgonians particularly vulnerable during the summer period. The increasing frequency of heat waves represents a further threat to gorgonian populations, which no longer have sufficient time to recover. The death of gorgonians raises a more global problem: the potential loss of all associated biodiversity. Above a certain population density, gorgonians create what are known as underwater animal forests. Like underwater trees, they form three-dimensional habitat structures, creating refuges for numerous species.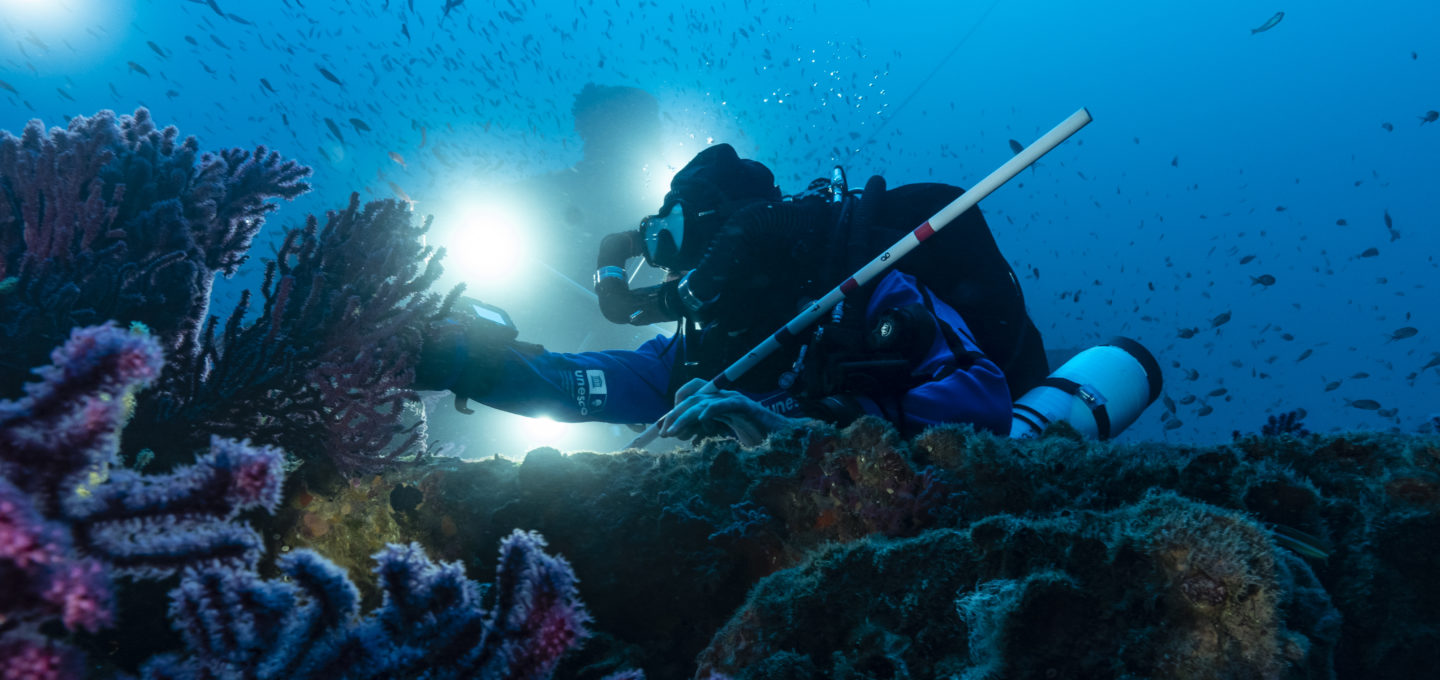 Researchers fear that the disappearance of gorgonians from certain areas would disrupt these important ecosystems and put at risk all associated species. As put forward by Lorenzo Bramanti, gorgonian specialist at the French National Centre of Scientific Research (CNRS) LECOB laboratory, "the ecological importance of gorgonian forests lies in the fact that they are a refuge for many other species. When you protect a forest, you automatically protect the birds, insects, amphibians and all the animals that live inside the forest, just by protecting the forest". 
In response to this ecological emergency, UNESCO and the 1 OCEAN Foundation have launched a scientific exploration programme in partnership with the CNRS and the LECOB research unit at the Observatoire Océanologique de Banyuls-sur-Mer in France to study the effects of climate change in the western Mediterranean Basin further. The fitting name: 'L'arche de Noé des profondeurs, un avenir pour la biodiversité?' which loosely translates to "Noah's Ark of the Deep, a future for biodiversity?'. 
During their first mission that took place in October 2022, the 1 OCEAN research team observed that, beyond a certain depth, the gorgonians seemed preserved and untouched by the effects of heat stress as if they had been protected in a thermal capsule. For scientists this finding is a real source of hope: they say that depths could become climate refuges for animal forests. Alexis Rosenfeld, photographer, explorer and head of the 1 OCEAN Foundation, says: "The deeper you go, the lower is the water temperature. The ocean acts like a thermal shield and will – possibly – protect deep gorgonian populations from major heat waves". 
Indeed, below 30 metres, gorgonian populations seem to come back to life. Bramanti confirms: "What we notice when we observe gorgonian mortality is that mortality is very important in the first 30 metres of depth, but in deeper areas – from 30 to 50-60 metres – populations are less affected." 
Continue reading...
To continue reading this article – and enjoy full digital access across Oceanographic – sign up to Ocean Hub today! More info below…
Keep reading by signing up for an Ocean Hub subscription
Ocean Hub. More than a magazine subscription.
As well the delivery of all new editions, members unlock access to exclusive products, services and discounts, as well as EVERY digital back issue we have published.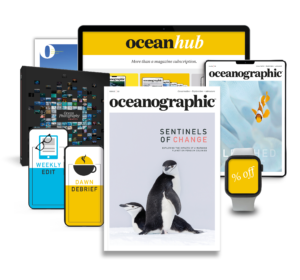 Find out more

about Ocean Hub subscription
Shop window
current issue
Back Issues
Enjoy so much more from Oceanographic Magazine by becoming a subscriber.
A range of subscription options are available.
Sea stories
Beautiful ocean stories straight to your inbox.
Join our community.