Exploration
Reason for hope
While Los Arcos, a small group of islets on Mexico's Pacific coast, is one of the country's most popular holiday destinations that attracts divers from all over the world, the protection of this fascinating terrain has long been an afterthought. Local divers urge for long-term conservation efforts. 
Words and photographs by
Petr Myska
Words and photographs by
Petr Myska
Green water abruptly turns black below me. The land mass of the islet is 100 feet to my left, the water surface 70 feet above me. The deep drop to my right is the abyss of the Devil's Jaw, an impressive underwater wall at Los Arcos, one of the most popular diving destinations in Mexico's Puerto Vallarta. While Los Arcos is a well-known hotspot for marine life that is characterised by arched rock formations on the topside, its depths have not been extensively studied. 
Yesterday, I lost the side panel of my Trident ROV when I steered it along Los Arcos' drop to find out more about the marine life living in its depths. Today, I am back with my friend Cesar to search for it. Chances are it plummeted into irretrievable depths, but we think it is worth a try. The Trident, granted to me by the S.E.E. via the National Geographic Open Explorer Project, has given us the opportunity to shed light on sites beyond conventional scuba limits. On our first dive, we discovered a thick coral forest at depths of 200 feet, below what otherwise seemed to be a dead zone of the wall. Later, I learned to pay for the excitement of such explorations with moments of cold sweat and a thumping heartbeat getting the ROV's umbilical cord stuck on invisible hazards in the inky void below. Yesterday, I paid with a piece of the ROV itself. 
As I scan left and right with my flashlight, willing its beam to bounce off a piece of white plastic, a few notes of humpback song fill the expanse. I hear whales underwater quite frequently; we are in the heart of their wintering grounds. The impact of it never wears off. I stop, hold my bubbles, and close my eyes to enjoy the moment. More sounds drift in and further sweeten the bliss of my weightlessness. On impulse, I pull myself down to the rocky shelf and find a bare spot to sit down. As I keep listening to the singer below with my finned feet dangling over the edge, I think about the blackness in front of me. We know almost nothing about what lurks down there. Until recently, we weren't even sure how deep the wall drops. The sources of information available to us offer conflicting information which confused rather than clarified the issue. After analysing multiple options of inquiry, most well outside my budget, I decided on the medieval approach. Using a braided fishing line, I dropped a six-pound diving weight down into the unknown. It hit bottom at 1,345 feet. The Eiffel Tower could therefore hide under my fins, with plenty of room to spare. Considering the islet and a nearby beach are directly behind me, discovering such depths so close to shore is unexpected, yet another exciting feature that make Los Arcos so unique. 
The small group of five islets in the southern part of Banderas Bay on Mexico's Pacific coast has always drawn attention. So much so that the nearby famous beach resort of Puerto Vallarta used to be called Las Peñas (The Crags) in their honour. Los Arcos has become a local icon during the past decades, with tourism booming in the area. In the high season, the area sees thousands of tourists daily. They arrive in small panga boats or on board one of the larger vessels heading for the popular beaches in the south. For the majority of people, this will be a short stop-over. They will admire the rocky formations, see brown pelicans, blue-footed boobies, and magnificent frigatebirds roosting on cliffs. On days when the sea is calm, those who feel more adventurous may dare a swim through one of the vaulted tunnels that gave the site its name, 'The Arches'. Impressive scenery and backdrops are certain here. Yet, the true beauty and wonder of Los Arcos cannot be appreciated while standing on a boat's deck. The fascinating world of varied seascapes and creatures that inhabit them can only be found under the surface.
I read about the local sea life for the first time while studying for my biology Master's exams in Prague 20 years ago. I still remember the reason this small patch of the sea was mentioned: several species of rare ribbon worms live here. Little did I know then that this would one day be my own backyard. Many years later, I had the good fortune to move to Puerto Vallarta and eventually meet Cesar Ortega, a conservationist by heart and the owner of Banderas Scuba Republic by trade. He took me under his wing and showed me the varied corners of the underwater world around Los Arcos. From the rocky shore strewn with round granite boulders that are covered with scampering crabs, the seafloor slopes down gently onto a wide sandy bottom. The ideal home for stingrays. During the winter, when the water temperature drops, we can find big longtail stingrays here in large numbers. Their position is usually only revealed by a dish-shaped dip in the sand and their vigilant eyes sticking out. Should you get too close, they will be gone in an instant leaving behind a cloud of stirred-up sand settling slowly over their former resting place. Other animals like skittish garden eels, burrowing jawfish, cruising electric rays, and camouflaged speckled flounders take advantage of the soft and uniform ocean floor, too.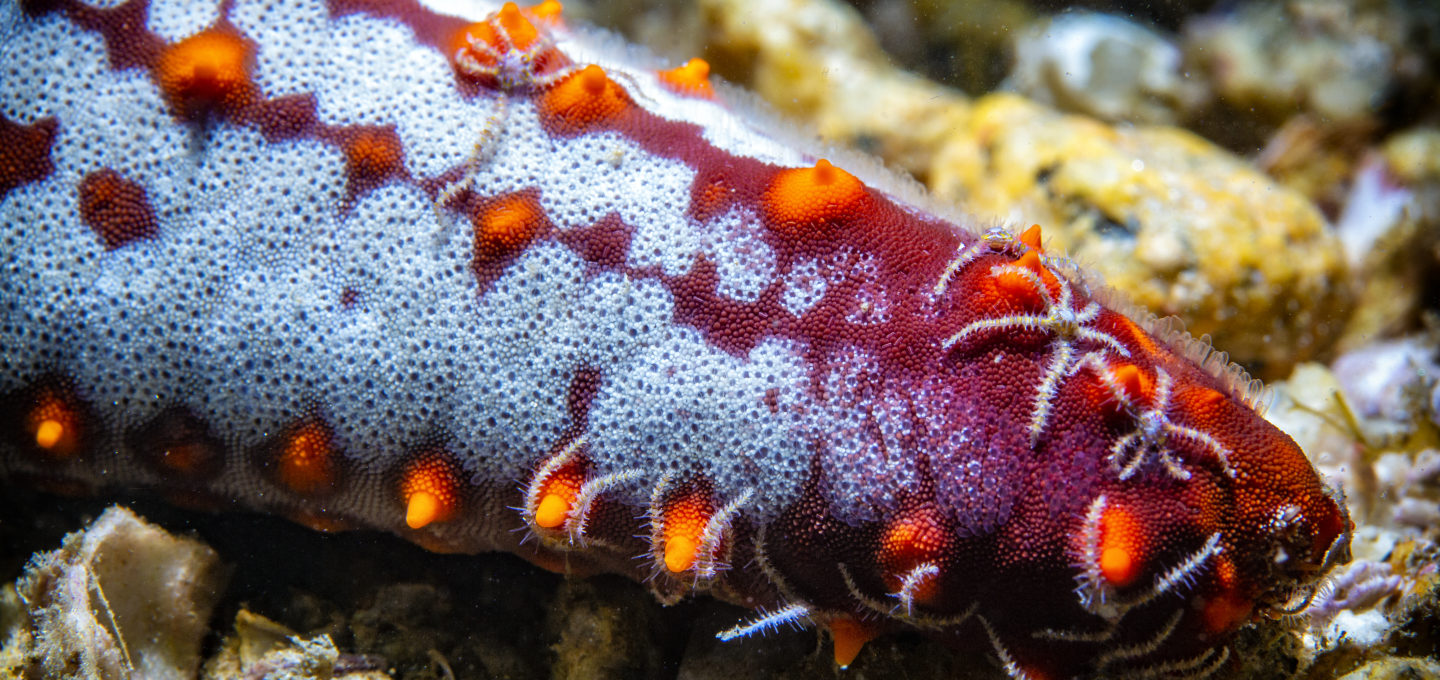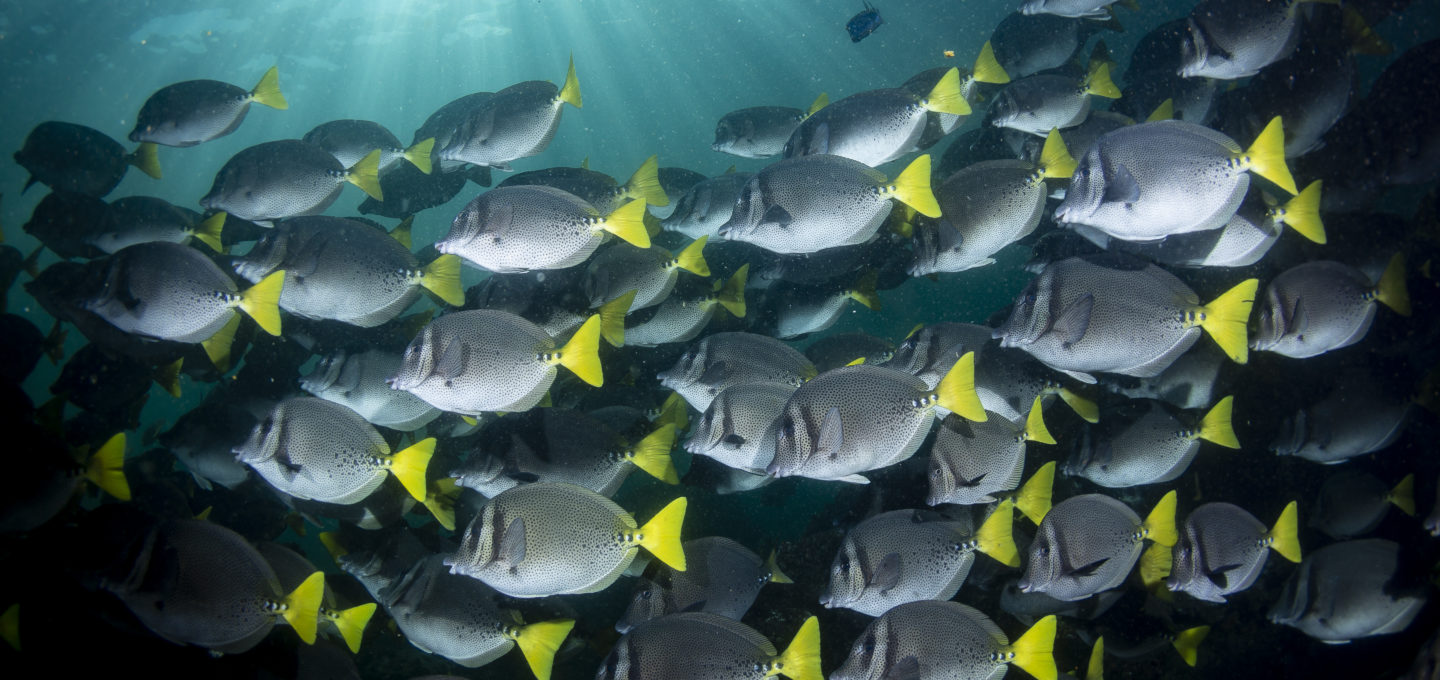 Moving on, the sand runs into scattered pancake-like solitary reefs we call Las Lajas (the slabs). Their crevices and overhangs are ideal shelters for numerous species of moray eels. The smaller ones hide so effectively that only their inquisitive heads stick out between the rocks. If you're lucky you might also spot an Argus moray eel. I have come across a few as thick as firehoses and at least four feet long. Many sea turtle species call Las Lajas their home too. According to local scientists who have been collecting data on turtles for decades, the most abundant species in the area is the olive ridley turtle, making up around 90% of all turtles hatchlings on local beaches. As we press westward and leave the sand and Las Lajas behind, we encounter ever larger rock formations. Close to here, we find El Bajo del Cristo, my favourite dive spot in the bay. The largest rock formation here is about 50 feet tall and almost breaks the water surface. We see small fans of Pacifigeorgia and Leptogeorgia and carpet-like patches of red Terrazoanthus clinging to the rock. They are micro-worlds crawling with tiny brittle sea stars. Several large colonies of Pavona coral spill around the base of the towers, sheltering juvenile angelfish, moray eels, and tiny red-headed blennies. My favourite is a large golden cup coral colony at the very base of the tallest pinnacle.
I am sure it is the most photographed coral in my image archives. I have delved into the intricacies of individual polyps with my macro lens, shot portraits of the soldierfish that love to hide here, and attempted many times to capture the ever-changing landscape of this polyp city. Its size and lushness can vary considerably. At times, it is sprawling and thick like a fluffy yellow sofa, full of activity, with all polyps busily plucking food particles out of the current. Then, a few weeks later, it is sparse, quiet, almost silent looking. Of course, larger animals live at El Bajo, too. We see numerous angelfish, yellowtail surgeonfish, spottail grunts, yellow snappers, stonefish, octopus, several species of starfish, parrotfish, triggerfish, tube worms, hydroids, and nudibranchs. Last winter, a single whitetip reef shark resided in El Bajo for a few weeks. In the deeper realms, we encounter giant manta rays and large Myriopathes coral fans. These thrive hanging off the vertical wall that plunges down the southern face of the islet to a sloping sandy bottom 120 feet below. 
Continue reading...
To continue reading this article – and enjoy full digital access across Oceanographic – sign up to Ocean Hub today! More info below…
Keep reading by signing up for an Ocean Hub subscription
Ocean Hub. More than a magazine subscription.
As well the delivery of all new editions, members unlock access to exclusive products, services and discounts, as well as EVERY digital back issue we have published.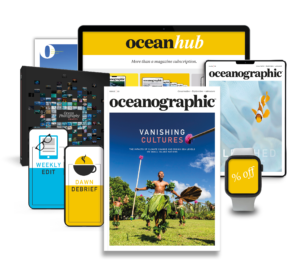 Find out more

about Ocean Hub subscription
Shop window
current issue
Back Issues
Enjoy so much more from Oceanographic Magazine by becoming a subscriber.
A range of subscription options are available.
Sea stories
Beautiful ocean stories straight to your inbox.
Join our community.