Adventure
Behind the lens: Luciano Candisani
Behind the Lens places a spotlight on the world's foremost ocean photographers. Each edition focusses on the work of an individual who continues to shape public opinion through powerful imagery and compelling storytelling.
Words by
Oceanographic Magazine
Photographs by
Luciano Candisani
Words by
Oceanographic Magazine
Award-winning photographer, ocean conservationist, author, senior fellow of the International League of Conservation Photographers and SeaLegacy Collective member.
Luciano Candisani is a Brazilian photographer, conservationist and author. He has spent the past 20 years photographing nature in all its many forms, carefully highlighting the link between species – humans included – and the environment. His enduring concern for threatened biodiversity and for natural habitats at risk has motivated him to work tirelessly in the field, the results of which have earned him accolades including the Editorial Abril Journalism award and Wildlife Photographer of the Year.
OCEANOGRAPHIC MAGAZINE (OM): WHEN DID YOU FIRST CONNECT WITH THE OCEAN?
LUCIANO CANDISANI (LC): I connected with the ocean very early in my life. My mother introduced me to the ocean when I was two months old. She dipped me into the water and since then, I have always stayed close to the sea. From a young age, I also had the opportunity to learn and observe traditional fishermen on the beach where I grew up. Now, I live on the island of Ilhabela on the southern coast of São Paulo, which isn't far from my childhood home. Ilhabela means 'beautiful island' – it's covered in an Atlantic rainforest, which is a state park so the conservation there is very good. More than 80% of the original forest remains. It's an interesting area and looks very different from the rest of our coastlines, where most of the rainforest has been cleared because of so-called socio-economic development. But I have never been disconnected from the ocean, I have always been linked to it in some way. When I was ten I started diving – the waters around where I grew up were very murky because it is an estuary, but the waterscapes that appeared in front of my young eyes have captured me forever.
OM: WOULD YOU SAY THAT LIVING NEAR NATURE IS PARTICULARLY IMPORTANT TO YOU?
LC: It has been important to me all my life. I don't feel well in cities. City life doesn't make much sense to me. I prefer to stay closely connected with the subject matter I work with. When I chose to dedicate my photography to the natural world, it had to become a way of life. It's in my nature to live what I photograph.
OM: DO YOU THINK A LOT OF PEOPLE HAVE BECOME DISCONNECTED FROM NATURE?
LC: Yes. We all know nature is important, but that disconnection is definitely something that is happening more. People lose touch with their natural surroundings and then can't recognise how important it is to their health and life. The modern comforts in life take priority now, which is completely unsustainable. Our current model of production and consumption largely ignores ethics and environmental considerations.
OM: YOU'VE SAID IN THE PAST THAT YOU SEEK TO REVEAL THE LINK BETWEEN SPECIES AND THE ENVIRONMENT THROUGH YOUR WORK. WHY DO YOU THINK FINDING AND SHARING THAT LINK IS IMPORTANT?
LC: It's something that moves me. This link between species and the environment – both wildlife and humans – is so beautiful and essential. One of the main problems for conservation is the loss of original habitats and this disrupts that link. We all need connection, and I think the biggest problems facing the planet have arisen as a result of that connection being broken.
OM: HOW DO YOU FEEL WHEN YOU SHOOT UNDERWATER?
LC: It is another dimension, which makes it special. There are very few environments where a human is just there to observe rather than to control. You can't control the underwater environment, all you can do is watch what is going on down there, everything working in a natural and uninterrupted way. Observing nature in control like that is a powerful thing – and the feeling that goes with it is just as strong.
OM: WHERE WAS THE FIRST REMOTE PLACE YOU VISITED ON EXPEDITION WITH THE UNIVERSITY OF SÃO PAULO?
LC: Antarctica, specifically the South Shetland Islands, near the Antarctica Peninsula in 1995. I was a diver, boat driver, photographer and cinematographer, so I looked after the diving equipment, collected samples and shot underwater. I worked with a group that was studying benthic zone life in the shallow waters of the continent. It was my first time cold-water diving, which was an amazing experience. At the time nobody in Brazil really knew what the underwater environment in Antarctica was like, so I had the opportunity to publish my photos in some prestigious magazines, which allowed me to start doing what I do now, telling stories about nature and conservation. I've been back to Antarctica twice since that trip, once the following year and again two years ago, when I spent a month on a sailing boat on an expedition around the southern parts of South America. I got to photograph southern right whales, sea lions and the incredible kelp forests. It's amazing how tall the kelp can grow and how much marine life lives in those forests. I think it's one of the most beautiful marine environments.
OM: TELL US ABOUT YOUR EXPERIENCE OF THE BRAZILIAN RIVER SYSTEMS WHILE SHOOTING YOUR 'UNDERWATER GARDENS' SERIES.
LC: It was amazing. I loved that project because we have a lot of incredible freshwater environments and wildlife in the rivers here. However, we rarely get to see these flora and fauna because the water is, for the most part, very murky. But in certain areas you can find these rare, crystal clear spots that act like a small window into these largely unknown environments at the bottom of the country's rivers. The underwater gardens project was all about using those windows to observe and document the biodiversity that exists in these rivers. I think it's important to show people that rivers aren't just water, they are live environments that support a huge array of interesting species. I have worked in the Pantanal wetlands for a number of different projects, so I've learned how to get close to wildlife in a safe way. With the help of experts in this field, I've learnt a lot about how to photograph caimans. Caimans aren't as aggressive as crocodiles or alligators – if you go at the right time in the right place, it's possible to do it safely. There is a time of year when they take advantage of a great abundance of fish – they are opportunistic predators. Every year there is a time when the wetlands get flooded, and when that water drains back to the rivers from the fields through narrow channels, the caimans concentrate in those channels to get the fish. During this period, they are really only interested in the fish. Their focus on the fish means they are pretty disinterested in your presence and are less likely to attack. It's without its risks of course, but it's safer than at other times of the year.
OM: YOU'VE BEEN WORKING ON A BOOK, HAENYEO: WOMEN OF THE SEA. WHAT DREW YOU TO THE DIVING WOMEN OF JEJU ISLAND?
LC: It's something I'm really dedicated to, working with people of the sea who are so closely linked to it and live traditional lives – I think it's a beautiful way of life. Many of these communities have learned over generations how to explore the marine environment in a sustainable way and I think they can teach us a lot about sustainability, happiness, prosperity and how to care for nature. This is a subject that is becoming increasingly important to me and these women of the sea constitute one of the stories I'm working on. But the Haenyeo project is about more than just sustainability. Most of these women are between the ages of 65 and 92, so they can teach us a lot about the human condition in a number of different ways: longevity, power, friendships and health. These are concepts that I'm sure are important to all of us. I started out investigating their sustainability and how that linked to their future, but having learned more about their 400 years of history, several different aspects of the lives of these amazing women now form the heart of my work.
Photographs by
Luciano Candisani
Continue reading...
To continue reading this article – and enjoy full digital access across Oceanographic – sign up to Ocean Hub today! More info below…
Keep reading by signing up for an Ocean Hub subscription
Ocean Hub. More than a magazine subscription.
As well the delivery of all new editions, members unlock access to exclusive products, services and discounts, as well as EVERY digital back issue we have published.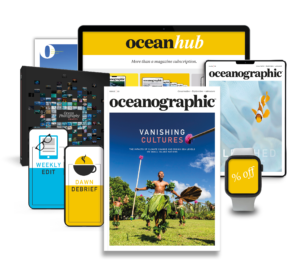 Find out more

about Ocean Hub subscription
Shop window
current issue
Back Issues
Enjoy so much more from Oceanographic Magazine by becoming a subscriber.
A range of subscription options are available.
Sea stories
Beautiful ocean stories straight to your inbox.
Join our community.