Conservation
Nurturing a healthier future
Following years of commercial mangrove deforestation on the Indonesian island of Tanakeke, an Omega / Goodplanet Foundation project has helped revitalise the precious ecosystem - and the island's future with it.
Photographs by
Time for the Planet
The people of Tanakeke are looking after their roots – biological and familial. The small Indonesian island's mangrove forests, after decades of destruction and misuse, are growing once again, new shoots planted and taking hold as part of coastal regeneration projects. At the same time, conservation seeds are being sown amongst the island's young, an education focussed on Tanakeke's bountiful past, and how a return to abundant coastlines could help reshape its future.
Indonesia is one of the most biodiverse places on the planet, part of the famed Coral Triangle. Alongside Malaysia, Papua New Guinea, the Philippines, the Solomon Islands and Timor-Leste, Indonesia's waters comprise more than 100,000 square kilometres of coral reefs – 34% of the global total, in 1% of the space. These reefs teem with life of all shapes and sizes, from tiny nudibranchs to mighty blue whales. Vibrant corals decorate sun-drenched shallows, which in turn run away into deep, nutrient-rich ravines, an intricate web of waterways that weave in and around tens of thousands of islands, the majority of them uninhabited. These scattered isles are a collection of fragments from the ancient, splintering masses of the Asian and Australian tectonic plates, remnants of a fiery past that gave rise to the incredible diversity of flora and fauna that inhabits the area today.  
In a region of colliding archipelagos, one of the most important ecosystems is the mangroves, expansive coastal forests that serve as a buffer between land and sea. These forests, which consist of trees specially adapted to survival in unique and hostile conditions (salt water, tidal variation, silty soils low in oxygen and nutrients, high luminosity and intense heat), provide a range of vital functions. It is a half-submerged world that influences life in both the coral reefs and deep ravines out at sea, and the hills and villages inland. 
The forests are reserves of biodiversity, home to fish and crabs, shrimps and molluscs, as well as mammals, reptiles, amphibians and birds. The ecosystem acts as a nursery for a number of species, its tangled mass of roots providing shelter from larger predators. Life is allowed to establish, flourish. This is particularly important for local fisheries, the offspring of key species allowed to develop amongst the shelter of the mangroves before moving out to sea – a strong, healthy catch. 
For island communities, mangroves offer protection from storms and, in an area of tectonic volatility, tsunamis. They also offer stability and resilience in the face of climate change, warding off the effects of rising sea levels and reducing the effects of coastal erosion and the dispersal of sediments that damage seagrass beds and coral reefs. They are also carbon sinks – one the most effective natural storage systems on the planet, with carbon sequestered in both the biomass and the soil.
As for the communities that live behind these carbon-capturing, climate change-defending bio-walls, mangroves play an important role in day-to-day life: the wood, known for its rot-proof and insect-resistant qualities, is used regularly for building and for fuel. The mangroves are also a source of tannins and fibres for the textile industry, various plants are used for medicinal purposes and bark is even used as a condiment. They provide. They are a part of life. 
Indonesia has 40,000 square kilometres of mangroves across its 80,000 kilometres of coastline, the most extensive mangrove coverage on Earth – critical on both a micro and macro scale. Sadly, this abundant and important coastal ecosystem has, since the 1970s, been systematically destroyed to make way for aquaculture, primarily rearing ponds for fish and shrimp. Deforestation has also occurred as a result of agriculture, urbanisation and overexploitation (as well as natural disasters and erosion). Since the arrival of the aquaculture industry to Indonesia, more than 20,000 square kilometres of mangroves have disappeared.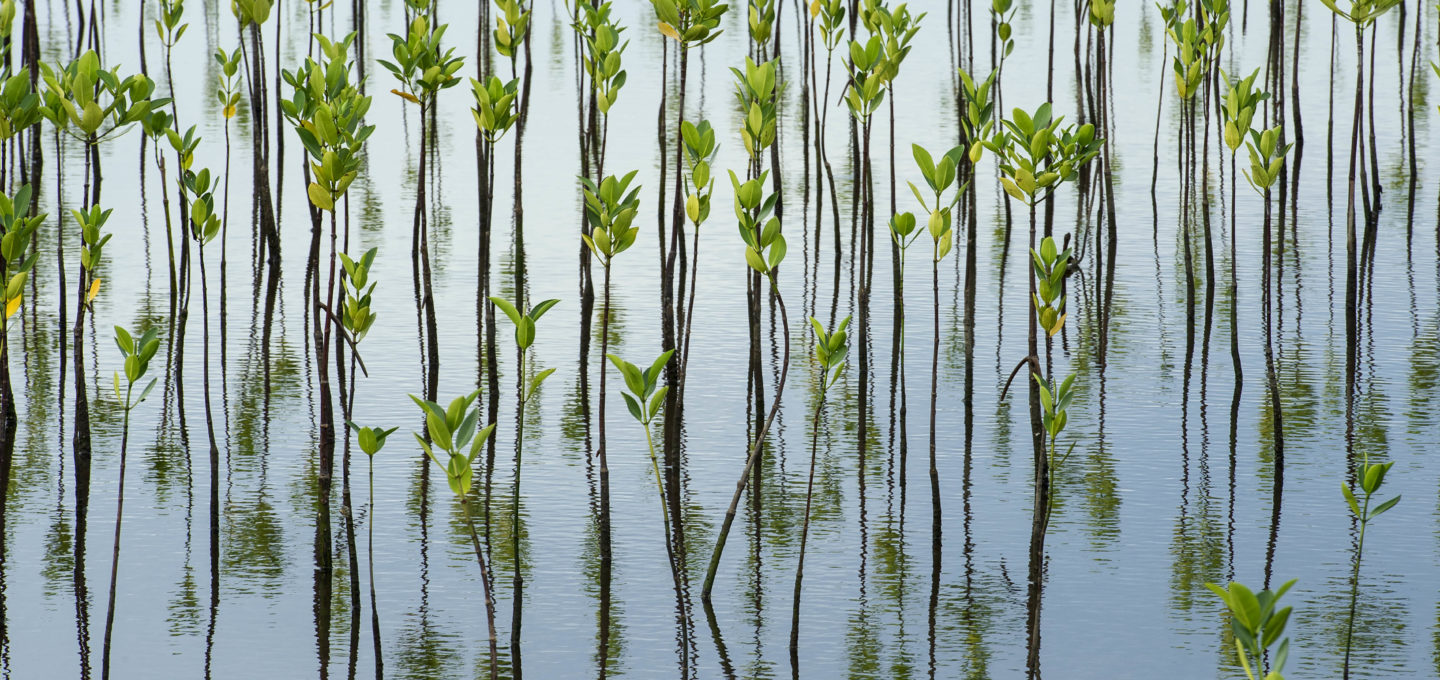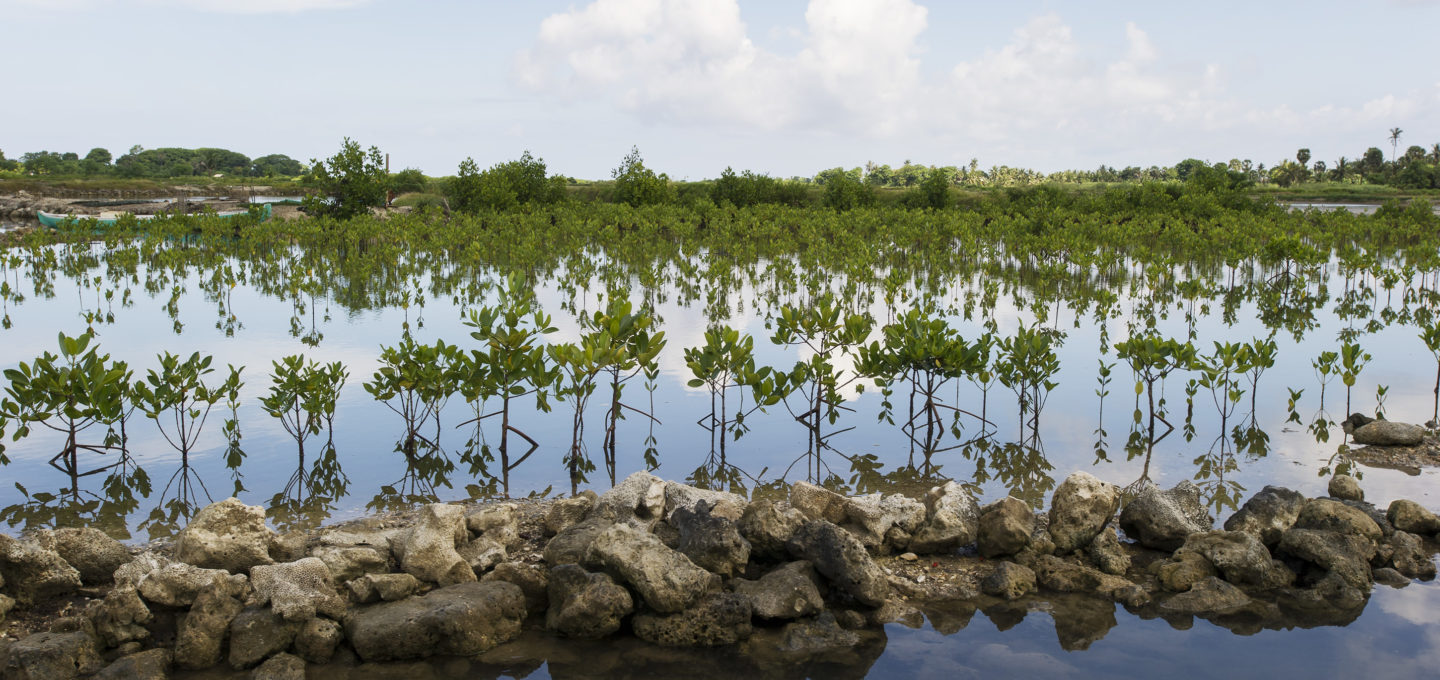 Photographs by
Time for the Planet
Continue reading...
To continue reading this article – and enjoy full digital access across Oceanographic – sign up to Ocean Hub today! More info below…
Keep reading by signing up for an Ocean Hub subscription
Ocean Hub. More than a magazine subscription.
As well the delivery of all new editions, members unlock access to exclusive products, services and discounts, as well as EVERY digital back issue we have published.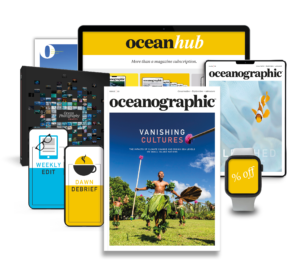 Find out more

about Ocean Hub subscription
Shop window
current issue
Back Issues
Enjoy so much more from Oceanographic Magazine by becoming a subscriber.
A range of subscription options are available.
Sea stories
Beautiful ocean stories straight to your inbox.
Join our community.