In a remote corner of Indonesia, where dynamite fishing and shark finning were once commonplace, reefs are in rude health and shark populations are on the rise. Could Misool offer hope for the rest of our blue planet?
Photographs by
Shawn Heinrichs
First time visitors to Indonesia will notice several things; generous smiles, trees plump with exotic fruits, looming volcanic peaks, colours, vibrancy, and the ever-present ocean which surrounds the 54,716km coastline, the second longest in the world. The Indonesian archipelago consists of more than 17,000 islands and, while most are uninhabited, this sprawling nation is home to more coastal communities than anywhere else on Earth. The ocean is the lifeblood of these communities and one place where the culture is most deeply connected to the sea is Raja Ampat, the Amazon of the reefs.
Raja Ampat is one of the most biodiverse places on the planet. Its waters are home to more than 600 species of coral (in comparison, the entire Caribbean region contains fewer than 60), more than 1,500 species of fish, and its reefs are teeming with manta rays, turtles and wobbegong sharks. Located off the north-western tip of the Papuan mainland, Indonesia's easternmost frontier, it is a place of abundance, vibrancy and wonder.
Despite this wealth of biodiversity, Indonesia is one of the world's leading culprits of environmental and ecosystem destruction. The country boasts the world's highest diversity of shark species, yet is home to the world's largest shark fishery, where as many as 300 sharks are killed every day. Altogether, more than 100,000 tons of shark is caught every year. But its burgeoning eco-tourism industry is disrupting this fishery, much of which is illegal and all of which is unsustainable. Most importantly, the eco-tourism sector is offering sustainable alternatives to the way Indonesia utilises its blue economy.
Reshaping the future
Hidden deep in an archipelago of uninhabited islands, pristine reefs, and primary rainforests is private island resort, Misool. Located in the most southern reaches of Raja Ampat, Misool was founded by Andrew and Marit Miners. In 2005, the Miners were diving in this remote area 165km out to sea when they discovered an active shark-finning camp. The stark contrast between the tranquil haven they'd experienced underwater and the senseless destruction taking place at the surface jarred the pair into action. It was a catalysing moment that resulted in a promise to protect this exceptional ecosystem. A lease agreement was forged with the local community in 2005, laying the groundwork for a privately managed marine protected area that has now expanded to 300,000 acres (1,220 sq km), with Misool Resort at its centre. The resort was built on the very beach that had once been home to shark-finners.
What the Miners were banking on was the concept that tourism could both protect the marine ecosystem and redirect income from marine extraction to a sustainable employment model hinging upon the health of the reefs. They were right. A project developed in 2016 by The Nature Conservancy, named 'Mapping Ocean Wealth' (MOW), visualises in quantitative terms what the ocean does for people. They assessed the ecosystem services that the world's ocean environments provide to humans – food, recreation and tourism, coastal defences, etc – and valued these services in monetary terms. The worldwide annual economic value of coral reefs was calculated at $36 billion; 70 million trips are made to the world's coral reefs each year; coastal and marine tourism provides work for 6.5 million people. Coastal and marine tourism is projected to be the largest value-adding segment of the ocean economy by 2030.
During the research, The Nature Conservancy team identified million-dollar reefs – reefs that generate more than one million dollars per square kilometre per year. Misool was one of them. Since the Miners embarked on their ambitious mission to protect the area, the marine ecosystem in the region has undergone remarkable changes. Shark populations have bounced back and fish biomass has increased rapidly. Surveys in 2007 and 2013 conducted by Mark Allen from Murdoch University in Australia found that biomass had increased on average by a staggering 250% in six years, and at some key sites by 600%. Oceanic manta sightings increased 25-fold between 2010 and 2016. As for the shark populations which had all but collapsed? A 2012 study established that there are 25 times more sharks inside the Misool Private Marine Reserve than directly outside of it.

Renegade conservationists
These impressive conservation results were gained through a powerful partnership between local communities and Misool. Before starting to build the resort, the Miners and their equally impassioned partners negotiated a lease agreement that established a No-Take Zone (NTZ) inside which all extractive practices are banned. The concept of sustainable resource management is a strong tradition in Raja Ampat. In this region, communities use a mechanism called 'sasi' to 'open and close' fishing to maintain healthy stocks of fish and other marine life. This tradition was a crucial negotiating point and the agreement ensured that these activities would continue. It also, helpfully, meant that the concept of sustainability was already very much integrated into the indigenous culture.
The boundaries of the lease area were drawn following a series of townhall meetings. It was agreed that the NTZ should be far enough away from the villages so that their traditional fishing grounds remained available, but close enough that artisanal fishers would benefit from the spill-over effect of resurging fish populations. The parties agreed upon an area that had historically been fished illegally by outside fishermen using long-lines, dynamite, and gill nets. The community lacked the resources and infrastructure to intercept the poachers who were decimating their natural heritage. By creating an NTZ with a locally-staffed Ranger Patrol, the local community was able to regain stewardship over their reef systems while growing their local economy.
Once the lease was in place, the shark-finners were displaced from that beautiful beach and a team of local and foreign workers was mustered. Over the course of two and a half years, the team successfully transformed the former shark finning beach into a high-end private island resort. But they never lost sight of the mission: to protect the heart of biodiversity. The resort was built from reclaimed wood, which the team milled themselves in their portable sawmill. After a day's construction work, the local crew would take to a plastic dinghy and chase down Javanese long-liners by throwing pebbles at them. With the full support of local leaders, they hassled intruders and confiscated their gear as well as their catch. Through this the Misool Ranger Patrol was born. The patrol now comprises of a 15-person unit of local rangers that monitors the Misool Private Marine Reserve 24/7. Rangers move between four stations using five dedicated patrol boats and work directly with the marine police and army, who have jurisdiction to impound vessels caught fishing illegally inside the reserve.
Photographs by
Shawn Heinrichs
Continue reading...
To continue reading this article – and enjoy full digital access across Oceanographic – sign up to Ocean Hub today! More info below…
Keep reading by signing up for an Ocean Hub subscription
Ocean Hub. More than a magazine subscription.
As well the delivery of all new editions, members unlock access to exclusive products, services and discounts, as well as EVERY digital back issue we have published.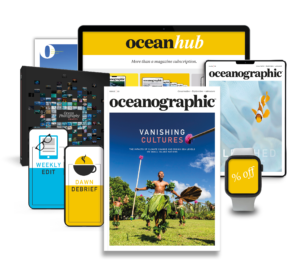 Find out more

about Ocean Hub subscription
Shop window
current issue
Back Issues
Enjoy so much more from Oceanographic Magazine by becoming a subscriber.
A range of subscription options are available.
Sea stories
Beautiful ocean stories straight to your inbox.
Join our community.