Photographs by
Matheus Couto
"On these two days, we saw the waves of our lives."
Brazil is a country of surfers and for surfers. Not only has the country brought forward some of the world's top ones, it also is home to some of the best surf spots such as the famous Sao Francisco du Sul near São Paulo. Surf photographer and filmmaker Matheus Couto has lived and loved surfing as long as he can remember. Originally from Itacoatiara in Rio de Janeiro's Niterói, known for its large barrels and slabs (short, heavy waves), Matheus started photographing waves and surfers at a young age.
"Surf photography is more than my work. It's a passion that started in childhood when I took my first water shot with a GoPro," remembers Matheus Couto and continues: "Surf photography deals with fear, mother nature's conditions as well as frustration. Sometimes you see a perfect forecast for your chosen beach, but nature decides to bring you bad waves. It can be exhausting spending hours on end in the sand or in the water without getting a single great shot."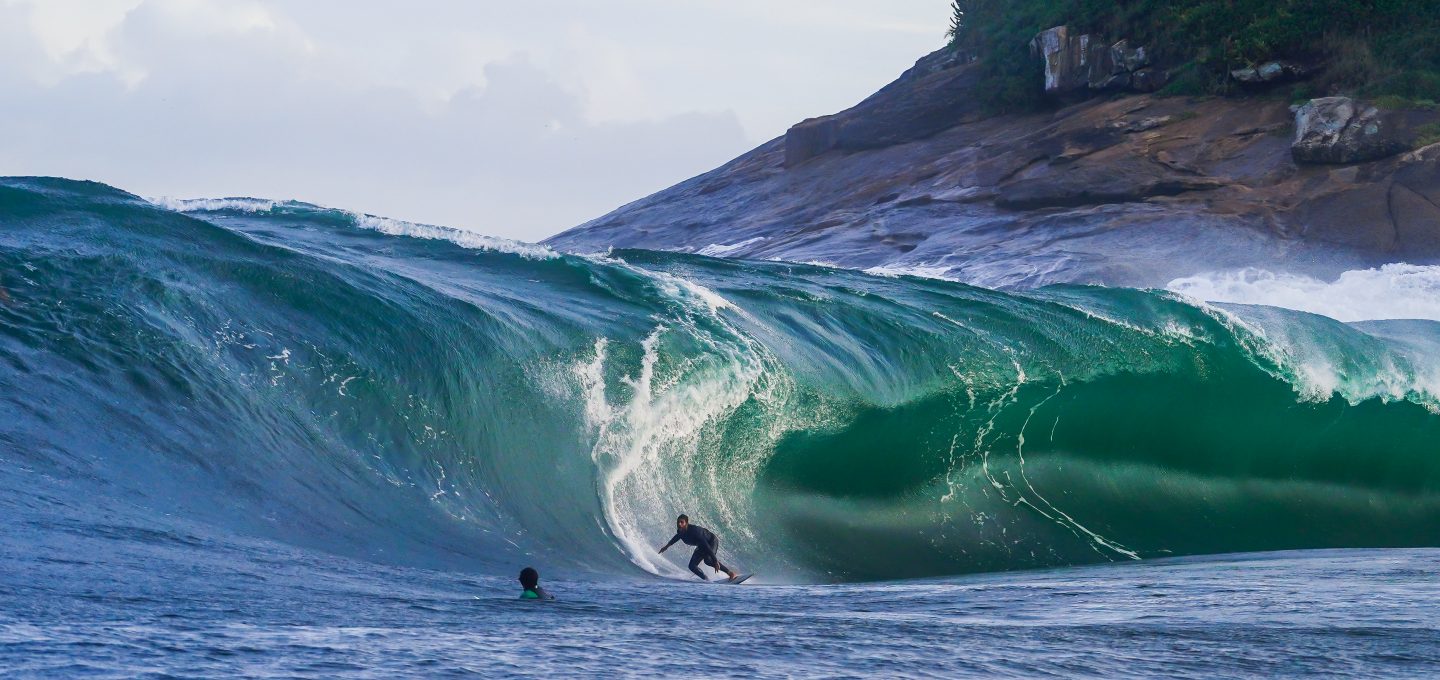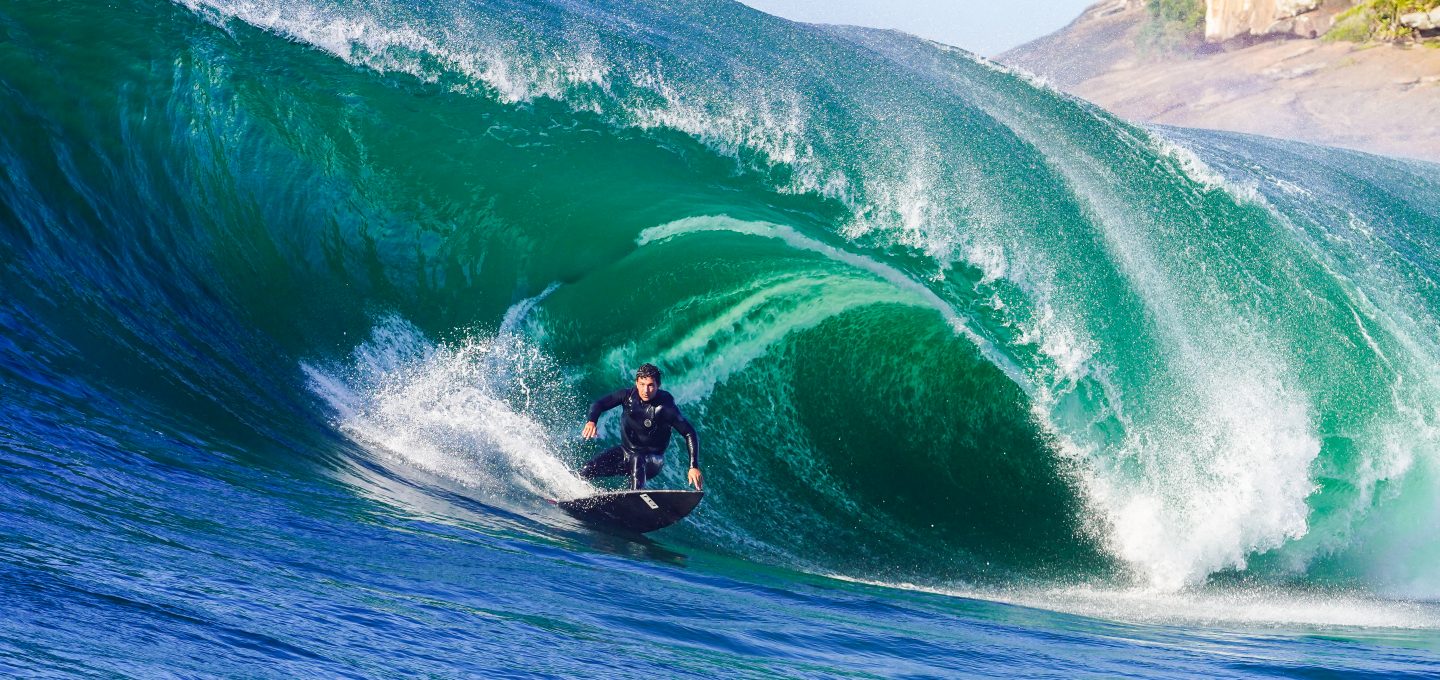 Together with a group of friends, Matheus has explored an unpredictable surf spot throughout the past few years: Mother Island. With little infrastructure, the surf area can only be accessed by boat or jet ski and remains a surf spot steeped in mystery and fascinating tales to this day. When the conditions are right, people call the surf at this special place a combination of Teahupoo, Indonesia and Western Australia's The Right. "Mother Island has this mystical notion about it. In theory, we know about the conditions we need to surf here, but the reality is that the waves break when they want."
When Mother Island chooses to deliver, however, it delivers unpredictable waves and a surf that is seldomly found anywhere else on this planet. Matheus says: "It's type of wave that surf photographers crave. It's a perfect and powerful slab that breaks near an island located in Rio's Niterói. When it decides to break, it suddenly feels like you're at a world-famous surf spots in Indonesia or Australia. It's a rare wind and swell combination that turns this wave into something so special."
After checking the surf forecast for years, it finally seemed like the stars aligned for Matheus and his friends. Local surfer Pedro Menezes remembers: "The forecast pointed out that the best swell we have ever seen was about to come to the island. The anxiety was inevitable. I wasn't even able to sleep the night before." With high hopes, they packed their bags and grabbed their boards, before making their way to Mother Island to spend a couple of days in the area.
"We went to the water before sunrise, hoping for the best days of our lives. It was just as perfect as we expected. I saw some of my friends doing impossible things and almost everyone got decent waves. We only called off the session at midday because the tide got too high and a big storm came in," remembers Pedro. The swell, however, kept on getting bigger during the remainder of the day. Pedro continues: "We went back after lunch, and we didn't know what was happening. The waves were huge, bigger than we have ever seen. It was perfect. It was hard to grasp what we were about to surf."
"I'm 23 years old and since I have started to do surf photography, I have never come across the conditions we found on the day that I took these images. It was the most powerful, the most beautiful wave I've ever seen. I was completely shocked and couldn't believe it. Local surfers have waited years for conditions like these," Matheus describes. Surfer Gabriel Sampaio adds: "In the past ten years, we have seen the wave break like that only three times. When I saw the height of the wave, I wasn't sure it was real at first. During these two days, we saw the waves of our lives."
Mother Island, or Ilha Mãe in Portuguese, is a rare slab that breaks in the city of Niteroi around two miles off the coast. The complex and unpredictable wave is formed by its location in a deep channel that gets strong currents and by two reefs; one shallow reef and one that is a little deeper. This special underwater formation gives the wave its two faces, the one of a giant slab and the one of a tube associated with Indonesian waters. The conditions here depend entirely on a southeastern/eastern swell and on southwestern/western winds. Because these conditions are so atypical on this stretch of Brazilian coastline, the wave is deemed so rare. Surfer Paulo Diego Imbia remembers: "Surfing Mother Island has its very own difficulties. Fot example, you get a heavily reduced error margin. We spent years waiting for extreme conditions like these. In my eyes, the conditions can be compared to a right-hand facing Teahupoo."
While the group surfed the gigantic wave, Matheus took images of the spectacle. Pedro says: "One time, the sun light suddenly started shining through the huge barrels, making the waves appear even more beautiful. After I got towed in, the wall of water coming in my direction was unbelievable. I remember thinking 'will I ever get to the bottom of this'. The size of that tube with the golden sunlight shining through was simply beautiful. It was the biggest barrel of my life and truly the best thing I have ever seen."
As quickly as the wave came, as quickly it disappeared. For a couple of days, the group was able to surf one of the most magnificent and most unpredictable spots in their region. All of them are united by the feeling that they can't wait to do it again. "But who knows when that will be," smiles Pedro.
All images shown on this page were taken during the rare recent swell event at Mother Island.
Photographs by
Matheus Couto
Sea stories
Beautiful ocean stories straight to your inbox.
Join our community.