Adventure
Inspiring change
On Australia's John Brewer Reef, situated within the realms of the Great Barrier Reef, the Museum of Underwater Art seeks to foster change by blending art, marine science, and conservation. 
Words by
Christian Bartens
Photographs by
Jason deCaires Taylor
Words by
Christian Bartens
Once you enter the water and begin your descent, a surreal underwater world opens up beneath you. A large structure resembling a greenhouse comes into view with numerous fish species darting around it, while human-like figurines slowly reveal their colourful coral coverage upon getting a closer look. Beneath the crystalline waters of the John Brewer Reef lies an experience that unites art, science, and conservation: MOUA, the Museum of Underwater Art. As the world's largest collection of coral reefs and a UNESCO World Heritage site, the Great Barrier Reef holds immense ecological, economic, and cultural significance. It is this invaluable treasure that MOUA is dedicated to safeguarding for future generations.
The seeds of MOUA were sown in 2016 when Dr Adam Smith from Reef Ecologic hosted a reef leadership course in Townsville. Among the attendees were Paul Victory, the former chair of SeaLink and North Queensland Tourism, and the Director of the Cancun Marine Park, which already boasted an underwater museum at the time. It was during this meeting of kindred minds that the concept of an underwater museum on the Great Barrier Reef emerged, driven by the mission to protect it. With the vision in place, the artist Jason deCaires Taylor was enlisted in June 2017 to conduct a feasibility study for this audacious endeavour. Having fallen in love with the Great Barrier Reef during his tenure as a diving instructor many years before, Jason returned to this captivating wonderland to craft a series of mesmerising underwater sculptures. 
For deCaires Taylor "art is a means of exploration." He recalls: "By bringing my artwork into such an unusual context, we may start to understand more of ourselves and our connection to nature. Working on the Great Barrier Reef for the first time, one of the world's most biodiverse regions, provided a unique starting point for such an exploration."
The Great Barrier Reef holds significant ecological and economic value. It stands as one of Earth's most diverse ecosystems, harbouring an extensive array of marine species, and acting as a natural defence against storm surges and coastal erosion. It supports various industries, generating employment opportunities and billions of dollars in revenue. However, it is the Great Barrier Reef's cultural significance that fuels MOUA's inspiration and empowers its artists to delve into our relationship with nature.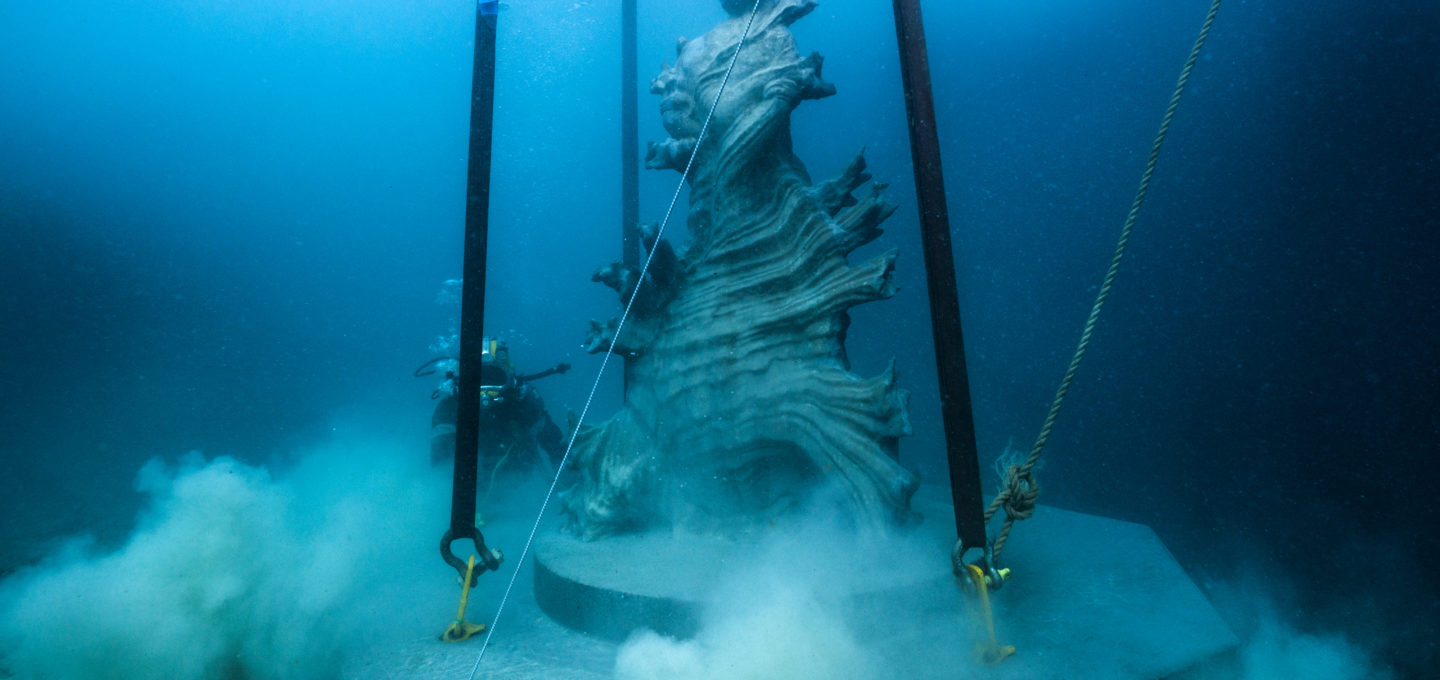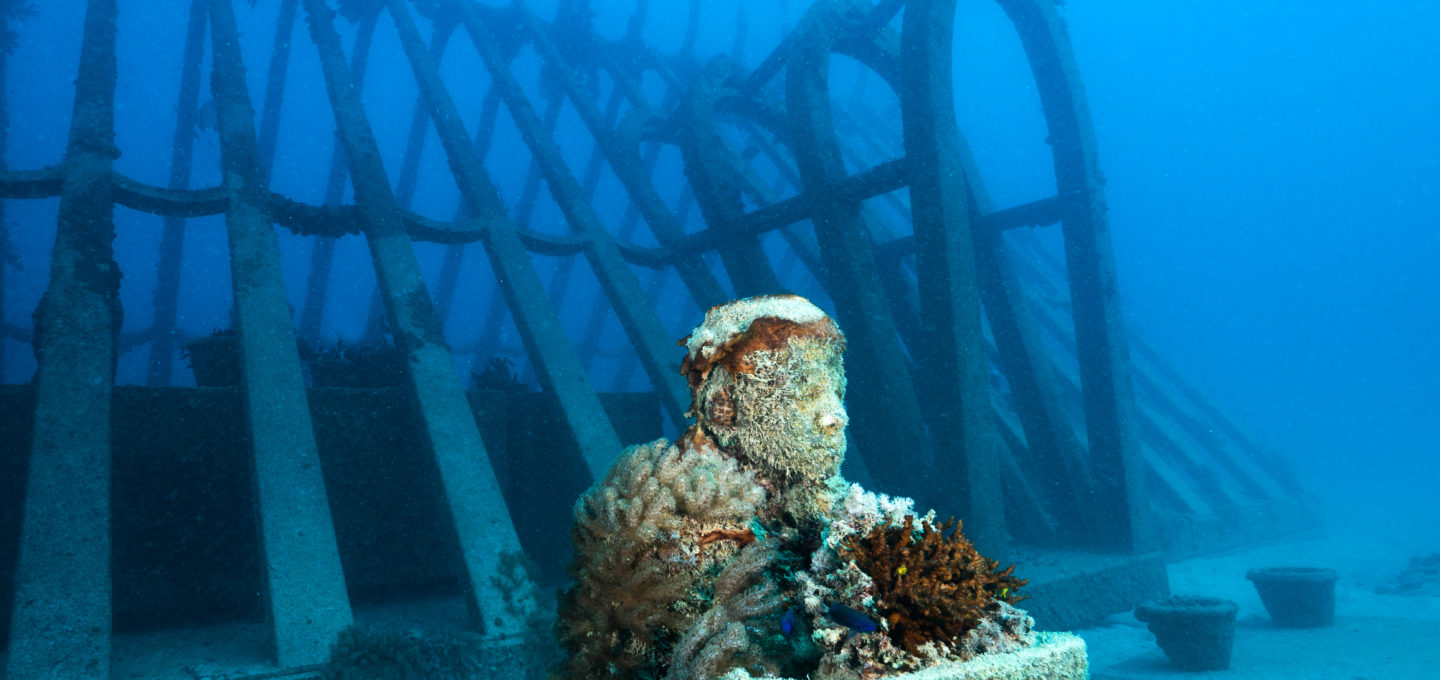 Referred to as the Sea Country by Indigenous Australian communities, the reef embodies a living link to their forebears, a repository of ancient wisdom, and a source of profound spiritual meaning. Long before the reef emerged, the First Nations people thrived on the land now covered by its waters. They possessed an intimate understanding of the diverse ecosystems, skilfully utilising nature's resources for sustenance and survival. Their bond with the land and sea was deep-seated, forming the bedrock of their contemporary culture and traditions.
As deCaires Taylor aptly articulates: "Australia and its Indigenous communities have a rich historical connection to art and the environment. Some of the earliest examples of human communication and storytelling were discovered here. As our urban societies become more distanced from the natural world, we have a lot to learn from these communities, their connection to nature and unique way of living sustainably."
Jason deCaires Taylor was one of the first contemporary artists to use the underwater world as an exhibition space. Before his installations on the Great Barrier Reef, he built underwater sculptures and explored conservation themes in Mexico, Norway, the Maldives, Spain, and the Bahamas, while also creating artificial reefs to provide homes for marine life in barren areas of the seabed. "Working on the Great Barrier Reef, the largest natural reef in the world, presented a different objective. Here, the focus shifted towards communication and developing an underwater museum which acted as a portal or interface to further showcase the incredible inhabitants and processes in this beautiful yet threatened submerged world," he says. 
Unveiled as MOUA's inaugural installation in early 2019 on the Strand promenade in Townsville, the Ocean Siren is a captivating four-metre-tall sculpture that stands as a poignant symbol of the Great Barrier Reef's vulnerability to rising sea temperatures. Inspired by Takoda Johnson, a young Indigenous girl from the Wulgurukaba tribe, the sculpture depicts her holding a Bayliss shell, an indigenous communication artifact, while gazing towards Magnetic Island and the expanse of the reef. During the night, the Ocean Siren's colours shift based on real-time water temperature data provided by AIMS, the Australian Institute of Marine Science, offering a visual representation of the prevailing conditions.
The sculpture underscores one of the most critical threats facing the reef: climate change. Elevated sea temperatures and ocean acidification result in coral bleaching, a detrimental process that weakens and kills coral, endangering the entire reef ecosystem. The Ocean Siren, with its lights mirroring a thermal imaging camera, brings the science of the reef to urban areas, effectively conveying the urgency of addressing this vital issue. 
Photographs by
Jason deCaires Taylor
Continue reading...
To continue reading this article – and enjoy full digital access across Oceanographic – sign up to Ocean Hub today! More info below…
Keep reading by signing up for an Ocean Hub subscription
Ocean Hub. More than a magazine subscription.
As well the delivery of all new editions, members unlock access to exclusive products, services and discounts, as well as EVERY digital back issue we have published.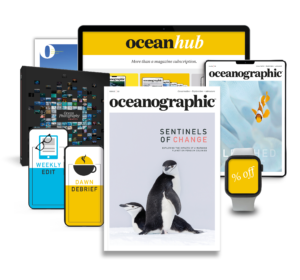 Find out more

about Ocean Hub subscription
Shop window
current issue
Back Issues
Enjoy so much more from Oceanographic Magazine by becoming a subscriber.
A range of subscription options are available.
Sea stories
Beautiful ocean stories straight to your inbox.
Join our community.